Freelancing is one of the fastest growing fields right now, and learning how to make money on Fiverr can give your freelance business a boost.
Seriously, freelancing is one of my favorite ways to make extra money, and it goes on nearly every "how to make money" article I write. That's because pretty much everyone has a marketable skill they can leverage for freelance work.
The cool thing about Fiverr is that this platform allows for any kind of freelance work. In a quick search, I found people selling the following services:
Someone who will create a Dungeons and Dragons fantasy map for as little as $10
Research and drafting of legal documents for $45
Luxury real estate listing videos for $30
Sellers that will convert documents into PDF files for $5
Business branding for $2,500
Chakra balancing $5
Creation of an Amazon affiliate site for $2,000
You get the point. You can literally list pretty much any kind of marketable skill you might have on Fiverr.
So if you're interested in starting your freelance business, read on as I explain how to make money on Fiverr.
How to make money on Fiverr in 2020
What is Fiverr?
Fiverr was founded in 2010 as an online marketplace where freelancers can connect with potential clients. There have been over 50 million transactions on Fiverr ranging from $5 to $10,000.
Fiverr organizes the services listed on its platform by category and subcategory, and I recommend browsing through the categories to see how you'll fit in on Fiverr. You can also use the search function to type in specific services.
Buyers and sellers from all over the world use Fiverr to launch their freelance careers.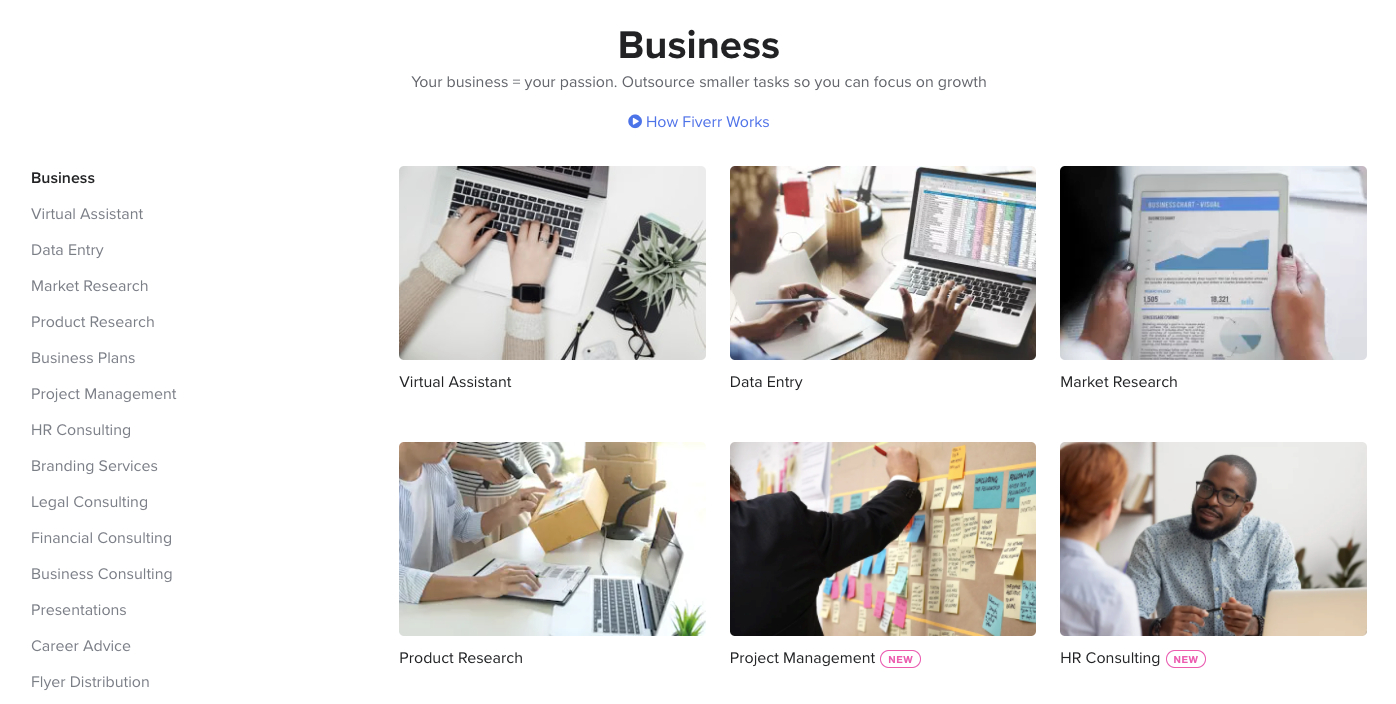 Related: Best Side Hustles to Make an Extra $1,000-$2,000 Per Month
How does Fiverr work?
Fiverr is free to sign up for, and you'll have to create an account if you want to buy or sell on the site. People who are offering freelance services on Fiverr are called sellers and clients or customers are called buyers.
Sellers create a profile that lists the type of services (which Fiverr calls gigs) you are willing to offer, and buyers can search the marketplace to find a seller that matches their needs.
Fiverr takes a 20% cut for each job you complete.
Read more at How to Make Money Online: 19 Ways to Make Money on Your Laptop.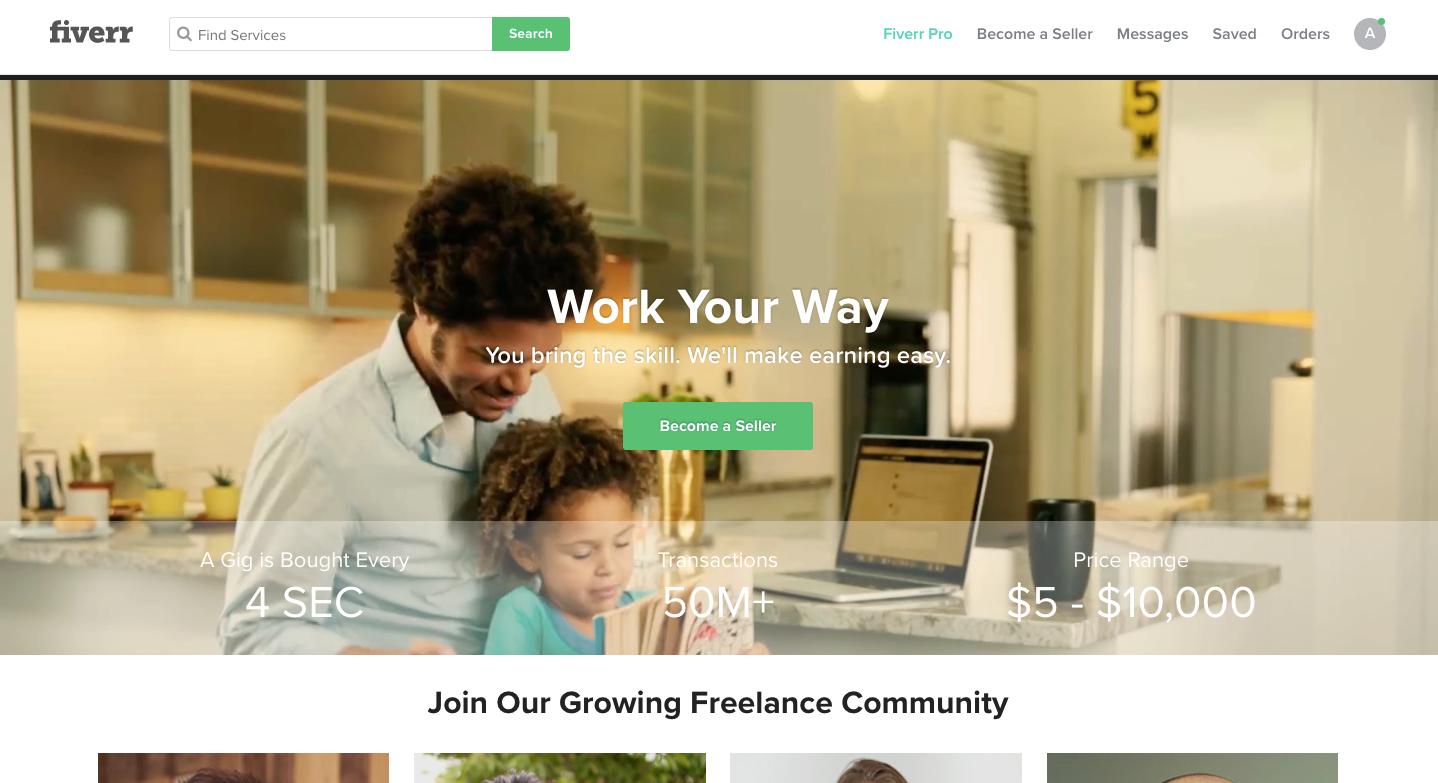 How to make money on Fiverr?
I'm going to walk you through the process of joining Fiverr as a Seller so you can start making money.
Step 1: Register a new account
Head to Fiverr, and then sign up for a free account using Facebook, Google, Apple, or your email account. You will need to pick a username, which is the name that goes on your Fiverr seller account.
Step 2: Create your seller profile
Your profile tells potential buyers who you are and what kind of services to offer, and it should look professional – it's the face of your freelancing services. Your seller profile includes personal and professional information, and you can also link accounts.
The personal information Fiverr asks for is your full name (remains private), profile picture, a 150-600 word description of who you are and what you have to offer the Fiverr community, and the languages you speak.
Here is the professional information you will be asked to include:
Your occupation: Enter your field of expertise.
Skills: These can be skills you gained through previous work experience, everyday life skills, and even hobbies.
Education: Enter when and where you attended college and your degree.
Certification: You can list honors and awards you've received.
Personal website: If you have a website, you can enter the URL here.
You can add linked accounts for professional networking sites like LinkedIn or even social media accounts (be careful about linking personal social media accounts to professional sites).
You will also need to add your email address and phone number for account security, but this information will not be visible in the marketplace.
Step 3: Create a gig
A gig is the service you are offering on Fiverr. It's how potential buyers will learn how you can help them.
The title of your gig should be clear and to the point. For example, if you're offering web design services, you could write, "I design beautiful websites." You'll want to select a category and subcategory, which helps buyers find your profile. You can even add metadata and tags.
Next, you'll add the scope and pricing of your gig. You will want to include information about:
Details: A short description of your service.
Delivery time: The number of days it takes to complete your gig.
Items offered with your service: This depends on the service you're offering and Fiverr has a predefined list to help you create a good list. It might include the number or kinds of files you'll include, and it's where you can add extra services related to your gig.
Revisions: If a client isn't happy with the first go around, this section tells them how many revisions you are willing to offer.
Price: Your pricing can range from $5 to $995
Once you've leveled up on Fiverr (more on this further down), you can add more gig extras. This is how sellers end up making more money on Fiverr because they're upselling extras that many buyers don't think of until they see them as options.
You can go back and edit this information at any time, and you can also list more than one gig at a time.
Step 4: Send offers
All of the information you just filled out allows buyers to find you on the Fiverr marketplace. Once a buyer contacts you, you can create a customized offer for individual buyers.
Offers give you and a buyer a chance to hammer out the details, like the scope of a job and extras, and it's how they will agree to start working with you.
Buyers can also submit gig requests if they like your profile but don't see the exact service they are looking for. After you get the request in your Fiverr inbox, you can create a custom offer for them.
Step 5: Complete the job and get paid
When the buyer places an order for a job with you, they pay Fiverr at the same time. You will have to complete the job by the predefined delivery time.
Once you're finished with your client's work, you will submit the job through the order page on your Fiverr dashboard. This is where you will upload files related to the job and add a brief description of your delivery.
After you've submitted the finished job on Fiverr, 80% of the funds paid for the job will be labeled as pending -- remember, Fiverr keeps 20% of every job. The funds are pending for 14 days so clients have an opportunity to review the work.
After the 14-day period, the funds will show up in your Fiverr account and you can withdraw them. And they can be withdrawn via PayPal, bank transfer, direct deposit, or Fiverr Revenue Card. This card is set up through Payoneer and it has pretty hefty fees, so it's best for people who don't have access to other payment methods.
Read more at 13 Easy Ways to Make Money Fast and Work Online and Get Paid Instantly (More Than Just Survey Sites!).
How to make the most out of Fiverr
If you want to learn how to make money on Fiverr, here are some tips that will help you
Have a professional looking profile
Your profile is your first opportunity to stand out, so invest some time in creating a profile that gives buyers a reason to choose you. Use a high-quality picture that shows you smiling, make sure everything is spelled correctly, and clearly list your skills and qualifications.
Give your profile a little personality by mentioning your hobbies or interests. This helps buyers build a connection. At the same time, don't waste too much space on things that are off-topic. You are highlighting who you are and why someone should pick you.
Optimize your description
The title of your gig generates the URL, and the URL cannot be changed. Fiverr recommends titling your gig something that will generate a URL that is optimized for searching, then going back and changing the title of your gig to something that's buyer-friendly.
Here's an example:
Original gig title that generates the URL = "I will best logo design"
That's a little cringy to read, but it generates this URL = "username/best-logo-design"
That URL is better for searching, and you can go back and change your gig title to something that sounds better, like "I will create a unique and beautiful logo for your business." Much better.
The phrase used in your gig title (this is "best logo design" in the example) should also be used throughout your description. It reinforces your expertise to potential buyers and improves your search ranking. You also don't want to force it in, and it's okay to use partial phrases.
Here's an example of a well-written description for "best logo design":
I bring my 7 years of experience into my logo design work, having worked with clients in multiple industries, from restaurants to clothing companies. Pairing your vision with my experience allows me to create the best logo design for your business.
Maintain good ratings
Buyers are asked to rate their experience with you, and this builds your reputation and increases your visibility in search results.
You can earn 5-star ratings by delivering successful projects, communicating with sellers, being friendly, and always offering high-quality services.
Upsell your services
Fiverr lets you offer gig extras, which are add-ons to the gig you're selling. They can be things like extra rounds of revisions or faster delivery time. Extras allow you to expand your offerings and make more money.
While you get to set the price on your extras, you are limited based on your seller level… more about that below.
Level up as a seller
When you first join Fiverr, you'll be labeled as a New Seller. This limits the number of gigs you can list and work on at a time, and it also limits how you can price your gig extras. New Sellers can only list extras for $5, $10, or $20.
If you want to learn how to make money on Fiverr, you need to move up in rankings. Your ranking is based on:
Always delivering stellar work
Number of orders you've completed
Amount of money you've made
Your star rating
Order completion rate
Response rate
Delivery rate
Number of warnings you've received
There are four seller levels on Fiverr, and the higher you move up in the rankings, the more gigs you'll be able to list and take. You can increase your extras, get promotional listings, receive VIP support, and more.
Related: 22 Best 2020 Side Hustles (Make $1,000 Extra Per Month)
How to make money on Fiverr: Which gigs are hot
Even though I gave you a very broad list of services to offer on Fiverr, there are some services that are more popular than others. Here are the 10 most in-demand gigs on Fiverr:
Logo design $10-$1,500 per gig. This graphic design service includes designing multiple concepts plus designs using the logo.
Customize WordPress sites $10-$3,500 per gig. You can offer a variety of services from creating landing pages, fixing bugs, to full-on website creation.
SEO $5-$1,500 per gig. Help business owners boost search rankings by building backlinks, doing an SEO audit, competitor analysis, and more.
Voice overs $10-$350 per gig. List your services based on accent, language, gender, and purpose.
Whiteboard and animated explainers $10-1,900. Create explainer videos to help customers get their point across.
Social media marketing $10-$2,000. Create social content, run ads, do analytics tracking, and more.
Illustration $5-$500. Offer digital or hand-drawn illustrations for advertising purposes, personal use, books, and more.
Translation $5-$600. Translate books, legal documents, user manuals, scripts, sales content, and more.
Data entry $5-$400. Do formatting work, create charts, build graphs, and more.
Book covers $10-$500. Design print or ebook covers for authors.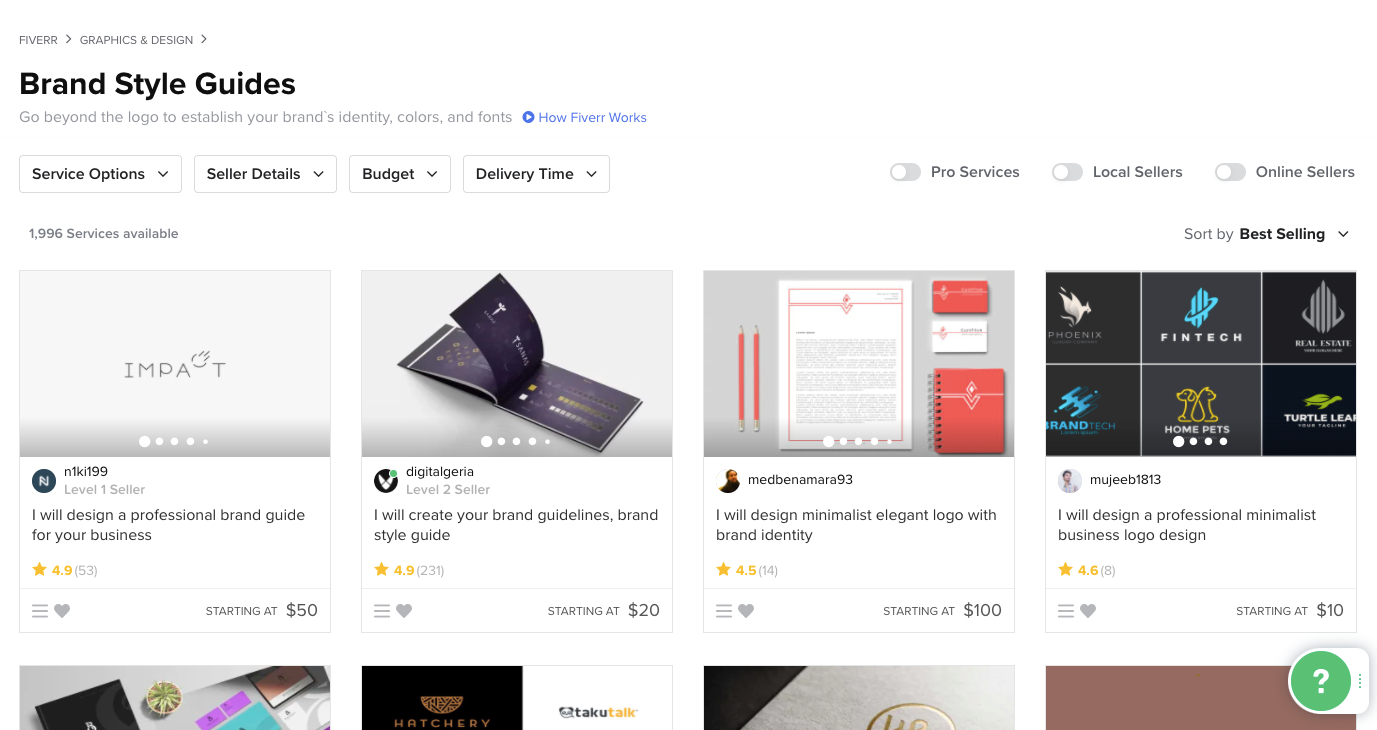 Is Fiverr a good way to make money?
Fiverr is a nice springboard for brand new freelancers, and you can legitimately make money on the site. The downside is that you have a lot of competition from people who are also just starting out and listing gigs for as little as $5.
Considering that leveling up takes completing so many jobs, it can be tempting to underprice your services to reach that next level. But pricing your services too low undermines your experience and value.
When it comes to pricing, you have to strike a balance that works for you if you want to learn how to make money on Fiverr. And make sure that you're using the tips I mentioned earlier so you stand out.
Eventually, you should work on taking your freelance services off of Fiverr and creating a website for your business, leveraging social media to advertise your services, and even cold calling clients. This will help you get away from the 20% commission Fiverr takes and actually scale your business. Unfortunately, Fiverr makes it really difficult for buyers and sellers to communicate offsite.
Pros and cons of making money on Fiverr
The final word on how to make money on Fiverr
If you're interested in freelancing, Fiverr can give you the confidence to grow your business independently. You can start making extra money, test the water, and gain some valuable skills. Those are all great reasons to give Fiverr a shot.