FlexJobs claims that it makes it "easier, faster, and safer to find a job that fits your life," but how true is that? My FlexJobs review for 2020 will explain whether or not it's worth it to sign up for FlexJobs.
One of the questions I get pretty often is about how to find real work-from-home job opportunities. It's an appealing way to work, and starting an online business that I run from home is one of the best things I've ever done.
I have an insane amount of flexibility — heck, I can sit on my couch and work in my underwear if I want. My wife also works from home these days, and now we get to enjoy that flexibility together and travel more than ever.
Now, my job as a blogger isn't your traditional type of work-from-home job, but the point is working from home has some major benefits Parents can stay at home with their kids while still making money. Digital nomads can continue to travel while working online. Side hustlers can earn money outside of their normal 9-5 all from the comfort of their home.
My work-from-home job has one more huge benefit — I get to spend my day helping people find the best possible ways to make more money. I've made it a goal of mine to sort through the BS, so you can find the best opportunities possible, and that's exactly why I wanted to do this FlexJobs review.
You're going to learn what FlexJobs offers, the kind of work you can find on their platform, how much it costs, and whether or not I think it's worth the investment.
FlexJobs Review 2020: Is It Really Worth Paying For?
What is FlexJobs?
FlexJobs is an online platform for finding flexible jobs, including remote work, freelance work, and part-time positions. FlexJob finds these positions from company websites and employment agencies, but hand screens each one before listing them on their site.
Not all of the jobs on FlexJobs are work-from-home. However, the ones that aren't 100% remote work do have some kind of work-from-home option.
FlexJobs has more than job listings, including:
Job search checklists
Over 170 skills test to assess and promote your skills
One-on-one coaching
Resume assistance
Member-only discounts
The kinds of jobs you can find on FlexJobs
There are jobs in over 50 career fields on FlexJobs, including accounting and finance, call center jobs, education and training, insurance jobs, internet and eCommerce, transcriptionist jobs, travel and hospitality, at home data entry jobs, and plenty more.
I went through and searched for jobs in a few of those fields, and here are some examples of listings:
Bookkeeping jobs on FlexJobs:
Education jobs:
Insurance jobs:
Data entry jobs from home:
Jobs for freelancers
What surprised me was how many freelance jobs were listed on FlexJobs. Freelancing is a growing field, and many of the freelancers I know have left their day jobs to freelance full-time because it's such a scalable option.
The problem some freelancers face is in finding work: there's not a lack of freelance work out there, but it can be hard to figure out where to look for new opportunities.
Upwork is a popular site for freelance work, but you pay anywhere from 5%-20% of your earnings to them. Freelancer is another one, but you will also pay a fee to take jobs on this platform (10% of your earnings for hourly jobs and the greater of $5 or 10% for fixed rate jobs). These fees can really cut into your take-home pay.
With FlexJobs, you pay a membership fee, and then you can quit your subscription once you're hired. You can always re-up if you need to.
FlexJobs features
In addition to job listings, there are a number of features I want to cover in my FlexJobs review.
Email updates
When new jobs are posted that match your search criteria, FlexJobs will notify you by email. This is a great way to stay up-to-date on potential job opportunities without having to check the website every day.
Company guide
This resource tells you more about top companies listed on FlexJobs, see past job listings, learn about any awards, and provides a direct link to its website. FlexJobs says you can use this to write cover letters that are tailored to each job posting.
Skills tests
Because some jobs have certain proficiency requirements, FlexJobs gives you access to over 170 different skills tests so you can gauge your skills and better sell yourself. These tests normally run around $10-$20/each, but come free with your FlexJobs membership. You can take each test as many times as you'd like to improve your skill level and test score.
In addition to specific skills, you can take a soft skills test to find the types of jobs and employers that are a good fit for you.
Resume profile
When you sign up with FlexJobs, you'll go through the process of creating a profile that gives you a professional-looking resume to use when applying for listings on FlexJobs. If you take any of the skills tests, you can add those to your profile. You can also add any relevant work samples.
Member savings partnerships
FlexJobs members get extra savings and discounts through some of its partner companies, including:
Dell
Audible
Grammarly
Sittercity
Costco
VSP Individual Vision Plans
Intuit Quickbooks and Turbotax
Referral program
FlexJobs gives all of its members a referral code that gives you a free month on the site when someone signs up using your link.
Career coaching and resume reviews
This is an add-on to your FlexJobs membership, and members get discounted rates for one-on-one career coaching. There's also resume review, where an expert will go over your resume and help you build it for specific jobs.
Ad-free
There are zero ads on FlexJobs – just jobs. Lots of companies and apps make money from placing ads on their sites, but it can get a little annoying when you're paying for access to something and still see ads.
FAQs
How much does FlexJobs cost?
+-
FlexJobs is $14.95/month with discounted pricing for three-month and year-long memberships. The year-long membership breaks down to only $4.17/month.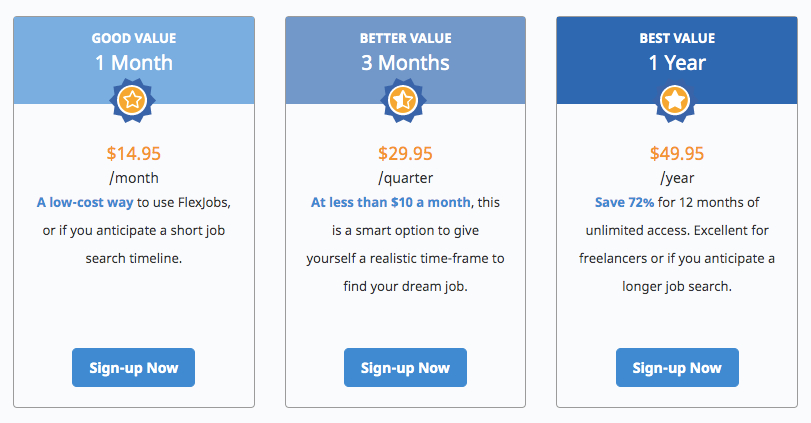 You can cancel your FlexJobs membership at any time, no questions asked. They'll even issue a refund within 30 days of creating or renewing your subscription if you're not happy with the service.
All you need to join is your name, email address, and a secure password.
Is FlexJobs legitimate?
+-
You're paying for research. Instead of searching through traditional job boards, digging into each option, and reading all of the reviews to see if a job is legit, FlexJobs does all of that for you. You're paying for a service that helps you find the best possible work-from-home jobs.
Paying for online access to jobs isn't a scam. And like I explained earlier in this FlexJobs review, many a number of reputable platforms have some kind of fee structure.
Is FlexJobs worth paying for?
+-
There's no magic pill that will automatically get you hired for remote work. And if anyone tells you there is, they're full of BS.
FlexJobs can help you find a job, and the research aspect is great, but you still have to do a little work on your own. That means you need to take full advantage of its features, send in high-quality applications, and regularly search through listings.
Think of it like a gym membership: just joining the gym won't instantly help you to lose weight or build muscle, but taking full advantage of their workout equipment and making it a priority to get there definitely can.
There are good work-from-home jobs out there, but you have to do your part to find them. And if you're willing to invest a little of your own cash, FlexJobs can do some of that work for you.
If joining FlexJobs results in a decent job, then it's worth the small subscription fee.
Can't you find work from home jobs for free?
+-
FlexJobs review: The final word
I've been skeptical in the past of sites that claim that they can help you find work, but as I've spent more time working online, I get it. I've seen people fall for scams, lose money, and waste their time on so-called work-from-home jobs.
Sites like FlexJobs eliminate that risk because they vet potential employers for you, and that's what you pay for.
Now, there's no guarantee that you're going to be hired because that has more to do with applying for positions, presenting yourself in a professional way, and finding the right positions. Fortunately, FlexJobs has tools to help you with all of that.