Learning how to sell on eBay is a good way for you to make cash selling unwanted things around your house. But, it's also a surprisingly good side hustle for anyone who wants to bring in a more steady stream of income.
In fact, I have one reader who earned over $85,000 in one year by selling on eBay. And… here's the best part… she was only working 15-20 hours a week!
I love when someone turns their side hustle into a full-time income, and that's clearly a reality once you learn how to sell on eBay.
But, how easy it is to sell on eBay?
Just like any other side hustle, there are best practices and strategies that work better than others. And that's exactly what I'm going to explain today.
Learning how to sell on eBay takes a little more know-how than listing random items and praying for a big sale. There are better days for auctions to end, a right way to list items, ways to avoid listing fees, and much more.
So, if you want to learn how to sell on eBay to make some extra cash, I've got you! You're going to learn the step-by-step instructions and 18 awesome tips for selling on eBay that will help you increase your sales.
For my favorite side hustle ideas, read 21 Best 2020 Side Hustle Ideas (Make $1,000+ Per Month!).
How to Sell on eBay (and Actually be Successful)
1. Build your eBay seller's profile
There are two different types of seller's accounts on eBay — personal and business. A personal account is better if you plan on being a casual seller. If you want to sell more seriously and move large quantities of items, then a business account is better.
Both types of accounts require you to create a seller's profile, and the bare minimum for that is a username. You can also add a picture and short biography, and those can make your account feel more personable and serious about selling. If you want to sell big-ticket items, put more info in your profile, like are you a collector, expert, retailer, etc.
Your eBay seller's profile is what buyers can click on to see what you've sold in the past, your ratings, and reviews. And that leads to my first tip for how to sell on eBay…
M$M eBay tip:
If you're a brand new baby seller on eBay, you need to start earning some good reviews. The best way to do this is to start selling a few small items from around your house. When you're selling those first few things, respond to questions quickly and ship things out ASAP.
And, if you've never bought anything on eBay, buy a few small things and leave feedback. Both selling and buying those first few items will show potential buyers that you're a reliable member of the eBay community.
Learn about more apps for selling at 21 Apps to Sell Your Stuff Online (and How to Avoid Getting Ripped Off!)
2. Pick your niche on eBay
Picking a niche is key in lots of different types of online businesses, from blogging to working as a virtual assistant. It's no different on eBay, because picking a niche builds your authority and tells buyers that they can trust your prices and descriptions.
Think about it like this: If you ran across a person who was selling jeans, cell phones, and comic books, it looks like they're all over the place. Where are they getting all of this random stuff, and why should you trust their knowledge of any of it?
But if they were only selling comic books, it says, "I know a lot about comic books. You can trust me."
Don't know what niche to pick, here are some of the top categories:
Vintage goods
Antiques
Video games
Sporting goods
Clothes
Electronics
Home goods
Collectibles
M$M eBay tip:
Lots of new eBay sellers see the "Hot Right Now" items and think about going straight for those niches. But be careful!
As a new seller, you're at a disadvantage because "Hot Right Now" means there are already lots of people selling these items. A new seller will easily get lost in those listings. Also, the margins on these items are pretty low, so you won't make as much selling them.
Want to make money on Facebook? Learn more at How to Make Money on Facebook (Fast!)
3. Research your listings
Before you list an item, spend some time looking at what similar items have sold for, what the listings look like, etc. It's really easy to find this information — you just go to the eBay search bar and enter the name of your item, then click "Sold Listings" or "Completed Listings" in the "Show Only" section.
Research will tell you what is selling well on eBay, the price point, what good descriptions look like, etc.
For more great work-from-home side hustles, read 17 Best Side Hustles From Home.
4. Write your listing
There are two parts of writing your listing — the title and the description. They're equally important, but you get more freedom with the description.
For the title, include all relevant words, and only use relevant words. It's tempting to use words like "epic," "amazing," and "best," but people aren't searching with those words. They are using relevant words only.
Think about how you would search for a listing. Would your search term be "the most epic cappuccino machine"? Or, "De'Longhi manual cappuccino machine"?
Buyers come to eBay to find deals on things they've already researched. They already have ideas on what's best, and now they're looking for good prices from reputable sellers.
Now the description. Keep things simple and to the point. If you really want to say this is the "best" of something, do it here, but don't go overboard. Here are more tips for descriptions that sell:
Don't write in large blocks of text — it feels overwhelming and readers will skim over it
Be honest in your listing
Make sure you point out any flaws or defects
5. Pick the right time to sell your items
If you are selling things on eBay auction-style, then there are a few important things you need to consider before listing your items.
There are 1, 3, 5, 7, and 10-day auction windows on eBay. But 10-day auctions are typically the best, because more time means more visibility. And when you have more people looking at your auction, the higher your chances of more bids.
But, you need to find the right time for your auction to finish, and the most popular time on eBay is Sunday evening. So list your items 10 days out from then. If you're not set on Sundays, you do want to avoid your items finishing in the middle of the week, especially during the morning.
Remember, when auctions are about to end, people will come back to eBay to check on bidding. The hope is that they'll increase their bid if it looks like they aren't going to win. The vast majority of people aren't going to be able to focus on an eBay auction while they're at work… maybe another argument for finding remote work!
M$M eBay tip:
If you want to learn how to sell on eBay successfully, you also need to think about the seasonality of what you're selling. Timing your auctions is more than just picking the right day of the week to list.
Think about what kind of clothes are going to sell better in the summer, what holidays are coming up, are there big sporting events that would be good for memorabilia or collectibles.
6. Take great photos
Pictures are the best way for online shoppers to get to know a product before they purchase it, and eBay gives you up to 12 pictures — use them well!
Here are tips for taking photos for eBay:
Make sure your photos are well lit
They need to be clear, not grainy
Don't use filters
Don't photoshop anything
If there are flaws or defects, show them with photos
Use your own pictures, not ones you've found online
The bottom line: The photos you post on eBay should be honest. This will help you build your reputation as a seller, and I'm going to talk a little further down about why this is so important.
7. Set the price
When you are researching your listings, pay attention to the price similar items have sold for. This can help you land on a price for your auction to start at or where you want to set your "Buy It Now" price.
When you are just starting to learn how to sell on eBay, setting prices on the low end (as long as you're not losing money), will help you gain some sales. This is good for your ratings and can boost future listings.
Low prices also attract more people in an auction, but the flip side is that you run the risk of not selling for what you want. If you feel like you've priced an item too high or too low, you can change the price on fixed priced items. You can also change the price of auction items up until the first bid is placed.
M$M eBay tip:
For auction items, you can set something called a "Reserve Price." It's the amount an auction needs to reach before you're willing to actually sell. While it ensures that you make what you want, it costs more and some buyers get annoyed by it.
8. Completing the sale
Once you've sold an item, make sure you ship it out ASAP. At this point, you'll want to keep the buyer updated on everything and be responsive to any questions or concerns they might have.
When you're shipping the goods out, make sure it's packed safely and securely. How well you package something does a lot for your ratings. And it would be a serious bummer if something broke.
M$M eBay tip:
While you want feedback from your buyers, leave feedback for them, especially those who pay quickly. It's a win-win for both of you, and is as simple as giving them some stars and sending them a note like, "Thanks for your business! Please visit my shop again!"
Want to make some fast cash? Learn how at 13 Easy Ways to Make Money Fast in 2020.
Even more tips for selling on eBay
You just read some great tips, but here are 13 more tips for selling on eBay that will help you increase your earnings.
Keep your ratings high
Throughout this article, you've heard me mention that keeping your ratings high is really freaking important. But it's more than just showing potential buyers that you're a reputable seller — eBay rewards sellers with high ratings by listing their items higher in search results.
That's huge! And if you get really great ratings, eBay may give you a "Top Rated Plus" seal and discount your fees.
Know what the eBay algorithm wants
Just like Google, eBay is a search engine that helps people find exactly what they're looking for. eBay uses the Best Match algorithm to help buyers sort through their huge marketplace, and here's what it's looking for:
Listings that match search terms
The popularity of an item
The price of an item
Listing quality (photo, description, etc.)
How complete your listing is
Services, like free shipping and return policies
Your history as a seller
Keep all of that in mind if you want to optimize your listings. As long as you follow my tips and steps for how to sell on eBay, you shouldn't have a problem, though.
One more thing about eBay's algorithm. People talk a lot about writing for people and not algorithms, but if you look at what eBay wants, it's exactly what people want! Algorithms, in general, have gotten better at mimicking the human mind… kind of creepy, I know… but it creates a better user experience for everyone.
List items in bulk
Listing items on eBay takes time, but if you have multiples of the same item, you can list everything at once. You'll want to use the fixed price format when selling, and then you can select the quantity.
The site will even keep track of your inventory and end the listing once you're out of stock. You can learn about bulk listings here.
Build trust
I've talked about this a little bit, but it's just so important. Trust increases your ratings, which boosts your listings, and helps you earn more money. But also, lying about stuff just isn't cool.
Here are the best ways to build trust on eBay:
Use real pictures, like pictures you These do better than the ones you can grab online, and they should show any flaws or defects.
Consider adding product videos. This is a good way for buyers to get really close and personal with an item.
Show positive feedback and testimonials in your listings. This is telling potential buyers that you have a good track record.
Buyers love free shipping
With the proliferation of free shipping online, we practically expect free shipping these days. And it changes the way people think about their purchases.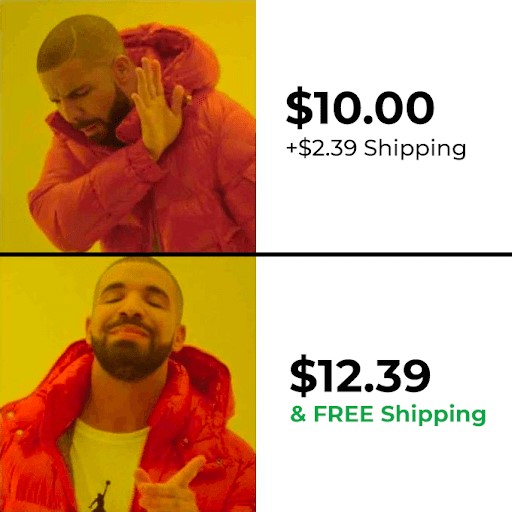 Because eBay knows how much buyers love free shipping, they prioritize sellers who offer it.
Fill in all of the specifics
This is another thing that eBay's algorithm prioritizes — listings where sellers fill in as much as possible. It also helps buyers who use filters to search for things on eBay. So take the time to fill out all of the specifics.
Be honest in your listings
This is simple. Don't lie about your listings. Just don't do it.
Download the eBay app
The eBay app gives sellers a big advantage when they are out hunting for items to sell on eBay. You can use the app to scan barcodes and see what similar items have recently sold for. You'll learn if something sells well and for how much. The eBay app will help you decide whether or not a product has a high enough resale value and profit margin.
The app can also help you learn how to sell on eBay the easy way because when you scan barcodes, it will autofill relevant information for you. You simply scan the barcode, and scroll down to "Sell one like this."
Have a return policy
Similar to offering free shipping — eBay prioritizes sellers with more generous return policies. And the reality is that not having one will cause you to lose some potential sales. People want to know there is a safeguard when they buy online.
You can research the return policies of other top sellers in your niche to find what works for you. But whatever you choose, make sure it's clearly written in your listings.
Copy and paste are your friends
Every single one of your listings should list your policies on payment, shipping, and returns. It's tedious to type everything out for each item, so that's where copy and paste come in. Write things out once in Google Docs or a Word doc, then copy and paste in your listings. Then make item-specific changes as needed.
Reply to customers ASAP
Having good customer service is one of the most important things you can learn about how to sell on eBay. That's because a responsive seller is a good seller.
The point at which someone asks a question means they're pretty close to bidding or buying an item. Don't lose them at this crucial moment! When someone sends you a question or concern, get back to them as soon as possible. Also, give them more than a simple "yes" or "no." You'll sound more trustworthy if you respond in full sentences.
Lower the reserve price
If you set a reserve price on your auction and it hasn't been met, lower it about 12 hours out to attract last-minute bidders.
Avoid listing fees
When you sell on eBay, you can sell with an eBay Stores subscription or not. If you don't have a subscription, you have 50 free listings per month. There is still a fee when you sell an item (10% without a subscription to eBay Stores). If you plan on selling more than that, an eBay Stores subscription costs as little as $4.95/month and gives you access to 100 free listings and lower final value fees.
But, eBay often offers free listing days that are really great to take advantage of. You can find these after logging in and clicking on "My eBay." You'll see promotions and how many free listings you have left for the month.
My final word on learning how to sell on eBay
You've probably got this by now — there is a lot that goes into selling on eBay. But, that doesn't mean it should prevent you from giving it a try. There are lots of real people making good money on eBay.
And remember, you can… and should… start small and work your way up. Start selling some things from around your house to make a few extra bucks and see if you like it. If you do, awesome! Follow the tips I've listed and let me know how it goes.