Are you in school and looking for the best part time jobs for college students? This list has nine options that are worth your time, including several with flexible hours and options for working from home.
Ahh…college. For many students it's your first real taste of independence combined with your last few years of freedom, and this makes it an incredibly exciting time.
But it's also when many students have to start dealing with the financial realities of being an adult: keeping a budget, paying for their own expenses, and potentially taking on some debt.
And speaking of college debt, the average college graduate has nearly $30,000 in student loan debt! That's not a fun way to start the rest of your life. This debt can also be coupled with credit card debt, since you'll need to pay for life's essentials without making a full-time income.
Finding a part time job while you are in college is a great way to offset or avoid that debt.
You can start paying towards your loans, cash flow some if not all of your tuition, or just have money to put towards other expenses, like groceries, gas, or extracurriculars.
The part time job ideas on this list are picked specifically with college students in mind. That means these are flexible and decent paying positions that make it easy to balance your classes, social life, and extracurriculars with your work schedule.
And at the end of this list of best college jobs, you'll find my best tips for picking the right college job for you.
Here are 9 of the best part time jobs for college students
1. Work as a babysitter or nanny
I worked as a nanny in college and made $250/week watching two kids. My responsibilities consisted of picking them up from school, feeding them a snack, helping with homework, and waiting for their parents to get home from work. In all, it was about 3-4 hours per day or 15-20 hours each week.
Watching kids is a great job for college students if you like kids, but not everyone does, and that's okay! There are plenty of other good part time jobs for college students.
For those who are interested, you can easily find babysitting and nanny gigs that work with your class schedule because later afternoons and evenings are the most in-demand times for parents. And you can make around $10-$20/hour.
Some families even pay nannies to travel with them – I've actually gone on an all-expenses paid cruise as a nanny, and made a few hundred bucks on top of my free trip.
Having previous babysitting experience and CPR or first aid training are all valuable qualifications for many families. But one of your best assets is a strong list of references. These can be from other families, past employers, or even professors.
Word of mouth is one of the best ways to find babysitting jobs, but you can also post a profile on sites like SitterCity or Care.com.
2. Walk dogs or pet sit with Rover
Rover is an online platform that connects pet owners with caregivers in their area. And it's a great part time job for college students because you can set your own rates and hours. It's also a great way to spend time with animals if you're missing your pets back home!
You can make money walking dogs, pet sitting, doing drop-in visits, and if you have your own place, you can make the most money by offering in-home boarding – just make sure it's okay with your landlord.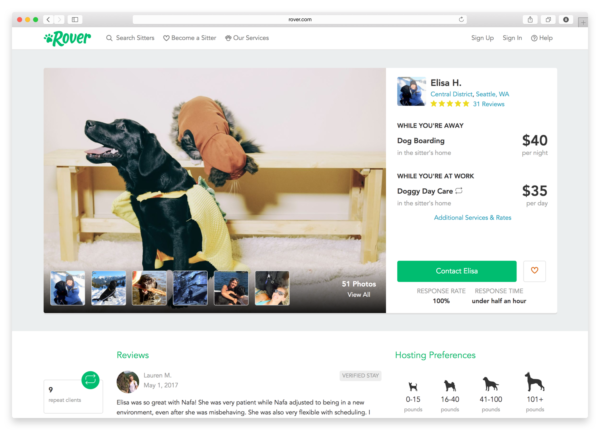 Rover claims that you can make $1,000/month if you treat dog walking or pet sitting like a part time job.
Here are some average rates on Rover across the U.S.:
Seattle, WA: Dog boarding $45-$60/night, drop-in visits $20-$3/visits, dog walking $20-$25/walk
Charleston, SC: Dog boarding $25-$40/night, drop-in visits $13-$20/visit, dog walking $15-$20/walk
Kansas City, MO: Dog boarding $20-$40/night, drop-in visits $12-$17/visit, dog walking $15-$20/walk
Houston, TX: Dog boarding $30-$40/night, drop-in visits $15-$20/visit, dog walking $15-$20/walk
This could be a really fun part time job, but it's a serious business taking care of someone else's pets. Not only do you need to really love animals, you have to know your limits (like if you're not comfortable with big dogs or walking multiple pets at once) and list your services appropriately.
If you'd like to learn more about Rover, from real Rover job reviews to how to apply, check out Rover App Review: Get Paid to Walk Dogs.
3. Make money delivering food
If taking care of someone's beloved kids or pets feels too high-stress, try taking care of their food!
Here are a few M$M favorite food delivery services:
Postmates
If you haven't already used Postmates for some kind of wild late-night delivery, you probably know someone who has. That's because Postmates has built its brand on delivering "anything, anytime, anywhere."
Here are a few real, but insane, Postmates deliveries:
$1,000 worth of Taco Bell
A drum set
One package of Reese's Peanut Butter Cups
Chance the Rapper has used Postmates to deliver seven PS4 remote controls
Just the other day, I saw a Postmates courier picking up 24 dozen cupcakes from the grocery store!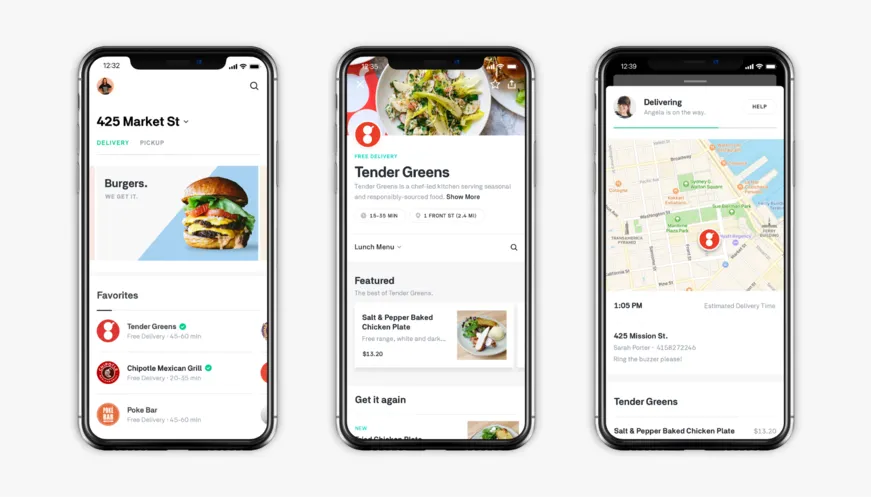 What you can earn on Postmates will depend a lot on the area you're working, and its payment model is made up of individual rates per pick-up, drop off, waiting time, and per mile. You keep 100% of your tips, and drivers report average earnings between $11-$20/hour.
For Postmates and the rest of these delivery services, you'll need to be at least 18 years old and pass a background check.
Read How Much Can You Actually Make as a Postmates Courier? to learn more.
DoorDash
DoorDash couriers, or Dashers, can earn around $20/hour delivering food from local and chain restaurants in their area. What makes DoorDash unique is that you can schedule your hours in advance, which ensures that there will be enough deliveries to go around. This can be helpful if you plan on working after classes on certain days.
Dashers get to keep 100% of their tips, plus base pay (which depends on each delivery) and any promotions. Promotions are periods with higher pay during peak hours like the lunch or dinner rush.
The DoorDash courier app is really easy to use. It's where you'll accept deliveries (with guaranteed earnings), get directions to and from locations, and manage your payments.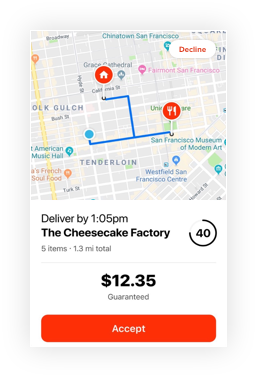 For more on DoorDash, check out DoorDash Driver Review (and How to Earn More than Average).
Instacart
Instacart offers on-demand grocery deliveries and pick-up in all 50 states across the U.S. and parts of Canada. Customers place orders on the app, and Instacart full-service shoppers shop and deliver the groceries for them – just keep in mind you'll need a car and insurance for this.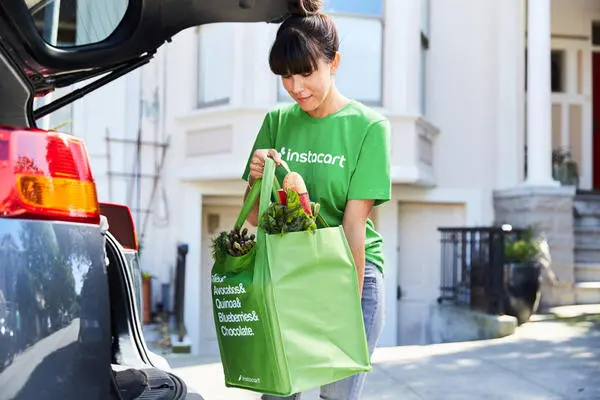 If you don't have a car, Instacart can still be a good side hustle. You can also work as an in-store shopper that shops for and prepares deliveries before a driver picks them up.
During busy times, Instacart shoppers can make around $20/hour, with an average of $12/hour reported by shoppers on Glassdoor.
4. Work as a sports referee
Did you know that refs can make around $25/hour reffing soccer games or working as a little league umpire? Surprisingly, many sports don't require that you have any background playing the sport, but you will need to learn the rules really well.
Because sports run seasonally, you can make the most money by signing up to ref more than one sport. For example, you could ref outdoor soccer in the fall, indoor soccer in the winter, and baseball in the spring.
You can find these jobs through local community centers or sports clubs. If there's a sport you really love, you can even look into finding some coaching positions, too!
5. Become a digital marketing manager
When I say digital marketing manager, I'm talking about running Facebook ads for small businesses. And if you think this job sounds like a job that requires a degree in marketing, trust me, it doesn't.
Still, running Facebook ads is way more involved than boosting posts or going after likes – you're creating highly targeted ad campaigns that drive traffic to your client's business.
As the largest social media community, Facebook is a great place for small businesses to grow, but very few have fully tapped into the market. That's because many business owners lack the time or energy to learn how to create and execute an effective ad strategy.
That's where you come in!
You can learn how to:
Find and acquire clients (aka how to get them to say "yes" to your services)
Create effective ads, including tips for compelling copywriting
Target ads to different types of audiences
Maintain your client relationships
Make $1,000-$1,500/month per client in just a few hours per week
If you're interested, Millennial Money Man's founder Bobby Hoyt and his good friend Mike Yanda (a former lawyer turned digital marketer who now earns $30,000/month while working as a stay-at-home dad) created the Facebook Side Hustle Course to teach you those skills.
Bobby started running Facebook ads after quitting his full-time job to run this site, and was soon making more than he did as a teacher. Mike started running digital ads when he was a law school student, and eventually quit his job once his side hustle income was higher than what he made as a lawyer.
The point is, these guys know what they're doing and how to deal with inevitable concerns that you're too inexperienced.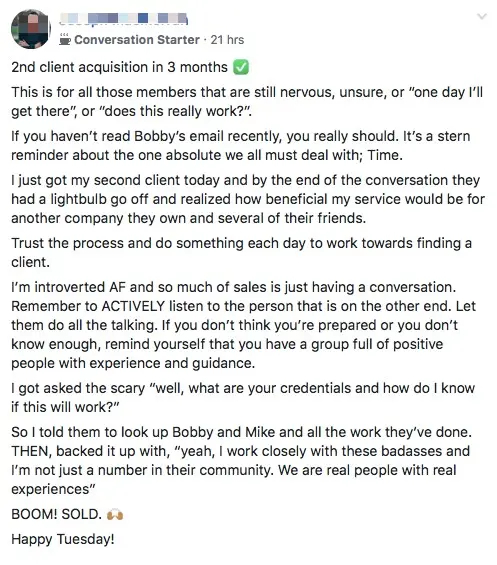 M$M tip: This job would look amazing on resumes after graduation. "Why yes, I did start my own marketing agency while taking a full course load." And because it's mostly based online, you can keep your business going while you're on break.
6. Proofread in your spare time
The best college jobs aren't going to be for everyone, and that's especially true for this option. But if you're the kind of person who is meticulous with grammar and punctuation, then proofreading is worth checking out.
Proofreaders put the finishing touches on essays, web copy, sales pages, emails, blog posts, tweets, and a lot more. Because errors can make written content stand out as unprofessional, this is an in-demand skill.
This is an incredibly flexible part time job. It's based online, so you pick when and where you work. And you can earn between $10-$45 as a proofreader. Your pay will depend on your experience, so it's safe to say that college students will start on the lower end of the pay scale. Just a heads up.
If you're interested in becoming a proofreader, Caitlin Pyle of Proofread Anywhere has a comprehensive proofreading course called General Proofreading Theory and Practice. She teaches you about the principles you'll need to know, how to monetize and market your skills, and how to start finding proofreading work.
For more on working as a proofreader, check out the article Proofreading Jobs: Make Money Pointing Out Mistakes. You'll learn:
What exactly proofreaders do
How to start working as a proofreader
How much you can expect to make
Where to find jobs
And a lot more!
7. Participate in research studies
Research studies and clinical trials are used by universities, drug companies, and medical companies to study diseases, medicines, and treatments. There are studies for individuals with certain diseases or conditions, but lots of studies need healthy adults to participate.
When my husband was in college, he regularly participated in clinical research studies to make extra money. A typical study paid $600-$800 and ran two to three weekends in a row – he would stay overnight at a research facility and go back in for regular blood draws after the study was completed.
This part time job isn't for everyone (it's definitely not for anyone who feels squeamish around blood or needles), but my husband enjoyed it because he was able to spend those weekends finishing homework and essays, reading, and catching up on sleep.
If you're interested, check out ClinicalTrials.gov to search through a database of over 300,000 different research studies around the world to find studies you might be eligible for. The site is run by the United States National Library of Medicine at the National Institutes of Health.
8. Become a Pinterest virtual assistant
You're probably familiar with Pinterest as a place for finding DIYs, recipes, workouts, style boards, and much more. But online business owners leverage Pinterest's wide reach to grow their online traffic.
For example, if you found M$M site from Pinterest, there's a reason – we have a Pinterest virtual assistant who creates pins and boards, keeps a pinning schedule, and optimizes the M$M Pinterest account.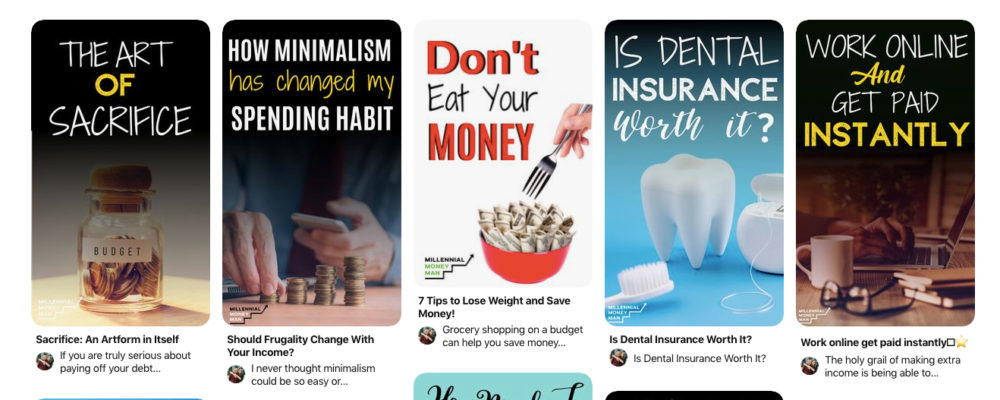 Pinterest virtual assistants (VAs) are a valuable asset for business owners in the same way digital marketing managers are. Business owners lack the time to learn and take advantage of all of the available traffic-building strategies.
Pinterest VAs can make around $500/month per client, work online, and set their own hours.
If you're interested in learning more about working as a Pinterest VA, check out Become a Pinterest VA Today. It's taught by two badass boss ladies, Gina Horkey and Kristin Larsen. Larsen is a Pinterest marketing expert, and Horkey is an experienced VA who now teaches over seven different VA courses to help others grow their own businesses.
Read more at How to Make Money on Pinterest in 2020 (Earn $1,000 Extra Per Month!).
9. Find an on-campus job
Your school most likely has a lot of decent part time jobs designed specifically for college students. These jobs are created with a student's schedule in mind, so it's not like a restaurant that won't care about finals week or that massive paper that's due in two days but you still haven't started.
Another thing that's nice about these jobs is that if you're living on campus, getting too and from work will be super easy.
Here are several on-campus jobs:
Peer tutor: You can work as a tutor for your school's educational resource center or post flyers around campus to advertise your services. You can tutor academic coursework, but don't forget about any musical or language skills you might have, too!
Brand ambassador: Big brands (like Coca-Cola, RedBull, PINK, Amazon Prime, Bumble, and Southern Tide ) pay students to promote their brands on campus. You can find these opportunities through your campus services offices or by contacting brands directly to see if there are openings.
Research assistant: Departments ranging from psychology, history, and biology offer hourly or stipend jobs for students to help with research duties. This can also be a great way to build relationships in the field you're interested in pursuing after graduation. You can contact departments for more information.
Library attendant: You can be checking books and other materials in and out or helping students find research materials. It's a quiet job, and you might even get a chance to get some homework done – possibly the perfect job for those with intense course loads.
Campus tour guide: This a great job for high-energy, enthusiastic students who know their school really You may be leading large groups or doing one-on-one tours and answering questions from potential students and their parents. Just be prepared to memorize a lot of information!
Social media assistant: As colleges become more media savvy, they need students to manage their social media accounts. Your college's marketing department is a good place to look for these job listings.
Those are just a few options, and most colleges have on-campus job boards that you can check for listings. And some of these are eligible jobs if FAFSA qualifies you for work-study. The only real downside is that these jobs pay closer to minimum wage than a lot of our other options.
How to pick the best part time job while you're in college
Between keeping up with your courses, your social life, extracurriculars, and the ever-elusive full night of sleep, you have a lot on your hands. Here are a few tips for picking a part time job that fits well with your busy schedule.
Keep the location in mind
If you don't have a car, your campus isn't walkable or bikeable, or there's a lack of good public transportation, your job possibilities might be more limited. Finding remote work maybe your best option, and online-based jobs also mean you can keep working when you go back home during school breaks.
Take a good look at your workload and class schedule
Many of the jobs on this list let you set your own schedule, and I listed those for a reason – you get to pick a schedule that works for you. More traditional jobs like waiting tables or working retail won't always keep your courses in mind when scheduling your hours.
Be realistic about how much you'll make with different part time jobs
Out of all of the best part time college jobs on this list, the on-campus ones probably pay the least. You might find that they're the easiest for you to commute to, but there are definitely higher paying options. Take a look at your budget and figure out how much money you want to make for a part time job.
Think about the careers you might want to explore
While your life right now is focused on getting through college, the end goal is always to find a career you love If you can find something like a paid internship in a field you're interested in exploring, that would look great on your resume, though those jobs are limited and highly competitive.
The final word on the best part time jobs for college students
Each of these jobs has some benefits, and you know how to pick one, so I'm just going to end with a piece of advice:
Don't overextend yourself.
Having a job while you're in college is an excellent way to cover some, if not all, of your tuition, and a great option for reducing your student loan debt. But don't take on too much at once. Burnout is a real thing, and it affects every aspect of your life.
The best way to avoid burnout is to be honest with yourself about how much you can work, the number of classes you can take, and how much time you want to spend on other activities.
Take a break when you need one. Get a full night of sleep every once in a while. Take time for self-care. And don't be afraid to ask for help when you need it.
Remember, you've got this.