I'm doing something a little bit different today with this QuickBooks Online review. My content is normally focused on paying off debt and saving money, but today is for reaching out to my fellow online entrepreneurs.
I see you out there… you freelancers, side hustlers, and online business owners. Running a business is hard, but finding the right tools can be a complete game-changer. I know you know what I'm talking about.
That's exactly why I'm doing this QuickBooks Online review. I'm currently using it for all of my businesses, and it's something that has completely streamlined my accounting process. And, I think it's something that can help lots of different types of business owners.
If you're anything like me, you're already started formulating a list of questions. Honestly, I get a little skeptical when someone tells me that they've got something to make my life easier, so I feel you.
So, let's just get to it and talk about what QuickBooks Online can do for your business.
Here is everything I'm going to cover in my QuickBooks Online Review:
What is QuickBooks Online?
What's good about QuickBooks
Required hardware
Features
Customer service and support
Security features
The types of businesses can QuickBooks help
Cost of using QuickBooks Online
Pros and cons of QuickBooks Online
QuickBooks Online 2023 Review

What is QuickBooks Online?
QuickBooks Online is a cloud-based accounting software developed by Intuit, which has been a leader in accounting since the company was founded in 1983. Quicken, the company's first product, was released back in 1984, QuickBooks was released in 2002, and then QuickBooks Online in 2004. Mint, a budgeting app and money tracking tool, is another wildly popular Intuit product.
The QuickBooks Online software has some extensive new features that make it pretty different from just regular QuickBooks, which is locally-installed. Those features are why over two million people use QuickBooks Online to manage their business finances.
What's good about QuickBooks?
I'm going to get into the features a little further down in this QuickBooks Online review, but I wanted to start by telling you what I really love about it.
While you can do invoicing, expense tracking, checks, inventory, and other more basic accounting features, QuickBooks Online also has:
Project management tools so that you can track job profitability (I'm anxious to use this!)
Time tracking functions that are great for freelancers
A client portal where clients can ask questions about invoices
An extensive list of integrations that help you get even more out of the software
And since I've grown my M$M team, QuickBooks Online is helping me pay everyone on time, do the right thing at tax time, and manage all of the additional costs of owning a business and making money online.
I also really appreciate that QuickBooks has several different plans. This makes it really easy to find the service that works best for your business so that you're not paying for features and tools you just aren't using. You can also switch plans or cancel whenever you want – there are no contracts.
What kind of hardware do I need?
QuickBooks Online is cloud-based software that is compatible with both Windows and Macs and nearly every internet browser. If you'll be working without internet service, there is a desktop app for both Mac and Windows.
There is also a mobile app available for Apple and Android devices.
And while I don't really use QuickBooks Online for this, if you are printing checks at all, you'll need Adobe Reader 7.0 or higher or the Firefox PDF plugin.
How much does QuickBooks cost per month?
There are five different levels of QuickBooks online. Every tier but Advanced comes with a 30-day free trial that lets you use the software before committing to it. There are no contracts, and you can switch plans or cancel whenever you want.
QuickBooks Online is currently running a sale that's 50% off for the first free months, but if you choose this option, you don't get the free trial.
Here are the tiers and the sale price:
Simple Start $20  $10/month
Essentials $40  $20/month – this is what I currently use
Plus $70  $35/month
Advanced $150  $75/month
Freelancer $10  $5/month (not available for upgrades to any other plan)
Sign up today and start using QuickBooks Online for your business.
What features does QuickBooks Online come with?
This list is impressive, and it might be easier to ask "what doesn't it come with?"
Your dashboard
This is where you start when you log in, and it gives you a really nice overview of where your business finances stand. It gives you a snapshot of your core financial components:
Invoices
Expenses
Profit and loss
Bank accounts
Sales
You can navigate to commonly used functions, find the advanced ones you don't use as often, search through transactions, and have quick access to a full audit of recent activity.
Track income and expenses
Each QuickBooks plan lets you import and sort any transactions that are related to your business. They can come from your bank account, PayPal, Square, credit cards, etc.
You can use your phone to take photos of receipts and easily link that information to your expense reports.
Sales and invoicing
QuickBooks Online now has a page that is dedicated to sales only. There are shortcuts for new and recurring invoices and sales.
There are five different invoice templates, which you can customize with your logo, fonts, colors, etc. You can even auto-schedule invoices and see when customers open their invoices. Your customers can make payments with credit cards or bank transfers directly in the invoice.
With the Essentials, Plus, or Advanced Plan, you can send reminders on late payments.
Reports
With the Simple Start, Essentials, and Self-Employed plans, you can run basic reports for expenses, profit and loss, and balance sheets.
Plus and Advanced also give you reports for budgeting, inventory, and class. And, you can create customized reports that are specific to your business.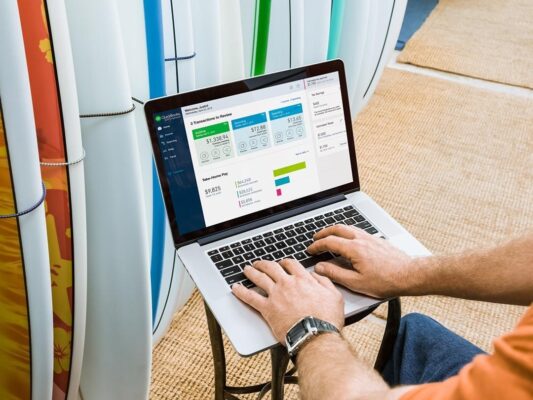 Client Portal
This is where your clients can go to view, print, save, pay, and ask questions about their invoices.
Send estimates
Depending on the type of business you run, estimates can be a great way to show your clients what they can expect to pay for a service. This is really helpful because sometimes a project changes in scope or just takes much longer.
QuickBooks Online lets you send estimated invoices, accept mobile signatures, and easily convert the estimates into invoices.
Track sales and sales tax
QuickBooks online calculates the taxes on sales for you, and you can save as many sales tax rates as you need. With a mobile card reader, you can accept in-person payments. You can also connect to e-commerce platforms like Shopify.
Manage 1099 contractors
My team grew a lot this past year, so I was a little nervous about how we were going to handle all of the forms for tax purposes. But it was no big deal at all. That's because QuickBooks Online takes care of:
1099 categories
Keeping track of who I've paid and how much
Preparing and printing 1099s and W-2s
You can even file those tax forms through QuickBooks, but there is an additional fee. This feature is available for every plan but Self-Employed.
Manage bills
One of the best things about running an online business is that your overhead is really low compared to brick and mortars. That means I don't personally have a ton of bills to pay, but as my business has grown I am encountering more of them… kind of a bummer, but not really.
What this means is that I can take advantage of QuickBooks bill management tools. It lets you track the status of bills, record them, and create recurring payments. I can pay multiple bills at the same time, and if I ever wrote checks, I could do that too.
There's even a dashboard that shows which bills are open, overdue, and recent.
This is only available in the Essentials, Plus, and Advanced plans.
Track your time
This feature is really nice for a couple of different reasons. First, it lets you track and bill clients for hours worked. But, you can also give employees secure access to clock in and out.
The timesheets cover some really useful fields too, including class, customer/project, service, taxable or not, rate, etc.
This is not available on Simple Start or Self-Employed.
Give access to multiple users
If you need or want to outsource some invoicing or tax work that's involved with running an online business, QuickBooks Online has your back. This is one of the perks of cloud-based software – you, your accountant, virtual assistant, etc. can all access QuickBooks via the cloud. Oh, and everything syncs up so you see real-time changes.
Quickbooks also knows that not everyone on your payroll needs to access everything in your accounting software, so you can give employees access to specific features, have user-access levels, and everyone gets their own secure log-in.
Essentials allows for up to 3 users, Plus gets 5, and Advanced allows for up to 25 users.
Track project profitability
One of the things that I focus on a lot, both personally and in my business, is maximizing my ROI (or return on investment). This feature helps you do that with your business – tracking every expense related to jobs or projects.
This feature is currently only available for Plus and Advanced, so I can't use it now, but I'll be anxious to see if it's offered for other levels. I'm just personally heard great things about it.
Contact management
This is basically your digital Rolodex, but it's much easier to use and can contain a ton of valuable information about your customers/clients/etc, including:
Name
Billing address
Shipping address
Preferred payment method
Default payment terms
Opening balance
Tax codes
Attach files like contracts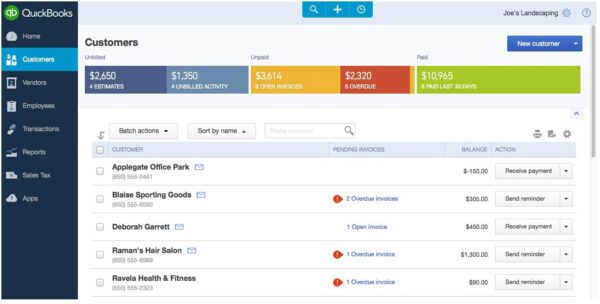 Manage inventory
This isn't something that most online business owners are going to use, but it's still a very valuable tool for other types of business owners. It's only available with Plus and Advanced, but it has lots of functions if you need them, like:
Tracking products
Cost of goods
Get notifications when inventory is low
See what's popular
Create purchase orders
Manage vendors
Sync with Amazon, Etsy, Shopify, and more
Track miles
For self-employed workers using that plan, this feature makes it easy to connect your smartphone to QuickBooks to track your miles. You can easily categorize them, and all of this helps you find more deductions at tax time.
Payroll add-on
All of the plans, except Self-Employed, give you the option to get the Payroll add-on. There are both self-service and full-service options that help you pay employees and contractors, file payroll taxes, and print all of the forms you need.
How good is the customer service and support?
QuickBooks has lots of different avenues for customer service and support, including:
Available M-F from 6 a.m. to 6 p.m. (PST) and Saturday hours from 6 a.m. to 3 p.m (PST).
QuickBooks Assistant. An AI chatbot that can answer live questions online.
Help center. This is full of online resources for FAQs, how-to articles, videos, and support from others in the QuickBooks community.
QuickBooks Small Business Resource Center. Articles, business advice, and guides.
QuickBooks Blog. There are updates and articles written about using the software.
Social media. QuickBooks has accounts on Facebook, Twitter, and YouTube and they post helpful tips and updates from time to time.
QuickBooks Training. For an additional cost, you can attend in-person or online classes.
QuickBooks ProAdvisor. This will cost you, but you can hire trained advisors to help you get to know and use the software.
You're going to find answers to most of your questions through the free, online support. It's extensive and regularly updated. But if you do need to ask a specific question, it can sometimes take a minute to get an answer or fix.
This is actually one of the biggest complaints about QuickBooks – call times are longer than you might expect, but I've honestly not run into that issue. It probably depends on the time of day you call. When I do have issues (they've never been too complex), the representative has always been able to help me with what I need.
If I did have a complaint about customer service, it would be that there isn't email support.
How secure is QuickBooks?
QuickBooks Online uses 128-bit SSL encryption and multi-factor authentication. There are physical safeguards and routine testing of current protections.
Intuit says they use a "multi-faceted" security plan that encompasses "all aspects of software development; from conception to development, and from deployment to post-release support."
What types of businesses can QuickBooks Online help?
As you read through that list of features, you've probably realized that QuickBooks has things that will really help while there are other features that you might never use. That's the beauty of QuickBooks online… there is something for every business owner.
Say you're just a one-man operation running Facebook Ads, the Simple Start Plan will help you manage your costs, invoice your clients, and help you maximize your tax deductions.
Pros and cons of using QuickBooks Online
While I have several reasons why I love using this software for my business, there are also a couple of negatives to point out.
Pros – where QuickBooks Online shines:
The software is designed really well, things are color-coded, and there are a lot of very intuitive aspects.
Being able to customize invoices can help you build your company's brand.
The mobile app works well, and if you're not working from your home office, you can still access a lot of the most used functions.
There are over 590 different integrations for all sorts of add-ons.
I like cloud-based software – I can get to it whenever, wherever, as long as I have an internet connection.
Cons – where QuickBooks Online falls short:
It can feel very overwhelming for beginners.
There are occasionally bugs or glitches that increase your downtime. I've not seen much of that recently, but it's important to note.
Some users complain about it being too expensive, and it has continued to increase in cost.
QuickBooks Online review the final word
I know what you've really been wanting to ask… is QuickBooks Online the best accounting software?
It's hard to answer that question for everyone, but I will give you my honest opinion based on my own experience. Yes, it has been the best accounting software that I've used to manage my business finances.
It's helped me keep track of dozens of projects at the same time, pay my employees, get paid, ease my tax-time stress, and more. I've been using it for four years now, and I've never wanted to use anything else.
Is Quickbooks Online the best accounting software for you? It very well could be, especially if it makes your life easier and lets you focus on tasks that allow you to earn more money.
That's an important thing to remember. Investing in your business can be hard in the beginning from a financial perspective, but when it means you can focus on other things, it's usually worth it.