Are you looking for legitimate, profitable, and low-cost business ideas?
There are dozens of different side hustles, and we're going to focus on the ones with high profits and a low investment cost. These are ideas that you can scale into more profitable business ideas. These are one that can grow into agencies, courses, and multi-faceted online businesses. If you're going to invest your time in starting a business, we want you to have the highest paying options available!
Here are 11 Legitimate & Low Cost Business Ideas
1. Proofreading
If you cringe when someone uses the wrong verb tense or can't tell the difference between their/there/they're, then proofreading might be one of the best low cost business ideas for you. Proofreaders are responsible for polishing written content for bloggers, content writers, website owners, academics, business owners, and more.
Proofreading is an in-demand and valuable skill, and it's an excellent choice if you want something flexible that you can do from home. Ariel Gardner started proofreading when she was finishing her degree, working two part-time jobs, and caring for three young children.
Ariel grew her proofreading business, and she's now a full-time proofreader, copy editor, and freelance writer. She teaches you the five steps to starting a profitable proofreading business in the FREE webinar Well-Paid Proofreader.
Want to make money proofreading?
This FREE seminar teaches you the five steps to becoming a well-paid proofreader.


2. Bookkeeping
Freelance bookkeepers help business owners record and manage daily financial transactions. This can include paying bills, managing payroll, and collecting payments. Bookkeeping is not the same thing as accounting, which means it doesn't require a degree!
Bookkeepers need to be familiar with popular financial software like Quickbooks and know how to read and create balance sheets. Pay averages $20-$40/hour.
Make up to $5,000/month bookkeeping!
Learn the skills and strategies necessary to start a successful bookkeeping business from the comfort of your home.


3. Run a Facebook Ad Agency
After I left my teaching job to blog full time, I needed to find a low cost business idea to supplement my income. I decided to start running Facebook ads for local businesses because there essentially $0 startup costs, and there was a high need for new ad managers.
My first client was the jeweler who sold me my wife's engagement ring, and after a few months of finding and running ads for new clients, I was out-earning what I made as a high school teacher.
Facebook ads are one of the best ways for small businesses to reach new customers. It's a low cost and effective way to advertise because you can create highly targeted ads on the world's largest social media platform.
But most small business owners lack the time and/or knowledge it takes to run a successful ad campaign, and that's where you come in.
A trained Facebook ad manager will be able to:
Create ads with compelling copy and images
Test and troubleshoot ads
Build target audiences for their client's ads
Help business owners come up with an offer that brings in leads
Build sales funnels that convert
I teach all of that, plus how to find and land clients, in my Facebook Side Hustle Course. My buddy Mike Yanda and I created this course to help people start and grow their own Facebook ad agency. Mike has years of experience, and he currently makes around $30k per month with his ad agency, all while working as a stay-at-home dad.
Startup costs:
It takes a big investment of time to learn the skills. A course is optional, but it will accelerate your learning and boost your business from the beginning.
Earning potential:
$1,000-$1,500/month per client. Once your system is set up, it takes around 2-3 hours per week to manage ads for each client.
4. Become a Blogger
I left my secure teaching job to become a full-time blogger. People said I was crazy and that I would come crawling back.
They were wrong… I went from earning $3 in display ad income to a seven-figure business owner in 5 years.
I hardly spent hardly anything on my blog in the early days. As my income has grown, I've started investing in my site, my team, and tools that help me earn more. And that's why I love blogging -- it's a low cost business idea with a high ROI.
Blogging is amazing, but let's talk about the reality. It's a slow business model overall. You're making a time investment in the beginning, and it can take months to earn your first few bucks. Unfortunately, most bloggers quit before they make it.
That's why it's important to pick a topic that you are passionate about and learn how to start a successful blog from the beginning. And I have a few resources to help you start your site:
Launch That Blog – a free service where my team sets up your blog and installs everything you need to launch a professional-looking site, only available if you pay for Bluehost hosting through my exclusive link ($2.95/month)
A free email course that teaches you how to start a blog, from picking your topic to monetizing your site, sign up below
Startup costs:
You can start a blog for free, but I highly recommend paying for hosting services – it makes your blog look professional from the beginning, and you own your content
Earning potential:
$0/month in the beginning to virtually unlimited earnings. You get out of your site what you put into it.
5. Run a Freelance Business
Freelancing is a growing field with over 57 million Americans working as freelancers in 2019. It's an incredibly flexible way to make money because a lot of your work can be done from home or online. You can work when you want, choose the services you provide, and scale your business at your own pace.
As a freelancer, you are an independent contractor who runs their own business and provides services for multiple business owners. This is a great low cost business idea for anyone with a marketable skill, and there are lots of possibilities:
Graphic design
Photography
Film editing
App design
Web development
Sound design
Project management
Social media management
A lot of freelancers start by finding work on sites like Upwork or Fiverr, but I highly recommend setting up your own site if you want to turn your side hustle into a full-time business.
Startup costs:
You are leveraging existing skills to start your business. Some freelancers pay for courses to learn new skills.
Earning potential:
Earnings depend on your field. Here are a few example salaries reported by Glassdoor: full-time writers average $52,807/year, web developers average $75,217/year, and bookkeepers average $30,875/year.
6. Virtual Assistance
Virtual assistants (VAs) take care of a lot of behind the scenes tasks for business owners. My VA helps manage my social media accounts, handles billing, does inbox management, schedules meetings, and generally keeps me focused and on task. It's not an exaggeration to say that I couldn't run this site without her.
Additional virtual assistant tasks include:
Data entry
Responding to emails
Project management
Blog management
Preparing reports
Research
Simple digital marketing tasks
Content creation
Event management
You will need to have good time management skills, be highly organized, and communicate well. Virtual assistance is a pretty broad field, and some VAs niche down to specialize in different areas.
With more and more people freelancing and running online businesses, the need for virtual assistance has grown and it's a low cost business idea or side hustle that's also extremely flexible. My VA works from home while taking care of four young kids.
You can learn more about starting a VA business at 30 Days or Less to Virtual Assistant Success. This course will teach you necessary VA skills and how to build your business, including how to find your first clients.
Startup costs:
You will need a computer and an internet connection. A course can help you boost your business from the beginning.
Earning potential:
Virtual assistant clients are worth around $500-$1,000/month for very part-time work.
Learn more at How to Become a Virtual Assistant in 2023 (Best Courses Included).
7. Flea Market Flipping
Flipping is when you find deals at yard sales, auctions, thrift stores, flea markets, or even free things, and then turn around and sell them for a profit. It's a different low cost business idea because it's not based online, so an alternative for people looking for something different.
I've always liked the idea of flipping furniture that you find sitting out on the curb for big trash day. Most of those pieces are in pretty good condition still and need really minimal repairs, like a fresh coat of paint, tightening screws, changing out hardware, etc.
Flipping can go way beyond furniture. You can flip clothes, exercise equipment, electronics, appliances, baby goods, toys, and more.
Melissa and Rob of Flea Market Flipper made $79,000 last year, working 10-15 hours a week and selling flips on Facebook Marketplace and eBay. Learn the basics in their free webinar training.
Startup costs:
You will have to pay for what you're flipping – some people start flipping things they already have at home when first starting out. This keeps your costs low, and teaches you what to expect. You may have to pay for packing material and online selling fees.
Earning potential:
Earnings vary based on what you're flipping and how much time you can dedicate to this business idea.
8. Create an Online Course
You've probably noticed that there is a course for many of the business ideas on this list. That's because creating online courses is a profitable and low cost business idea in itself.
Now, this isn't a business idea that you create out of thin air – you need to have a strong working knowledge of what you're teaching. And if you already have some kind of online presence, like having a blog, strong social media following, or other online business, you can leverage the investments you've already made to create a successful course.
Courses that teach marketable skills are generally the most profitable because you are teaching other people how to make money. You can get an idea of what kind of courses are being offered and how you might fit in, check out online course platforms Udemy or Teachable.
This is a low cost business idea, but it does take time to create, market, and launch your course. But you're in control of the content you create and can earn some fairly passive income from a course.
One of my readers who has been growing her course income recently hit nearly $10k in a single month of sales.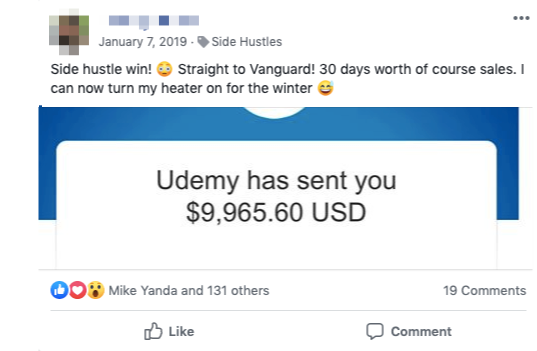 Startup costs:
You're investing your knowledge and time to create a course, and you will pay a percentage of each course sale to the online course platform you use. Percentages range from 3% to 50%.
Earning potential:
Courses can sell from $50 to $500. People with a larger client base to begin with generally sell more courses, and how you market your course can help with sales. Learn more in How to Sell an Online Course (Your Complete Guide).
9. Offer Creative Services
When I say creative services, I am talking about marketing your creative skills and knowledge in a wide range of ways.
People want to learn how to make and create unique crafts, home goods, decor, clothing, and more. The DIY aesthetic is popular, and crafting is a good way to relax for a lot of people.
Here are a few examples of creative services you can offer:
Teaching knitting or crochet lessons
Hosting painting parties
Teaching people how to sew
Woodworking classes
Jewelry making classes
Hosting cookie or cake decorating parties
Metalsmithing lessons
This could even extend into music lessons, gardening, creating patterns, selling arts and crafts through Facebook or Instagram, creating and selling printables on Etsy, and more.
I have a couple of people on my team who are making money in this area. My VA makes extra income designing logos and does hand lettering. My editor makes up to $100/hour teaching people to knit and also sells patterns online.
Again, it's about leveraging and marketing your skills. Some people get their start by listing their services on social media, and others reach out to local shops about teaching lessons.
Startup costs:
The cost of samples and any materials for classes or lessons. Possibly course fees if you want to learn or grow your skills.
Earning potential:
Varies wildly, but people who teach arts and crafts skills generally earn more than those who sell goods. It also depends on your level of experience and ability to market yourself.
10. Write an eBook
Technology has made self-publishing a book a reality for anyone who wants to be an author, and I personally know a couple of people who have successfully published ebooks without any previous writing experience. They weren't bloggers or online business owners to begin with, either.
Ebooks are a popular way to get started because self-publishing breaks down the barriers that come with traditional publishing – finding a publisher, working under a deadline, and negotiating contracts.
Self-publishing allows you to be in complete control of your work. It's also a pretty passive form of income because you don't have to worry about physical product sales.
If you're interested, Kindle Direct Publishing is one of the most popular self-publishing platforms and that link explains everything you need to get started.
Startup costs:
There are some publishing fees, and you may want to invest in an editor or proofreader (you can find one on Fiverr or Upwork). This is mainly a time investment, though.
Earning potential:
You can build a steady stream of passive income, but how much depends on the number of books you publish and how popular they are.
11. Host a YouTube Channel
The highest-grossing YouTuber is an 8-year-old kid that makes money unboxing toys, and he started when he was 3. Kind of makes you rethink your life choices, doesn't it?
That kid obviously has some help from his parents. YouTube doesn't pay people who host channels – YouTubers earn ads, affiliates, sponsorship deals, and by creating and selling merchandise.
The highest-paid YouTubers do have massive followings, but you can start making money from ads when you reach 4,000 view hours and 1,000 subscribers.
For example, my wife started a YouTube channel a year ago doing reviews of home products, makeup, and creating home decor tutorials. Her channel has just over 2,400 subscribers, but she's started to earn a decent little chunk of ad income.
Earning money on YouTube is similar to blogging in that it's a long game, but it can still be a profitable business idea that costs next to nothing to start.
Startup costs:
You can literally start your YouTube channel for $0 with just the camera on your smartphone. For a more professional looking channel, you can learn what my wife got to start her channel in the article How Much Do YouTubers REALLY Make in 2023?
Earning potential:
Dependent on your number of subscribers and video views. You can increase your income by using keywords in your video titles and description, and using social media to bring traffic to your channel.
The Final Word on Low Cost Business Ideas
Like I said in the very beginning, it takes time to build a business. Time is often the hardest investment to make, which is why we recommend starting with the best ideas. Here are our top picks:

Proofreading: If you nerd out for grammar, the FREE Well-Paid Proofreader seminar will teach you how to launch a successful proofreading business.
Bookkeeping: A good bookkeeper reduces a ton of stress for business owners, and it's a great online business idea if you're good with numbers. Learn more with Brilliant Bookkeeper.
What I've learned from my experience and watching others is that people who quit are just on the cusp of starting to make money. But they get frustrated and quit early. I get it, but remember that it takes determination to make them work.
Maybe you do need to pivot and adjust your ideas as you go, and that's okay as long as you don't give up.