Hey everyone! Today's post is a little different than normal. My friend Pete from DoYouEvenBlog.com created this awesome resource for all things passive income/making money online. This isn't really meant to be a blog post – it's a resource that you can bookmark and come back to as needed. There's a little something in here for everyone that wants to make extra money. Enjoy! ~M$M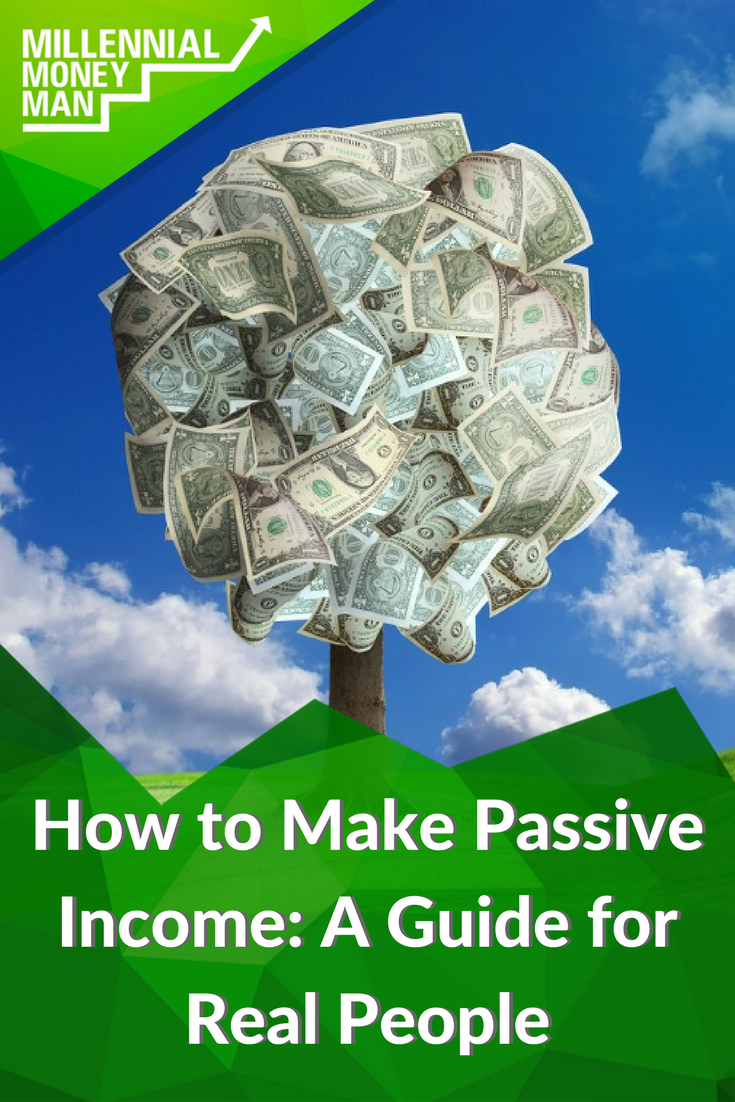 A few weeks back, my friend Michelle published a blog post with this title:

Michelle is a grand-master in the new Millennial American dream: passive income.
Next month, Michelle will make the same incredible amount of income while traveling full-time.
Does Michelle have an IQ of 247? No.
Does Michelle live on Mars? No.
Does Michelle have super-human strength? No.
Does Michelle know something that you don't know. YES.
Does Michelle share what she knows so that YOU may know? YES.
I know what you're thinking. You've seen passive income "how-tos" before…7,360,000 times.

Can this actually happen to me?
How do these ideas work for the rest of us?
I could never accomplish that amount of passive income…
Well, here's a tough truth: You probably won't.
The 2 sad truths about passive income…
1 – Most of us who desire to generate over $100,000 every month from our blogs probably won't. It's the law of numbers.
If it were as easy as reading a few how-to guides and churning out blog posts every month, we'd all be sailing around the world making billions from our personal finance blog and getting interviewed on the Tim Ferriss podcast.
Trading time for dollars (aka The Grind, The Rat Race, The 9-5.) is way easier, and it's what 99% of people fall back to.
2 – It's not passive.
Building up a stream of recurring revenue that hops in your bank account without your direct input takes a crazy amount of work, hustle and/or investment.
Sure, Michelle has her blog planned out 3 months in advance and rakes in the cash…but she did put in an insane amount of work to build her business.
Real Estate investing takes serious time to master, and usually large cash investments. Building a loyal following like Millennial Money Man has done didn't happen overnight. He put in the work, and is only now starting to reap the passive income rewards from his massive effort.
Nope. Passive income is tough to come by.
But not impossible.
The good news is that you don't have to be a Michelle Schroeder, or a M$M, or a even a Pete McPherson.
You absolutely, positively, 1,000% CAN work out passive income streams in your own life.
If you truly don't believe you can, know this: you are the only one holding you back. People a lot dumber and less successful than you have managed to make a living online. Why not you?
Here's what we've created for you:
I, Pete McPherson, am not going to waste my time, or waste the time of so many financial bloggers before me.
"How to generate passive income in 583 different ways" has been posted on the internet before, and there are way more qualified bloggers making $1k/month, $10k/month, and over $100k/month.
Why don't I let them teach you how to make passive income?
Table of Contents
What is passive income?
Why does it even matter?
The 2 essential ingredients for creating real-world passive income
The most comprehensive list of passive income sources on the internet
How to get started today
What is passive income?
Brought to you by Paula Pant at Afford Anything:
"Passive income is money that flows into your pocket while you're sleeping. Or eating cake. Or eating cake while sleeping (a Nobel-worthy achievement in its own right)."
At any other job, regardless of your income level, there's a relationship between time and money. "Active income" requires a time-for-money trade.
The more hours you log at the office (or the home office), the more money you make.
Passive income is simply money that you make that is NOT directly attached to your time."
Here's an amazing breakdown from J Money at Budgets Are Sexy:
"When I was a kid I'd spend one hour mowing a lawn and earn $10.
When I was a teen I'd spend all weekend at a restaurant to earn $50.
When I was in college I'd spend 20 hours a week and get $150.
When I got my first "real" job I'd spend 40 hours a week to get my hands on $500.
When I moved up the ladder a bit I'd spend 50 hours a week to bring home $1,000.
When I became self-employed I'd work 60-70 hours a week and barely bring back $1,500.
Each of these cases required gobs of my time in return for these precious piles of greenbacks.
Now get this…
Last month I spent 0 hours on my investments and made a whopping $32,687.28.
In one month.
For doing absolutely nothing."
However, a word of warning:
Passive income is NOT "making money for doing nothing."
There is no magic trick you can do to start generating income with zero effort and zero money. Sorry.
From Pat Flynn at Smart Passive Income:
"1 – Generating passive income is NOT easy and it takes a lot of hard work.
Nothing in life comes easy. Making money online is no different. Many conventional internet marketers and online entrepreneurs will try to persuade you to think otherwise. Why? Because they're trying to make money from false hopes. I'm here to tell you the truth: online business is hard.
2 – Generating passive income does NOT happen overnight.
I don't live, teach, or believe in get-rich-easy schemes. My first online business took about a year of hard work before it was generating enough to support my family. There was nothing easy about what I had to do to get that business going. But in relative terms, it was "quick" because I decided to opt-out of the work till 65 deferred life plan and make my own luck happen. You can do it too.
3 – Generating passive income is NOT impossible.
Passive income was just a dream for me until 2008. That's when I was let go from my job due to the crumbling economy. With no other options, I bet on myself by trying to make my dream a reality. And you know what? The dream came true, and it's totally awesome! This lifestyle is possible, and I want you to experience it too.
You absolutely can generate some amount of passive income. It's not a dream, it's not impossible…but it isn't easy-mode either."
Why does passive income matter?
So we can be lazy and NOT work? Absolutely not.
If your motivation for getting passive income is to sit around and watch Lost all day…you lack the necessary motivation to obtain that goal.
Here is the real reason us mortals should care:
Security.
We only have a limited amount of time on this planet.
Security
Financial insecurity is one of the biggest causes of stress in our lives. Stressing over student loans, anyone? Or even mortgage payments or bills? These worries have catastrophic effects on our financial well being.
Any amount of passive income, even if it's an extra $50-100 a month, can work wonders in providing a much needed cushion.
The good news? An extra $50-100 a month is very, very, very achievable (and I'm going to show you how to get it. Keep reading).
Time
Let's role-play for a second.
You're 98 years old.
You're on your deathbed due to the snakebite you received while climbing Mt. Vesuvius.
You're surrounded by your dear loved ones.
What do you wish you had more of….time? or money?
Time of course. Time is a finite resource. Once used up, time is gone. Forever. Have you used it wisely?
Passive income can be a way to retire early, or even quit your 2nd job. It can also provide a bit of "financial padding" to help pay bills.
Your time is precious. The entire point of this article is to provide with a toolkit needed to gain more free time.
Starting with…
The 2 essential ingredients for creating real-world passive income
From Alexa Mason at The College Investor:
"Although the word "passive" makes it sound like you have to do nothing to bring in the income this just isn't true. All passive income streams will require at least one of the following two elements:
An upfront monetary investment, or
An upfront time investment
You can't earn residual income without being willing to provide at least one of these two.
A few examples of upfront monetary streams:
Dividend stocks
Index funds
Buy-and-hold rental properties
CD "ladders"
P2P lending
Any other paper asset, really
A few examples of upfront time streams:
Creating an online course
Writing a book
Creating an app
Network marketing
Affiliate marketing
Dropshipping
Selling info products"
From Paula again:
"Creating passive income involves swallowing a rough pill that the Conformist Majority despises: you'll need to embrace upfront work, in exchange for self-sustaining riches down the road. Ramp up, so later you can ramp down. Front-load your workload.
Work hard now. Put time and effort in now, so you can relax later and watch the money come in."
[clickToTweet tweet=""Passive" Income 101 – Put time and effort in NOW. The rewards come later." quote=""Passive" Income 101 – Put time and effort in NOW. The rewards come later. Tweet this."] 
The most comprehensive list of passive income sources on the internet.
Please note the 3 subsections for each source:
TYPE: Does this passive income stream require an upfront investment of money, time, or both?
DOABILITY: How easy it is to get started using this method? 1/10 means extremely difficult. 10/10 means so easy a caveman could do it.
RESOURCE: Want to get started? Click the links to learn more and start EARNING.
Let's do it.
***
Index Funds
Index funds are a one-stop-shop for paper asset investing. They are attractive because of incredibly low fees (0.17% or lower), many pay dividends, and their growth is (fairly) predictable.
P.S. an index fund is simply a collection of stocks that track an index (I.e. the S&P500 is an index).
Here's what you do: Choose your favorite online brokerage (Vanguard, Fidelity, etc), load money into it from your bank account, choose your index fund, and invest (Minimum investments are usually $1k – $3k).
CD ladder
I don't recommend ANYONE do this, but it's here for completeness. Technically speaking, setting up certificate of deposits requires little effort, so that's the only reason it got a 6/10.
Basically, you'll make more money off longer bank CDs (5 years), so the idea is to start a new 5 year CD every year, staggering them for "liquidity". It's stupid IMO, as interest rates right now are a joke. Moving on….
Peer-to-peer lending
DO THIS. I don't care if you want passive income or not. P2P lending is hands down my favorite method of note investing right now. You can get up and running for as little as $25, and with 30 mins of work MAX.
Basically, use these websites to lend money to other consumers, who are borrowing for a wide array of reasons. Interest rates are good, and are based on loan "grades."
Grade A loans are less risk, lower interest rewards
Grade F loans are high risk, higher interest rewards
Seriously, if you have spare cash laying around in a crummy savings account, consider transferring some over to a P2P lender (I recommend choosing the shortest terms possible, to help with liquidity. Also, there are TONS of P2P lending sites, so do some searching and research, though I'll cover the real estate ones below).
YouTube videos
type: time investment
doability: 8/10
This isn't for everyone. YouTube is competitive but can be lucrative to those who know what they're doing.
Here are the basics of how to make passive income via YouTube:
You do research – You can't just start making puppy videos. You're goal isn't to get a stupid viral video…your goal is to research what content and keywords you can make your video on, so as to get the most organic views (I.e. from Google or YouTube search results).
You make high quality, entertaining, useful content. Seriously useful, or don't bother trying this.
You edit content, and prepare your titles and descriptions for keyword optimization, etc.
You set up your YouTube account with Google Adsense. Learn how here.
If you have a personality and are willing to spend a few weeks researching HOW to make this work, you can start generating income very, very quickly.
2 more things:
You don't need to spend tons of money on equipment. Use your iPhone if you have to (please TURN IT SIDEWAYS). Use Windows Movie Maker or iMovie. Explore Caleb's blog for how to make video look good.
Don't go for viral videos…go for organic growth. You are searching for niche content that either doesn't exist currently, or isn't as competitive. Don't make a video called "How to train your dog." Do some research, and you might end up with "How to crate train a german shorthair for winter."
Affiliate marketing
Here's the basic idea.
You have "something" online that has lots of eyeballs. (website usually).
Those eyeballs see links to products or services on your "something."
Those eyeballs click the links, to go to the product's site, and they buy.
You take a referral commission for sending the eyeballs to the site to buy.
Here are 2 quick examples:
1 – See that Making Sense of Affiliate Marketing link 5 or 6 lines up? That takes you to the course homepage, where you can learn allll there is to know about affiliate marketing. Bobby happens to be an affiliate of the program.
When you purchase her course, he'll get a small referral free (doesn't cost you anything extra). If you hover over the URL, you can see it's his tracking link.
2 – Also, do you know what the hottest selling thing on ALL of Amazon.com is?
Cards of Humanity is an insanely fun (and naughty) card game. If you click on that link, Amazon is going to store a "cookie" in your browser. If you make an Amazon purchase in the next day or so…guess who gets a cut? Bobby. He's an Amazon affiliate.
You could be reading this blog post 2 years after he publishes it, and he'd still take a cut. Passive income.
Affiliate marketing (direct)
type: time investment
doability: 2/10
resource: Your favorite bloggers (*cough DYEB*), and your email inbox.
When I say "direct" affiliate marketing, I'm referring to actually going to the source of a product or service, and asking:
"Hey! I love your product, and I think I might have some friends that would love it as well. Can we work out some agreement where I take 30% of the sales price for each friend I refer?"
The creator behind every online course/program/system/etc….almost ALWAYS uses affiliate to help sell their course. Go find your favorite paid product online (or offline too. see below), and ask to be an affiliate.
It really is that simple. What's the worst they could say? No?
Network marketing
You've probably seen your friends on Facebook trying to sell you Advocare, Avon, or Rodan + Fields products. They're affiliates, and they earn money by selling other people's products to their own network. Simple.
Sound like affiliate marketing? That's because it is. Most people differentiate "network" vs "affiliate" because network marketing can have multiple levels of product creators and affiliates (hence the term Multi-level marketing, or MLM).
If all your friends think you're the cool one, by all means: start selling Rodan + Fields or Avon.
Stock photos
Like taking pictures of things? Have a decent enough camera or editing software? Here's how it works:
You take tons and tons of photos
You submit them to stock photo sites
You earn "small" royalties on your photos.
This isn't going to make you a millionaire, but once your photos are on there, they could theoretically make you (very little) money time and time again….with zero additional effort.
Pretty passive, but really not worth your time, in my opinion.
Dividend stocks
From Alexa Mason:
"Dividend stocks are tried and true way to earn passive income. You will have to do plenty of research to find good stocks and invest a significant amount of money to receive large dividend checks. However, if you consistently invest money into dividend stocks you can amass a nice residual income over time."
BORING. If the thought of spending hours and hours researching stock picks, then go for it. Invest in individual stocks.
Or, you could just use index funds. It's still investing in stocks…but with incredibly low fees, auto diversification, dividends, potential appreciation, etc.
My VTSMX, as previously mentioned, holds:
Apple Inc
Microsoft Corp
Exxon Mobil Corporation
Johnson & Johnson
General Electric Co
Facebook Inc A
Berkshire Hathaway Inc B
Heard of these? Just use index funds if you want to go the easier route (unless you're into picking individual stocks for fun, in which case go for it).
Write an ebook
From Jeff Rose:
"This can be a lot of work up front, but once the ebook is created and marketed it can provide you with a passive revenue stream for years. You can either sell the ebook on your own website or offer it as an affiliate arrangement with other websites that provide content related to your ebook."
Believe it or not, writing a book is not as hard as you'd think. The days of publishing nightmares are gone. The days of free accessible research and free accessible tools are here to stay.
Here's how you'd get started:
Spend time learning about the new publishing "game." Read the above resources, do some Googling about how to publish on Amazon.
Research what you want to write about: This could be something you're already passionate and knowledgeable about, or you could do some research into what topic NEEDS writing on (less competition).
Develop an outline for the book.
Learn how to write: Believe it or not, it's not that difficult. Just try and braindump as much as possible. Mistakes are encouraged, bad writing is encouraged. That's what editing is for. "Write drunk, edit sober."
Write in small chunks. 250-500 words a day is plenty!
Recruit friends to read, review, and edit. Don't be scared.
Ask every single human being you come in contact with to buy your ebook. Even if you have to give them a 100% discount….you need Amazon ratings and reviews!!
If you're still scared about all the technical aspects of writing an ebook, read this.
Go write something of value to other people!
Credit Card "cash backs"
(got bad credit? use these and get your credit back up)
Technically, this is not passive income, but you buy stuff anyways right? This is an incredibly easy way to get 1% – 5% of your cash back, without doing anything different.
The key is just to pay off your balance in FULL, every month, so you never get charged pesky interest! If you can't pay it off every month, don't use a credit card. Period.
Here's how credit cards work:
You research a card that gives rewards.
You sign up for said card.
You pay for as much as you can on the card…BUT ONLY IF
You can pay off the ENTIRE BALANCE in FULL every month.
You reap generous rewards.
Pretty basic.
CC Rewards programs
type: no investment really
doability: 10/10
resource: see below
Cash back isn't the only option for choosing a credit card. Airline miles, hotel points, other rewards. It's all on the table.
If you fly at all (even just once a year), it's worth it to get a travel card, in my opinion. Here are my top two:
Chase Sapphire Preferred – Generally regarded by travel hackers as the best all around card. Grab double miles on travel purchases, and these are transferrable to airline rewards programs(!)
Capital One Venture Card – This was my first travel card, and I still use it to this day. Double miles on every single purchase, and you can retroactively "erase" travel purchases. Highly recommended.
Cashback sites
type: no investment really
doability: 7/10
resource: EBATES
Ever shop online? Yes, you do. Why not shop for the same products at the same prices, but get a little cash back? Enter eBates and TopCashBack.
Here's how it works:
You sign up for an account for free.
You shop at stores THROUGH their site.
These sites earn a commission for sending you to the stores.
These sites split their commission with you.
Simple.
E-commerce store
This is advanced stuff, and might be one of the hardest sources of passive income on this entire list.
The idea is simple: Sell stuff online.
Easy, right??? Wrong.
What are you going to sell?
Who is going to make the product?
Who is going to buy the product?
How are you going to get it in front of their eyes?
How are you going to convince them to buy?
Are you going to make a profit?
Can you turn this into a passive activity??
If you are truly interested in making big bucks, and you are ready to jump into entrepreneurship…here's what I recommend:
99% of you reading this text will not be able to passively create a successful online store. That's how hard this is going to be.
Dropshipping store
type: time investment
doability: 2/10
resource: See above Ecommerce links, plus read this guide.
Dropshipping is a form of Ecommerce, where you sell products that you don't even keep in stock. In fact, you never even have to touch the products. Or make them. Or pack the boxes. Or ship to the customer. Or handle returns.
Here's how it works:
You decide what you want to sell (let's do green tea).
You find a supplier that will dropship green tea from their warehouse, etc.
You find buyers (usually through your online store).
A customer places an order for your tea.
Your supplier receives the order and processes it.
You get paid.
The big downside is that your profit margins are a LOT lower.
My advice: don't try to do this. It takes an equal amount of time to research, learn, fail, experiment, etc…as several other options on this list.
Here's a case study on how one team started dropshipping matcha tea and made $922 in the first 3 days.
Real Estate
Investing in real estate is as old as real estate itself, and is truly a time-honored method for building long-term wealth, and even short-term passive income.
The funny thing is, investing in real estate (we're talking buy-and-holds, or rental properties) is actually 10x easier than most people believe. It still takes a TON of hard work, and almost certainly some upfront cash…but it's more of a "once you learn how to ride a bike" learning curve.
Here's how it works:
You educate yourself for FREE. A lot.
You line up financing.
You find a "deal."
You analyze the deal.
You buy the deal.
You find and screen tenants, and make positive cash flow every single month.
Here are the benefits (assuming you've done your homework, and bought a deal correctly):
A small amount of cash flow per month in your pocket (usually about $100 a door)
Some excellent tax benefits for being a landlord.
Your TENANTS are paying your mortgage down, and building you equity
There is a chance your property could appreciate in value (but if you have cash flow, it won't matter if it doesn't!)
It's definitely not an "instant gratification" game, but is probably the single best way to build long-term wealth.
Here are the drawbacks:
It requires a front-loaded time investment, with LOTS of studying, learning, analyzing, etc.
80% of the time, it's also going to require a monetary investment up front.
NOTE: DO NOT PAY TO LEARN REAL ESTATE.
Don't believe the advertisements you see for "$10,000 a month for no money down!!!" Don't pay gurus please, especially when you can use BiggerPockets for free.
Here's what to do if you are TRULY interested in investing in real estate (which you should be)
Sign up for BiggerPockets for free.
Over the course of a month, read their blog, and listen to as many episodes of their podcast as possible.
Start saving up for a down payment.
Don't give up.
Invest in REITs
type: monetary investment
doability: 8/10
Resource: Your invest account (Schwab, Vangaurd, etc), or something like Fundrise. Read this first.
If an index fund is a way to instantly invest in multiple stocks, then a REIT is an instant way to invest in multiple real estate properties.
REIT = Real Estate Investment Trust. This is essentially a fund made up of multiple (100s or 1,000s even) pieces of real estate. REITs are regulated, and run by professionals.
Generally, it's just like investing in a mutual fund, or index fund, etc…but with generally higher returns, but with slightly higher risk.
If you really want to learn more about investing in REITs, read this article. It takes about 2 minutes. Then read this article. Those will easily get you started.
P2P Real estate
If you didn't read the "Peer to Peer lending" strategy above…this is basically just crowd sourced real estate investing.
To learn more about RealtyShares, go look around on their website.
Groundfloor works like this:
You open an account for free
You transfer money to your GroundFloor account
You pick a real estate project to invest in
You get your money back in 3-12 months, depending on the project.
You're really just playing the part of a private lender in a real estate development project, and you can expect to make anywhere from 8%-20% back on your investment, depending on the grade (aka risk level) of the project.
Not bad for something that only requires an hour on the computer.
AirBnB
Again, why would I waste my time writing an in-depth how to here, when Paula Pant again beat me to it!
Paula bought a luxury condo in Atlanta, and instead renting to long-term renters at $1,100 a month, she decided to offer it up as an AirBnB rental. She also documented the entire process right here.
Here's how it works:
You sign up for a free AirBnB account.
You fix up your spare bedroom (or entire place if you're out of town, etc!).
You list it on AirBnB, with as many photos and detail as possible.
Somebody comes and stays in it, and pays you money.
My good friends Nate and Jess (RoundTheWorldCouple) did this as part of their $75,000 saving-spree. Also, read this article about running a 6-figure(!) AirBnB rental.
Build an authority site
type: time investment
doability: 2/10
Do you like blogging? Creating websites? Writing? A lot?
This could be for you. Chris over at RankXL makes unbelievable passive income with this. I'm talking $15k+ monthly.
Here's how it works:
You research a small niche topic
You create a website that can serve as an "authority" on the subject
You optimize your site with loads of awesome, helpful content
(and SEO)
You make money in many different ways, but the most passive of which is through Google Adsense.
The goal here is traffic to your website, and the best way to efficiently do that is by having quality content that people want to read about.
Should you start a website on dog training? No. There are 1,000,000 sites on dog training. You want more niche than that….let's say "training huskies in southern climate" or "how to train your big dogs for walks."
You're going to have to research what SEO means, and how to make it happen on your site (start here). Then you produce quality content that people will share on Facebook, and genuinely receive value from.
Then you can monetize in several different ways (read this).
WARNING: This is insanely difficult, no matter what you read from the internet gurus. Just start with RankXL, and be prepared: you're going to work your butt off.
Buy an existing website
type: monetary investment
doability: 4/10
resource: Flippa.
So, it takes a TON of education, skill, and time to build a passive income machine in the form of an authority site….or you could just buy one that is already performing.
WARNING: Don't just jump into this, thinking you can buy a website for $1,000…that is generating $900 a month in passive earnings.
If a deal looks too good to be true, IT IS. I recommend extreme caution when trying to buy an existing site for passive income. The best thing you can do for yourself is to verify as much as humanly possible, and be patient.
You're going to spend 12x to 24x the monthly revenue to purchase a site (I.e. for a site that brings in roughly $1,000 in monthly income, it should sell for between $12,000 and $24,000.)
Read around on the Flippa blog for a while to get a feel of what this actually looks like in the real world.
Online courses
Online courses are the future of education and have been increasingly popular over the past 2-3 years. My friend Bryan made over $900k in 2015, from 2 launches OF THE SAME COURSE.
Here's how it works:
You do your homework for a few days.
You research topic ideas that you can genuinely help people with.
You create a QUALITY online course for free.
You promote it (aka the hard part).
You watch $$$ roll in.
You can create and build courses for super cheap (or completely free)…you can use Udemy or Teachable (or your own website)…and people are looking for courses for just about ANYTHING.
Like gardening? Make a course.
Piano teacher? Make a course.
Accountant? Make a course.
Build an app
From Jeff Rose again:
"Apps can be an incredibly lucrative income source. Think about how many people today have smartphones. Whether it's an app that helps people put together nice pictures for their blog or an app that keeps track of tasks, there are helpful apps out there for everyone."
You might be asking if there are so many apps out there, why would you want to attempt to create an app? Isn't there a lot of competition? Well, yes, but fresh, creative ideas can win. If you can come up with something unique, you can make quite a bit of money. Simple — yet unique — apps can be pretty passive.
I don't recommend going this route, but if you are already tech savvy, or really think you have what it takes to build web things…..you're probably already doing this to make money.
Still, this article from my bud Nathan is impressive….he made $19,000 WHILE learning to code.
Make an online guide
type: time investment
doability: 5/10
resource: use the resources for authority site above.
"Making an online guide" really just means making online courses, but without the videos probably.
A great example is Pat Flynn's site SecurityGuardTrainingHQ.com, where people can click his map of the U.S. to find out the security guard requirements for that state.
Simple idea. Create something that adds value to a segment of the population, and aim to get website traffic.
Throw Google Adsense on site, and bam. Passive income.
The hard part? Finding a great idea that you can actually create and drive traffic to.
I don't recommend doing this. I'd create online courses on Udemy or Teachable instead.
Write for money
Bobby's "Make Money Marketing" course is going to be a great resource for this as well:
[convertkit form=5034013]
This is actually incredibly easy. You don't need your own blog or eBook to make money writing. Billions of people read stuff on the internet every single day, all over the place.
A few notes:
You'll need at least SOME writing skills (good grammar, spelling, etc).
You'll still need to write a good bit, and apply to be a writer to these bigger sites.
Here's a mini game plan for making passive income in this way:
Pick a subject or topic you're interested in
In a Google doc, brainstorm 25 questions that people might have about the topic (use Quora.com and Google "how to [your topic]."
Choose the question that excites you the most, and answer it in 1,000 – 2,000 words.
REVIEW it for spelling, grammar, and just general edits.
Join Hubpages and upload it.
Done.
It isn't going to happen overnight, but with some practice and patience, this is an incredibly easy way to generate some cash.
Become a limited partner
type: monetary investment
doability: 3/10
resource: Facebook.
No, seriously. Just Facebook.
A limited partner is essentially a "silent partner." You would join a business and receive part of the equity share, in exchange for providing capital.
Example:
Your good friend runs a successful bakery, and wants to open a 2nd bakery.
You trust this friend greatly.
You analyze the current bakery, do your due diligence, etc.
You agree to 20% of the company in exchange for contributing $30,000 so your friend can open up a 2nd location for his bakery.
Pretty simple. You aren't "loaning" anyone any money…you are contributing capital in exchange for a slice of the business pie.
A few notes:
You must really, really do your homework and due diligence.
How long till you get your money back?
Am I expected to contribute anything else at any point?
What are the risks?
How well do I know this person?
Have I spoken with lawyers to get the proper paperwork drafted up?
Generate leads/referrals
type: maybe both. maybe no investment
doability: 6/10
resource: Your friends. The phonebook.
From Jeff Rose:
"You can do this with accountants, landscapers, electricians, plumbers, carpet cleaning services — the list is endless. Keep a list of these businesses, and be ready to refer them to your friends, family and coworkers. You can earn a fee on each referral just from talking to people."
There are opportunities to generate leads for other people's businesses all the time. These opportunities are EVERYWHERE.
Your friend at work: "Man. I'm incredibly unhappy with my lawn people right now. They show up late every single week!"
You: "Oh. I know this AMAZING landscaper. He's one of the highest rated in town. I'm thinking about having him come out next week. Want me to let you know what his rates are?"
Your friend: "Sure."
This is what we call a lead. Want to hear the cool part? This is also an opportunity to help 3 different parties:
The lead who needs XYZ
The vendor who provides XYZ
You
You found someone who needs XYZ. If you connect this someone to a vendor who supplies exactly what they need, both parties will be well served.
How do you do this?
1 – the easy way:
Keep your ears open. Whenever you hear someone complain about anything, think to yourself: "can I help this person out by finding a solution to their problem?"
In the above example, get on the phone with some landscapers and shop around. Tell them that you have same business that you can throw their way, in exchange for a 10% referral fee.
Ask them for referrals, and call the referrals. Make sure that your lead is going to get the business that they are seeking.
Solve people's problems, and make it a win-win-win for all parties involved.
2 – the advanced way
Go Google "buy my house Atlanta" and check out the search results.
One of the top results is "Atlanta Fast Home Solutions."
Do you think that these people are actually the ones that will end up buying your ugly house? Maybe, but probably not.
This entire business revolves around generating leads. "Wholesalers" as they're called in the real estate world…do nothing but marketing to distressed homeowners.
They collect leads, speak with them and learn their problems (to see if they can all help each other out), and then contact their "buyer's list" and sell the property that they just got under contract.
Usually for $5k or more. Not entirely passive at ALL, but this general theme can easily work for any online business.
Find an industry that is booming locally (car washes and mechanics are KILLING it in my area)
Wiggle your way into being found in search results for "engine repair atlanta ga"
Collect solid leads
Take those leads to the vendor who can best solve the lead's problems.
Start ANY business (the right way)
type: mostly time investment, but probably both
doability: 1/10
Starting a small business, should you choose to attempt it, will be one of the hardest things you ever do in your lifetime. It requires an unparalleled dedication, as well as vast education, desire, and persistence.
Despite all this, there is a way to start a business (any business, online or otherwise), that can be completely passive eventually.
The key is to approach the business with a certain mindset and certain goal (the lack of this is why 90% of small businesses fail by the way). The goal is to create systems and processes that will allow the business to prosper without your direct involvement.
It's not easy, but it is mandatory. Read this resource above first. Period. (and then this second). 
Store people's stuff
type: a small amount of both time and money
doability: 6/10
resource: Craigslist, Facebook, and a little hustle
People have lots, and lots of stuff. You do, your family does, your friends do.
Don't really have the resources to open up one of those public storage places? No problem!
USE YOUR BASEMENT.
Tell your friends and family that you've got an extra room in your basement, shed, etc…and that you'll store their stuff for $15 a month. No super valuable stuff though.
People. Will. Love. This.
TIP 1: Keep it very local, and also very personable. You want best friends, family, and neighbors, as you probably won't be locking up everyone's stuff separately, right?
TIP 2: Handyperson? Build a shed on your property, insulate it, and give THEM the key.
Rent your stuff
Just about anything that you own…you can rent to other people.
Do you have tools?
Do you have a nice camera?
Do you have an old wedding dress?
Do you have a sewing machine?
People pay good money for these things, and the sites listed above make it easier than ever.
Simply create an account for free, start browsing around at what other people are listing and renting in your area, and then see if you can put something on there to rent!
Run a car wash (from your computer)
type: small amount of time and money
doability: 6/10
resource: your brain, and some hustle (and this book helps)
Warning: only entrepreneurs and hustlers past this point.
Here's what you're going to do:
Step 1 – find a popular spot for a car wash
Find a small business with a large parking lot on a corner, ask the owner if you can hold a carwash some Saturday.
Step 2 – Find young go-getters
Find people who are willing to wash cars for a few hours, in exchange for a percentage of the total revenue!
One option is to put flyers on a college campus, another is to post for help on CraigsList. One important thing: find one person you trust, (maybe a friend), and put them "in charge" of the details on the wash day. They'll be in charge of collecting money, and overseeing the washers.
Pro Tip: Want to get a LOT more business and be a hero at the same time? Recruit a local group/team/community to actually do the wash. Call up your local boy scout club, and tell them that you run these types of events, and can help them raise money for their club!
Tell them they'll take 70% of the total profits, you'll do all the prep, and all they have to do is show up and work.
(if you're wondering why this is so awesome….it's because there is a 100% chance that the boy scout group will ALSO promote the car wash to their friends and families. Mmmmm marketing hacks.)
Step 3 – Plan a small promo
Jot down some free marketing ideas. Email friends and family, post on Facebook, print out super cheap flyers and ask small business owners if you can place it in their window for a few days leading up to the wash. Be creative.
Step 4 – Buy supplies the day before
Buy some cheap buckets, some sponges, some soap, and rags. Also buy a cashbag.
Step 5 – Run your car wash for charity
Organize your workers and marketing efforts, and do whatever it takes to get people's cars cleaned. Make some signs that people can hold up, saying that the profits are going towards XYZ group/charity/team (only if they are of course).
BONUS: go to a popular local dive restaurant, and tell the owner that you can include printed coupons to their restaurant…a 20% discount on their entire meal, WASH DAY ONLY. Ask him if he's willing to pay you $5 for every coupon that people bring in and use.
Money honey.
Vending Machines
As long as there have been candy-craving people, there have been vending machines. It's an old-school passive income source. In fact, it's SO old-school…that making some cash through vending machines is probably 10x easier than it was 10-20 years ago.
And not just candy.
Health foods
Draught beer
iPods
Sex toys
Pizza
Yup. This is no longer a bowling alley cigarette machine type of business…this is a Redbox type of business.
Read the resources above, pick what you want to sell (the sky's the limit when you have a bit of money to invest), find an amazing place to put it, and work out a deal with the owner.
Design shirts (or anything)
First, you're going to need some basic design skills and knowledge of Illustrator, Inkscape, etc. (or the ability to hire a freelance designer).
Shirts (and other apparel) always sell. If you have some creative skills, it is super easy to create product designs on Cafepress, etc. Design a shirt that sells, and you'll collect passive royalties. Pretty sweet.
Another option (non-passive) is to use a service like Teespring, and design shirts for sports teams, organizations, local rock bands, etc.
Here's how you do it:
Contact the group/team/band, and tell them you're a designer.
Tell them you want to make them a shirt to sell, they can sell em to make money, and THAT IT WON'T COST THEM A PENNY. Seriously.
You design the shirt, they approve, and you list it on Teespring.
The group has spent $0, people are buying their shirts, and you're getting a % of the profits
The coolest part about this? You don't have to promote a darn thing (aka the hard part)
Just do what you're already doing
Want to make money from doing everyday activities that you're already doing? Sounds a bit too good to be true, but you might be surprised. Some companies will pay good money for consumer insights, browsing and spending habits, etc.
While you're not going to retire at 27 on this income, you might be surprised what you can get paid for.
Browse the two biggest sites listed above, sign up for free, and make a few extra bucks!
Outsource your life
Do you work? Do you already have a business?
There are actually simple ways to automate and outsource just about every part of your life, giving yourself more time (and possibly energy).
Through a mix of VAs (virtual assistants) and other handy resources, you can go as far as you want with this.
The guy from the 2nd resource above hired a VA who ended up doing ALL his dirty work in life (include his day job work). Incredible.
Personally, I have done some of this in my own work life.
I spent the first few months of my last full-time job going through EVERY process and responsibility I had. I figured out ways to simplify tasks, automate what could be automated. etc. I am still reaping the benefits of that optimization today.
What repetitive tasks can you automate or outsource in your own life?
Podcasting
Type: time (and maybe a little money
Doability: 10/10
Resource: Free course that covers everything you need to know
At first glance, podcasting seems an unlikely source of passive income. It takes a lot to get started, right? Equipment, editing, publishing, something to say…etc.
Well, I'd argue it's FAR more passive than blogging, for a few different reasons:
For some people, talking is far easier than writing.
For some people, talking is far more enjoyable than writing.
There's NEVER been an easier or cheaper time to start a podcast.
Podcast episodes (and their respective show notes) are evergreen content, meaning they can last forever. AND…when you gain loyal podcast followers, they almost always go back and listen to old episodes.
Pro Tip: Combine affiliate marketing or info products with a podcast, including links in the show notes, etc. Be sure to check out the Podcasting for Bloggers course to make it easy mode.
How to get started today
High-five if you just scrolled all the way down here from the top of the post.
[clickToTweet tweet="A journey of 1,000 miles begins with a single step, and so does passive income. – Pete McPherson." quote="A journey of 1,000 miles begins with a single step, and so does passive income. – Pete McPherson."]
So, your interest has peaked at the thought of making money while you watch the best TV show ever made, and you're secretly wondering if you can actually do this. 
Remember, none of the passive income sources above are foolproof, none are easy-mode, and none are going to make you rich overnight.
Got it?
Here's a simple 7-step guide to getting started:
Find out what you're good at
Identify the goal
Pick one thing
Start with the end in mind
Create a plan
Hold yourself accountable, automatically
Start
1. Find out what you're good at
Some people are well suited for the ups and downs and risks of real estate investing. Some people need the simplicity and security of just investing in index funds.
You must, must, MUST sit down and work these things out for yourself. You must find out the answers to the following questions:
What are you good at?
What are you passionate about?
What is your overall risk tolerance?
How much can you afford to invest?
How much time can you really commit?
How much motivation do you really have to stick with this?
You're going to need some valuable self-insights so that you can choose which path works best for you.
2. Identify the goal
Now that you know a bit more about your strengths and weaknesses, you can answer the most important question of all:
Why do you even want passive income?
To quit your 9-5 job and travel? Just make a bit of extra cash? Because it sounds cool?
You need to set a very specific goal. "Make a bunch of money and travel the world" is NOT a goal. It's a DREAM. Everyone dreams. You're going to have to go the extra mile and actually identify a very specific goal.
"I wish to generate a passive $1,000 a month through ads on my Gardening YouTube channel."
Is this you?
3. Pick ONE thing
This actually goes alongside the previous step. Pick ONE thing to focus on.
You may have seen 5 passive income sources above that seemed totally doable and exciting, but you will be much more likely to succeed at ANYTHING when you narrow your focus, and work hard at ONE goal.
4. Start with the end in mind
You have chosen one passive income stream to obtain. You've set a specific goal. Now what?
The objective is to work backwards:
Starting with your end result (your goal).
What broad actions need to happen to get there?
What slightly more specific actions need to happen in month 1?
What super specific actions need to happen in week 1?
What can I do right this second to set me on that path?
5. Create a plan
Create a detailed plan using the above methodology.
Let's continue the example.
END GOAL: $1,000 in YouTube ad revenue
Hmm. Based on research, I'll need about 75-100 high quality videos to hit this goal EASILY. I can realistically produce 2-5 short videos a week.
I also need time to research WHAT content to produce, and a little money for a lighting kit, and a tripod.
Hmm. It'll actually be easier to produce less videos at the start, and focus more time and energy into researching content for 100 videos, and researching keyword tools, etc.
With that in mind here's my plan:
Week 1

Get on Google.com and YouTube and research
What my competitors' videos look like
What they are MISSING in their content
Video production tools

Week 2

Order new equipment from Amazon
Research a brand name, and set up YouTube channel
Continue research content ideas

Week 3

Experiment with short videos daily
Complete 1st video
Research promotional techniques
Research SEO

Week 4
Week 5

Produce 2 videos
Gather as much feedback as possible
How can I make these better?

Weeks 6-12

Produce 3 videos a week
Etc.
Start with the end in mind, and work your way backwards to the steps you can COMPLETE this week.
6. Hold yourself accountable, automatically
Is generating passive income easy? Heck no.
It's going to take constant motivation and persistence. They key is setting up a recurring system that will hold yourself accountable.
This is going to take some creativity on your part, but here are some ideas to get you started:
Set a dedicated time to work on your project. Use Google calendars or IFTTT.com to set up reminders!!
Involve your spouse or mother in this process. Tell them to hold you accountable for your goals!
Set up a negative consequence: (Controversy incoming…..) Set a bet with a friend, or better yet…someone you DON'T like…if you don't meet your monthly goals, you'll pay them $100.
7. Start
There's really no other way to say this.
Starting is always the hardest part, but how do you expect to get anywhere in life if you never start?
What are you afraid of? You probably have the brains. You might be surprised at what you're capable of.
Are you afraid of losing money? or do you think you're not good enough?
YOU ARE.
You have the tools. You have the power to change your life. Nothing is holding you back except you.
Go start trying.