Hey guys! A bunch of the De$troyers have asked me what I think of some of the popular money trackers out there, so I'm going to share my thoughts on Personal Capital today! It's the tool Coral and I use to keep track of our money, and we literally love it. It's like Mint on steroids.
If you're a baby boomer and you mistakenly stumbled in here, welcome! I just want to offer a disclaimer about this product for your health and safety:
WARNING: Personal Capital is a high-tech way to see ALL of your money at once. If you aren't comfortable with the evil internet and fancy gizmos tracking your money, stick with hiding cash in the walls and your mattress.
Our experience with Personal Capital:
Alright, let's jump in. Like I mentioned above, this is really the only service we use to track all of our money, and we've been super impressed with it so far. Very very rarely are things actually free to use in today's personal finance industry (trust me), but Personal Capital legitimately is. We have not spent a freaking dime for this service.
If you're wondering why and how…you should be! You should always be skeptical as hell when you see "free".  In addition to the free money management tools that I'll talk about below, they also offer wealth management services for a fee. That's how they make the $$$.
We don't use that because…well…we're cheap, but if you're interested in financial advising I'll touch on that at the end as well.
The Setup
Fairly simple honestly, but this is one of those things that gives non-millennial/paranoid people the heebie-jeebies. My entire life is already on the internet, so I didn't think twice about this. I'm assuming you guys won't really care either once you get the details.
You enter all of your various account information into Personal Capital so that it can track all of your money at once on one screen. This includes:
Savings accounts
Checking accounts
Credit cards
Student loans
Brokerage/401k accounts
Business checking accounts <—very cool for self employed people like me
Business credit cards
Mortgage
etc.
Everything is encrypted with bad@$$ stuff. Seriously. Here is what their website says:
"Data is encrypted with AES-256 with multi-layer key management, including rotating user-specific keys and salts."
"Our servers prefer TLS 1.2, and also support TLS 1.1 and TLS 1.0"
"We don't allow SSLv3, RC4, or other insecure protocols or ciphers"
Now, I don't know what any of that means TBH. But I DO know that Personal Capital is regulated by the SEC and has to meet all of their cybersecurity regulations just like the banks you already use. Also, the man that created the company (Bill Harris) co-founded another company called PassMark Security. THEY created the online authentication that most banks use. Food for thought.
More importantly, you can't actually make transactions with this service and neither can anyone else. You can only look your money. No touchy. 🙂
The Tools
Dashboard
This is actually my favorite thing about Personal Capital. Once you log in…BOOM. All of your glorious money is right there in graph and chart form. It's like 8th grade all over again but easier and hopefully less depressing.
All of your account balances are on the left, and then net worth, cash flow, and portfolio balances are in the center. All of your account balances update automatically, and you can even see how your investments are doing in the markets in real time on the right. Check it: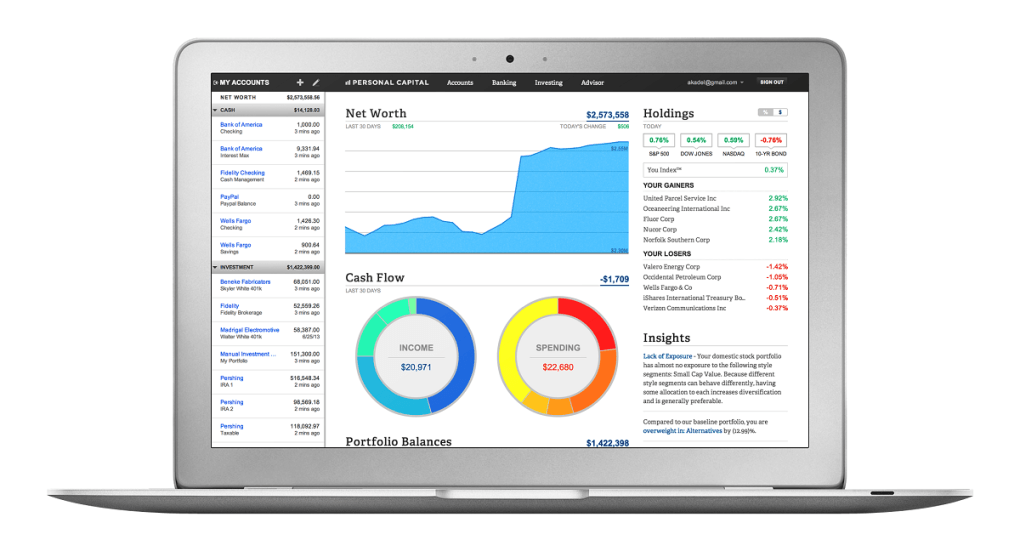 Net Worth
All of your assets, minus all of your liabilities wrapped up on one nice little chart. This is a great way to see how your finances are playing out over the long term, but you can also see segments like 90 days as well.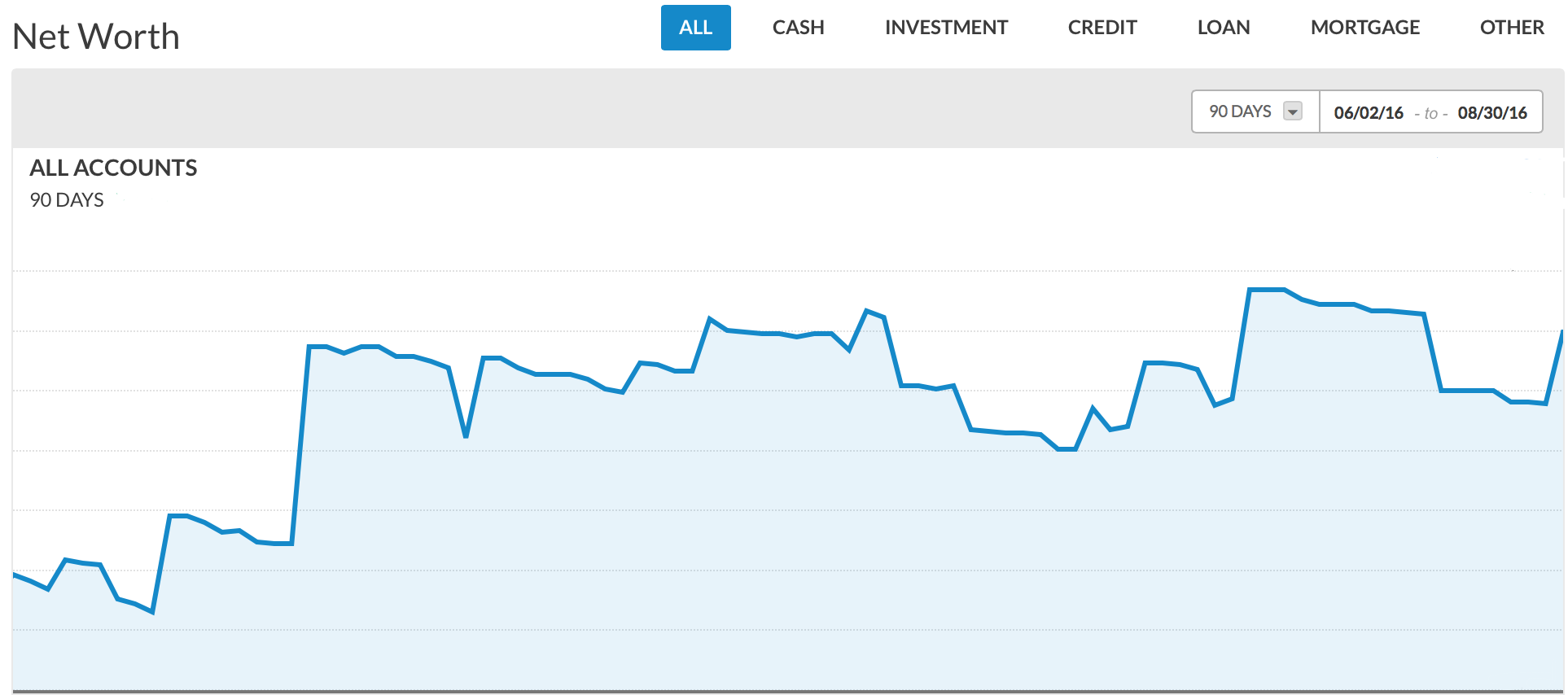 Cash Flow
Maybe the most useful tool on here for a quick glance at how you did over the last 30 days. If the one on the right is a bigger number than the one on the left, you either made an oopsies or bought something really awesome.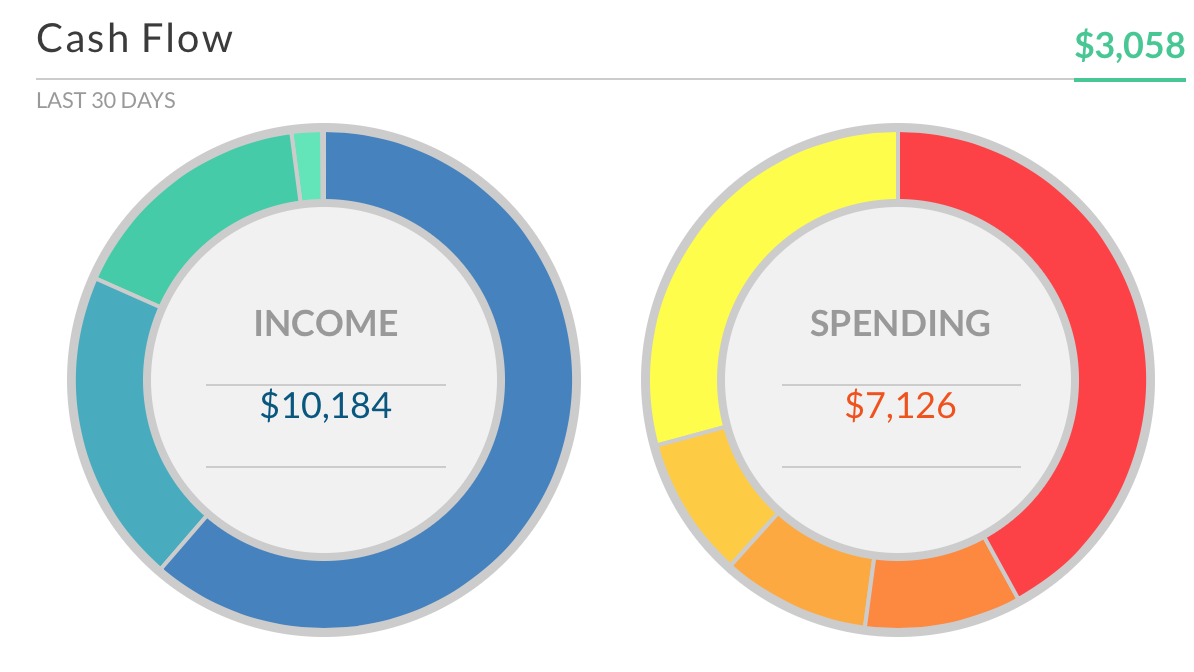 Now for the next level stuff
Basically, if you want to use Personal Capital specifically for keeping track of your money for free you've seen everything you need to get started. It has way more functionality (for wealthy people especially), but for the average millennial I would bet that this is all you really care about right now!
You can set up your Personal Capital account here.
If you're looking to get a little fancier, it has some extra goodies you can use for planning rather than just tracking.
Retirement Planner
If you are looking for retirement planning and projections as well as investing services, Personal Capital has tools for both.
The retirement planner pulls information from your connected accounts and then asks you about your projected savings information and several other factors. From there, you'll see a personalized graph that shows your portfolio projection, and markers for your retirement age and other important events (like social security eligibility…if it's even there for us).
If your retirement goals look like they won't quite work with your current financial picture, you'll get some suggestions for getting it on track.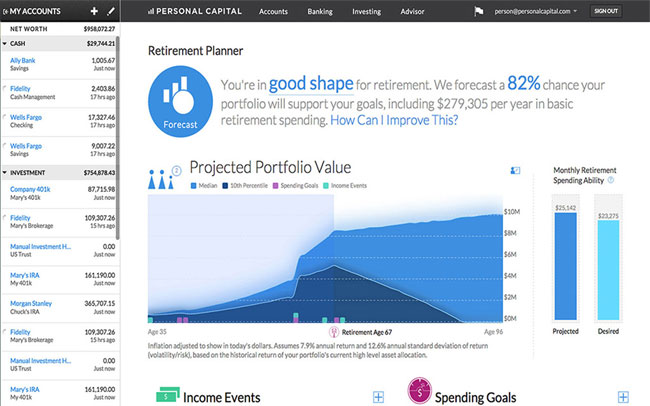 Then there's the advisor fees. They've got to make money somehow right?
Here is a list of Personal Capital's advisor fee structure for managed funds:
For clients who invest $1 million or more:
| | |
| --- | --- |
| First $3 million: | 0.79% |
| Next $2 million: | 0.69% |
| Next $5 million: | 0.59% |
| Over $10 million: | 0.49% |
If you're wondering, those fees fall generally in the middle of the spectrum. They are cheaper than going with a traditional financial advising firm, but more expensive than say, a robo-advisor. However, you do get access to an actual human with their service. I don't use it personally, so I won't comment on whether you should use it either. That's kinda the policy around here.
For all the non-rich people…don't worry. 🙂 You can still use the free money tracking services that I outlined earlier. In fact – you should use them. It's not too often "freemium" services have such a kick@$$…free part.
*UPDATE – To get an even better picture of your net worth, add your home value, cars, boats, etc. using the "+" tab on the left side of the dashboard!*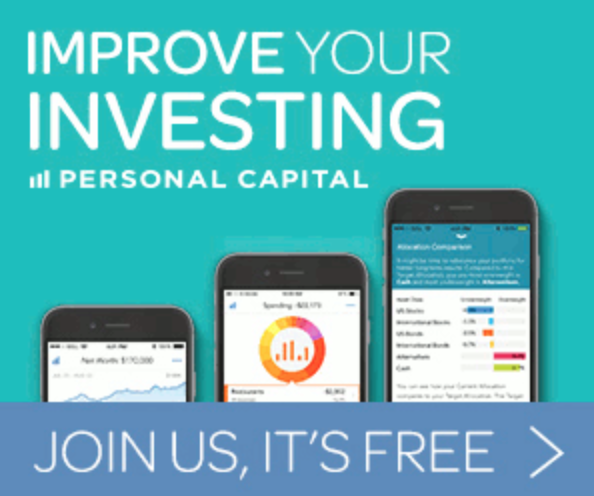 Questions for you:
1) Have you used Personal Capital?
2) What did you think?
Live differently. Your bank accounts will thank me later. ~M$M