If you enjoy spending time with animals, this Rover job review will explain how the platform works, how to apply, maximize your earnings, and answers to FAQs. Rover caregivers are kind, compassionate, and responsible people who just love animals.
Being a pet owner means that if you're ever away from your animals for any long periods of time, you need to find someone to take care of them. That might mean drop-in visits or dog walking, or overnight dog boarding or house sitting.
These are incredibly valuable services because you want the best possible care for your pet. For me, that's finding a dog sitter that's willing to deal with our super sweet but weird dog Strider.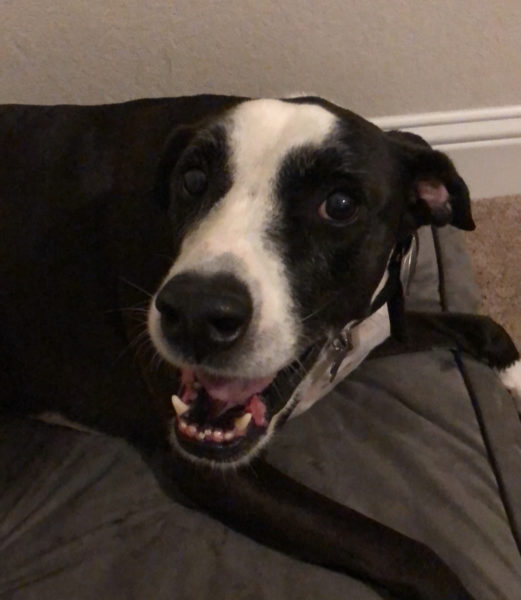 Don't let that cute mug fool you, he can be a handful.
The first time I left him with someone was really stressful, but she was on time and kept sending us funny pictures so I knew our pets were alive. It put me at ease, and now I have no problem going out of town and leaving Strider behind.
One of my favorite parts of using Rover is that we also get to help our pet sitter earn some money in her spare time. She gets paid to spend her time hanging out with cute doggos and cats and we can leave town with peace of mind knowing our furry family member is being well taken care of. If I was mature enough, this would be an awesome side hustle.
If that sounds like the kind of side hustle you're interested in, this Rover job review is for you. You can walk dogs, offer in-home boarding, pet sitting, or drop-in visits. You can pick your hours, your fees, and let me again remind you of all the cute dogs.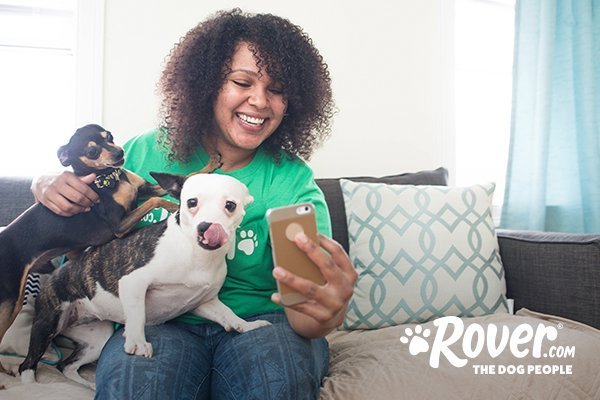 Rover app review 2020: Make money as a dog walker or Rover pet sitter
What is Rover?
Founded in 2011, Rover is an online platform that connects pet owners with compassionate and well-equipped people for pet care. It's now widely available across the U.S. and even in some parts of Canada.
You can use Rover to list services for pet boarding, house sitting, doggy daycare, drop-in visits, and dog walking. Basically, if there's a way you can help pet owners care for their animals while they're away, you can list it on Rover.
Rover has grown into a massive network of pet sitters and dog walkers with over 300,000 people listing their services on the site.
Some more numbers you should know about Rover:
Someone books a service with Rover every three seconds.
There have been over 30 million cute dog and animal photos shared on the site.
Rover dog walkers have walked over 5 million miles with their furry friends.
Cat owners have spent over $4 million on Rover on services like pet sitting.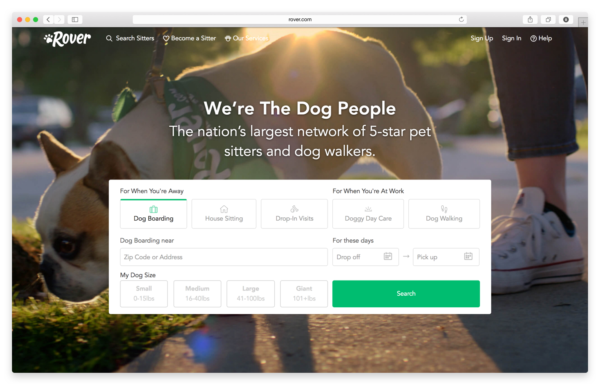 Read more at 22 Best 2020 Side Hustle Ideas (Make $1,000+ Per Month)
Making money on Rover
If you prefer working with animals over people, making money on Rover can be a really great side hustle -– you're getting paid to play with animals.
Okay, it's a little more serious than just playing with animals because people are trusting you to take care of their furry family members. It's a big responsibility, but if you're up to it, you can turn it into a decent-paying side hustle.
If you're interested in making money as a dog walker or pet sitter, you can use Rover to advertise a variety of services. There are the basic ones that I've already mentioned: dog walking, pet sitting, drop-in visits, etc. But you can also earn more by offering additional services, including:
Different rates for puppies
Holiday rates
Rates for additional animals
Bathing and grooming
Pick-up and drop-off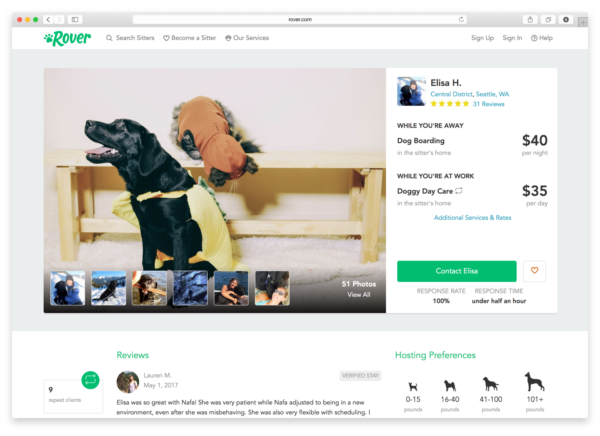 Offering additional services can really make your profile stand out. These are things like being able to administer medicine, first aid/CPR, working with special needs or senior pets, etc. Pet owners want to know that their fur-covered children are being taken care of by people who are capable of handling any situation.
If you're not comfortable with some services, like working with big dogs or multiple pets at a time, that's okay. Only list the services you are 100% comfortable offering. Pet owners will appreciate your honesty (I know I do), and it's much better for the pets this way.
Read more at 8 Weird (But Legal) Ways to Make Money.
How does Rover work?
Pet care providers create a profile on Rover that includes the kinds of services you can provide, a short bio, and when you're available. Pet owners browse through listings, and when they find someone they're interested in, they click the "Contact" button.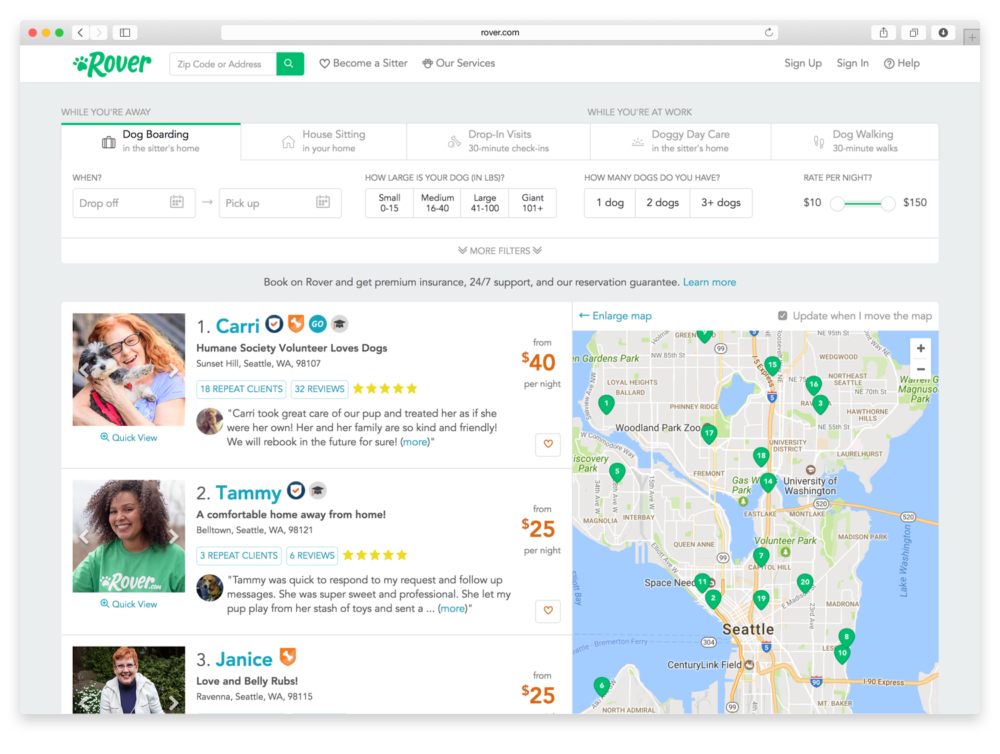 Requests will show up in the "Pending Requests" section of your Rover inbox, and the quicker you respond the more likely you are to secure the booking.
You'll review the request before booking, and you can check out the pet's profile to see if they're a good fit for you. You can even message back and forth with the pet owner, and Rover highly suggests booking a meet and greet to get to know the pet and owner face-to-face.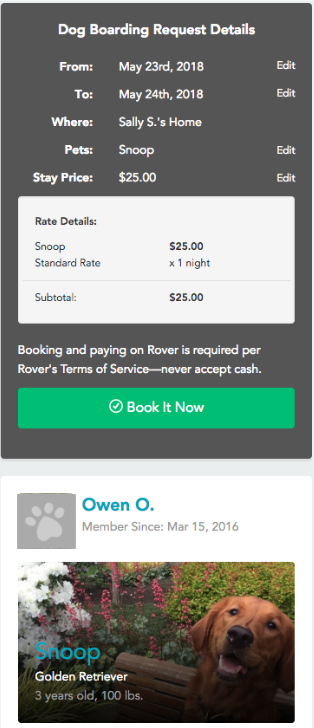 If everything looks good, either you or the pet owner can book the request within 72 hours.
Rover handles the entire payment process, so you're not exchanging money with the pet owner, and you get paid after you've completed the service.
How long does it take to get paid through Rover?
Pet owners pay you via the Rover app, and you can withdraw funds two days after you've completed a service.
You can also turn on automatic payments so Rover can send you the money automatically. For automatic payments, Rover pays via PayPal. If you want to get paid via check, there's a $2 fee per payment.
Read more at Top 23 Legit Money Making Apps to Download For Your Smartphone.
How much can you make on Rover?
Your Rover pay depends a lot on where you live and the services you offer, though you do get to set your own rates. Rover says you'll make the most offering dog boarding, which is when dogs come and stay in your home while their owners are out of town. And they claim that you can make around $1,000/month if you treat working with Rover like a part-time job.
However, a woman in NYC went above and beyond that – she earned over $100,000 in one year house sitting and dog walking, and booked a lot of her work through Rover. And she's able to live rent-free by booking back-to-back house-sitting gigs. Not a bad setup!
I looked up pricing where I live in Houston, Texas, and rates averaged $30 to $40 per night for dog boarding. On the higher end, rates are around $50 to $60/night. Dog walking rates are $15-$20, and drop-in visits are $15-$20.
To give you a comparison, here are other average rates across the U.S.:
Seattle, WA: dog boarding $45-$60/night, drop-in visits $20-$3/visits, dog walking $20-$25/walk
Boise, ID: dog boarding $25-$35/night, drop-in visits $12-$15/visit, dog walking $15-$20/walk
Charleston, SC: dog boarding $25-$40/night, drop-in visits $13-$20/visit, dog walking $15-$20/walk
Kansas City, MO: dog boarding $20-$40/night, drop-in visits $12-$17/visit, dog walking $15-$20/walk
Real Rover job reviews
One of the best parts of running this site is hearing from fellow side hustlers that are happy with their side gigs, and Rover is one side hustle that I hear about pretty often.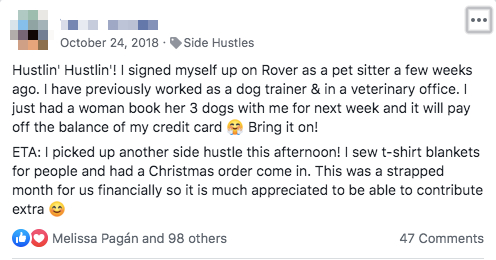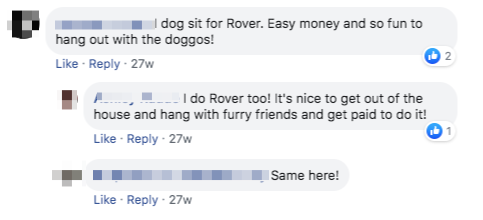 One of my readers recently quit her day job to work full-time for Rover. Here's her Rover review:
"Summer months and Christmas time you make a lot more than average. We've used the extra income to help put a down payment on the house we just bought in August. Other times, we used [Rover] to cash flow things that came up. For example, my water heater sprung an undetected leak and we had to rip up carpet, padding, subfloor, and replace it all. And we just used Rover income to pay for it."
Read more at How to Make Money: Top 44 Ideas for 2020.
How to apply for Rover
If Rover sounds like a good side hustle for you, I'm going to walk you through the process of becoming a pet sitter and/or dog walker.
Step 1: Click here to head to Rover's website, and click "Become a Sitter." Keep in mind that you'll need to be at least 18 years old to register.
Step 2: Create your free Rover account. You can sign up with Facebook, Google, or by using your email account.
Step 3: Start building your profile. You'll want to list everything you plan on offering. Rover has some tips for building a profile that stands out:
Upload pictures of you smiling, your pets, other people who might help with your services (like your partner), and the inside of your house.
Avoid pictures that are blurry or have clutter in the background.
Talk about your schedule, especially if you work outside of the home.
Talk about your experience with dogs and other pets, safety precautions, how often you'll take animals for bathroom breaks (very important if you're listing pet boarding or house-sitting), and anything that makes you unique.
Keep the language on your profile positive and professional.
For pet boarding, mention if you have a fenced-in yard, if pets can get on furniture or beds, if your house is quiet or loud, what other pets you have, etc..
Only list services that you are 100% comfortable with.
The bottom line: Your profile should show a genuine love of animals and that you'll take the job seriously and professionally.
Step 4: Rover's Sitter Team will review your profile for approval, including a background check request. It generally takes around five business days to hear back from Rover.
The background check is completed by a third party company called Checkr. It takes your name, social security number, and I.D. to review your citizenship, driving record, and criminal background.
Step 5: Once you are approved, congrats! Your profile is now live on the Rover marketplace. Keep an eye on your inbox to see requests.
Rover job reviews FAQs
Is there a fee to work for Rover?
Yes, new pet sitters and dog walkers will incur a 30% service fee per booking.
Do I need to be licensed or bonded to list my services on Rover?
This depends on where you live, and Rover requires you to follow the laws and regulations of your local government.
Can I offer my services while traveling?
Yes! You can temporarily change the address on your Rover profile so that you'll show up in your searches for other cities.
How does Rover work at tax time?
Working for Rover means you're an independent contractor, so you'll be responsible for reporting your earnings and paying your taxes.
Rover only sends 1099 tax forms to those who have had $600 or more sent via check in the previous year. For anyone who has earned that much or more but used PayPal, PayPal will send you tax documentation.
You can learn more about taxes at How to Handle Taxes for Your Side Hustle.
Rover review final word
There are some people that stop and greet every dog they meet – these are the kind of people who are going to be great for Rover. It can be a really fun side hustle if you love animals and are willing to take the job seriously.
One of the cool things about making money on Rover is that you can do it in addition to other side hustles, and many people do. Check out these articles for more options: