After running M$M for the past few years, I've learned a lot about people. I take a lot of pride in talking to as many as humanly possible, even as the site has grown to well over 1,000,000 readers per year. It's one of the things about this project that I know keeps people coming back to the site over and over again.
But as I've talked to my readers – I've noticed something that's really annoying.
It has nothing to do with M$M readers themselves. It's their freaking doubters. I can't tell you how often I've seen someone talking about their struggle with student loans, only to mention that a person in their family is telling them that pursuing debt-freedom is a bad idea or won't work.
In the Facebook Side Hustle Course, we're seeing people talk about someone in their circle who is discouraging them from going out and getting clients. They're being told that their business idea isn't going to work by people that have no idea what they are talking about.
One student shared that someone close to them was accusing them of being "an internet slut" by going out and trying to start an online business.
That's obviously jacked up on so many levels of course, but it REALLY makes me mad that someone would go that far out of their way to make a person doubt their ability to succeed.
No matter what you do in life, someone will always try to bring you down or stop you
Whether it's trying to reach a financial goal, a business goal, or really anything – there will always be a person waiting to tell you that you aren't good enough. Your idea isn't good enough. It's not going to work. It's going to be too hard. It's unrealistic.
You get the point.
I'm sure that there's some scientific reason for it, but my gut has always told me that it's a mixture of jealousy and fear.
ALL of us get jealous at some point. All of us have fears. But when someone mixes the two, they instantly become a person that will try to keep others down.
Why? It's pretty simple. They can't stomach the fact that someone they know could elevate their lives to a level that's "beyond" theirs. Being happy for someone's success can be hard sometimes, especially when you are comparing yourself to them. It's far easier and more comfortable to try to keep them down at your level.
Every step along the way of building M$M, I've dealt with these people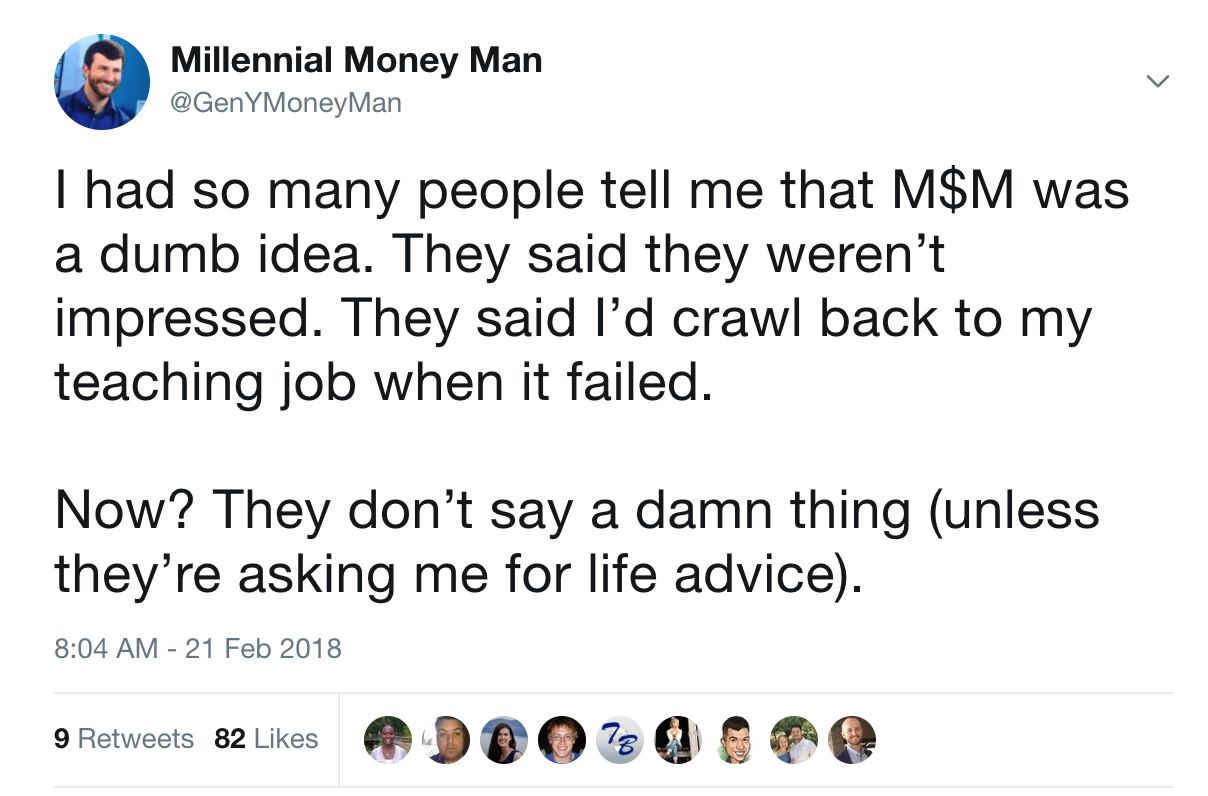 When I was paying off my student loans
So obviously, the way that I paid off my student loans was a little extreme. Most of you know the story – but essentially my wife and I rented a room from her parents and I threw the vast majority of my paychecks at my student loan debt.
I lived so far below my means that it was a little silly. But it was my choice, and I wanted to do it.
There were so many of my co-workers and friends that told me it was a bad idea. They thought it was immature that I didn't have my own place, and embarrassing that I drove a tiny little truck that was paid off.
Fortunately for me, I'm good at ignoring people and absolutely hate being told what to do, so I used the constant comments as fuel.
Then I paid off my student loans 18 months later, and the comments turned into questions about how they could get out of debt too.
Funny how that works, right? Even people that care about you can become your biggest doubters when you are trying to achieve something out of the norm.
When I left my job for M$M
Admittedly, the way that I left my job to run this site was a little crazy too. I guess that's just how I like to do things haha.
There are two very specific instances that come to mind that still give me a bit of a chip on my shoulder to this day:
1. Before I left my job, my boss looked at my site and asked me some personal finance questions (I guess to test me?)…and said he wasn't impressed.
I don't know why, but that made me so mad! To me, it's so bizarre that someone would just randomly critique your work without even asking if you wanted them to do it.
So as per usual – I used it as fuel. He wasn't impressed? Just keep watching.
Then Reuters came, then CNBC, then Business Insider, then Forbes, and on and on. I won't say that having someone doubting me was the reason that I have had success in that area, but it certainly was a part of my motivation to "make it".
2. Right after I left my job, a teacher that I used to work with told one of my best friends that: "I'd come crawling back to teaching after I realized there was no money in what I was going to do."
He had been one of my mentors in the past, so this one stung a little more. And sure – blogging about money is an obscure business idea, but just knowing that someone assumed that I was going to fail pushed me even harder to make sure it succeeded.
It's been a few years now, and I don't think I'll have to crawl back to anything anytime soon.
Now, this isn't to say that these are bad people in the examples above or anything like that. They're great people, but it just goes to show that anyone (including me and you) can sow doubt about something into people's minds without even realizing it.
They probably have no idea that the words they said to/about me years ago were part of what pushed me to prove them wrong.
You'll always have doubters – you can either use them, ignore them, or let them eat you alive
Now don't get me wrong – it's not like I sit around and stew all day on the fact that people thought I couldn't make all of this work. It doesn't consume me. But…I do draw on it at times when things get hard and I need the motivation to keep going.
Sometimes I wish I could just ignore all of it (and I probably do with 80% of the haters/doubters out there).
I'm not wired to ignore everything, though.
I'm just like all of you that are trying to do big things in your life. I go through tough times. I doubt myself. I worry about the future and if I'm doing the right things.
That's part of being successful. Caring about your goals and worrying about the future is part of the process.
If you didn't care, you'd continue to ignore your student loans like everyone else.
If you didn't care, you'd never start that side hustle that could change your life.
If you didn't care, you'd spend all of your money instead of saving and investing it.
If you didn't care, you'd be like the majority of people out there that let life pass them by and wonder what happened after it's too late.
So if you have something that you want to do – go do it, and be aware that people will try to tell you it won't work. Maybe you're like me and can use it as fuel, and maybe you're someone that can ignore it and make your own path while everyone drives straight on the highway.
But you CAN'T let the doubters discourage you. You can't let negative thoughts creep into your mind that tell you that what you want isn't possible or that it won't work.
Instead – you have to see yourself making it happen in your mind, and then put the necessary work in to get there. Once you do "make it", you set the next goal and take your life to the next place that you want it to be.
That's what success looks like, regardless of the people who would tell you otherwise.