*GASP*
Yeah, I said it haha. I know that compound interest is obviously the holy grail in the personal finance world. I'm also highly aware that it is the most powerful thing to ever exist ever according to my man (supposedly):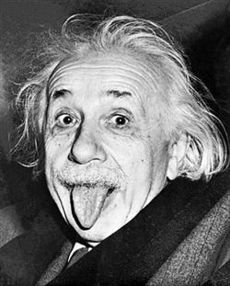 But to be honest, I'd argue that networking is equally important for any person regardless of their age or career status; especially young people. Straight up – most of the early wins that I've been fortunate enough to experience in life before turning 30 have been way less about math, and much more about hacking the human side of life.
Here are 3 ways that networking has increased my income and advanced my career:
1. How I got my teaching job
I actually graduated college during a horrific job market for teachers in Texas. Due to budget concerns, a lot of school districts in Texas started hiring freezes and even let go of a lot of teachers.
I very specifically remember my professors trying to calm everyone down because we were all a little pissed about taking on tons of debt to get a degree that was going to be legitimately worthless.
Obviously, none of it was the school's fault, but when you're staring down the barrel of $40k of student loans and are about to become officially unemployed…it's a little worrisome.
So after I graduated I did the only thing I could think to do – start asking around. I asked one of my teaching mentors to help me find a gig, and he started asking all of his contacts.
It definitely wasn't fast, but eventually, he found a school with an opening that happened to be in Houston (where I wanted to be). One of his former students was now a band director there, and she worked with me to set up a meeting with the Head Band Director (aka boss) during a convention.
I drove my butt up to the convention, met the staff at a bar, landed an interview, and a few months later got the job. So basically, using part of my existing network helped me make my first $50k.
2. How I got my second digital marketing client
Now we'll fast forward to way after I quit my job and was already running M$M and doing marketing work. I had been working with my first (and only client at that point) for almost a year and was doing solid work for them.
I'm literally terrible at sales meetings, and after going on some one on one meetings and trying to pitch my services I was starting to get discouraged about my business. At the time, M$M wasn't really doing jack.
So again, I went to the only person I could think to talk to and asked for some help.
My client.
Little did I know, business owners really enjoy helping other business owners succeed. Since I had done good work and was super loyal to my first client, he started asking around and keeping an eye out for anyone that needed marketing help.
One day, he gave me another business owner's phone number and told me that he had already talked me up. All I needed to do was go to the store and seal the deal. I did and immediately upped my income by $1,000/month.
3. How I got my first full media feature with Reuters
About a year and a half ago, my story received it's first "feature" on Reuters with this article by an ultra-legit personal finance writer named Kathy Kristof.
A few months before the article came out, Fidelity had flown me up to Boston with a few other bloggers to do a cool presentation on some of the new products they had coming out, and they also picked our brain on some of our investing habits.
While I was there I got to meet some of the VP's at Fidelity, and one of them was interested enough in my story that she asked if we could do a follow-up call a few weeks after I got back home.
I honestly can't remember what we talked about on the phone (I think she wanted to hear some of my thoughts on a survey that Fidelity had just completed). Near the end of the phone call, she mentioned that she was talking to a few journalists about the surveys as well.
So…I literally just asked if she could connect me with one of them. She told me to hold on, put me on hold, and then jumped back on the line about five minutes later and said that Kathy Kristof was going to interview me for Reuters.
Glad I asked haha! I don't know exactly how much revenue that the Reuters story generated, but it did give me more visibility/credibility and eventually led to getting my story on CNBC and Business Insider (which turned M$M into a real business).
So how do you network?
1. Step out of your comfort zone and start talking to people
Truth be told, I'm actually a bit of an introvert even though I probably don't seem that way on a first read (or if you follow me on Instagram). I used to have to stand up and teach a classroom full of kids on a daily basis, so it essentially forced me to gain the skill of pretending that I'm extroverted.
I'm always uncomfortable when I meet new people, and I really dislike small talk because it seems pointless.
But as much as I don't really like those things, I know they are the first steps of building real relationships with people. If you're like me and would rather stay in your shell instead of meeting new people, I'd highly suggest that you get out and start forcing yourself into uncomfortable situations.
I don't think anything bad has ever happened to me by being socially uncomfortable.
2. Put yourself in the awkward position of asking for help
Nobody really likes asking for help with things, but many of the times that I've been able to grow my career through networking came from swallowing my pride and asking for an assist.
What you'll find is that people you meet are usually more than happy to help connect you with someone else that they know!
But I do want to caution you here – you can't just go around asking for free stuff all the time from people you've just met. You have to build trust first, which can look like any of these three things:
Taking the time to build a real relationship
Helping someone before they help you
Having a friend/contact build trust instantly for you by vouching for you
After you've asked for help, it's time to return the favor and build up some good karma by seeking out ways to help other people on a daily basis.
3. Jump on any networking opportunity presented to you, even if it doesn't seem helpful at the time
You always have to play the long game when you are trying to network with other people. There have been plenty of times that I've met with someone that might be good to know, and nothing has really come of it…yet.
It's impossible to know when a situation could present itself where knowing someone might be the key to growing your career (and ultimately your bank accounts).
Never ever ever pass on an opportunity to meet someone because you don't think it will help you right this second.
Conclusion
So to go back to the beginning of this post – yes, compounding interest is massively important and all-powerful. But networking can be the key to earning more income that you can put the compound interest to work on.
You've gotta make it before you can invest it, right?