It's the one question I haven't been able to put my finger on since I started M$M:
Why is college tuition so freaking high?
It's been pretty widely publicized that the average amount of student loan debt is edging closer and closer to $30,000. Personally, I had $40,000 and have talked to plenty of people that have SIGNIFICANTLY more (think $100,000+)!
Student loans are quickly becoming a financial epidemic in this country, and while the inflation of college costs has slowed, there seems to be no true end in sight to the rising of tuition prices.
Now, I want to be as objective about this as I can be when looking at college costs and how they impact student loan balances (I hate student loans, so this is hard).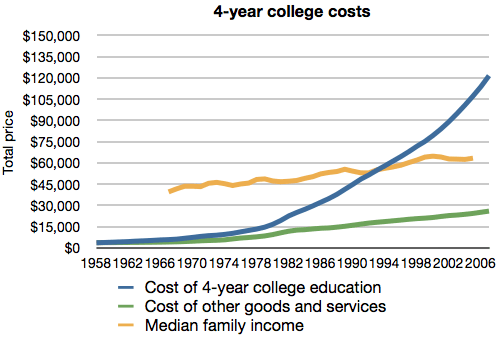 I was born in 1988, which is right in the middle of the time range that qualifies you for the "Millennial" generation. From 1988 to 2008, college tuition prices rose 130%.
There a ton of perfectly reasonable factors that contribute to tuition rates rising so dramatically such as: inflation, increased enrollment rates, need for additional staff, modern learning facilities, and updated technology infrastructures.
However, there are some price issues caused by universities that I think should be looked at with a bit more scrutiny. I'm not going out on a limb and saying colleges are evil and greedy by any stretch, but some of the numbers I'm going to share below are pretty eye-popping.
As always, feel free to debate with me in the comments if you disagree with anything presented in this post and I'll hear you out. All the sources for statistics are cited at the bottom of the post.
Because there is so much information to wade through, I'd like to separate this topic into two posts:
Why college tuition costs have increased due to college budgets. (This post)
Why college living costs have contributed to higher student loans. (Next post)
Let's begin, shall we?
1) College administrator salaries have risen…big time.
"Administrative bloat" is cited across several sources as one of the main reasons for college cost increases. I thought the following statistics from this US News article (which drew statistics from a 2014 American Association of University Professors report) were very interesting:
From 1978 -2014, the amount of administration level jobs at universities increased by 369 percent, which outpaced non-tenure track full-time and part-time positions respectively at 259 and 286 percent. Tenure track positions rose just 19 percent over the same time period.
From 2000-2010, median administration salaries rose 39 percent.
There could be a range of reasons for this, but much like the government or large corporations, there is probably a fair amount of bureaucracy excess at the top level of public and private universities.
2) College President salaries are also up.
To add to the "administrative bloat" theory, here are a few shocking numbers:
Public university Presidents' salaries rose 75 percent from 2000-2010.
In the same time period, private university Presidents saw a whopping 171 percent salary increase.
According to The Huffington Post, 42 private college Presidents make over $1,000,000 dollars per year, with the median being just over $400,000. University of Chicago President Robert J. Zimmer earns $3,358,723 per year.
CNN Money states that public university Presidents' salaries are $428,000 on average, with the highest being former Pennsylvania State President Rodney Erickson at $1,494,603.
Again..I'm trying my hardest to be objective, but considering the amount of young people that have to take out crippling sums of student loans and are struggling right now, those salary numbers are a bit unnerving. For the sake of the length of this article, I won't even go into college football coach salaries.
University of Alabama head football coach Nick Saban will make 7.3 million dollars in 2015.
Sorry. I lied.
3) Athletic Programs cost a lot of money (and actually cause many schools to lose money).
This one was brought to my attention a few days ago when I came across the below video from Upworthy.com. I LOVE college football and basketball, so the financial reality of college athletics was a tough pill for me to swallow.
The conventional wisdom leads most to believe that athletic programs generate a ton of revenue for schools, but this video points out that many schools LOSE money on their athletic programs and the costs are passed down to the students:
4) Amenities, amenities, amenities.
 If you've haven't been to a college campus lately, they are pretty freaking sweet now. Colleges are ultra-competitive for a student's enrollment, and resort-like amenities are now common in the college arms race.
For example, my college had a megalith recreation center that was complete with a massive rock climbing wall and a lazy river. Seriously. There were several large dining facilities, 3 university centers, ballin landscaping, and even an arcade room.
A lot of parents and students may think that this stuff is cool and necessary for a decent quality of life while in school, but from my point of view – college living is too nice and actually better in many respects than the real world. I don't have a gym membership, a 24-hour arcade, or a sweet university center to hang out with my friends in anymore.
In the real world, those things aren't included in your salary.
Many of the amenities above are pre-packaged into tuition now as unavoidable fees…which eventually turn into student loans. Just food for thought.
Again, this all just scratches the surface on what drives the student loan crisis. I would need to write an entire book to cover the intricacies of college tuition costs over the past three decades, and we haven't even talked about living costs or irresponsible/unfortunate borrowing and lending habits. However, I do think that the upper level administrator salaries and athletic budgets are not in line with keeping college in America affordable.
Did I miss anything? Should college administrators and football coaches be paid in excess of 1 million dollars per year? Are college amenities over the top?
Let me know and I'll politely argue with you below.
Featured picture by DonkeyHotey and lovingly edited by M$M!
Sources:
US News Statistics