I was so happy when I grabbed the envelope that my dad handed to me. He said something about some money that that my grandmother picked up a while ago…I think. Honestly I wasn't listening after he said money. I'm the 26 year old that still gets hyped up if I get a Christmas card from my relatives with a few bucks in it. Something has to pay for my rising health care deductibles right?
Yes, I know that's terrible. I'll work on my morals later.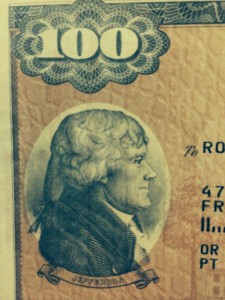 I tore open the envelope and pulled out some 100 dollar…what? I was looking at some pink alien money with an old white guy in the wrong place and a useless old people building in the background. How am I supposed to pay cash for things I can afford with this thing? My grandmother had played me like a fool.
It had to be some kind of prank that she thought of back in 1997. At least….that is what the purchase date said on the right hand side. Oh well, an 18 year joke in the making is something I have to flat out respect! I put the happy money back in the envelope and placed it in a dresser drawer. I wanted to forget about getting punked by my grandmother for the foreseeable future.
Ok, ok. I knew it was a savings bond when I opened it up. However, my first instinct was to still assume it was worthless. It wasn't green. I figured I might as well go to Walmart and buy a picture frame to preserve it for future gen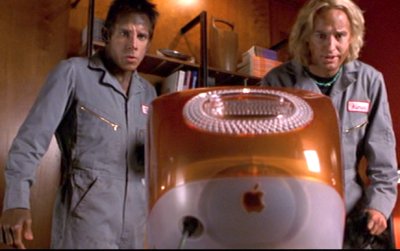 erations. I let them sit in the dresser for about two months before I randomly decided to open it this week. I studied it a little more this time, because honestly I had no idea was a US savings bond was for, or how I break it open and get the cash inside of it like Ben Stiller and Owen Wilson tried to get information from the apple computer in Zoolander.
So what is this Monopoly looking money impostor?
If you are older than 30 I'm sure you can't believe that I didn't know what my grandmother had purchased for me almost 18 years ago. It's not my fault. I wasn't given a proper money education by the school system, but I CAN take a standardized test on things I literally haven't used since I graduated from middle school. An isosceles triangle has two equal sides and two equal angles. Thank you, Texas.
 Yes, I am bitter if you were wondering. 
A savings bond is a loan to the Government that is paid back with interest. You should be familiar with this, because every time you get a tax refund you have loaned the government money interest free! My grandmother spotted Clinton some money for whatever he wanted, and he promised to pay it back with interest over the next 30 years.
The loan is fully guaranteed by the US government, and would be repaid even if I lost the bond note. Not bad, Clinton, not bad. When you go to the bank to cash in the note, it will be repaid at face value plus interest. So why do people invest in these instead of equities? They are safe. Period.
My grandmother wanted to make sure that the money she left to me would still be there by the point that I was old enough to use it. In my feeble investor mind, I figured that it would be worth WAY more than $100 dollars. It had been gaining interest for 18 YEARS. I went online and found a bond calculator to see what my new fortune was. After I put in all of the bond information and clicked "next", the grande total was…
$100.24
Well. Ok. Not worth quite what I thought, but it was interesting to find out that the bond was actually worth $50 at the time of purchase. Because it was a paper series EE bond, it was originally purchased for half of it's face value – let me explain. Bonds are guaranteed to double their value in 20 years, and the ones that I received had done it a little bit sooner than that. It's actually a marketing gimmick. If I had bought a $100 bond for $50 in 1997, I only could have sold it a year later for about $52. They weren't worth the number on the front of the bill at the time of purchase! That is why I called bonds alien money earlier. They're weird. 
Here are some other random facts about a US savings bond:
1) A US savings bond gains interest at a variable rate, which changes every 6 months. Back when my bonds were purchased, the interest rate was 5.68%. Today it is 1.49%. Thanks Obama!
2) You pay federal tax on the interest gains after you cash the bond in.
3) A bond will earn interest for up to 30 years.
4) You can sell a bond after one year. However, if you do it too early (before 5 years) 3 months of interest gains will be lopped off as a penalty. Awesome.
My bonds have more than doubled in value over the past 18 years, which is better than it losing half it's value. (I am still in the grieving/denial process here, so work with me). I have two bonds, so essentially my grandmother gifted a little over $200 to future Millennial Money Man.
A gift is a gift, and I appreciate it. You should too if your parents or grandparents feel gracious enough to give to you for nothing in return. My first Millennial instinct was to get the face value of these things and either put it in my savings account or buy something cool with it. Luckily, I have invested in finding people that are smarter than me.
I immediately took a picture of one of the bonds and sent it over to one of my friends for review. I literally asked "What the heck should I do with this?" His first thought was to cash it in and put it into my IRA. I didn't like that answer, because IRA's aren't sexy and I need instant gratification. I wanted to add it in with some equity investing that I plan on doing this month, which is much more satisfying. 🙂
He asked me, "How much will that $200 be worth in 30 years at a rate of 10%?"
It's times like these that having friends who know more about money than you pays off. By the time I had thought of this on my own, I would have been wearing a shiny new pair of Beats by Dre that were graciously donated to me by my grandmother. The question above is an important wake up call for people my age. After some quick internet research I found that my $200 would be worth $3,489.99 in 30 years! Interest and time are extremely powerful financial tools! Any time you are thinking of long term investments, you should have these questions rolling around in the back of your mind:
1) How much interest can it earn?
2) How many years do I have for it to earn the interest?
As a young person, I have the ability to leverage my investments with time. Unfortunately, I will continually lose that powerful financial tool as I continue to grow older. This means that I have to act now and be aggressive in my investment strategy. I do not need to worry as much about losing money in "riskier" investments, because I have more time to recover financially than I will ever have again. In my eyes, a bond is too stagnant to be useful at my age.
As a young person, "safe" should not be in your financial vocabulary if you want to meet your financial goals.
I plan on using that $200 in bonds from my grandmother as well as extra investment capital that was freed up after I paid off my student loans to invest in either ETF's or mutual funds. I may even decide to buy equities outright. Regardless, I do not want to keep the money in the form of low yield bonds any more. I need to take more risk with my investment capital if I want to see better results down the road. I think that you should do this too, and your 50 something year old self will thank me for it!
Live differently. Your bank accounts will thank me later. ~M$M