Wow. The past few days have been crazy to say the least. If you've been keeping up with me on Twitter or the private M$M Facebook page, you've probably seen some of the stuff that I've been posting about Hurricane Harry since I happen to live in Houston.
A lot of you have asked how I'm doing since the storm hit (which is much appreciated btw). You never realize how many good readers you reach in this business until people you don't even know are legitimately concerned about your well-being.
First of all – my entire family is safe and healthy. My parents' house, the house we are building, our apartment, and my mother-in-law's house somehow stayed dry. Unfortunately, my sister's house took on water, and I have many friends that have lost everything.
This storm was historically terrible. My area took on 50+ inches of water, and most of the neighborhoods around us were completely devastated by flood damage.
I'm going to walk you through what it was like to be here during the storm, as well as ways that you can help the people of Houston as they recover from this disaster. This is just from my perspective, which was much more fortunate than tens of thousands of people in this city.
Here's what it was like being in Houston for Harvey:
Day 1 (Friday):
Anyone who has lived in Houston for a while has been through some type of storm prep. We've had big storms before, but obviously, nobody here has ever seen anything like this one.
There's always a little bit of a nervous buzz around the city before a potential hurricane comes our way. The last storm we had was Ike several years ago, so things have been pretty quiet lately other than some floods that the city has gone through more recently.
Before Ike…there was Rita. Rita was the storm that we all evacuated for, and then it ended up completely missing us. A lot of people have been wondering on social media why we didn't evacuate for Harvey, and most Houstonians would probably point to their Rita experience as the answer.
The Rita evacuation was terrible. Everyone who tried to get out was stuck on the freeway for hours. 70+ people died, and the storm didn't even hit us.
Straight up – Houston is too big both geographically and population-wise to evacuate all at once. If we had tried to get out for Harvey, thousands would have died on the roadways. Here's the Rita evacuation on the left, and the roads on the right during Harvey: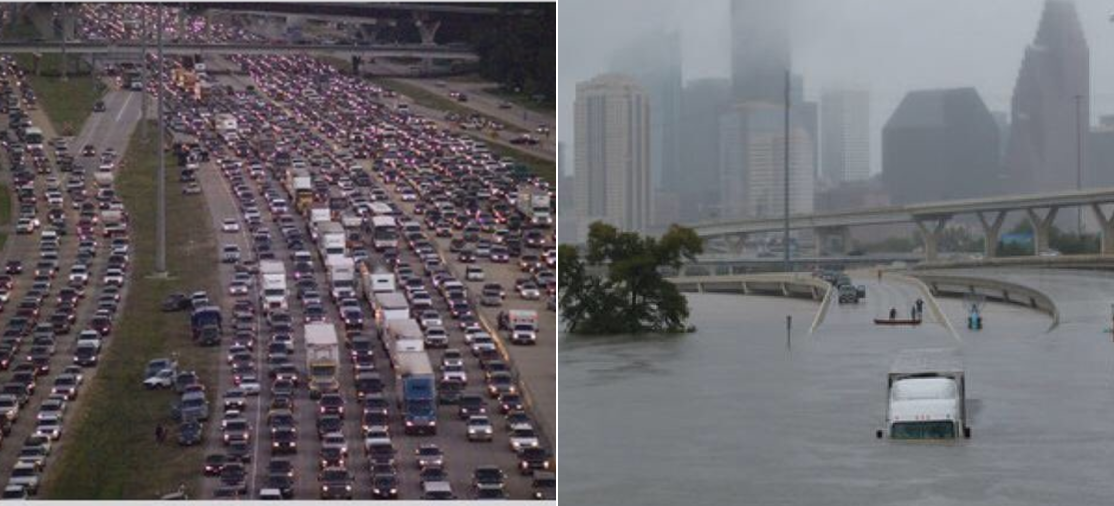 So most people went around on Friday getting water and some canned food and sheltered in place at home. It was actually pretty hard to find supplies because the grocery stores weren't really prepared for the rush.
It felt like Harvey took most people by surprise. A lot of that was due to how quickly it upgraded from a tropical storm to a category 4 hurricane.
The news was starting to say that it was going to be pretty bad. Coral and I decided to load up our valuables and the pets and drive over to my mother-in-law's house. I figured if we were all together we wouldn't get cut off from each other by any potential flooding.
My parents decided to stay at their house and my sister stayed at hers. We spent most of Friday just hanging out and watching the news.
The storm was just a few hours away from making landfall and we were already starting to get some pretty heavy rain, but nothing crazy.
Day 2 (Saturday):
It had rained pretty badly through the night as Harvey made landfall in the Corpus Christi area, but it was still clear enough to drive around in the morning. I took a trip back to our apartment to get more food and a few things before the next round of rain came.
Our apartment complex has a big retainer lake in the center of the property, and it had already been filled up about 4-5 feet higher than normal.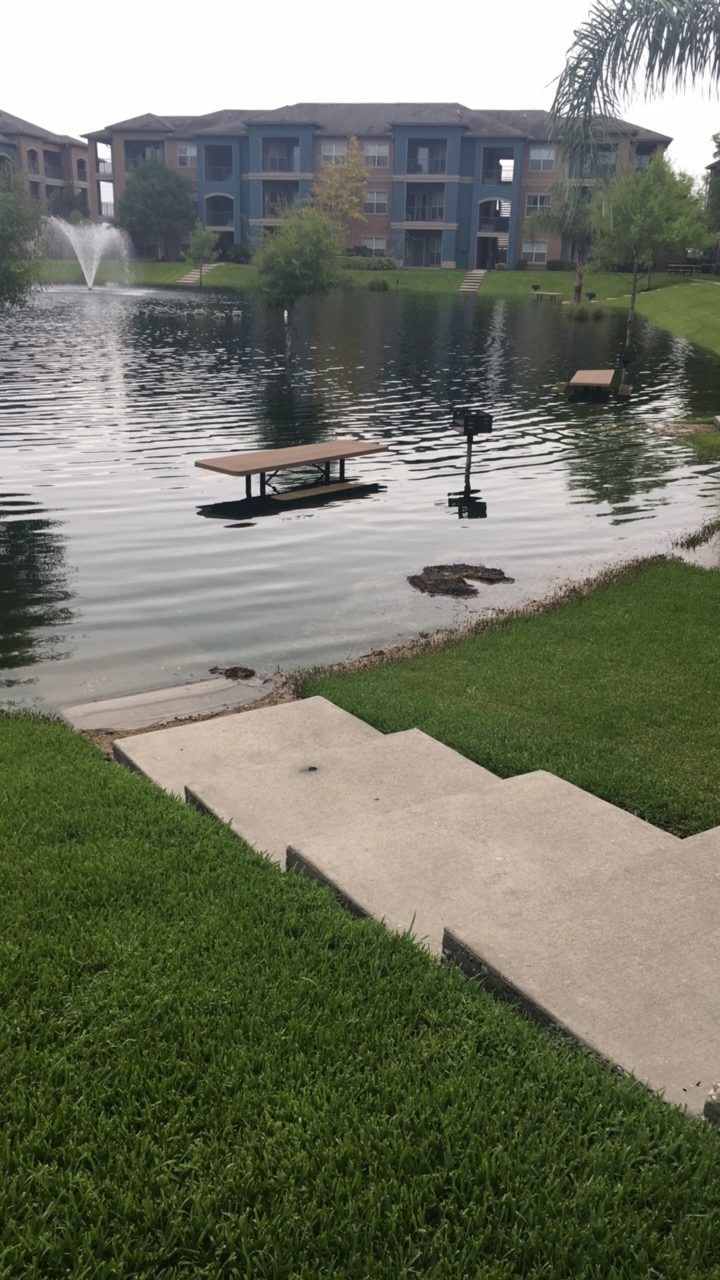 As I was driving around I noticed that some of the creeks and reservoirs were pretty high and thought: "Man if it really hits us we are going to flood out."
When I got back to my mother-in-law's, it really hit us.
Day 3 (Sunday):
Saturday and Sunday probably blended together for most people in Houston.
The thing that made Harvey so bad is that it stalled to the Southwest of Houston and just kept pounding the city with rain surges for hours and hours late Saturday night and into Sunday morning.
We have all seen a lot of rain in Houston, but this felt biblical. The radar images looked like Harvey had put huge straws into the Gulf of Mexico and was just dumping it on us.
Every time a rain surge passed us, another one filled its place. The weather people started telling everyone that they had never seen anything like this event.
They said a storm like this had always been a "Could it actually happen?" scenario. Not very comforting, right?
I stayed up until 4 am on Sunday morning, just watching the water come up our driveway and flood several cars in the neighborhood.
To judge the depth of the water, I was looking at a van parked across the street. The water eventually covered up the Chevy emblem on the front. It was insane.
Watching flood water is one of the most helpless feelings you can ever have. You know there is nothing you can do to stop it. Nothing.
That, in addition to the crazy flood images we were starting to see on the news made me start planning for the worst. I was ready to get the ladder out just in case we needed to go to the roof.
We also had a ton of animals in the house (2 dogs and 5 cats), and I started trying to figure out which ones we would have to leave and which ones we could take with us if we were going to request boat rescue. I'm a legit animal lover, so even thinking about that was heartbreaking.
At the same time, my mom and sister were calling me and telling me that their houses were about to flood. I couldn't help them. It was so frustrating. All I could do was hope that they were safe.
Day 4 (Monday):
Monday was surreal.
I went to bed fully expecting to step in water when I woke up, but somehow the rain had stopped and the water was halfway up the front yard.
We were trapped in the house, but thankfully dry and had electricity. I still have no idea why we didn't flood or lose power, but I can tell you that we were so much more fortunate than much of the city and the neighborhoods immediately around us.
After I got up and started brushing my teeth, I noticed all of the sounds.
Fan boats, helicopters, car alarms (still have a helicopter flying overhead as I'm writing this).
It was just so…bizarre. I walked outside and saw a Coast Guard helicopter circling our neighborhood, and then I realized that the neighborhood about 100 feet behind us was completely flooded.
While the rain had stopped, Coral and I also walked around to go check out the reservoir at the back of the neighborhood. It was full. I've never even seen it at half capacity. Just crazy.
From Saturday night to Sunday morning, we received more than 20 inches of rain, and it wasn't over yet.
It started raining heavily on Monday night again, and it was a gut punch for everyone that had either flooded already or were borderline after Sunday night.
Day 5 (Tuesday):
I woke up again on Tuesday fully expecting the neighborhood to be flooded, but again…somehow it wasn't. Finally the storm had started to move on. We got a few more pockets of heavy rain, but by the evening the water behind the house was low enough that I could back my truck out.
Coral and I hadn't seen or heard about our apartment or new house in days, so I figured I would try to get to them if the roads weren't bad.
Unfortunately, a lot of people get swept away in their cars after big flooding events, so I had a rule of turning around if I ran into any water on the roads.
I made it to the apartment and it was fine. It would have flooded a little bit, but before we left on Friday I had taken towels and stuffed them in the patio door. They actually kept the water out. Pretty crazy.
I tried to make it over to our new house but ran into a creek that had overflowed outside of its banks. There were boats driving around on the street (think about that for a second) and rescuing people, so I figured it was best to turn around and try again the next day.
After getting back to my mother-in-law's house, we heard that a shelter had opened up down the street. We gathered as many supplies as we could and went to drop them off.
At this point, it was really starting to set in that A) we were unbelievably lucky, and B) this was so much worse than we could have ever imagined.
Day 6 (Wednesday):
Everyone that hadn't flooded started to get out of their neighborhoods and help the people that had received flood damage. By this point, thousands of people were in shelters around the city, and the flooding was actually still getting worse in spots as water started flowing down from the northern part of the city.
Some people that had made it through the entire storm without taking on water started flooding even when it was clear and sunny outside (as if they needed another punch in the gut).
We spent a good chunk of the day helping my sister rip up carpet, flooring, and drywall from her house.
At the time of writing, the entire city is still reeling from what happened. Some businesses have been able to open, but so much of Houston still has flooding issues.
A curfew has been in effect for a few days now, so even the businesses that are open are closing early every night. It feels so weird driving around on roads that are less than half as full of drivers as they used to be.
Eventually, Houston will be alright…but it's going to be bad for a while here.
Resources for charitable donations:
One of the most incredible things about the M$M community is how nice and caring all of you are. I've already had people reach out to me and offer to give financial aid to my family, friends, and anyone else I know that needs help.
A church from Arkansas has "adopted" my sister's family and is helping financially. I have friends whose parents have lost everything, and I've been able to line up help for them as well.
This is going to take months and probably years for the city to recover from. Most people don't realize how destructive flooding can be. Even one inch of water in your home can cause tens of thousands of dollars in damage.
Here are some really good ways to help people in Houston right now:
JJ Watt Foundation (YouCaring Donation Page)
Southern Baptist Disaster Relief Fund
Direct giving
Some of you have asked me to find people in need that you can directly help with financial contributions. I'm more than happy to facilitate this (set up GoFundMe accounts, provide contact info, etc.), but please understand that donations of this nature are not tax deductible like a normal donation to a charitable organization.
I'd only recommend this route for people or organizations who either don't care about the deductions or don't like funneling money through charities for various reasons.
You can email me directly at Bobby @ millennialmoneyman.com if this is something you're interested in.
I'd be happy to line up a family that I know is in need.
What I've learned
Even though the last thing I was thinking about was money during the storm, this whole experience has only solidified to me how important it is to push a message of getting in control of your finances.
The people who don't have emergency funds are going to really struggle until insurance, donations, or FEMA aid becomes available.
It's heartbreaking, and just another reminder that emergencies can and will happen in life. You have to be prepared as much as you can be.
I've also realized even more that "stuff" isn't nearly as important as most of us think it is. I can't tell you how many people were interviewed on the local news that lost literally everything, but were thankful for being alive and that their family was safe.
You can always replace your stuff. You can't replace life.
Here are some stats from the Harvey disaster:
70% of Houston was covered with at least 1.5 feet of water
Conservatively, 136,000 homes were damaged with flood water
FEMA expects 450,000 people to file for aid
Almost 80% of flood victims in Houston don't have flood insurance
51.9 inches of water fell, which is the new continental U.S. record