Hey everyone! I am SO SO SO SO SO excited to officially unveil the new M$M today!
I've been wanting to have the site professionally designed for a few months now, but I was having a hard time deciding on who I wanted to go with for the design (lots of talented people out there) and also…custom work like this is not cheap.
If you're a new reader, original reader or have just been around for a little while, I want to take you (and myself) on a little trip down memory lane.
I started M$M just over two years ago
After I had finished paying off my $40,000 of student loans in 18 months, I felt like I almost had some kind of responsibility to share my thoughts about $$$ with other young people.
Related: How I Paid Off $40,000 of Student Loans In 18 Months
I did some research on blogging, and decided like a lot of people that I wasn't quite ready to jump in and create my own website. I just wanted to dip my toes in the water with a page on Medium.
So, I wrote my first post about money, shared it on Facebook…and waited.
It was actually pretty well received!
Since then my writing style has changed drastically as I've learned how to get my point across more effectively and efficiently over the past two years. But, my first post was actually pretty decent if I say so myself.
Here's the original post that started everything for M$M: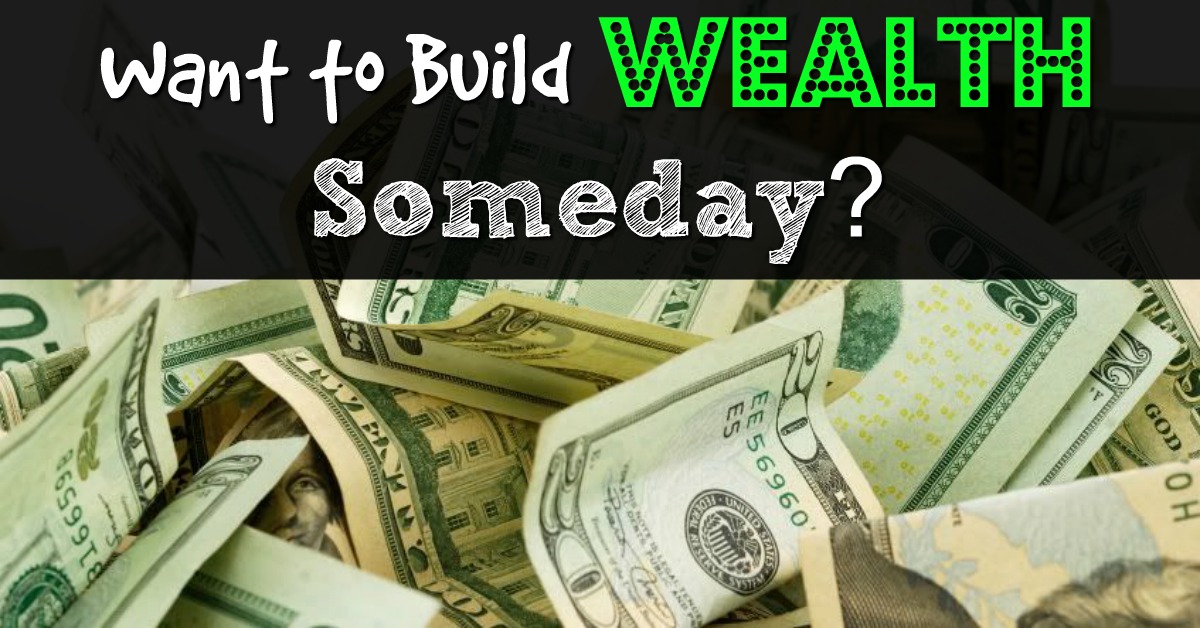 So, I decided that after a bunch of my friends had shared the post I would go ahead and start my own site! I was SUPER excited about it, and started looking for a domain name.
I originally wanted to call the site "moneymillennials.com". Fortunately for me at that time it was already taken (I just checked it out again and that site is still up, but doesn't really have any content on it).
What if that name was available? Would I have been able to turn this into a career where I make $10,000-$15,000/month blogging? Maybe not, but who knows haha.
Related: January 2017 Online Income Report: $16,683.77
After what seemed like hours of searching, I stumbled onto MillennialMoneyMan.com. I actually thought it was kinda weird because it had a Superman/comic book character type feel to it in my mind, but it was the best I could do and I was tired of looking for new names.
Thank goodness I got lazy.
The next part is the reason why I created a free blogging course that you can find on the sidebar of the site now. 
I didn't exactly know what I was doing in the beginning of M$M, so I wanted to make a resource that would help to get people started in a great direction with their blogs after they took the course!
Here is the original M$M design: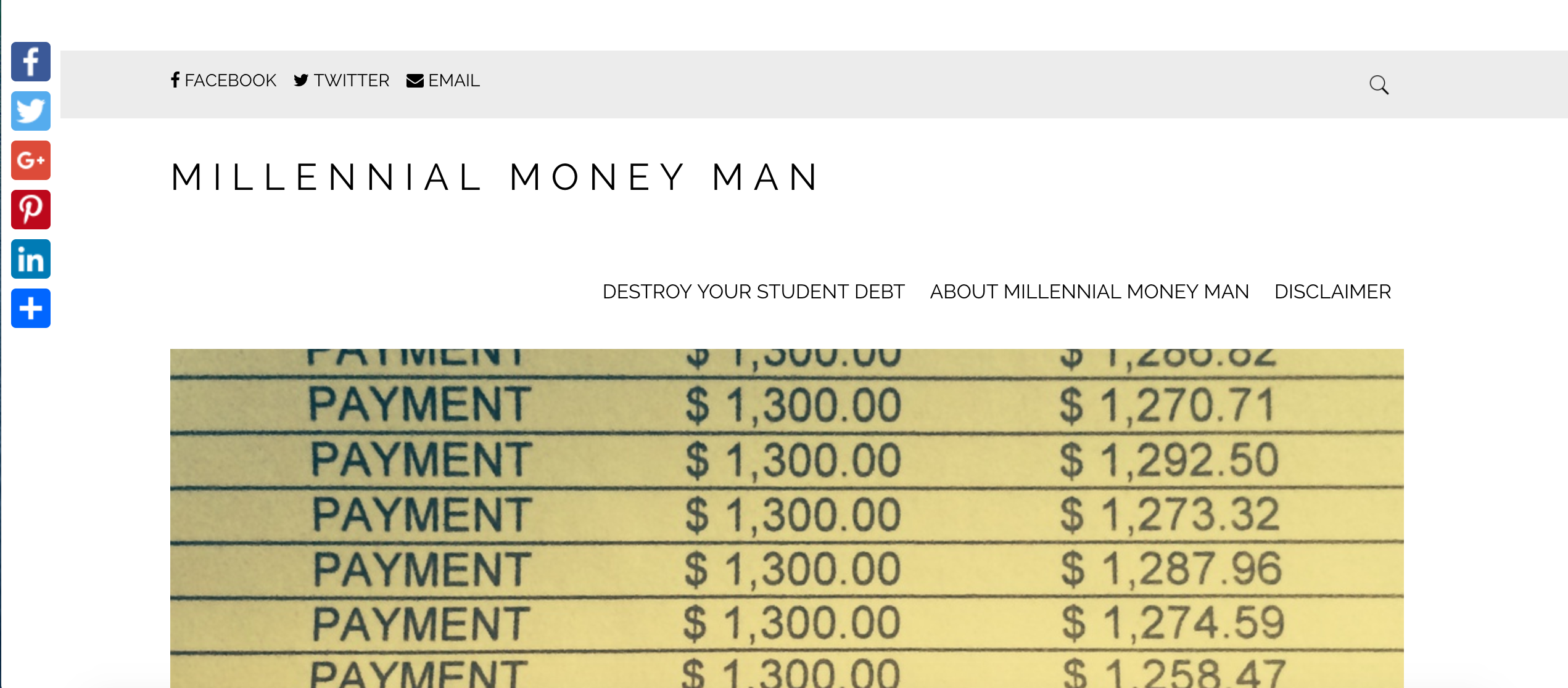 No logo, just a couple of pieces of content, and really not much else going on. I really felt like a minimalist type design would work best since I didn't have much content to share yet.
Here is the second version: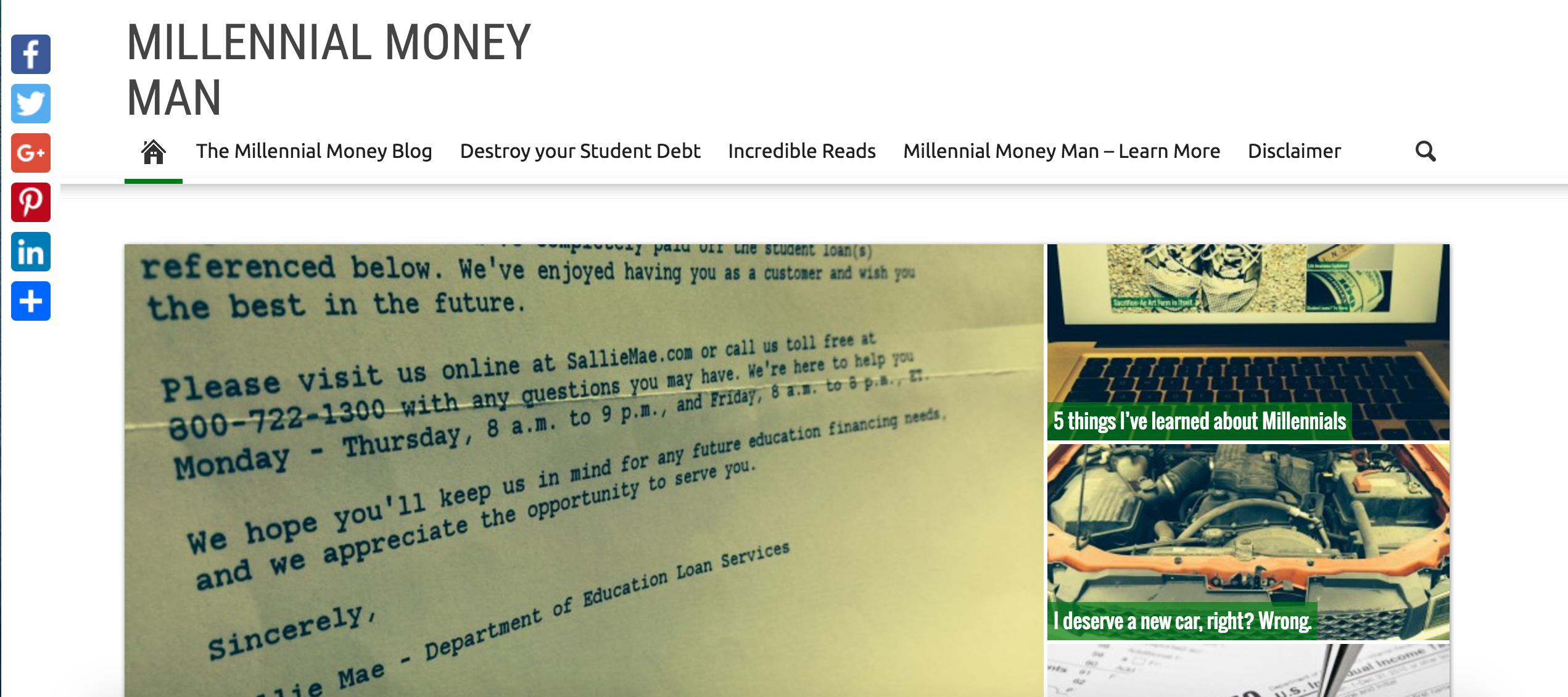 This was actually the version that I had when I told J$ from budgetsaresexy.com that I was going to quit my job. I can't believe he didn't tell me it was a bad idea based on the site at the time, but I'm freaking glad he didn't. 🙂
Actually on his advice, I purchased a Thesis theme that I had been running the site on for about the past year and a half (I'll talk about that in a second).
Here is version three: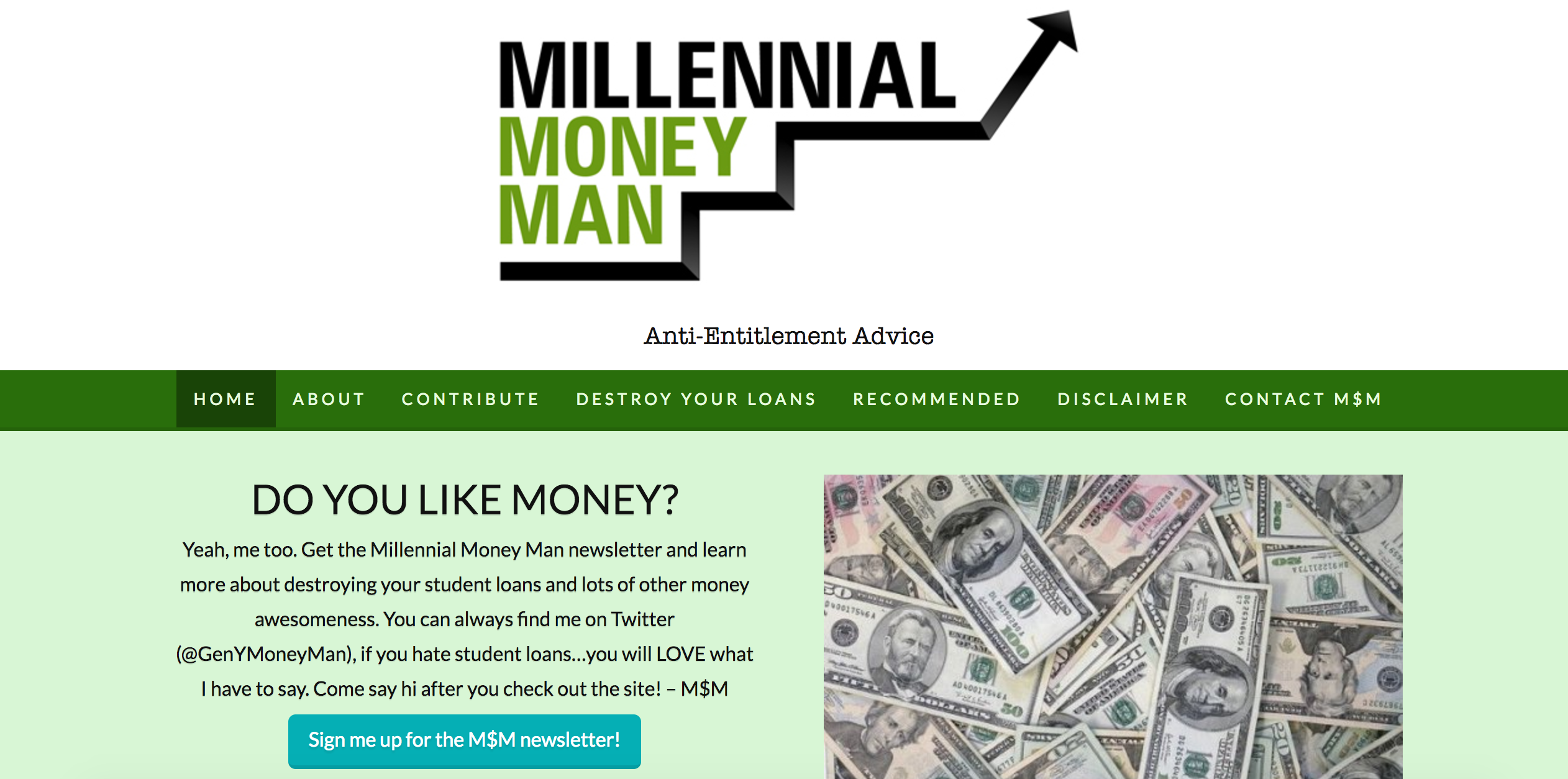 One great investment I made pretty early was my logo. I allllllmost changed it on this current design, but I love the original one way too much to mess with it yet.
And version four (I remembered my wife is better looking than me and needed to use that to my advantage!):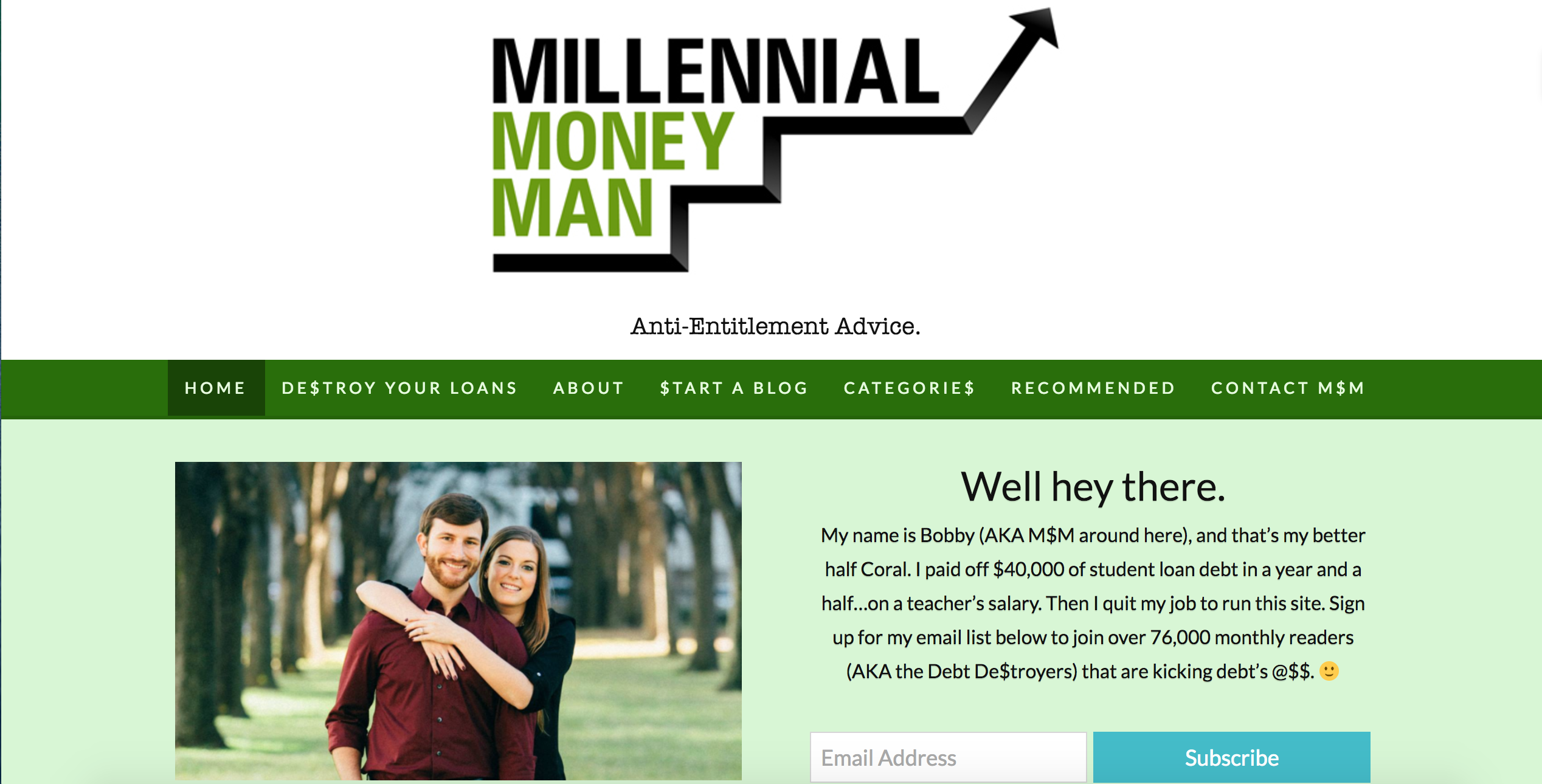 I ran this theme for about the past year and a half, and am VERY proud of it.
If you're wanting to get a nice theme that's better than a free one and doesn't cost several thousand dollars like my new design, you'll want to head over to Diythemes.com and pick up a Thesis theme and skin for your site.
You don't really need to know how to code anything (it's essentially drag and drop), but if you do know some code you can use it as well to customize a little more. They have good support forums and always answered any questions I had along the way.
If you've considered starting a blog….
For you future bloggers out there – design is less important than great content in my opinion. There were a lot of things that I was technically doing "wrong" with my previous website design, and I still managed to create a pretty awesome following and income.
I didn't even have social media follow buttons on the website over the past year. Isn't that crazy? Live and learn.
What's next for the site?
Well, obviously I'm going to keep pushing the same message of debt freedom and kicking @$$ with your money as a young person.
I'm also going to start providing more resources for all of you out there that want to make more money online.
I think I have a lot to offer in this area, and I'm basically the middle ground for info you can find between people that make zero dollars online and those who make $1,000,000 per year.
So take a look around the site, check out the new freebies (courses, guides, etc.) and let me know what you think!
And – I have to give a quick plug to my new friend Zach Swinehart who designed this site. I stayed up to all hours of the night for the past few weeks going through the design with him, and I'm SO stoked about how it came together.
He's ultra talented (best in the business IMO) and made what could have been a stressful process a lot of fun. You can find a link to his site at the bottom of M$M. Just FYI, if you're a CFP or CPA, he puts out some killer websites in that genre.
Also, if you're new here or have been around from the start – thank you so much for all of your support. I couldn't do this or reach/help the amount of people that I do without all of you.
P.S. – there may be bugs here or there on the site in the first day or so. If you see one, please let me know! Teamwork makes the dream work. 🙂