I know I'm not alone when I talk about that gut wrenching feeling of realizing that your cell phone is a vegetable due to water damage. My wife and I recently went on our honeymoon in the Bahamas where my iPhone 5s took an unexpected dip in the swimming pool and has been on life support (in a bag of rice) ever since.
In this day and age, it's almost impossible for Americans to go without the use of a cell phone for any extended period of time. I get the urge to check my email, Twitter, Facebook, and Instagram what seems like every 30 seconds. In fact, Millennials check their cell phone 43 times a day according to this Entrepreneur.com article, and I'm sure I am on the high side of that statistic.
When I got back from my vacation last week, my first priority was to remedy my cell phone situation. Before I went out and picked up a new phone I had an important decision to make. My wife is a Sprint customer and has been for her entire adult life. I'm an AT&T customer, and I have been using their service for over 10 years. I got my first cell phone in Jr. High when Cingular Wireless was still a thing.
Yeah. Seriously that long.
I honestly wasn't quite sure if I should re-sign with AT&T or go in a different direction with Sprint or another carrier. Like a lot of people I'm on a grandfathered data plan that is still affordable compared to what many major cell phone providers offer now.
I've been grasping on to my unlimited plan like Gollum ever since AT&T moved away from it back in 2011.
After looking at my options for a day or two, I decided to stay with AT&T instead of switching over to my wife's service provider. What can I say? Maybe I am brand loyal to a fault. I had a phone again, and I had still managed to stay on my plan with unlimited data for a little bit longer. I figured it would be easier to just stay put with the same company and avoid the inherent hassles of switching over to another carriers.
Everything was cool, until I received a text message from AT&T: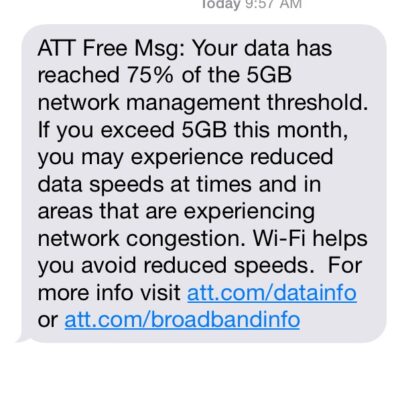 I recently renewed a 2 year contract with AT&T and now, a week later, I received this data throttling text. Unlimited data is a huge reason I've stayed with AT&T so long, but 5GB is clearly a limit. This will be my last contract with AT&T after being with them for over 10 years.
You don't reward customer loyalty with poor service and poor product quality.
This might seem a bit drastic, but I run much of my online business through my cell phone. I HAVE to monitor my twitter account and check blog comments in order to grow my brand. Being able to access my emails quickly is a necessity. Basically, slow internet and download speeds are simply unacceptable for someone like me. I also can't sit around at the office just to avoid my data service all the time! If this is going to be my cell phone future, I want nothing to do with it.
Oh and also, thanks AT&T for sending me a "Free" message that I PAY monthly for the ability to see. *sigh*
Data throttling has recently become a big talking point in the media and among cell phone service customers since AT&T was hit with a monster 100 million dollar fine for misleading customers about unlimited data plans. Customers are getting fed up with the practice of providing "unlimited" service with a catch, and now I'm starting to see why. I paid for a service, and I want the company that I am paying to be straight-up with me about what I am getting.
AT&T cites that they throttle their high data users in an attempt to cut back on tower congestion. The truth may really be that my grandfathered unlimited data plan makes me a less valuable customer than someone who pays for a tiered data plan. Even thought I am paying for unlimited data, it's pretty clear that the company that I've been loyal to for years wants to convince me to switch into a more cost effective plan for them.
Normally I don't have an issue with capitalism, but the timing of this situation really bothers me. Where is the loyalty to customers that provided a consistent revenue stream, and not to mention recommended their service to other cell phone users for years? Should customers have to find some random page on a company website that states "unlimited" actually means something completely different than "unlimited"? I don't think so, and I have a feeling that I'm not alone on this one. Not to mention, THEY JUST GOT FINED $100,000,000 FOR THIS. Just saying…