If you love spreadsheets, and I know some of you do, Tiller Money is a way to supercharge your spreadsheets.
Tiller Money is a fully customizable add-on for Google Sheets and Excel that helps you sync and automate data entered into your spreadsheets. It's a powerful tool that will help you make the most of two of the most widely used spreadsheet platforms so you can better manage every aspect of your financial life.
2021 Tiller Money Review
What is Tiller Money?
Tiller Money is different from most personal finance apps and budgeting tools because it's not a separate platform. You aren't downloading a brand new app or importing your information into Tiller; you add Tiller to your spreadsheet software.
Tiller Money started as a Google Sheets add-on that works with nearly 20,000 different financial institutions, and now it also works with Excel in beta mode. Tiller is run by a group of spreadsheet freaks… a flag they proudly fly… that love to experiment in Tiller Labs.
You can use Tiller Money to aggregate and sync data from your bank accounts, credit cards, mortgages, loans, and investment accounts. To sync your accounts, Tiller uses Yodlee — a leading financial accounts aggregator that provides secure data transfers between financial institutions and consumers.
When you add Tiller Money to your spreadsheet software of choice, you get a wealth of features that let interact with your spreadsheets in ways you never realized were possible.
Tiller Money features
Tiller Foundation Template
The Foundation Template is the beginning of your Tiller experience, and it's where the magic happens. You can add to it with additional templates, but the Foundation Template includes prebuilt sheets for tracking your spending, budgeting, visualizing trends, etc. It feels a lot like the dashboard you see in other personal finance apps.
Here's everything you'll see in your Foundation Template:
Instant financial insights about your spending and balance trends
Net worth at a glance, and you can go to the balances sheet to see your net worth broken down by assets and liabilities
Transactions sheets that show your daily financial transactions, which you can customize and categorize
Balances and balance history
Monthly budgets that you can customize to fit your needs and break things down by type, group, and category
Yearly budget that shows your annual cash flow and for projecting next year's budget
Customizable categories sheets where you can create up to 200 different spending categories
Cloud-based collaboration so you can share and use your templates with someone else (spouse, business partner, accountant, etc.)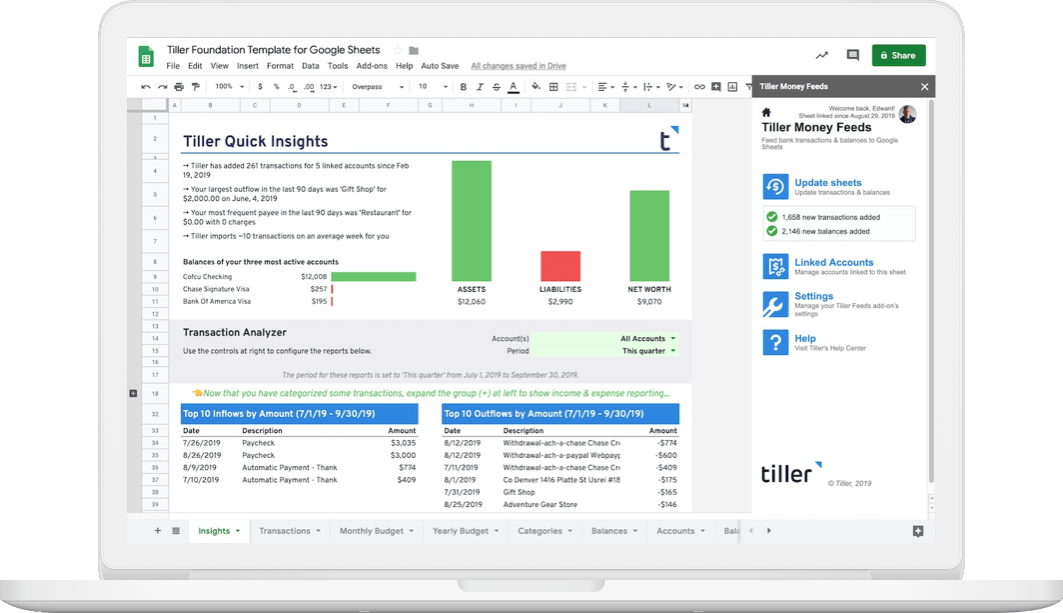 M$M tip: For more on how to start using Google Sheets, I have a comprehensive guide that walks you through the process of creating a budget in Sheets: How to Make a Budget Spreadsheet in Google Sheets (Step-By-Step Guide for 2021!). You can find the best free Google Sheets Templates at Best Free Google Sheets Budget Templates (and How to Use Them!)
Automatic Categorization
Called AutoCat in the Tiller Money community, this tool lets you create, customize, and run automatic categorization rules. You can update the rules any time you want, and you can run AutoCat on automatic or manual.
AutoCat is really helpful for normal transactions, but it's also an easy way to track spending on specialized categories. For example, you can set AutoCat up to aggregate any spending related to vacations, your children, home improvement projects, etc.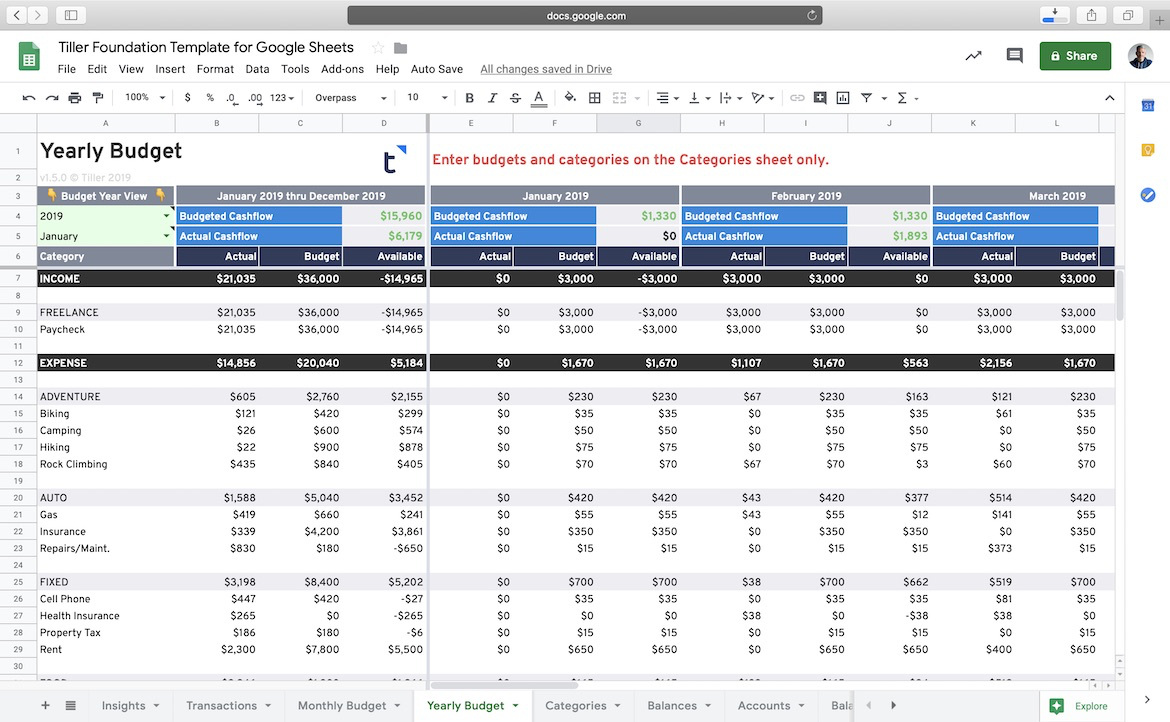 Tiller Labs
Tiller Labs is where the Tiller Money team gets to experiment with templates, scripts, workflows, and add-ons. It's important to remember that these are experimental tools, so they're not always perfect. But, you can adapt or hack them to fit your own personal finance needs.
Here are a few of the extra tools you can get for free from Tiller Labs:
Net worth snapshot
Category tracker reports
Amazon line item importer
Year-to-date comparison report
Holiday gift planner spreadsheet
Below you can read about one of Tiller Lab's additions.
Debt Progress Spreadsheet
For anyone who wants to get serious about destroying their debt, this Tiller Lab spreadsheet can be used alone or as an add-on to your Fondation Template. It collects information about your debt (what you shared when you signed up for Tiller and linked your accounts) and puts all of your liabilities in one place. Just like the rest of Tiller, your Debt Progress Spreadsheet is updated daily to reflect new transactions, payments, and balances.
But here's the cool part, you can use Tiller to help you develop an effective debt payoff strategy. It will model different scenarios and timelines based on your monthly payments, and you can set it to use the debt avalanche or snowball method.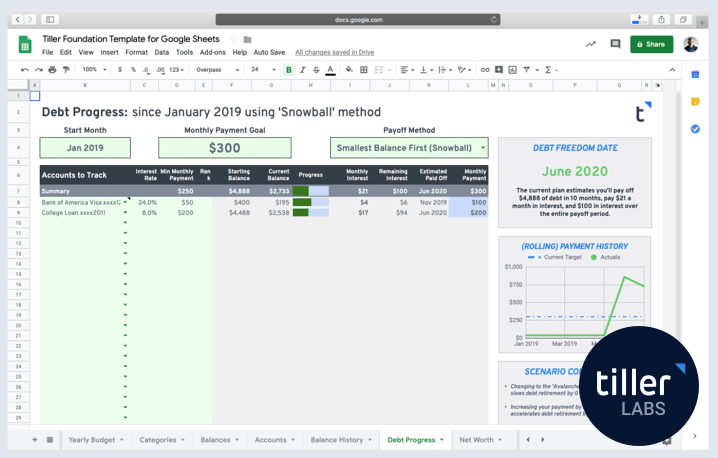 Email updates
This is optional, but Tiller will send you daily email summaries of your spending.
Tiller Support
If you have any questions or issues, you can contact Tiller via online chat or email at [email protected]
In 2019, the Tiller Money Community was released, and Tiller calls it a "positive new forum for spreadsheet and personal finance enthusiasts." It kind of sounds like the Millennial Money Man Facebook community.
This community of like-minded spreadsheet junkies can help you get even more out of Tiller experience. You can ask questions about linking accounts, syncing bank feeds, budgeting strategies, etc. The moderator team also posts challenges, ideas, and workflows.
Help library
To help you use the app, Tiller Money has help documents, tutorials, and videos
The Tiller Side Hustle Ranker
If you know me at all, you know I'm a huge proponent of starting a side hustle. But the reality is that not all side hustles are the same. I like the ones that are flexible, pay well, and can be scaled into larger opportunities.
Tiller Money has its own side hustle ranking system: realistic, lucrative, and worthwhile. These guidelines have been used to rank 145 different side hustles ideas, which are sorted by:
Complexity
Monthly earning range
How realistic they are
The average time to get your first $1,000
Introvert index
The point is to help you pick the best possible side hustle. If you want to hear my opinions on side hustles, check out the 22 Best 2021 Side Hustle Ideas (Make $1,000+ Per Month.
Spreadsheets for your business
Tiller Money has a couple of templates for business owners that want to track their cash flow and manage quarterly estimated taxes. All of your spending and income will be synced in these spreadsheets and automates reports.
Tiller Money and investments
While Tiller doesn't come with investment insights like Personal Capital has, you can add a GoogleFinance formula to your spreadsheets using Tiller.
The GoogleFinance formula feeds nearly live stock price data into your spreadsheet (there is a 20-minute delay). You can also track the opening and closing prices, weekly highs and lows, average daily volume, market cap, and more
You can even use formulas in GoogleFinance to set up your own portfolio tracker. You do need to add in each asset and how many shares you have, but the formulas will do the rest of the work for you.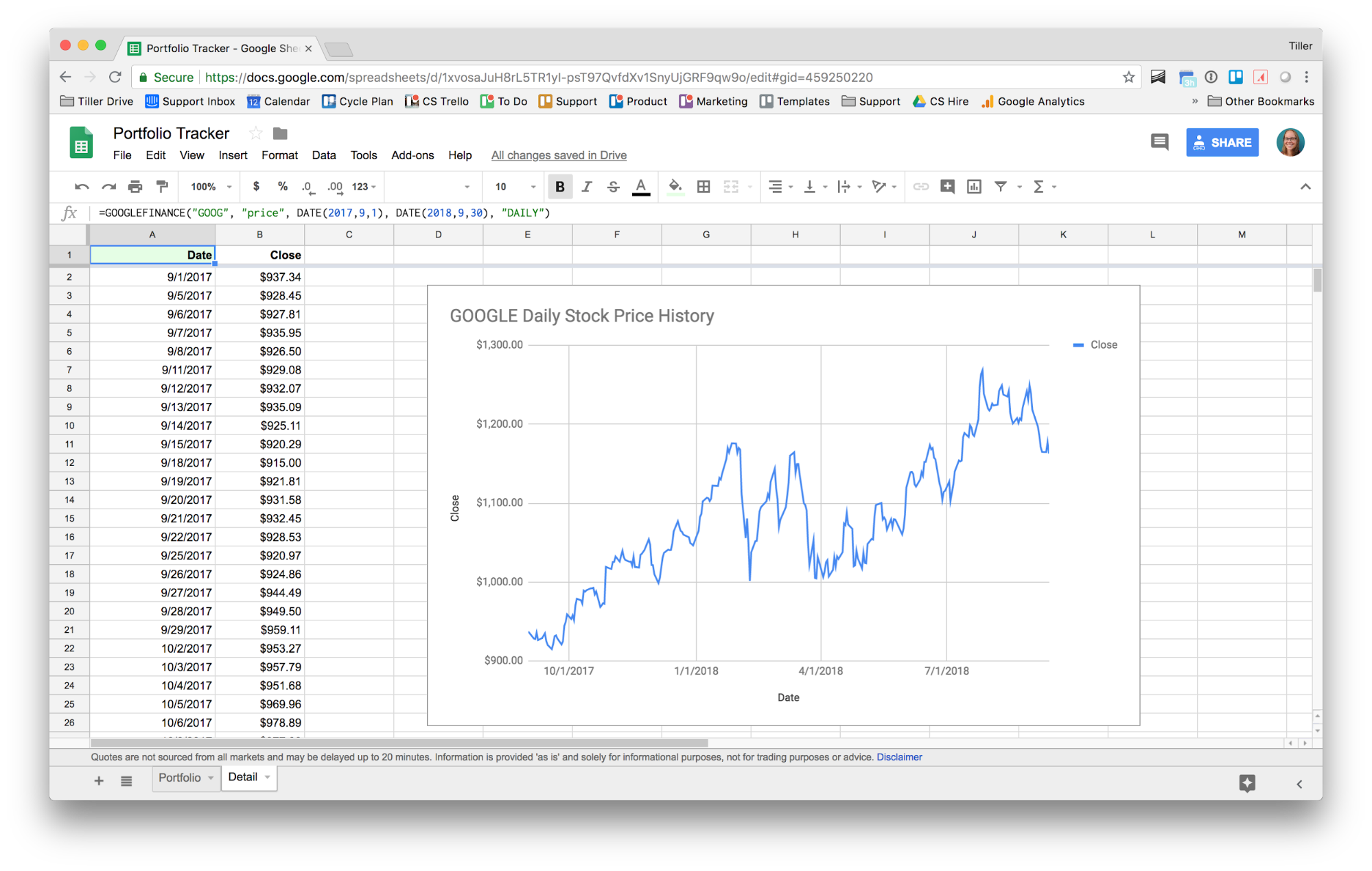 I really like that Tiller gives you this option, but I still prefer Personal Capital for tracking my investments. It's free software that you can use to plan for retirement, track your investments, see your net worth, manage your cash flow, analyze the fees on your funds, and more.
You can learn more about Personal Capital's robust investment features at Personal Capital Review: Free Investment Tracking and Net Worth Tool. And if you sign up for Personal Capital using my exclusive M$M link, we'll both get $20.
Does Tiller work with Excel?
Tiller is now available for Excel in beta mode. It comes with the Tiller Money Tracker that lets you track your spending and income in an Excel workbook. You can create personalized categories and run custom reports.
You will need a free Google account to get Tiller for Excel. The Excel version works with Excel 2016 installed via an Office 365 subscription. Because it's still in beta mode, it's safe to assume that Tiller will eventually make more updates for Excel users.
M$M tip: If you want to learn more about Excel, check out these two articles:
How much does Tiller Money cost?
Tiller is $79/year or $6.58/month. There is a 30-day free trial, and you can cancel Tiller any time you want. Here's how the cost of Tiller compares to some other subscription-based budgeting apps:
These budgeting apps are all a little different. YNAB is zero-based budgeting, EveryDollar walks you through the Dave Ramsey Baby Steps, and Quicken gives you a larger picture of your finances. If you're looking for a low-cost budgeting app and love spreadsheets, I think Tiller Money is definitely worth a try.
How to start using Tiller Money
If you've been reading through my Tiller Money review and are interested in the free 30-day trial, the first thing you need is a Google log-in. When you go to Tiller Money to sign up, you'll do that through Google.
You're taken back to Tiller for the rest of the sign-up process. You will need to enter your credit or debit card information to start your free trial, but Tiller won't bill you until the end of your trial period. There's a chatbot in the bottom right-hand corner of the page if you have any questions as you sign up.
After you've entered your payment information, you can start linking accounts. Just like any other budgeting or personal finance app, if you want the full experience, connect as many accounts as possible.
Tiller Money will ask you a couple of questions to customize your experience:
What is your skill level with spreadsheets?
What is your primary goal with a financial tool like Tiller?
Then you get to choose whether you want to use Google Sheets or Excel (still in beta mode). Click on which you want. Up until this point, it took me less than five minutes to sign up for Tiller Money.
This next part is when it starts getting fun. You're brought to your brand new Tiller-powered spreadsheet where you will be prompted to add Tiller to Sheets or Excel. Tiller walks you through the next couple of clicks you need to make, including selecting which accounts you want to feed data in your spreadsheet.


FAQs about Tiller Money
How does Tiller Money keep my information safe?
Tiller has an extensive security promise (you can read the whole thing here), but it includes:
Tiller will not sell your data to third parties or advertisers
2-Step verification via Google sign-in
Bank-grade 256-bit AES encryption
Tiller uses read-only data, meaning it does not see or store any bank credentials
Does Tiller have a mobile app?
Short answer: no. However, some users in the Tiller Money Community have talked about using Glide to create an app that works with Tiller. You can read more about that here.
Remember, Tiller Money runs through Google Sheets, and you can download the Google Sheets app and use it on your phone. You can edit transactions on your phone, but it's going to be a lot easier if you do it from your computer's browser window.
How do you use Tiller with someone else?
Early in this Tiller Money review, I mentioned that you can share and use your templates with a partner, and that's because Tiller is a cloud-based software. You can invite contributors to use your spreadsheets, and they can log in using their own Google account.
How does Tiller Money bill users?
After your 30-day free trial, Tiller will charge your credit or debit card for the full year, which is $79. Tiller renews automatically every year unless you cancel to stop the automatic renewal.
The final word in my Tiller Money Review
Tiller is a really powerful tool if you're a spreadsheet freak, but it's also a great way for newbie spreadsheets users to gain valuable insights about their money. You can track your spending, create a budget, get out of debt, etc. There are legitimately a ton of different ways you can use Tiller — that and the cost makes it an affordable option that's worth checking out.
Go here to get started with Tiller Money.