How much do kids in high school know when it comes to personal finance?
Nothing. Next? 🙂
Alright fine, that's probably not true and a little too sarcastic to be a legit answer for such an important question. The lack of financial education that young people have IS a huge deal to me, and my short time (3 years) of teaching was eye-opening in that respect.
If you are new here, please allow me to spit a sweet M$M back-story Haiku in your general area so you can catch up:
My first teaching job
Paying off my student loans
Money became life.
Now, does that count as a Haiku because it doesn't mention nature? No idea. But essentially I paid off my $40,000 of student loans while I was a teacher and became really passionate about personal finance. I created this site and started teaching my band students personal finance lessons during our tutorial time.
They loved it (I think).  
I wasn't really supposed to be doing that, but YOLO. When I did my exit interview after resigning, I told my principal that I had basically not taught any of the lessons that he provided every week and subbed them out with my own money lessons instead…and he thought it was actually a good idea.
It was pretty clear that I had a passion for helping people with money in some way, so when I left teaching to run this site the majority of people were pretty cool about it.
The unfortunate part is that kids in high schools are still woefully undereducated when it comes to all things money. They all WANT to be wealthy and avoid the struggle that their parents went through, but the tools simply aren't there right now.
So I think we should at least open up the dialogue on what kids need the most in high school to be financial successes before we can really do something to change it.
I blasted out this question on Twitter the other day to get an idea of what people think is important for the kiddos to learn:

And then I sat back with an evil genius laugh as the responses rolled in:







And because things are backed by science and the latest technology at M$M, I did a poll too: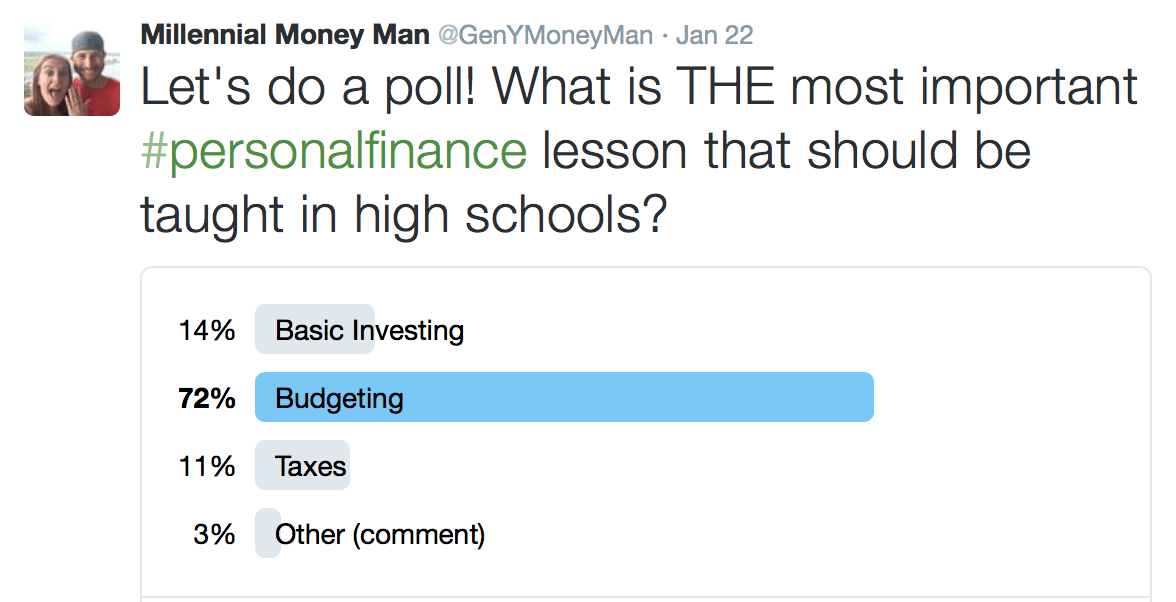 BOOM. The children need to learn about budgeting – statistics don't lie right!? So where do you start and how do you make it fun? Does this mean you don't teach them about taxes or investing at all? I don't know yet, but again…this is about starting the conversation in the personal finance community.
You may be wondering…what do I actually think the most important financial lesson for young homies is?
It's not budgeting, because I'm probably the only financial blogger out there that doesn't use a budget regularly and managed to be debt-free and a semi-success. I'm not saying they aren't important…I'm just weird and haven't used one. I really think budgeting should be reserved for the freshman year of college or senior year of high school because it takes more discipline than average 15 year olds generally have.
I think the most important lesson is so simple it's almost stupid:
Buy assets instead of liabilities. This is a concept from Robert Kiyosaki's book – Rich Dad Poor Dad. I like it because it's simple enough for high school kids to understand without making them bored. If every person in America could get this concept…my goodness it would be awesome.
Use your extra money to buy things that will make you more money instead of things that lose value. For example, Millennial Money Gal and I will buy a commercial real estate property (asset) before we buy a house (liability according to Kiyosaki). Sounds crazy and unorthodox, but it will make our money work for us in a huge way! It would also keep kids from buying new cars and financing crap that they don't need or won't help them build wealth.