You know what's funny? I've owned a boat almost the entire time I've been writing this personal finance blog, and I realized that I've never really written an article about financially surviving boat ownership.
I typically consider myself to be a relatively frugal person, but boating isn't cheap. There's just no way around that.
Boat parts are expensive. Boat maintenance is expensive. Boat accessories are expensive. Basically, anything that's vaguely related to the word "marine" seems to have crazy markups.
But, that doesn't mean you can't fit boat ownership into your life if you love the water and also love your money. Now that I've owned a boat for about three years, I legitimately hope that I will always own one.
Here's why boating is so important to me (even though it's expensive):
I love the water. My wife loves the water. It's hard to explain to non-boaters, but there's just something extremely calming about being out on a boat.
When I was a band director, I was really stressed out all the of time. For whatever reason, I never felt like I could get ahead with all of the work I needed to do.
I didn't have a boat back then, but I went water skiing with my friends whenever I could find the time.
Every time we got out on the water… my stress just melted away. For a few hours, you just forget about all of the stupid stuff going on and just enjoy life.
After I left my teaching job and as soon as I could afford to own a boat, my wife and I bought our wakeboarding boat. It's a 2003 Super Air Nautique 210 Team Edition, and it's freaking awesome. That's one of the legendary boat years and best models for wakeboarding, and you'd never know that it's 15 years old if you weren't a boat nerd like me.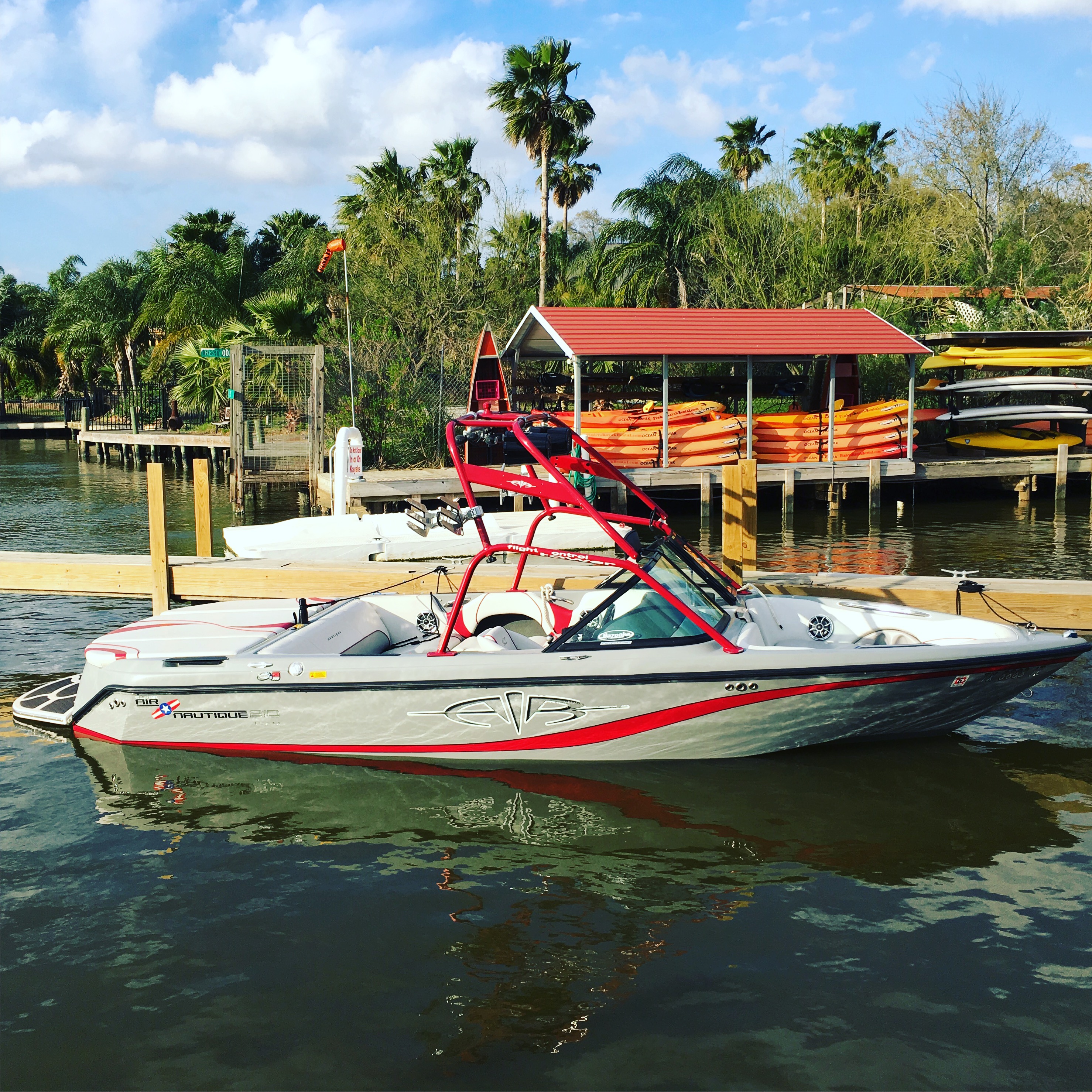 Now, I do want to add a quick disclaimer:
Boats (or any "toys" for that matter) fall under a strict rule for me. If you can't afford to pay cash, you probably can't afford it. I know that seems harsh and maybe unreasonable when you're talking about something that can cost tens of thousands of dollars, but it's actually practical.
You can finance a new boat for as long as you can finance a house (15 years+!). Isn't that crazy for a depreciating asset?
Well… the crazier part is that I see people do it all the time when they can't actually afford one. 99% of the time, I cringe when people tell me they've bought a brand new boat. There's a good chance they won't own it a year from the time they tell me, and they're going to end up losing a crap-ton of money because of that.
The most cringeworthy thing is that plenty of the people who finance new boats don't use them nearly as much as they thought they would, and they eventually take a huge loss selling them.
OR, they buy the boat, lose their job, and can't afford the payment anymore… which also results in taking a huge loss.
Then, you'll find someone like me who comes along and buys their awesome boat after they took a massive depreciation hit.
So again, if you can't afford to pay cash, you probably can't afford it. Just stick with that rule for boating to save yourself a lot of headaches.
Buying the boat is just the beginning of the financial burden…
You've probably heard one of these two sayings before:
"B.O.A.T. means Bust Out Another Thousand!"
"The two best days of owning a boat are the day you buy it and the day you sell it."
Yes, those two things can be completely true if you do boat ownership the way most people do it.
Here are the things that run-of-the-mill boat owners typically do:
Pay someone else to do all of the maintenance and winterizing.
Overinsure their boat/don't shop around for insurance.
Pay other people to clean it.
Damage their boat because they don't know how to drive one.
Damage their boat because they do stupid stuff (like drinking a bunch of beer and driving).
Put gas in the boat after getting on the water instead of before (marina gas is expensive af).
Buy a bunch of cool boat toys they never use.
Pay for monthly storage and never use the boat.
That's just off the top of my head, and there are so many more ways to spend way too much on boating.
So, when you mix the fact that most people can barely afford the boat in the first place with all of the other costs they weren't expecting…
They will often bust out another thousand and then loathe their boat until they can eventually sell it.
Even though I'm at the point where I can afford to spend a lot on boat ownership, I avoid it whenever possible.
I was fortunate to have good friends that knew how to do boat ownership, what I call, the "right" way, and they taught me a lot of principles that make owning a boat fun while not being a financial gut punch.
Here are the biggest things I do to save money on my boat:
1. I do as much of my own maintenance as I can
The engine in my boat is called a PCM Excalibur 330, which is basically fancy code for "350 small block v8 engine with 330 horsepower."
Wakeboarding boats obviously have to pull people, which requires quite a bit of power. So, the solution was basically to take the same v8 engine that's in my 2004 Yukon XL and drop it into a boat (after outfitting it for water of course).
That means that I can actually find most of the parts for my engine from auto shops like O'Reilly or AutoZone and then do the work myself.
But, even if you have an outboard engine or an inboard/outboard, you can still order parts online and use YouTube videos to help you fix things.
Now, obviously, there are going to be some things that you can't do yourself. If my engine block cracks, I would need a boat mechanic.
However, I can still do my own oil changes for a fraction of what a dealership would charge (which is several hundred dollars), change out belts, work on the water pump, and even fix problems with the fuel cell and pump (which happened to be the last thing I fixed).
I even winterize the boat myself instead of taking it to a shop because I am completely capable of pulling the plugs and getting the water out of the engine on my own.
If you're wondering why it's important to winterize your boat – when it gets down to freezing temperatures, winterizing basically just prevents water from freezing in your engine and expanding your engine block to the point that it cracks.
So, over the three years that I've owned my boat, doing my own maintenance has likely saved me thousands of dollars.
2. I shopped around for insurance
Boat insurance is just like car insurance. Companies will still compete with rates for the opportunity to insure your boat.
The biggest keys for saving money on insurance are:
Don't overinsure your boat. Be realistic about what the boat is actually worth.
Check for better rates every year. I just looked at mine a few weeks ago and realized that it's time to shop around again.
Even if your insurance is only $60/month, that's still $720 over the course of the year. Getting it down to $50/month is going to save you $120, which is juuuuust about how much it costs to fix your prop after you ding it while doing something stupid.
You will ding your prop on a tree branch or rock at some point (I promise), so you're going to want to have that extra cash on hand when you need to repair your prop.
3. I clean the boat myself
Yes, I could definitely take my boat to a car wash and have it cleaned and waxed. But… that's just extra money.
Don't get me wrong, it can be a pain to clean your boat, but doing it on your own is well worth it.
Here's the bigger deal – I don't want someone to use crappy cleaning products on my interior.
Let's say your interior gets moldy, which happens a lot where I live.
Then, say someone besides you thinks it's okay to use a heavily bleach-based product on the mold.
Well, you just played yourself.
You might not know this, but using bleach on your interior is one of the fastest ways to ruin it, even though your boat cushions will, temporarily, look really awesome.
Bleach dries out your interior, which leads to cracks and rips, which leads to thousands of dollars for a new interior you didn't think you would need so soon.
Cleaning my own boat allows me more control. I can make sure my interior lasts and that corners aren't cut.
4. I actually know how to drive a boat and I don't do stupid things
Please let me preface this by saying… I've dinged a lot of props (which I've already talked about, but it's the truth). That basically means I've hit stuff in the water that damages the prop. For non-boaters, the prop is the propeller… one of the most important parts of your boat.
This happens to ALL boaters, but I've been particularly unlucky since I've owned my boat. Most of the time it happens when you run over an impossible to see tree branch in the water.
But, here's the thing – that's a cheap repair ($150 or less), and props can be fixed pretty quickly.
Most people, unfortunately, really suck at driving boats. Believe it or not, there are actually rules for driving on the water, and most weekend-warrior boaters don't follow any of them.
If you couple that with the fact that most people only take their boat out on the holidays (Memorial Day, 4th of July, etc.), then you're also going to see a lot of people that have no idea how to launch and recover their boat from the dock.
Those two things typically lead to expensive fiberglass repairs or severe structural damage.
Boating, though, is more than just not hitting things.
Let's say you always like to go as fast as your boat will run because… well… it's fun.
That's awesome, but you played yourself again.
When you spend a lot of time running your boat at high RPMs, your engine will wear out faster, which means you'll be paying for an expensive repair at a mechanic or dealer.
Because I'm experienced, I watch my RPMs instead of the speedometer.
5. I keep my boat on my friend's property
If you buy a boat, you're going to have to keep it somewhere. Now for me, I could keep the boat at my house if I absolutely needed to, but it would be a pain. Instead, I store it on my friend's property (a couple of us all have boats and keep them there).
It's fun because we all work on each other's boats when they need it, but it's also a money saver.
Is it the best place ever to keep a boat? No, probably not because it's outside 24/7. We keep all of our boats covered and have to clean more often than we would if we all kept them in storage.
In fact, there is a storage place right by my house that would be more convenient but would cost several hundred dollars per month.
The lesson here is to choose saving money over convenience if possible with your storage, and shop around a bunch if you can't store it at home.
6. Here's the biggest one: I try to use my boat a lot (which actually saves me money)
Here's one thing that sucks about boats – the less you use them, the more often stuff stops working.
For whatever reason, boats are just not as reliable as cars. You can fight it all you want and tell yourself that your boat will be okay sitting unused for long periods of time… but I guarantee you that multiple things will magically go wrong the second you try to fire up your boat.
Maybe it's corroded parts, dried up belts, or valves that get stuck. The reality is that you will be looking at hefty repair bills if you don't regularly get your boat out on the water.
So, should you buy a boat even if you can truly afford one?
This is still a heavy maybe from me.
I really can't think of a faster way to spend a bunch of money, other than maybe being a terrible gambler.
Here's what you should do instead:
Find a friend with a boat. Boat owners are always looking to take people out on their boat because boating is more fun with more people (usually).
Let them take the financial hit while you figure out if owning a boat is something you can realistically afford and want to do.
Then, after spending a few years deciding that you legitimately want a boat and that it will raise your quality of life instead of lower it – go for it.
But, buy used (unless you just really want a new one and can actually afford it). Also, do as much of the maintenance on your own, and that's always something you can learn to do.