Hey everyone! A ton of you have been asking about the FB$H course, so I wanted to give a brief update on the upcoming re-launch and how everyone has been doing that jumped in on the first session.
Quite honestly, it's going even better than I thought it would. I knew we would have students that were going to go out and have success pretty quickly, but we are seeing people get multiple Facebook ad clients and absolutely crushing it.
The course has only been live for two weeks! It's just so cool.
I think my favorite thing has been seeing people with zero sales experience going out there and pitching Facebook ad services to clients like pros. One of the best things that Mike Yanda (the course co-creator) and I did was to include multiple client acquisition strategies for students.
So if you aren't sure if you have what it takes to go out and get clients – don't worry. We've got strategies that work for introverted people (like me) as well as people who are super outgoing.
This is what students are saying about the course and private group so far: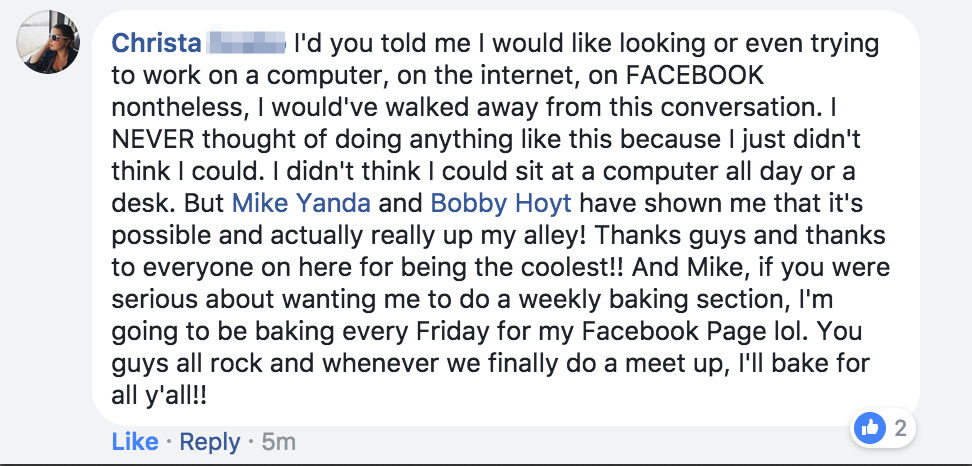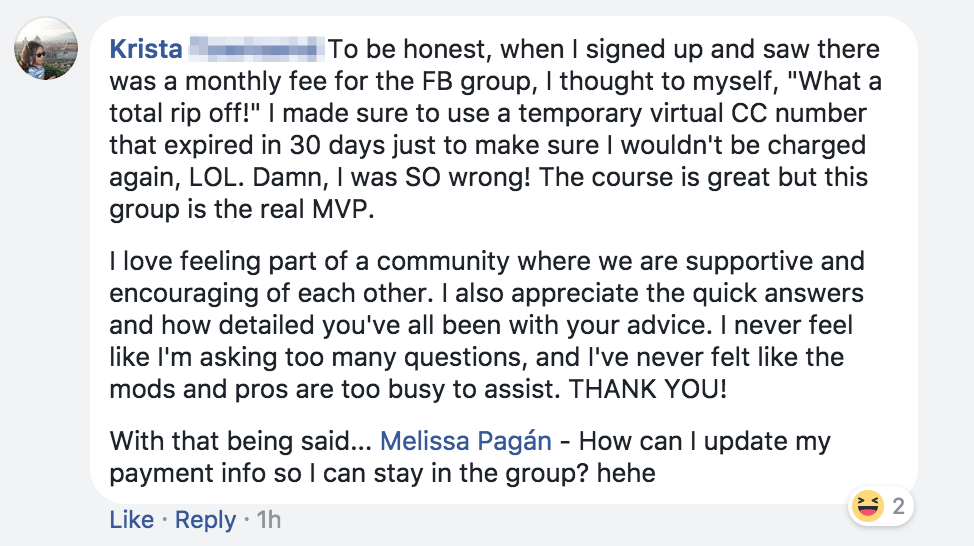 Here's what you need to know about the re-launch:
We took a few weeks to get the first wave of students set up and rolling and were also able to get any kinks worked out with the course/add content as needed.
Now that everything is running like a well-oiled machine, we are getting ready to re-open enrollment in a few weeks.
I don't have an exact date yet, but right now it looks like we are in the mid-March/early April timeframe.
The only way to get instant access to the course when it reopens in a few weeks is to sign up for the waiting list below:
[convertkit form=5119899]
The private group is so lit
The course is obviously great, but what really makes it all work is the private group attached to it. A lot of courses have awesome content, but no support on the back end.
We decided to max out the private group for the course. Here are some of the things that you get when you're in the private group:
Live trainings to help you master your new craft
Happy hour Q&A sessions (we all grab a drink and talk Facebook ads) where we answer any questions you have
Special live events (planning meetups as we speak) so that you can meet other FB$H course students
Expert advice so that you can have all of your questions answered about ad campaigns, dealing with clients, etc.
A new group of like-minded friends that are rooting for your success
I have several private groups that I run, and they are all very good. But I've got to say, the FB$H group is by far the most fun of them all.
Students are able to share their success stories, have their questions answered by Facebook ad experts that we've hired (Ben and Tanya), and also get access to me and Mike.
If you want to make extra money with a legitimate side hustle, there isn't a better one out there
The fact that we already have students making $1k-$2k extra per month, and several more that are in trial periods with clients at different price points tells me that this is the best side hustle out there right now.
The best part? It's scalable. We already have students that are looking to get five (or more) clients and turn this thing into a full-time gig.
Mike and I are there every step of the way to help people that want to go that route.
If you are just looking for one or two clients and want it to stay a part-time gig, we're there to help you do that as well. That's really the focus of this course, but some FB$H students are taking this thing and running with it.
The idea here is simple: make extra money in your spare time to invest more or pay off more debt. It won't be too long before we have students sharing their paid-off student loan balances or sharing their investing wins in the private group.
So make sure you are on the waiting list and be on the lookout for the upcoming re-launch of the Facebook Side Hustle Course!