Hey there! I'm so stoked to share this with you today. Today's post is a cool perspective on what it's like to pursue financial independence and early retirement (aka "FIRE") as a European. There's a movement out there right now of people that are actually retiring in their 30's and 40's (yes…seriously), but it's a different process across the pond. Enjoy! ~M$M
Hello everyone! It is my great pleasure to be here at Millennial Money Man! As a matter of introduction, my name is Roadrunner from The Road to One Million. I live in the Netherlands with my wife and little daughter, and one of my life goals is to reach financial independence.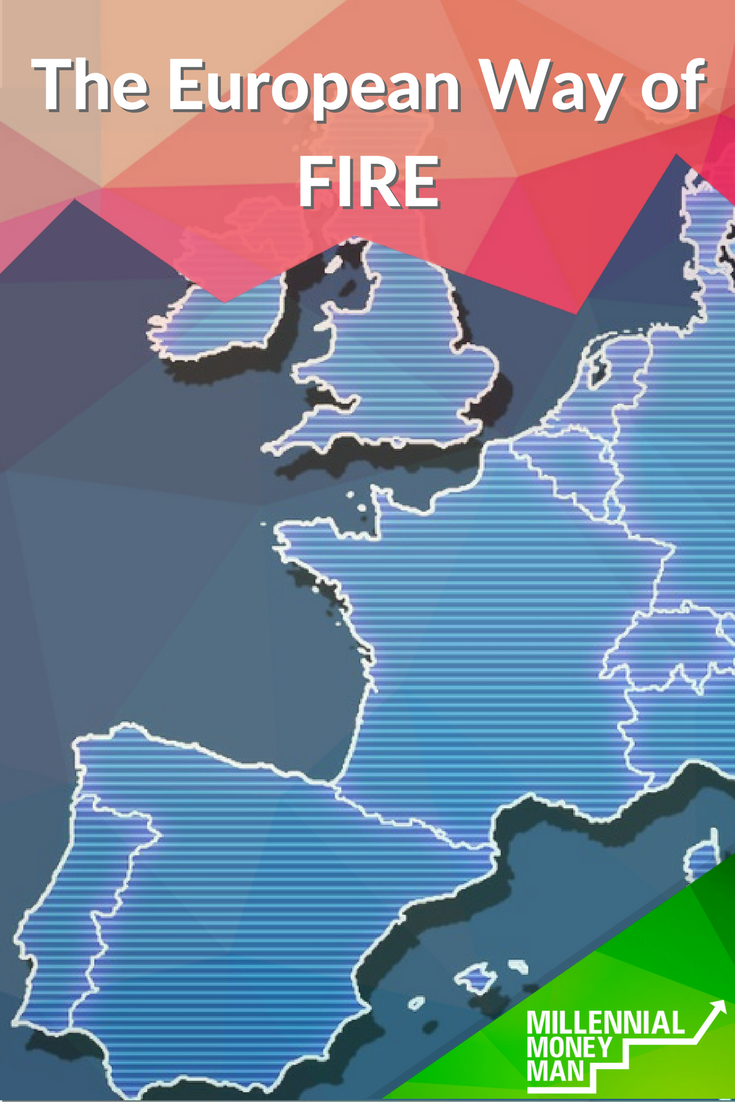 Getting there needs a lot of time and patience (unless you win the lottery), but the country you live in can also have a huge impact on the way you can achieve it. Bobby's site is a great resource for useful ideas and his story itself is also truly inspirational. I thought it might be interesting for you to read about the possibilities on the other side of the pond for like-minded people.
First of all, I must point out that although there is definitely a kind of European approach towards retirement and social security, there is no such thing as a single European way. There are 28 member states in the European Union and several other countries in Europe outside the EU. In addition, each of them have their own tax and social security system.
As an EU citizen you are free to move, work and live in any of the member states, but those decisions might totally mess up your taxes.
For example, the Netherlands is only one country with a population of just 17 million people (only the double of New York city) with a size of less than 1/10th of California. It has its own unique tax rules.
What works in one country might not work that well in the other one. In the following, I will mainly concentrate on the Dutch rules and walk you through the FIRE process for Europeans that attempt it.
The Student Years
You just get out from the safe family nest and you already face money issues: financing your studies. This is an area where there is already a huge difference between the US and Europe.
Americans seem to be really cursed with the expensive education and as a consequence: student loans. How you deal with it can determine your future financial path already in the early years. It's no wonder why the second sentence you read on M$M is that Bobby has paid off his $40,000 student loan debt in a year and a half.
Americans owe $1.4 trillion student loan debts. The average graduate leaves school with $37,172 in student loan debt, while this number for law graduates is over $140k! In many places that is the price of a house and it's quite scary to think about what will happen if interest rates will climb higher…
How big of an issue are student loans in Europe? There is no wonder why you don't really read about it in the news. Let's take Austria as an example. In Austria at universities of arts, students who have EU/EEA nationality pay no regular tuition fees for the prescribed duration of study plus 2 semesters.
Universities of applied sciences are entitled to charge an annual tuition fee of EUR 363 per year (that's about $400).
The Austrian example of basically free higher education is not unique, although in most countries you need to pay. In those countries, student loans do exist. In the Netherlands the average student loan debt is EUR 14,000 which is not a nice thing to start your life with, but definitely much lower than in the US.
The Years of Hard Work
You start to work and get your salary. How much you get and what you do with it is crucial on the way towards financial independence. Having the right mindset is very important. You can (and you should) educate yourself about personal finance irrespective of where you live in the world. But there are certain things that are given based on the rules of your country. And besides of death, taxes are the only certainties in life.
Taxes on Wages
It is a common belief that in the US taxes on wages are generally low, while in Europe we get much less of our gross salary. The real picture is not that black and white.
Based on a recent study, the US is just at the OECD average in terms of the employee net average tax rate. This stands for both single workers and one earner married couples with two kids. It's true that European countries lead the tax rate list, but you can still find that countries like Switzerland, Estonia, Ireland have more favorable tax system than the US, especially if you consider family benefits as well.

Bear in mind that the above numbers refer to the average income of the respective countries. These can be quite different from each other. If you want to compare actual figures, in the Netherlands someone who earns EUR 100k gross per year, takes home EUR 56,362 net. This is significantly lower than in the US.
At the same time, the Netherlands offers a 30% tax-free income for qualified expats for a limited period of 8 years, which can be really advantageous if you use it wisely.
Social Security
Based on the above, employees in most European countries might be envious of their American colleagues. Nevertheless, from the more tax we pay, we also receive more benefits. Generous unemployment benefits, insured health care system, free child care in some countries, 20-30 days of paid holidays are just a couple of things to mention.
Savings and Investments
This is where things get really interesting for people aiming for financial independence.
In the US there are tax beneficial retirement plans like 401(k) and Roth IRA. Such schemes are not that common in Europe.
In the UK they have the Individual Savings Account, in Sweden the so called ISK accounts, but many countries (like the Netherlands) do not have any tax efficient saving accounts either for investment or for retirement.
When I look at my yearly pension overview, I can see the funds they invest my money in. The list is quite diversified, but they are all products of the financial institute with 0.4-0.9% expense ratios. When I asked if there is a chance to select the funds by myself, the answer was a straightforward "no".
In terms of regular savings, it's not just that the Netherlands do not have a tax effective solution for investments (unless you count specific green investments); here we have a wealth tax type of system on savings.
Savings up until EUR 25k per person is tax-free. Nevertheless above 25k, you're taxed. The tax base is the amount of your savings minus 25k multiplied by a gradually increasing percentage. The tax rate is 30%. This is based on the assumption that you will always make a certain percentage of the profit on your savings.
As an example, a person with EUR 1,025,000 in savings will pay EUR 13,471 tax on a fictitious EUR 44,904 profit, no matter if they made EUR 100k profit in that year or has actually took a loss.
This system can be quite disadvantageous for people in the wealth accumulation phase. In case you made a profit and reinvested it, it will have an effect on your tax base next year.
If you took a loss, the tax you need to pay makes the loss even bigger.
Supporting Platforms
This is one of my personal pains. In Europe, we don't have cool money apps like Personal Capital, Mint, Acorns etc. I just can hope these, or similar platforms will appear in the future. My feeling is that due to all the different countries, languages and legal rules, it is much more complex to develop such services that would cover all of Europe.
Individual countries at the same time might be too small of markets. You are lucky in the US from this perspective; use your opportunities!
Related: Mint vs. Personal Capital: Which One is Right for You?
Conclusion
Whether you live in the US, Europe, or other parts of the world, reaching financial independence is based on the same principals. You have to maximize your earnings, minimize your costs and invest the difference wisely. At the same time, you always need to consider the burdens and possibilities that your country provides.
Disregarding tax impacts, not being aware of things like possible future health care costs can not only delay your FIRE journey, but also can put you in a difficult situation if you leave the rat race too early.
In general, Europe has a strong social safety net. But maybe this is one of the reasons why the financial independence movement is more popular in the US?
It has made us Europeans lazier in a way, but it does not mean that early retirement is not possible in Europe. Hope I can prove that in a few years 🙂
Thank you again for the opportunity of being here at Millennial Money Man and hope you will follow our Dutch journey towards financial independence!