Payoff letter from Sallie Mae on March 28, 2014:
"Dear Robert Hoyt,
Congratulations! You've completely paid off the student loan(s) referenced below. We've enjoyed having you as a customer and wish you the best in the future. 
Please visit us online at Salliemae.com or call us toll free at 800-722-1300 with any questions you may have. We're here to help you Monday – Thursday, 8 a.m. to 9 p.m., and Friday, 8 a.m. to 8 p.m., ET. 
We hope you'll keep us in mind for any future education financing needs, and we appreciate the opportunity to serve you. 
Sincerely,
Sallie Mae – Department of Education Loan Services"
Yeah, I'd really love to call and talk some time Sallie. 
Maybe we could talk about how confusing your website is and how you make it unbelievably easy to pay the minimum payment on student loans, but if I want to make a bigger payment I have to struggle through your stupid puzzle-like website. We could talk about the interest rate on student loans that is set by Congress being too high, or how college costs are skyrocketing without any end in sight. Oh, you can help me defer my payments or make my payment lower?!? Awesome. I was really looking forward to paying you for the rest of my life.
I'm not bitter.
I know you couldn't hear it, but I was typing pretty aggressively on the above paragraph. That letter took hours and hours of hard work, tons of sacrifice, and more financial discipline than I ever thought I could have. At the end of my year and a half of living like I made less than $10,000 a year – I get some random automated letter that tells me how great I was as a customer.
In reality, I was a terrible customer for Sallie Mae, and I'm freaking proud of it. They made a fraction of what they were supposed to make off of me in interest, and I couldn't be happier. I want everyone with student loans to be a terrible customer like I was, and I think that Millennialmoneyman.com is the perfect vehicle to make it happen. Also, did they really invite me back for more student loans? My goodness.
Rather than me just ranting for 1000 words about how angry I am towards the amount of increasing student loans in this country, I'd like to help educate people with student loans about the way that they work. I really believe that once you understand how they work, you can destroy them faster than you ever thought possible. Believe me, I paid off almost $40,000 in student loans on a teacher's salary. If anyone is an expert at paying them off, it's me (I'm not an expert at many things, so listen to me on this one).
If you have student loans, you obviously went through the process of applying for them and receiving disbursements, but how do companies like Sallie Mae monetize your drive and passion to better yourself?
Simple Interest.
Interest rate x Principle balance ÷ Days in the year = Damage
Unless you were a finance major in college, you probably weren't educated on the different types of interest that will accrue on the various types of loans that you will take out in your lifetime.  That's right, not all interest is created equally.
The "benefit" of having government backed student loans like I had is that there are federal regulations in place that dictate how your loan payments are applied, what the loan holder does with your payment schedule, and what the max interest rate can be on your student loans (8.5%).
Check it out:
1) Loan interest with this formula accrues daily. There are federal regulations in place that make sure that your payment is applied to this interest first. Every time I made one of those huge payments, it went to interest before the principle amount…I couldn't make a principle only payment even if I wanted to! Really, this is probably a good thing because Millennials suck at money management. Generation Y people trying to manage principle-only payments is NOT in our best interest (see what I did there?).
2) If you make a payment that is larger than your minimum payment, it is automatically applied to your next months' payment.
Here's how it works: Imagine that my payment is $50 a month (ha!) and it is due in January, but I make a $100 payment that month. The extra $50 will be applied to February, so I don't have to make another payment until March. This sounds awesome, but don't forget: interest is still accruing every day on your principle balance. 
The longer you don't pay, the bigger your loans  get.
3) Federally backed loans can not cost more than 8.5%, period. Check out this chart if you don't believe me. My student loans were generally in the 6% range. This is why it is a good idea to get this type of loan instead of a private loan from a bank or independent lending company that can charge whatever they want in terms of interest. But for now let's move on, because that is for a different article….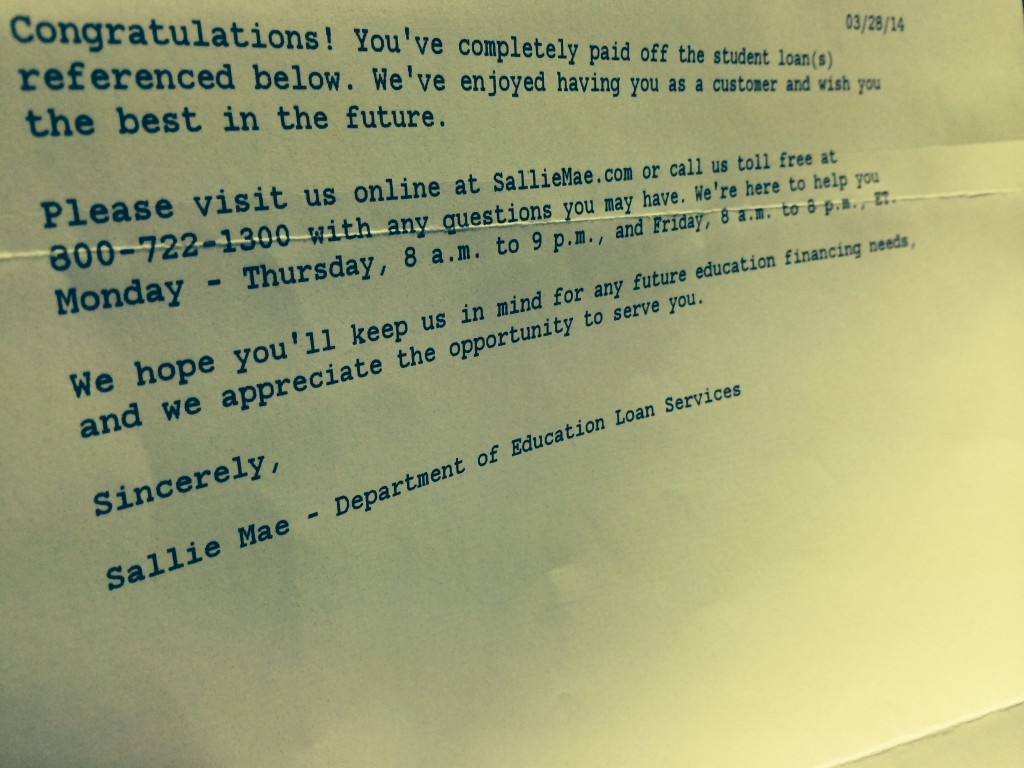 The last thing I need to explain in this post is the difference between subsidized and unsubsidized federal loans. I qualified for the latter after filling out my FAFSA application, which in reality ended up costing me a bunch of money. That's your reward for being a middle class kid that wants to go to college. 
If you are still in college and haven't started paying your loans yet, READ THIS VERY CAREFULLY. Your student loans accrue interest while you are still enrolled in school. I repeat – they accrue interest while you are still in school.This may be the MOST important detail that you missed when you agreed to take out your student loans.
Federally subsidized student loans – Interest is paid for by Obama while you are attending college.
Federally unsubsidized student loans – Interest is paid for by YOU while you are attending college. Thanks Obama.
I had no idea what either of these terms meant, and a lot of you probably don't either. This is how my $27,000 of student loans transformed like an evil caterpillar into a $40,000 death butterfly that hated my bank accounts.
Remember – there are several different types of student loans, and I am really only writing about the specific type that I had to deal with after college. Here is the main point: The key to becoming free from any type of loan is the same: educate yourself in every way possible about your debt. I did, and I was able to pay off a ton of debt REALLY REALLY quickly.
Need a silver lining for some instant gratification? You can be debt free too. I'm rooting for you.
What kind of student loans do you have? Were you prepared to take them on and destroy them after college? Still have loans and want to know more? Let's talk about it in the comment section below. Trust me – you would rather talk to me instead of Sallie Mae…you'll be on hold for less time. 
Live differently. Your bank accounts will thank me later. ~M$M