$1.2 trillion in student loan debt and climbing. $3,000 more per second. $8 billion in defaulted loans as of 2012. They can be passed on to your family after your death. Starting a college fund as a birthday gift for a kid doesn't sound so bad now does it? 🙂
I've written a lot on this site about how crappy student loans are. They aren't going away any time soon. As much as politicians talk about free college as a selling point to get a vote, the reality is that many people won't qualify for whatever is proposed (which is already the case on forgiveness programs).
I'm sure you're all wondering why I'm talking about kids. We all know it's not my thing.
My wife and I have a really good friend that started a college fund for her one year old son's birthday party, and it was the only gift she requested for him. I thought it was the coolest thing ever!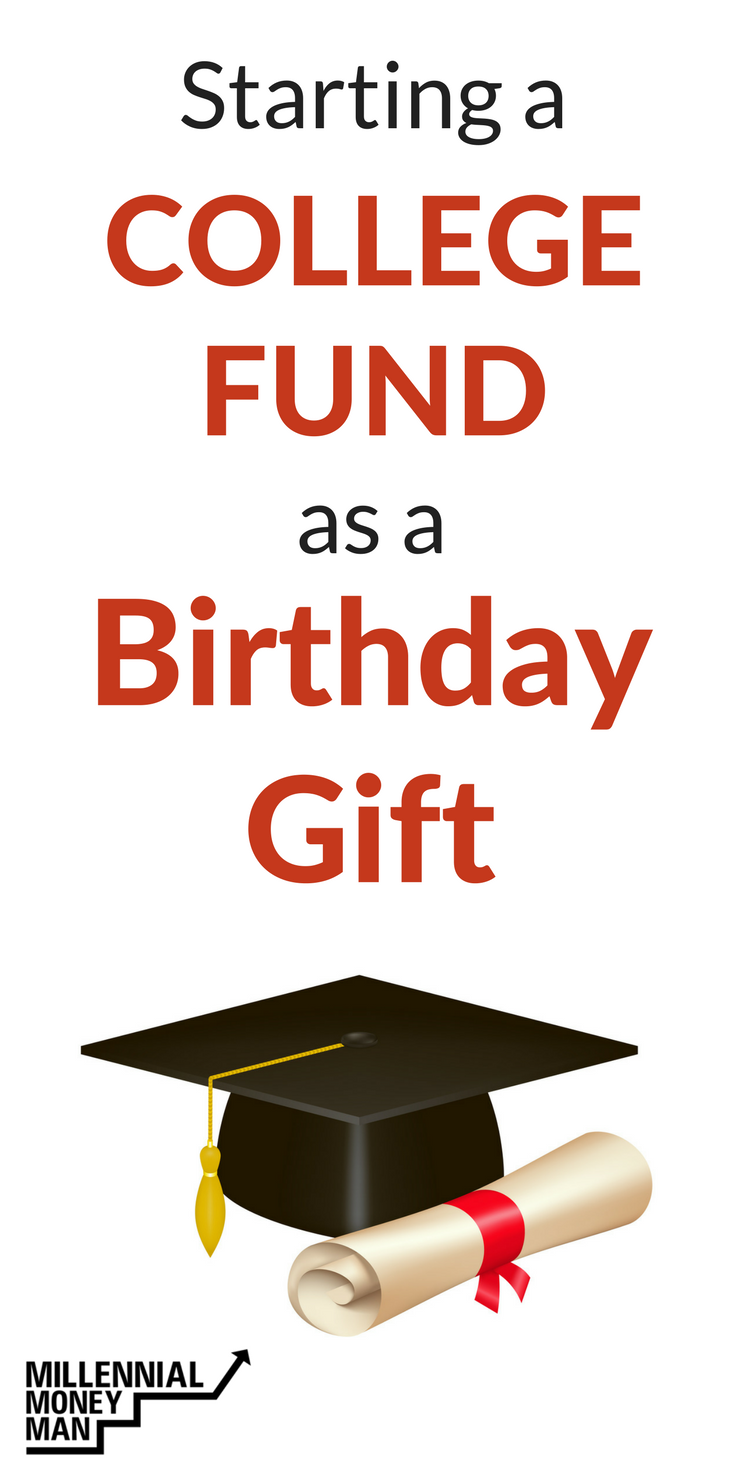 Why starting a college fund as a birthday gift is a great idea:
It's easy
I don't have kids yet, but I have a feeling that trying to figure out what to tell people to get them every year for their birthday and holidays is a bit of a challenge.
As a toddler, they will drool on whatever they get for a few months and then never use it again. If they are a little older, they will probably break whatever cheap toy it is. If they are a teenager, video games only stay relevant for a little while. Getting them something that will have a lasting impact on their life sounds a lot better to me!
Also – there are no age limits, income limits, or contribution minimums to 529's…which is pretty sweet.
College prices are continuing to rise
Seriously. It's insane. College tuition costs rose 275% from 1970-2013 (after adjusting for inflation). Just like debt isn't going anywhere, those rising rates aren't going anywhere either. I have no idea how people will afford college 10 years from now even WITH an unlimited loan term.
529's make it easy for the gift-giver
For our friend's son, we wrote a $50 check (I think…I just told Coral to handle it) and called it good. Even at just one birthday party, a few $25-$100 checks adds up quickly.
Imagine what would happen if  people contributed to the fund every year for 18 years with interest? I'll show you in a second.
You can also use an online service like GiftofCollege.com. It basically allows you to connect an existing or new 529 plan, and then invite friends or family to contribute via credit card. You can also buy their gift cards from "local retailers" (aka Walmart probably).
Now let's crunch some numbers
Let's say you had 10 friends contribute $50/year to your child's fund for 18 years. Let's also say it grew at 2% interest. We aren't using any starting contribution amount for the fund in this scenario. Here's what those contributions turn into when your kid is college aged:
$10,706.16
That would buy some textbooks, right? According to Bigfuture.com, college books and supplies cost about $1,298 yearly. That's $5,192 after four years, or $6,490 if you took 5 years to graduate like me! 🙂
If $500/year seems out of the question, that's fine. Even HALF of that amount would still make a difference when you or your friends are trying to put a kid through college. Every dollar that doesn't turn into student loans later down the line is worth it. Seriously.
What are the downsides?
Obviously, little Jonny isn't going to be happy with getting money he can't use every year for his birthday. I've tried to explain money to 10 year olds when I was a teacher…and that $hit usually doesn't work very well unless it's about candy bars or something.
Here are my thoughts:
Maybe you could let your friends and family do the contribution to the 529 and you buy your kid something really cool for their birthday? Heck, even spend a ton of money on it…at least it won't have interest attached to it later on (unless you finance a car for your kid, in which case I don't know what to say to you). I'd take that deal any day of the week.
I'm really really really curious if anyone has tried this before and how well it works! I'd love to have my future kid's birthday gifts planned out for the next 18 years!!!
Live differently, your bank accounts will thank me later. ~M$M