Ever since I started Millennial Money Man I've had a pretty strong opinion on student loans and how they should be handled. It generally goes something like this:
Student loans suck. Make big payments.
Ultimately, in the time that I was running this blog as a side project to it's full time status now…not much has changed with the way I talk to people about loan debt. The main difference now is that the perspective I say it from is much larger than it used to be. It's hard to understand how crippling student loan debt is or how much Americans struggle with it until they reach out to you and want your help. The first time I had a reader ask me what to do about their $250,000 in loans I was honestly speechless.
I know, weird right?
What do you say to someone that is going through that? "Don't worry, it will get better! You'll get there soon!". At some point, deep down you realize that those are just band-aid statements on the bullet wound that is student loan debt in this country. No amount of me telling people my feel good story about paying off my loans on a teacher's salary will make the student loan crisis go away. My main mission now is make a dent in what IS there and educate the kids coming up on how to avoid it. I think SoFi can help me do it.
So…who is SoFi?
SoFi stands for "Social Finance", which is really a pretty non-traditional name for a company in their industry. Unlike banks or more boring lenders, SoFi has taken the approach of trying to reach out to Millennials and find out what our generation needs when it comes to student loan help. The cool thing is…they are actually committed to helping Millennials succeed in their careers in addition to getting out of debt.
Their strategy really makes a lot of sense to me: Strengthen the earning power of your customer base so they won't struggle to pay back their student loans.
It's a killer business model. They actually help their customers.
Here are some awesome things that SoFi does to set themselves apart from the rest of the student loan refinancing crowd:
– Career Advising
– Networking Events
– Entrepreneurial Support and Classes for Young Business Owners
– JOB PLACEMENT ASSISTANCE
The last one is what actually pushed me over the edge to work with SoFi. One of the "benefits" of holding on to those high 6.8% interest rate federal loans (like I had) is that you can defer payments or go on an income based repayment plan if something happens to your job and you can't make monthly payments. Once I realized that the government's student loan forgiveness program was almost useless, the different payment options were really the only thing that I thought federal loans were better at than private loan companies.
SoFi is counteracting federal loan benefits by being more creative than the government (shocker). They will literally help you get a job if you lose yours. This takes a lot of the risk out of refinancing, and makes me feel good about recommending their services to my readers.
How SoFi can help: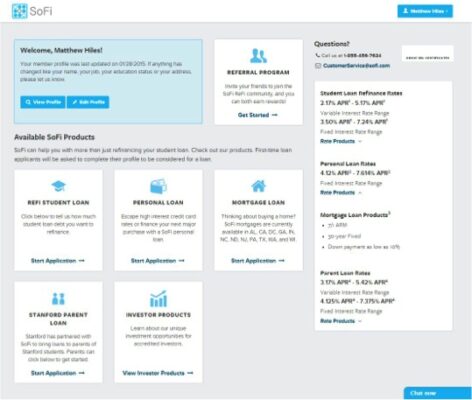 Before I really go on about what SoFi can do to help fix your student loan situation I would like to make one thing very clear: Lower payments should not be your goal when you refinance a student loan. I teach people to live WAY below their means and make the largest payments possible. Too often, refinance is seen as a tool to get payments lower so that people can "afford" more junk every month. But YOU don't see things that way, because you want to be debt free. People like US see SoFi as a way make more progress on student loan debt through lower interest rates. 
Check it out:
– SoFi has variable rates as low as 1.9%, and fixed rates as low as 3.5%. BOTH of these numbers are far less than the 6.8% rate that you pay with Federal Unsubsidized loans. I prefer the fixed rate, but if you have a solid job and a plan to pay off your loans within the next year or two, variable could save you some money in interest.
– There are NO origination fees or prepayment fees. This is huge.
– SoFi offers repayment terms of 5, 10, 15, and 20 years on both variable and fixed rate loans.While I would suggest that you pay off your loans quickly regardless of the term, it is nice to have options if something comes up. I made minimum payments on my student loans for a few months to build up an emergency savings fund. Like I said…options are good.
– They can refinance both your federal loans and private loans, and were the first in the industry to provide that type of product.
Here's a real world example:
SoFi recently calculated the average monthly savings of customers who refinanced their old loans between 2/1/15 and 4/30/15. Before they refinanced, the borrowers had an average monthly payment of $901.15 and an average interest rate of 6.96%. SoFi was able to drop those borrower's average monthly payment to $736.46.
That is $164 a month extra that you can pay towards your principal balance, or $1,968 a year.
After 5 years, that is $9,840. After 10 years it's $19,680. Get the point?
SoFi turns your smaller loan payments into a wrecking ball of debt destruction. The benefits that they provide make it a no-brainer to get out of your higher interest loans and really get out of debt.
Things to consider first:
Remember, if you refinance your federal student loans through any private company you will lose your ability to participate in the government's loan forgiveness programs. I think that should be a non-factor for my readers, but it's good to know that going in to the process. You can check out more of my thoughts on loan forgiveness here.
SoFi unfortunately can't approve everyone for their services, but they WILL rip the band-aid off quickly if you don't qualify. As a side note – SoFi also provides mortgage and personal loan services with no origination fees (Not a fan of personal loans, but I figured you should at least know).
They say hindsight is 20/20, and if I could go back and do it again I would have gotten out of my federal loans to save money in interest. I honestly didn't know enough back then, but I CAN inform other people about the benefits of refinancing now.
Do yourself a favor. See what SoFi can do about your student loans here:
 Share your story
If you have refinanced through SoFi or any other company and have made progress on your loans because of it, please share it in the comment section. Sharing our knowledge is the only way we can fight against the student loan crisis and help Millennials get ahead.
 Live differently, your bank accounts will thank me later.
Please subscribe in the top right corner, and don't forget to like my Facebook page and follow @GenYMoneyman on Twitter or Instagram!
Just so you know, I didn't get paid to write this article, but I am compensated by SoFi through our affiliate agreement. I trust this company, and am happy to associate my name with theirs. They are doing really great things for young people while finding a way to grow a very successful business. Also, they help keep the lights on at Millennial Money Man, which I appreciate.