You know what's crazy? I've almost been self-employed as long as I was a high school band director (three years).
My business has done really well lately, so I've kinda found myself in self-reflection mode quite a bit.
It feels like I just started M$M a year ago at the most! I can't believe how fast all of this has gone by.
One of the most common questions I get from readers is how "worth it" entrepreneurship is. It's an interesting question for sure, and I'm not sure that there is a solid yes or no that I can give.
It depends.
Some people absolutely thrive in a self-employed situation, and some people haaaaaaate it after trying it.
So since I'm at a point where I've had equal experience with both, I feel like I can give a pretty solid comparison of the two.
Here are the pros and cons of self-employment and being employed:
Self-employment Pros:
1. Your income potential is higher (but not always)
I'll just get this one out of the way because it's probably the most obvious. Yes, you can make more money as a self-employed person in some cases. But honestly, it really depends on the type of business that you create.
One of the biggest reasons that I started an online business instead of a swimming pool company (which I was seriously considering) was that I knew I could scale the online business faster and easier.
If I need to hire someone, there are thousands and thousands of virtual assistants or applicants at my fingertips.
Now, there are still limitations to my business because M$M focuses on me and the content I create. But I can still scale to a nice level before that limitation really makes itself present.
2. There is more flexibility in your schedule
That's what I was told before I started a business anyway. Again, it's dependent on the type of business that you start. If you run a brick and mortar store with normal hours, there's a good chance that you'll have to work those hours.
There's nothing wrong with that of course, but it's just something to keep in mind if you're wanting to start a business that has flexibility. Even with my business, I try to have a general set of hours (but I actually work all the time, which could easily go to the "con" list).
But I do feel like I'm more in control of my destiny than I did when I was teaching.
I worked a very structured schedule with a super short lunch break. There just wasn't a whole lot of room for flexibility.
3. You don't have a boss…kinda
This might actually be a myth of entrepreneurship haha. One of the biggest things that bothered me about working for someone else was being told what to do.
But if we're being real here, I still have a boss. In fact, I have a million or two. I have to produce good content for all of you if I want to continue to make money this way.
Fortunately, I love writing for this site and my business in general. But I'm still responsible for making a good product for readers and people that take my various courses.
We aren't even talking about advertisers/sponsors that have a lot of guidelines and things that they require of people like me.
Now I'm definitely more in control of what I do and don't feel like I have someone standing over me telling me what to do, but the reality is that I still have to answer to people if I want to make money.
Self-employment Cons
1. It's not steady at all in the beginning
I was laughing with my assistant the other day – there were days in the early times of M$M where I was sitting at the computer for hours waiting for a single email to come in.
Now? I had to hire someone just to sort my emails because there are so many.
In the beginning, starting a business can be excruciatingly slow. You have to build up demand for your product (in case it's my content and courses), which takes a long time.
There were plenty of days in a row when I didn't make a dime, which was totally different than anything I had experienced as a teacher.
Now things have obviously picked up quite a bit, but it was pretty scary in the beginning of this whole project.
2. It's scary AF
Speaking of scary, don't be self-employed unless you're ready to be worried about everything all the time.
The day after I quit my teaching job was the first time in my life that I had ever had a panic attack. That was something that I've been fortunate not to experience again, and I never want to. That sucked.
But even when things are going pretty well, there is an underlying fear that everything could fall off the rails.
That fear isn't necessarily a bad thing – I have always felt like fear was one of the best things that you can experience as an entrepreneur. It forces you to try new things, step out of your comfort zone, etc.
But it's still not a good feeling.
3. Turning off is really, really, really hard
"You can take vacations all the time, you're self-employed!"
Ha. I used to buy into that one too, but whoever came up with that is a complete liar, or sucks at their business.
Maybe you can get to that point eventually, but it has been really hard for me to take time away from my business. Most of my friends that are self-employed have a similar issue.
It goes back to fear (you don't want things to blow up when you step away from the business temporarily) and being too busy.
I have a team of people to help me out with things, but that doesn't mean I can just completely shut off.
Even a week off takes a lot of planning when you're self-employed. The only way I've been able to balance vacations and worrying about my business is to make sure I have internet access. I've found that if I can check on the site once or twice a day and cap it there, it's a good balance that actually lets me enjoy the vacation.
Being Employed Pros
1. It's steadier
One thing that I remember about being a band director was that there weren't any major surprises every day. I went to work, did my job, and then went home.
That's not to say that it was boring or anything like that, but I never went to work wondering if I was going to make any money that day or I'd get randomly fired by a client.
For the most part, I was able to really focus on just doing my job instead of spinning a million plates all at the same time.
Now? Who knows what is going to happen on a daily basis. Sometimes I enjoy that, but a lot of times I do miss the steadiness of being employed.
2. Retirement
I know that every job isn't created equal when it comes to retirement plans, but I get so jealous when I see people talk about their awesome employer matches. When you own a business, there are plenty of times where you have to make the choice between saving for retirement and reinvesting back into your business to grow it.
Even when I was a teacher with a sub-par retirement pension, it was still less stressful than having to figure out your own path. The money just came out of my paycheck every month. It was awesome.
3. Health Insurance
Straight-up, my health insurance is horrible. Fortunately, I'm healthy and hope to stay that way for a long time. There have been a few times where I've been sick, and my health insurance wouldn't cover the doctor I wanted or the prescriptions that I needed.
There are a lot of people out there that are struggling with high premiums and deductibles right now, so being employed isn't necessarily the silver bullet here. But if you do have a reasonable health insurance plan that actually covers things, I'm jealous of you.
Being Employed Cons
1. Depending on the industry, your income potential is capped
That's the reality of being employed by someone else – they dictate your wage. You can certainly move jobs in some cases or try to negotiate your salary, but you'll still be limited in some capacity. It's not really a bad thing though; money isn't everything. There is definitely something to be said for having a steady paycheck coming in every month instead of wondering what might happen next!
2. You can get trapped (if you aren't careful)
This is basically what happened to me. I spent all of this time in college working to get my music degree for band directing, and then I got into the profession and realized that it wasn't really what I wanted to do for the rest of my life. I had a feeling of dread every time I woke up in the morning to get ready for work, which sucked.
The fastest way for me to pivot out of that situation was to quit my job to run this website (which if you've been reading long enough, you know that I never never never recommend haha).
3. Bosses can be annoying
After a few years of working for myself now, I've had a realization. I was not always a good employee.
For whatever reason, it just really annoyed me when my various bosses told me what to do. I always felt like I could do it differently or better, which is a sure-fire sign that I should probably be an entrepreneur instead.
But sometimes…bosses just suck at being a boss.
As I'm sure that you've probably experienced, plenty of people are out there managing people that have no business doing it. There is nothing more stressful than having to deal with a boss that you hate working for. My current boss is a jerk too, but I've learned to live with it. 🙂
So which one is better? Self-employment, or being employed?
It all comes down to your personality type. If you don't mind being totally freaked out about where your next dollar is going to come from but want more control over your destiny, try self-employment.
If you just want to be able to go to work, make money, and then chill every night and turn work off completely, stick with being employed.
But honestly, why not try both?
We're all really fortunate to live in an age where you can dip your toes into entrepreneurship while still having a steady paycheck coming in every month. We have hundreds of people in the FB Side Hustle course that are doing exactly that right now. Having the ability to make extra to pay off debt or invest a little more goes a long way towards creating financial independence.
If you've always wanted to try entrepreneurship but don't want to do it leap of faith style the way I did (which was not smart), try to find an online side hustle first and see how you like it. It never hurts to make extra cash!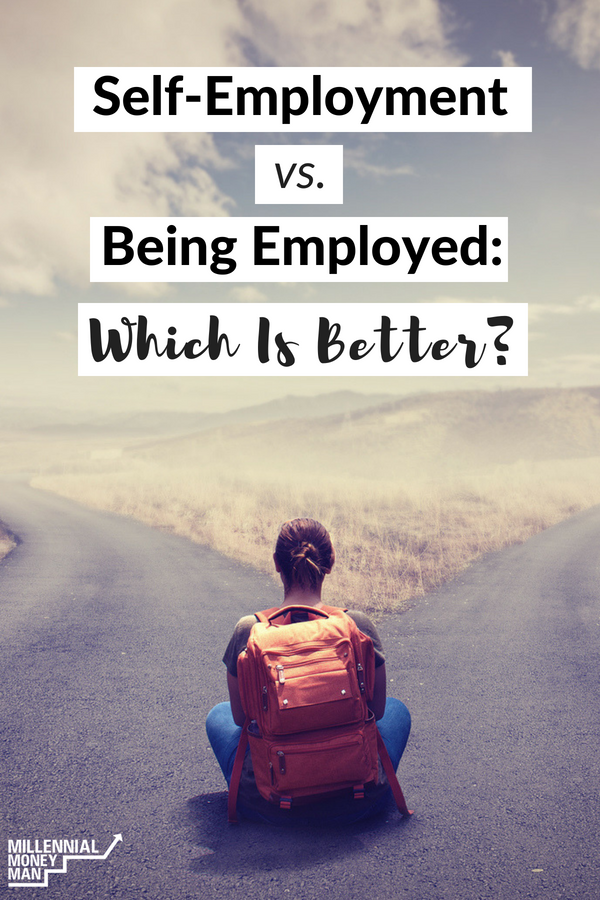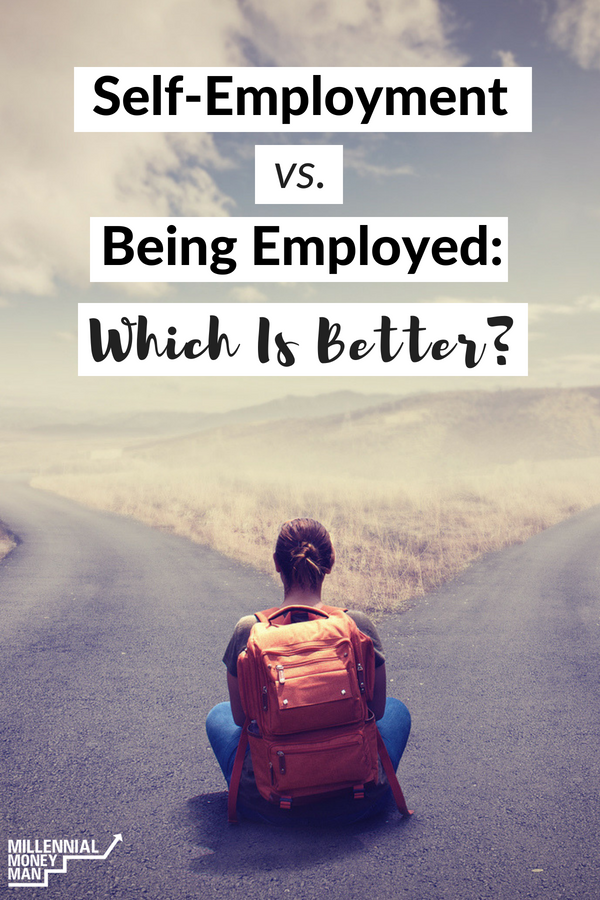 Question for you:
Did I miss any pros or cons of either side?