Congrats, you made it! Thanks so much for signing up for the free blogging guide. Be sure to keep an eye on your inbox – I'm going to ask you a question there in exactly 10 minutes. In the meantime, keep reading to see what you'll learn in this guide!
By the time you get through this free resource that I've put together for you, you'll know all the basics of blogging, from making money to growing an awesome readership and brand. I think you're really going to like what I've put together here! Be sure to bookmark this page so that you can come back to it over the coming weeks.
But before we dig in – let me tell you a little about myself and why you should even listen to me about blogging.
My name is Bobby Hoyt, and I started M$M (this site)  just over three years ago, and I can honestly say that it completely changed my life. I was a band director at the time that I started it, and I wasn't quite happy with my career.
I was also really passionate about personal finance after I paid off my student loans, so I decided to sit down and write about money.
Three and a half years later, I earn anywhere from $50,000 – $155,000 a month in revenue by running my online business.
My site has been featured on CNBC, Reuters, Business Insider, Forbes, and many others. It has honestly been surreal watching this site grow!
I've put a ton of time and effort into learning how to effectively grow a blog, make money, and connect with readers in a real and authentic way.
As a former teacher, I want to reach as many people as I can and share what I've learned so far about blogging and making money online.
Here's what I'm going to teach you in this guide:
Section 1: Why blogging is right for you
Section 2: Finding your voice and message
Section 3: How to have your blog installed for free by Launch That Blog and receive exclusive free training videos and PDF guides from me
Section 4: Ways to grow your readership
Section 5: How you can actually make $$$ blogging
Section 6: Mastering social media
Section 7: Growing and maintaining an email list
Section 8: How to promote your blog on Facebook
*BONUS* Day 9: Early mistakes I made that you can avoid!
Now that you have this guide, you'll also get exclusive emails from me where I break down all of the things I've learned about running my blog.
Ready to blog? Cool. Me too. Let's get started!
Section 1: Why blogging is right for you
There are so many reasons that people I've talked to want to start a blog.
Some just want to be a part of a community.
Some want to make money online.
Some people want a hobby.
Some are small business owners hoping to improve their online presence.
Whatever your reason for starting a blog, they are all valid. I've met so many cool people during my journey with running my own site, and I truly don't think I'd be the same person if I hadn't done this.
I started Millennial Money Man purely out of a passion for talking about money. That's it.
I didn't have a business model, and DEFINITELY had no idea what I was doing. I didn't even take a free course like this one haha!
I can also work from wherever I want, whenever I want, which are really nice perks.
The biggest reason that blogging is so great in my opinion, is that you never know what it can turn into. It's also a ridiculously cheap project to start.
I know professional bloggers, podcasters, YouTubers, personal finance experts, full-time digital nomads, and tons of other awesome people that all got their start from a very simple website.
So here's the deal…
If you have a message that you want to share with the world, you can do that with a blog.
And yes, you can make money with a blog as well.
I'm not going to sit here and tell you that you'll be a multi-millionaire blogger overnight or anything like that.
But I WILL tell you that it's possible, and I'll cover how you can legitimately make money through your site later in this guide.
If you want to start a blog, you absolutely should. Just make sure that you're patient with the process and follow my advice very closely!
Now, let's move on to figuring out how to create your writing "voice", and also craft your blog's message.
Section 2: Finding your voice and message
In every blog coaching session I've done with students, I'm always asked how I developed my blogging "voice".
I used to think that I was just lucky or naturally gifted at blogging, but that's not really the case.
Finding your voice is all about defining your audience.
Please pay very close attention to what I'm about to say (I promise it will save you a lot of time and effort):
Blogging is not about reaching as many people as possible. It's about reaching the right people for your message.
The #1 mistake that I see new bloggers make is what I call the "shotgun effect".
They try to blast out as much content about as many different topics as possible! That's just not how it works.
The more "niche" you can get with your blog, the better.
Here's an example that I see in the personal finance space all the time:
"I want to run a blog that talks about all things money related." <- That person is going to have a hard time setting themselves apart from the crowd.
"I want to run a blog that teaches people how I grew my credit score from 580 to 800 in 6 months." <- That person will find an audience for their site much faster.
In blogging, you start small and then grow outward. It's not the other way around.
Also, if you can't define your audience in one sentence, it's too broad.
Here's what mine was originally: Young people aged 25-34 with student loans.
So I'm going to give you a little bit of homework (and honestly it won't really take that long).
I want you to sit down and figure out who you want to reach with your blog.
This is what we call your "avatar". Just like the movie.
Once you have a good idea of who your ideal audience member is, you can start easily creating content that will make their lives better.
And that's the real goal and what the most successful bloggers do – they provide value. They try to help in a real, meaningful way.
If you can focus on that with every blog post you write in the beginning, you're going to do really, really well.
Now that you have an idea of who you want to write for, let's talk about getting your blog set up if you haven't done it already.
Section 3: How to have your blog installed for free by Launch That Blog and receive exclusive free training videos and PDF guides from me
From the beginning of M$M, I've helped a lot of bloggers get their site off the ground.
But I've noticed one thing over and over about people that start blogs through my site…
The tech side of blogging kinda sucks and intimidates them.
If you don't know anything about websites, there's a bit of a learning curve when you start a blog.
Technical jargon you've never heard of, installation headaches, etc.
There's a good chance that you've already felt a little concerned about how hard it is to get started with blogging.
So…I created a solution that I think you're going to be very excited about!
It's called Launch That Blog (LTB), and it's a free blog installation and setup service.
Here's what LTB does for you:

If you start a blog through our website hosting affiliate link, my team will install and set up your blog….for free.
Yep. Seriously. Free.
Within two business days:
– We'll handle the entire installation process of your self-hosted WordPress blog and deliver it to you so that you can get up and running quickly, with none of the tech headaches
– We will install our favorite customizable website theme so that your blog looks professional from day one
– We'll install the 10 essential plugins that every professional blog needs to have
– We will also give you 4 training resources – both video and PDF guides that I've created to show you exactly how to get a strong start and make money from your blog
– And you'll get a FREE domain (free for the first year) and exclusive monthly hosting rates through Bluehost
Basically, we'll set your site up and I'll teach you how to run your blog exactly how I do.
We even brought in the web developer for both M$M and Laptop Empires to teach you how to customize your site and make it look exactly how you want it to, step-by-step.
The idea was to make it so simple to start blogging that you couldn't pass the opportunity up.
So if you know that blogging sounds like something you want to do, and you want to get your site set up for free and all of my training videos…
Go here to start your blog and claim your free blog installation and training materials.
*Quick note – if you purchased blog hosting a while back on Bluehost but didn't ever set your site up, just shoot me an email (bobby @ millennial money man . com). We have a $100 flat-fee setup service that will get you up and running, and you'll also get all of the training goodies that I mentioned above.
Section 4: Ways to grow your readership
If you took advantage of Launch That Blog's free blog installation service, you either have your brand new blog and training resources, or will have them within one more business day!
The first thing you need to do is watch the exclusive videos that created for you, and also start making your site look amazing with the free training from my website developer for Millennial Money Man.
But after you go through all of your LTB goodies, you are going to want to grow your readership. Readers are what makes a blog thrive and grow.
Here are the strategies I suggest for growing your blog:
1. Pick one social media platform and master it.
For now – pick the social media platform you feel most comfortable with OTHER than Facebook (I'll cover FB in day 8 of this course) and go ahead and set up an account for your site.
I'm going to outline social media on day 6 as well, so stay tuned!
2. Have guest posters on your site
I call this the "Oprah approach".
Oprah is great because she positioned herself as an expert that introduced other experts on her show.
You need to be the same with your blog.
Most bloggers think they need to write a ton of guest posts to get their name out there. You can do that, but it's not the most efficient strategy in my opinion.
Inviting other bloggers to guest post is a really cool strategy that I've had success with.
Having other bloggers on your site gives you more content to share with your audience, and also exposes your brand to their following when they share the post with their audience.
The person that posts on your site gets value by reaching your audience, and you get value by reaching theirs (with a little less effort). It's a win-win. 🙂
Now, that's not to say you shouldn't guest post on other sites! Guest posting is still a great way to get your brand out there, but I'd definitely consider doing a mix of both strategies if possible.
3. Be consistent with your posting!
Readers lose interest quickly. You HAVE to hit them with consistent content, even if it's just once a week!
Quick story – I had 20,000 page views/month in my fourth month of blogging (which is really good). Then, I missed a few weeks of posting and dropped all the way down to 4,000 views/month.
It took me MONTHS to get back to where I was originally.
Please be consistent with your posting day(s)!!!!
I would suggest at least every Monday, and Monday/Thursday if you are doing two posts a week.
Also, get organized. I have a content calendar that I use to make sure that I always know what's coming down the content pipeline.
Here's mine: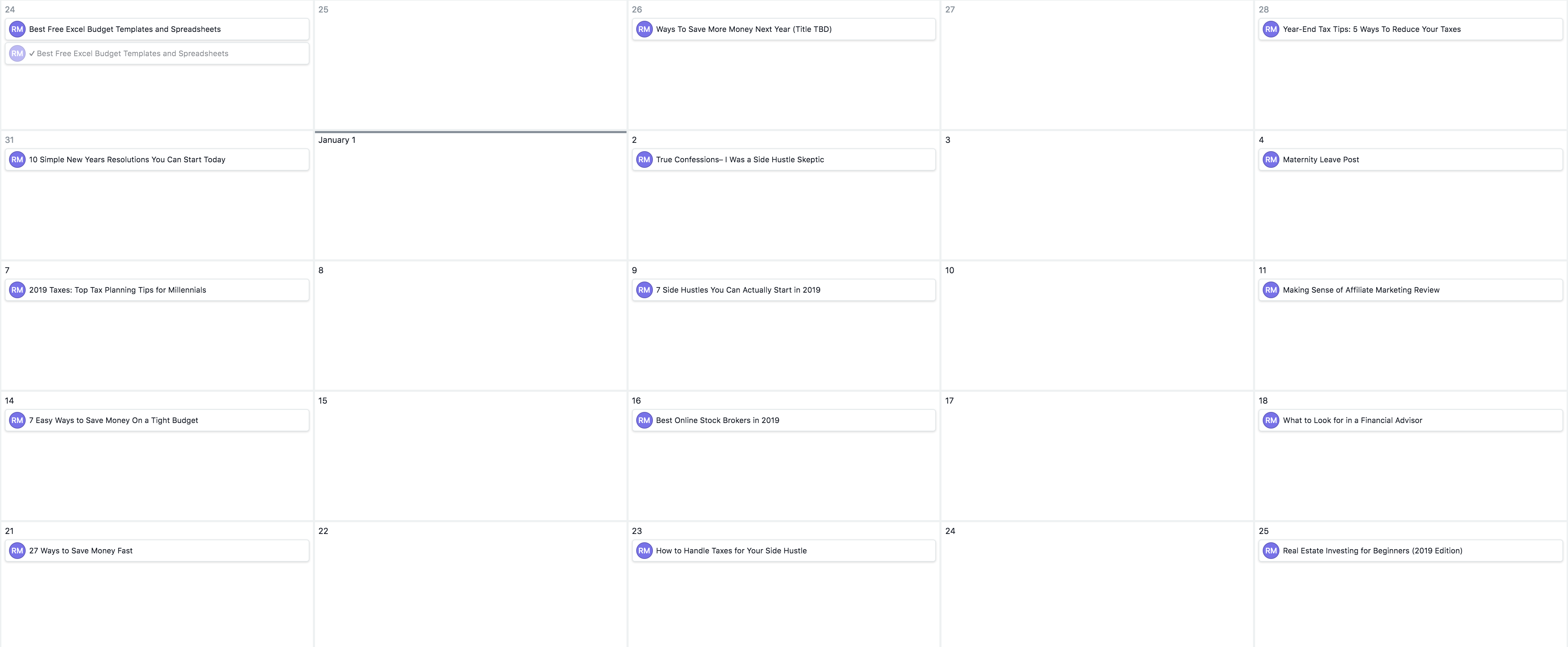 I use a program called Asana (which I pay for) to manage my content calendar, but really any calendar will do. Asana allows me to assign tasks to my team and editor. But in the early days, I didn't have people who worked for me, so I didn't need that functionality.
The takeaway here is that you need to be organized if you want to do well as a blogger, and planning out your content for a month or two at a time makes this whole thing a lot less stressful.
Now that we've covered ways to grow your readership and stay organized, let's move on to the best lesson…
Making money!
Section 5: How you can actually make $$$ blogging
Hopefully you've set up your main social media account sand have a posting day/time picked out.
Now we are going to talk about the thing everyone wants to know: how to actually make money blogging.
I want to start with a word of caution. Blogging is not a get rich quick business.
(Here's what you should do instead if you need to start making money in the next month or two while you're building your blog.)
98% of bloggers fail in the first year because they stop early. If I had stopped after six months, I would have never been featured on CNBC and turned this into a viable business.
The only people that make it are the ones that can be patient and work hard with little to no financial results in the beginning.
There is a REASON that most people don't "make it" as bloggers, but I truly believe that it's based much more on effort than talent.
Here are some common ways to make money blogging:
1. Affiliate income
Currently, I bring in between $40,000 – $50,000 per year in affiliate income.
It's definitely not passive, but it's a lot better than trading time for money!
With affiliate income, you're essentially promoting products from another business.
It's a GREAT way to make money, but it does take quite a bit of time and traffic to make significant money this way.
2. Ads
We all see the Google ads that are all over websites now. I would suggest avoiding these until you have substantial traffic (50,000 views/month).
Google ads can make your site look cluttered, and they barely make ANY money for your site.
I think they diminish the quality of newer blogs and should be avoided in the beginning.
3. Freelance services
Here are a few services you can offer from your blog:
Freelance writing
Social media management
Search Engine Optimization (making sites rank higher in Google)
Website management
I suggest you put a "hire me" tab on your website's main menu and write out a list of these services.
You can email small businesses in your area and use your blog as a portfolio to offer your marketing/website management services! (<–This is a pro tip for sure)
Or, you can start a side hustle like I did and earn an extra $1-2k/month in your spare time managing Facebook ads and performing other marketing services for local businesses. This is the fastest and highest leveraged strategy for most people out of all these options.
Remember – blogging takes time and is a long-term game. The people that make it are the people that keep going and develop their voice and message.
There are no ways around that.
Now that you have an idea of how you can actually make money with your blog, let's move on to social media!
Section 6: Mastering social media
Hopefully I got your brain going on monetization strategies for your site. Remember, you can make money sooner by offering services to small businesses.
Now we are going to chat about kicking butt on social media.
This is tricky for most people. Similar to the shotgun approach to creating content that I described in the first lesson, most new bloggers try to be super active on all the platforms.
Unfortunately, that's freaking hard to do. I don't even attempt that and I do this full-time!
Sticking with one platform, in the beginning, will set you up for success. Once you get comfortable, move on to the next one and master that.
Also, pick what you are most comfortable with (I used Twitter because it made the most sense to me).
If you're good at Pinterest or Instagram, rock them out!
It's always easy to start with something you know, and then branch out from there once you learn the platform and start seeing traffic roll in.
Other than using just one platform, I would suggest that you stay really active and follow people who are in a related blogging field as you to see what they do.
It's totally cool to learn from other bloggers! This is a very non-competitive industry since there is so much room for people to have an audience (please avoid copying other bloggers though…it's lame).
Here's another little rule of thumb that I like to follow:
Focus on one social media platform, but have a decent looking profile on all of them.
You at least want to make sure that your online presence looks legit.
Use the proper dimension sizes on your social media platforms, take some time to write great descriptions of what exactly you do, and what your blog is all about.
I like to use a program called Canva to crop all of my photos for my social media profiles.
They have nice templates that you can use that are already good to go for all of the big social media platforms.
One last thing…
Make sure that you are branded the same across all of your social media platforms. For example, my Twitter, Facebook, Pinterest, and Instagram are all @genymoneyman.
Having everything be consistent will allow readers to follow you across multiple platforms, which is always a good thing!
Alright, that's it for social media. Now I am going to teach you about one of the most important aspects of running a blog, and that is growing and maintaining an email list.
Section 7: Growing and maintaining an email list
Whew! By this point you're already hustling on social media, thinking about monetization strategies, tweaking your blog design, and creating content.
Now, there's just one more important piece of the puzzle left: emails.
Currently, I use ConvertKit to manage all of my emails.
I like it because it's literally made for bloggers, and it makes creating multi-day email courses (which is actually what this guide used to be before I parked it on a single page).
All I had to do was create this course one time, and it was automatically mailed out sequentially to any person who signed up!
Along with a few of the courses I suggested in previous lessons, I believe you should invest in a good email delivery service when your blog becomes profitable. The less email subscribers you have, the cheaper.
Here's why emails are so important:
Out of all the ways that you can reach your audience, emails are the only one that you actually own.
Facebook or Pinterest could change their algorithms tomorrow, and I would have to rethink a lot of my strategy.
Twitter could shut down next week.
You get the point, right?
I will always have my email list, so I will always have the ability to reach the most active part of my audience.
If you don't do anything else for emails other than setting up your Convertkit account, you'll want to make sure you have something free that you can offer to your readers.
I have a few that I offer on the site, which help me build my email list AND create a relationship with readers from the beginning.
It can be a free course like this one, a short PDF that provides value to readers (5 Rules for Success or something along those lines), an ebook, etc.
You'll want to use opt-in forms on your site so that your emails are seamlessly integrated into your account. SumoMe and OptinMonster are great options for this, and I have used both of them with success.
If you want to start building your list for free, check out Mailchimp. It's free for the first 2,000 subscribers. And by the time you get to that many email subscribers, there's a really good chance you'll be earning enough to more than cover the cost.
Let's talk about how often to email your list…
Contrary to popular belief, emailing your list is not a negative thing.
I send out a crapload of emails to my list, and the truth is that my email subscribers really enjoy my emails.
How do I know?
Well…they email me back and tell me!
Email marketing is a great way to connect with your audience like I mentioned earlier, but it's also an effective tool for presenting offers and products to your audience that you would like to sell.
The key with email is to play the long game.
I currently send out emails every time a new blog post goes up.
But it's not just a summary email or part of the post with a "click here to keep reading" link.
I use my emails to do two things:
Tell a story
Train my audience to click at the end
I do that because I want to get people to the things that I want them to see.
So if it's a blog post, I'll tell a story related to it, and then tell them to click on the post to learn more about whatever the blog post happens to be about.
And then when it comes time to sell a product, they already know what to do.
I format my sales emails the same way that I do my normal email blasts, because I want my readers to know what to do.
Here's an example of a normal email I send out when a post goes live: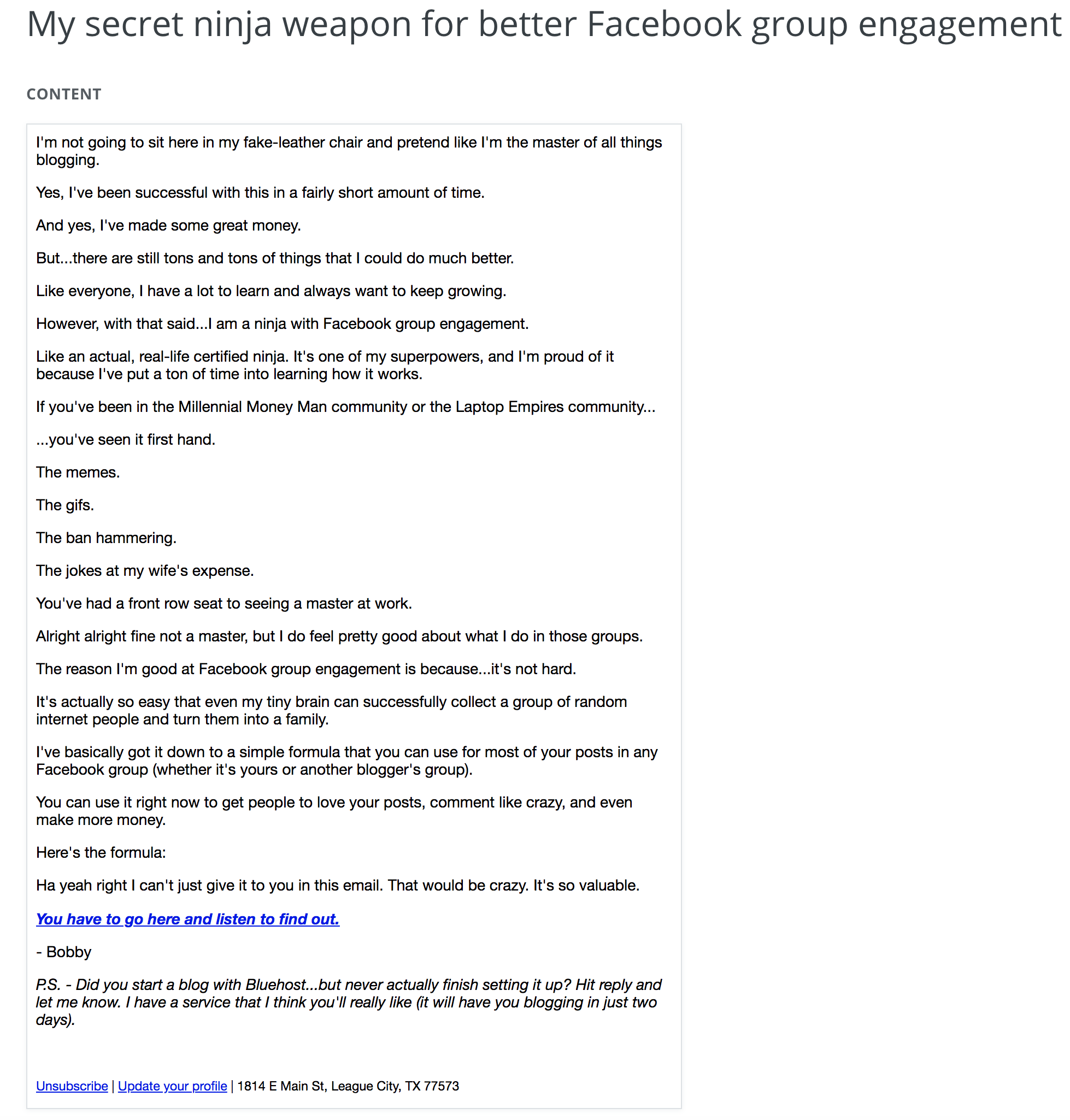 Now here's an example of one of my sales emails: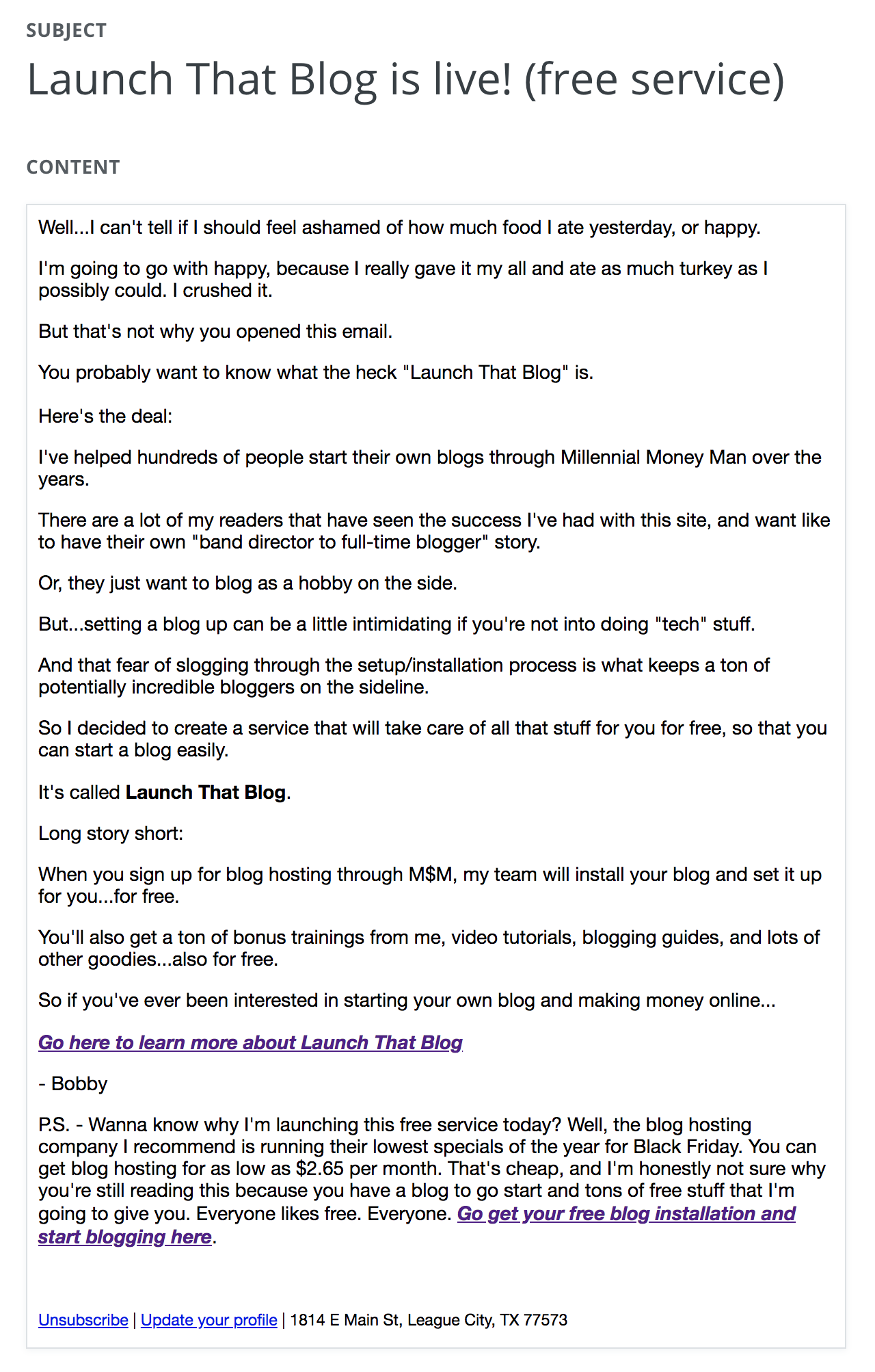 Get the point?
Oh and one last thing…
Make your emails entertaining, and don't worry about people unsubscribing. It's going to happen. Some people will jump off your list.
But the reality is that you only want people on your list who will be loyal, raving fans.
You do have to start paying for your email service as your list grows, so it's important to only have the people that really want to be there on the list.
Now let's talk about one of my favorite subjects – Facebook!
Section 8: How to promote your blog on Facebook
So in this free blogging course I recommended that you hold off on Facebook at the very beginning. And that's because there are a lot of different strategies you can use depending on what stage you're at.
In the past, the way you killed it with Facebook was getting a lot of likes. But things have changed a lot in the past couple of years with the Facebook algorithm.
Today, Facebook really requires you to "pay-to-play."
Now – DON'T FREAK OUT.
You can still share your blog posts to your friend list or on your business page. And you'll still get a decent amount of exposure. And some of your content could even get shared and passed around. It might even go viral.
I've had a number of articles go "viral" just by posting them on my free Facebook page.
But if you want to guarantee that your articles get read and shared and get some viral traction, then spending 5 bucks here or there might really speed up growth.
Would you pay 5 bucks to get 250 readers in a day?
Would you pay 20 bucks to get 1,000 new viewers?
I'm not saying you have to do this – especially when you're just starting out. It's just something to keep in mind.
This is one of the methods I've used to get over 2 million unique visitors a year. I didn't pay for all of those views… but a good amount of people came my way because I spent a few bucks.
And the people that have found me this way have shared my stuff many times over.
Now, if you're not into paying-to-pay right from the very beginning, that's totally fine. Start sharing your posts on your personal page, share them on your business page, and try to interact with the people who leave comments on your posts.
However if you ARE interested in learning more about Facebook ads, take a look at my free FB Ads 101: Blogger Edition training video.
I'll show you how to get started with FB ads, set up your ad account, and more.
We're almost done with the free guide! I hope you've learned a ton about blogging so far. But…we're not quite done.
I have one more bonus lesson for you! Keep reading to check it out.
*BONUS* Section 9: Early mistakes I made that you can avoid!
*Whew* – I'm sure you've been busy planning and working with your site.
Just like any business, you'll find that blogging has a few pitfalls as you're learning your way.
I want to share a few of the things I messed up that you can avoid:
1. I didn't invest money into my business soon enough
Blogging is tough because there are some things you need to buy in the beginning to get set up well, but the site isn't bringing in money yet.
This is when you need to understand that in order to be successful, you need to put money into your business.
I literally put $10,000 into my business in February in the form of website design, legal stuff, SEO coaching sessions, and advertising.
I'm not just being "all talk" with this one haha.
You wouldn't start a pool cleaning business and try to get by without having the right equipment, would you? Pretty doubtful. You'd make an initial investment because you would want to treat it like the business it is.
What's great about blogging is that all of that is cheap in the beginning! Even if you make a "large" investment when you start your blog with courses, services, etc., we're talking about a few hundred dollars at the most.
I'm not trying to tell you what to do, but I can just honestly say I should have done that all sooner and the site would probably be bigger right now.
2. I didn't post consistently
I detailed this in an earlier lesson, but basica,lly I didn't post every week on the same day one month early on and lost a ton of my traffic.
This is easily avoidable, but you will have to put the work in after you get home from your regular job to make sure you are producing enough content.
ALWAYS avoid using the "I don't have time" excuse. It's human nature, but it's also BS. Stay up later. Work harder. If you want to make money online, it takes the sweat-equity.
Most people don't do that, which is why they don't actually make money in this business.
3. I waited too long to grow my email list
I suggested using ConvertKit in the email in section 7, but if you decide to go a different direction, that's totally fine with me.
The most important thing is that you start actively trying to build an email list and reaching your audience as soon as possible.
I waited until my site was much larger and am trying to play catch-up now with my list.
4. I focused too much on other people instead of focusing on myself
Don't try to be the next someone else. Try to be the first you.
That's some of the best advice I have to give.
5. I wasn't active enough in the blogging community
For about the first year I was blogging, I really did this all on an island.
I didn't try hard enough to meet and interact with other people that were blogging about similar topics.
Make sure you go out of your way to be active in whatever niche you choose, because generally, everyone in the digital world is pretty cool.
I've made some GREAT friends online now, and it has fueled me to keep creating great content for my readers.
Good luck – again, I really hope you got value from this course!
Stay tuned for more weekly content from M$M as we go through this online business and personal finance journey together.
– Bobby
P.S. – If you haven't set up your blog through Launch That Blog yet…what are you waiting for? You now have all the tools you need to get started. Go ahead and request your free setup here.