"You're a…blogger? Do you actually make money doing that?"
Ah yes, my two favorite and most-asked questions. Ever since I decided to take the leap of faith and start doing this full-time, I've always had a hard time explaining to people what the heck I actually do for a living.
I know my neighbors see me at home all day long and wonder what in the world is going on with me. My wife and I are easily the youngest people on our street, and because of the incredible opportunities I have had with my business, we're both here all the time.
If you add in our wakeboarding boat and my wife's Mercedes (it was used but it's still nicer than any car I've ever driven), people probably think that I'm either:
A) A drug dealer
B) Inherited a crap-ton of money and do literally nothing for a living
C) Possibly a lottery winner and do literally nothing for a living
And then they see my 2004 Yukon and get even more confused, because why would a drug dealer drive such a crappy car?
It's a fair question.
Now before we go on, I don't want you to think that I'm going to sit here and actually complain about my life as a pro blogger. I know how lucky I am just to wake up every day, let alone wake up and do what I do for a living.
And also to be clear: I'm not ashamed of the success I've had. I'm proud of what I've done so far. I've put in so much work to get here, and I've impacted a lot of people in the process. I also feel like I've always done it the right way, and the number of people that stick around and hang out with me in my private groups or message nice things to me confirms that (in my mind at least).
I just know that a lot of people out there see what I do for a living now and want to know more about it. Blogging can be incredible, but it also has drawbacks too if you're planning on doing it full-time one day.
There's also the problem of some bloggers making all of this look like sunshine and unicorns 24/7, which just isn't true. This is much harder than it looks but easy to make it seem, well…easy.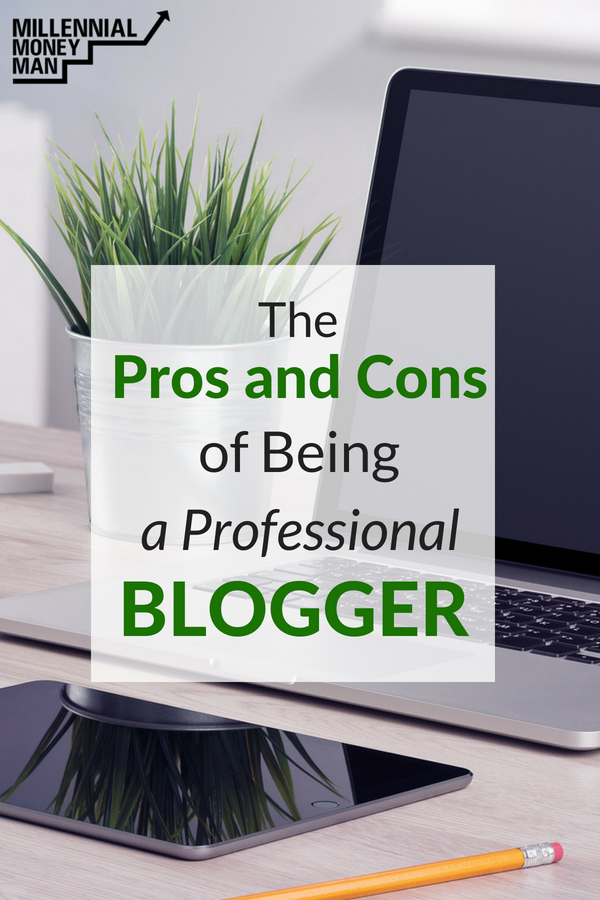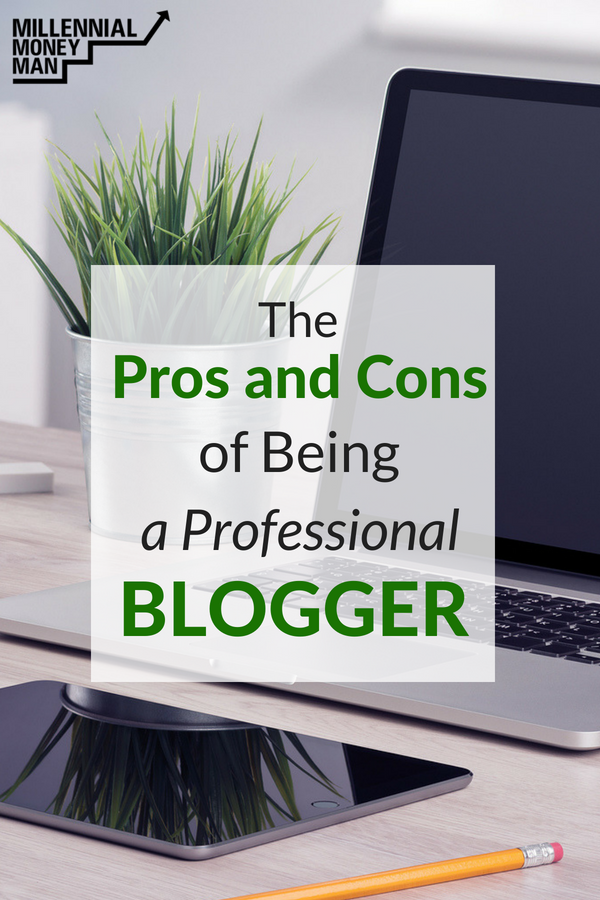 The list that I'll share here shortly is really just something that I wish I had read before I started this whole journey.
When I started M$M back in 2015, I had absolutely no idea what I was doing. I didn't even follow other bloggers or know that you could make money doing what I'm doing right now.
But then, I stumbled on to my now awesome friend Erin Lowry's site Broke Millennial, and through some other internet wormhole found J Money's Budgets Are Sexy.
People were actually making money online in this really, really obscure format of just writing whatever you were thinking. I fell in love with the idea and eventually quit my job to pursue this.
My life has changed drastically since my band directing days, and I've learned a lot through the process of building this business.
Here are the biggest pros of blogging full-time:
1. There is so much flexibility in this business
If you look at my income reports, you'll see exactly what I mean.
Typically the progression that you see from bloggers that make it as pros looks something like:
Provide freelance services through their blog (marketing, writing, etc.)
Start making affiliate income after taking this course
Earn ad revenue
Create a course about something that they know a lot about
Now, of course, there are different ways to do it, but that's pretty common and exactly what happened to me.
I started out by providing marketing services, then made affiliate money, then made ad revenue, and now the bulk of my income comes from my courses.
The best part about all of this is that you can essentially pick which direction you want to go with, master it, and then move on to something you can scale from there.
2. I legitimately have fun every day
Quick disclaimer: It wasn't always this way, but I'll talk about that more in the cons section below.
Between M$M readers, the people I've hired to help me grow the business, my business partner for Laptop Empires, and my friends I've met in the online space…
I have a ton of fun now. Maybe the best thing about blogging is that you can mold your business to fit the lifestyle you want.
All of those people that you've seen living in vans, RVs, and sailboats? They're real.
The people you see traveling all over the world and blogging about it? They're real too.
They don't all do a great job of representing how hard the work can be sometimes, but there are plenty out there that do a great job with transparency and also live their best lives.
3. Most of the people I've met are really nice and have cool stories
Speaking of the people that do what I do – they're all so interesting and have achieved awesome things.
Originally, the biggest reason that people followed this site was my student loan payoff story.
It's different now because my story has changed so much, but that's the hallmark of a lot of pro bloggers – their story is the draw.
As I've gotten into the blogging world, I've met people that are doing all of these incredible things in life.
Paying off massive student loan debts, retiring early, traveling full-time, building businesses – you name it.
That's not to say that people I worked with weren't interesting in my former life as a band director, but being an "influencer" full-time just lends itself to having a fascinating life and story.
4. You can scale this to be a large business
I know some bloggers that hit full-time income with their sites and then put it into coast-mode (for the most part).
There are blogs like The Penny Hoarder than bring in millions of dollars in revenue per month!
And then you have a smattering of everything in-between. Some people just build blogs up to sell them for a large amount of cash and then move on to building the next thing.
The point here is that the internet has made it exponentially easier to reach more business and scale your site over time.
Before I started this site, I wanted to start a swimming pool company. Looking back, there's probably no realistic way that I could have scaled a brick and mortar business to this size in just three years.
5. I feel like I've been able to help people in a meaningful way
This probably should have been #1 on the list, but oh well.
I like helping people. You can definitely become a full-time blogger without being hands-on, but I enjoy seeing the success stories that roll into my DM's and comment sections.
It's hard to explain, but there's just something really fulfilling about knowing that you changed someone's life without even meeting them in person.
Here are the biggest cons of blogging full-time:
1. Blogging is sloooooow
I've mentioned this on the site before, but I feel like it's worth repeating several times. If you aren't willing to do this for a long time without seeing significant income, then it's just not a good option for you.
But with that said…once you "make it", there's nothing out there like it that I've experienced.
It's a regular occurrence now for me to wake up and see that I made money from a course sale or an affiliate product.
I don't know about you, but I think it's a nice way to start the day.
2. It's easy to get discouraged
Year one of blogging is especially hard. Some bloggers just seem to "figure it out" and have massive success early, and a lot of people struggle to get traction.
I think it comes down to two things if you want to be one of the people that makes it:
You have an awesome story and know how to tell it effectively
You learn marketing techniques and strategies and then implement them effectively
If you don't have a good story or aren't willing to put the time into learning the art of copywriting (words that sell), email marketing, affiliate marketing, etc. – you're going to have a hard time.
You also have to realize what actually resonates with people and what doesn't.
When I first started blogging, I was very preachy. Most people don't really like that. I eventually realized that I was coming across as a jerk and changed my approach to a "listen first and don't judge" strategy.
The latter is working really, really well.
3. It's a lonely business
There were plenty of days where I was home by myself working. When you go from a super-social environment like teaching band (around a lot of fellow employees, hundreds of kids, etc.) to basically being alone, it messes with you.
I know some bloggers like Financial Samurai that have mentioned wanting to go back to normal work just to have the interaction again. If you're someone that thrives around other people, you'll want to really consider that before jumping into something like blogging.
4. You have so many plates to spin
I mentioned earlier that blogging is awesome because it's so flexible, but that can be a problem too as your business grows.
There have been plenty of times in the last year that I've felt overwhelmed by all of the projects that I've taken on.
I'm driven to begin with, but with an online business, it's fairly easy to start way too many projects and not really get any of them to the level that you want them to be.
As a blogger, you HAVE to figure out ways to make sure that the plates continually spin. If you can't, you'll probably need to ditch some plates along the way.
5. Time off is a rarity
One of the biggest blessings of being a pro blogger is that you only need a solid internet connection to work.
It's also the biggest curse. In the first two years of doing this full-time, I had an extraordinarily hard time unplugging from my site and marketing work.
Fortunately, I've gotten a lot better at it recently, but it's always a process. If you want to see how I manage to take mental breaks and vacations from work now, you should check out this recent Laptop Empires podcast episode:
So is blogging worth pursuing?
Ultimately, yes. I truly believe that it is if you want to go for it. Compared to other businesses, it's a cheap bet in the grand scheme to see if you can make full-time blogging reality.
Here's the deal: I never knew that so many people would be interested in what I have to say about personal finance.
I was a band director – think about that. Band. Kids playing instruments and walking around on a football field during halftime.
Somehow, I've been able to turn my student loan payoff story into a really freaking awesome business that I wake up excited to run every day.
A lot of the other professional bloggers I know have had a similar experience as well.
If you're to this point and still interesting in blogging, sign up for my free blogging course below and I'll send you all of my best tips for doing what I do full-time.
The Free M$M Blogging Course
You'll learn how to start and run a successful and profitable blog!