Two apps, both with a cult-like following, but which is better… Personal Capital vs. YNAB?
Both are great at helping you manage your money, but they do it in very different ways – Personal Capital focuses on your long-term goals and YNAB on your month-to-month finances.
Both of those focuses are extremely important things to think about. Without a long-term plan, how do you know which money moves you should be making right now? And if you don't have a plan for this month, how the heck are you going to make big things happen?
But, which tool you try first is probably going to come down to where you're at financially, your personality, and what money skills you need help with.
Personal Capital vs. YNAB: Which tool is best for you?
Personal Capital overview
Founded in 2009, Personal Capital now has over 2 million users and manages over $9 billion in assets.
There are two different services offered by Personal Capital, and I'm going to focus on the free version because it's better for people starting out – the paid version acts like a robo-advisor for clients with over $200K in investment assets.
Personal Capital really focuses on your net worth, tracking your investments, and helping you prepare for retirement.
It does that with some really cool tools, like the:
Retirement Planner. Personal Capital analyzes the information in all of your linked accounts, retirement contributions, current net worth, and planned age of retirement. Then, it shows you if you're on track for retirement. You can run multiple scenarios to find a better plan if needed.
Retirement Fee Analyzer. To help you save money over the course of your retirement planning strategy, Personal Capital will show you where you can make adjustments that will optimize your retirement funds.
Investment Checkup Tool. This tool does a quick run-through of your investment to show you target allocation, risk and returns, which asset classes you're under or overweight in, and how much you're paying in fees. It even makes a few suggestions along the way.
Personal Capital also wants you to know your net worth because it gives you a general idea of how well you're doing financially. It helps you see which money moves you need to make…
Paying off your debt can pull you up from the negatives
Making more money and/or investing pushes your number up too
Some people aren't going to want to see this number… I had a negative net worth at one point so I get it. Just working up to $0 was a big deal.
To learn about everything Personal Capital offers, including their paid services, you can read my full Personal Capital Review for 2020.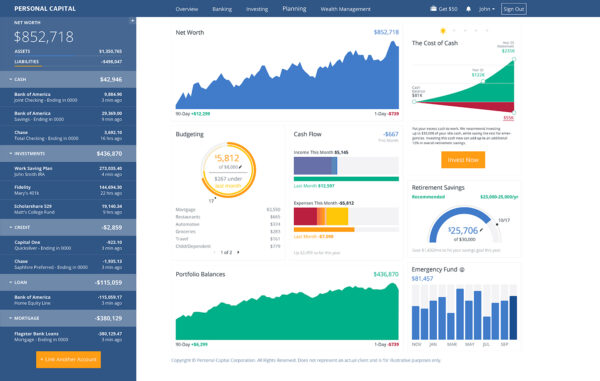 YNAB overview
YNAB, or You Need A Budget, was founded in 2004 and has grown one of the most loyal followings I've ever seen for a money tracking tool. I've heard a number of my readers talk about how it's changed their lives, and that kind of endorsement bears a lot of weight.
YNAB is a budgeting app that wants to help you "gain total control of your money."
YNAB helps you take control with these four rules:
Rule 1: Give every dollar a job. For all of the money coming into your accounts, you allocate each and every dollar until you're back down to $0. This is zero-based budgeting.
Rule 2: Embrace your true expenses. This is setting goals to help you with large upcoming expenses, like holiday spending, an emergency fund, etc. You set an amount you want to reach and put a certain amount of money in each category.
Rule 3: Roll with the punches. This idea gives you the flexibility to move money around if you over or underspend in an area.
Rule 4: Age your money. The idea here is that you aren't spending everything the minute it goes into your account. YNAB wants to help you get to the point that you are spending what you earned last month. The goal is to get you out of a paycheck-to-paycheck lifestyle.
YNAB isn't free to use – it's $11.99/month if you want to be billed monthly or $84 for a full year subscription (breaks down to $7/month). And because the creators know it might take some getting used to (there can be a learning curve with zero-based budgeting), you get a 34-day free trial.
They also offer a referral program that gives you one free month every time you get a friend to sign up. And students with proof of enrollment get their first year free.
You can learn more about YNAB at YNAB vs. Mint: Which Budgeting App is Best?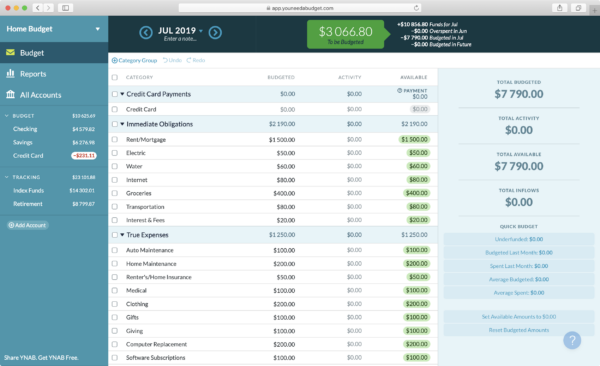 Signing up, Personal Capital vs. YNAB
You don't need to enter your billing information to sign up for YNAB, which I like. For some people, free trials rope you into paying for a month because you forget to cancel before the end of the trial period, but that's not the case with YNAB.
Get your 34-day free trial of YNAB here.
When you sign up for Personal Capital, you're required to enter a phone number to ensure your account's safety. Then there's an optional questionnaire that asks your current age, planned retirement age, and amount saved. This is used to build a personalized retirement plan for you.
Sign up for Personal Capital through my exclusive M$M link and we'll both get $20.
Signing up for either app is really easy to do and quick. But, to get the most out of these money tracking tools, you'll want to start linking accounts as soon as you sign up (but it's optional with YNAB). So be ready with your user ID and passwords for all of your financial accounts, like:
Checking
Savings
Investments
Credit cards
Personal Capital uses this information to show your net worth. I personally like having my accounts linked because I like logging into one and seeing everything in one place, and Personal Capital is really good with synchronization. But if that's not your thing, you can enter transactions and balances manually with YNAB.
Which is better for budgeting?
Personal Capital and YNAB have very different approaches to budgeting. Like I said, YNAB is zero-based budgeting. So, let's say you have $1,000 coming in. You'll need to allocate every penny of that to different budgeting categories. The idea is to get back down to $0.
This is a disciplined but flexible approach that is very hands on. It works well for many people because it forces you to prioritize savings and debt payments instead of waiting to see how much you have left at the end of the month for either.
Personal Capital lets you set different budgeting categories and amounts for each, but it uses a cash flow approach. This means you see the cash flowing in (income, dividends, earned interest) and see what's flowing out (what you spend and put towards savings). Personal Capital will show you if you've over or underspent in each category.
Cash flow budgeting is way less disciplined, and it works well for people who understand that they just never want to run a deficit. This honestly gives you a little more flexibility, but it can be difficult if you need some guidelines.
Overall, which money tracking tool is better for budgeting comes down to your personality type. But, YNAB really shines when it comes to budgeting – having a realistic and workable budget is really the goal of the app.
I'll be honest, out of all of the budgeting apps I've reviewed, YNAB is possibly the best.
Personal Capital vs. YNAB, which is better for planning?
If YNAB shines for budgeting, Personal Capital wins long-term planning by a landslide. That's because YNAB just don't have the tools Personal Capital offers.
With YNAB, you can link things like savings and brokerage accounts, but that's really it. Most of the people I've talked to who use YNAB say that they go in at the end of the month and manually adjust those amounts.
Personal Capital syncs all of that for you. It shows daily changes, fees associated with investment accounts, your allocation, and then there's the retirement planner. And with retirement really being the end game, I love that Personal Capital lets you plan around with different scenarios to see how to find and stay on the right path.
Which has better customer service and support?
This one is a tie because both apps do really well with this, which is awesome considering that Personal Capital is free. For both YNAB and Personal Capital, you can set up a chat or email them directly.
Both apps also offer you a wide range of educational resources, from blog posts to videos. You can find helpful information about using each and learn about different financial topics. You can access these resources even if you don't have an account.
If you're interested, here's are links to resource centers for both YNAB and Personal Capital.
Which money tracking tool offers a better user experience?
One of the big things that you'll notice with both YNAB and Personal Capital is that the sites are both solely focused on your finances. There aren't ads (like Mint), and both have a very clean design.
Both apps let you interact with your money, but in very different ways. With Personal Capital, you can manipulate planning functions. With YNAB, you're manipulating your budget – adjusting amounts in each category.
Keeping that in mind, let's look at possibly the most important question…
Personal Capital vs. YNAB, which one will help you create a better financial life?
The question that prompted this article is "which money tool should you use first?" That's honestly going to come down to your personality and what you want out of a money tracking tool.
YNAB focuses on your budget and forces you (in a good way) to plan out where your money goes.
Personal Capital focuses on your long-term finances to help you decide what money moves you need to make right now.
This isn't an apples to apples comparison because both apps focus on different but essential personal finance issues…
If you want a disciplined approach to help you pay down debt and get your monthly spending in order, then start your free trial with YNAB.
If you want to see how what's happening today will affect your long-term financial future, then sign up for Personal Capital.
Final word, is there a clear winner between Personal Capital and YNAB?
Well… no.
But, both apps offer some stellar financial tools. They're very different, but your financial life is a multi-faceted thing. You can use them as companions – YNAB helping you with your immediate financial needs while Personal Capital keeps your eyes on the prize.
This is made easier knowing that you have a free 34-day free trial with YNAB and that Personal Capital is free.