Look, we don't need to sugar coat this – student loans unquestionably suck. I've talked to thousands of readers with student loans over the past three years, and I don't think I've come across a single person that didn't really want to get rid of their student loan debt faster.
If you don't have student loans, it's hard to explain the feeling that comes from opening your first repayment notice. In one piece of paper, all of the excitement of getting your college degree and starting a new (hopefully fulfilling) career is tainted by the fact that you owe a crapload of money to someone else for what seems like an eternity.
Fortunately, you don't have to be stuck with student loans for the rest of your life.
Even if you read that last sentence and rolled your eyes because it seems like you may never be able to find a way out from underneath your debt, there's still hope.
I've seen every situation imaginable while running this website, from doctors with $600,000 of student loans to people like me who tried to battle $40,000 on a teacher's salary. If there's a situation out there, I've probably witnessed someone overcome it and beat their loans.
So how can you do it? What are some ideas you can try to put your student loans past you sooner and start living your best life? Here are some of the strategies that I've personally tried and seen readers try as well to pay off their student loans quickly:
Utilize your grace period
Keep your living expenses extremely low
Start a side hustle
Consider refinancing
Get a real budget
Pay off higher interest debt first
Make bi-weekly payments
Have the patience of Zeus
1. Utilize your grace period
Ah yes, the grace period. It sounds so nice, right? Grace. Soothing. Ahhhhh.
Unfortunately, that's not how it really works. The "grace period" refers to the amount of time a borrower has before they are required to begin making payments toward their student loan debt. Depending on the type of loan you have, the period of time can be different.
For example, Stafford loans (what I had) have a six month grace period. Perkins loans carry a 9 month period.
Now let's be honest – the time period can actually be really helpful for most borrowers. It can take some serious time to get the job you want in the field that you're qualified to work in. Having a few extra months to get your adulting together can be extremely helpful for coming up with a plan to pay down your student loan debt.
But unfortunately, interest typically accrues during the grace period, which means that you'll have more student loan debt than you did when you graduated from college when you start making payments. That's not fun.
Here's my suggestion: start making payments as quickly as possible.
Even if it's picking up a side job or starting a side hustle (which I detail later in this post) while you search for your main gig, paying down your student loans early can help you keep the interest at bay while also giving you a head start on your debt. If you're trying to keep your loans in check from the start, making payments during the grace period is the most effective way to do it.
2. Keep your living expenses extremely low
Out of everything on this list, I'd probably say that keeping your expenses low is the least fun. But with that said, it's probably the most effective. Housing costs, as you probably know, can be pretty tough to deal with when you're also battling student loan debt.
There are a few things you can do to help lower your housing costs:
Rent from your parents (I know, I know)
Get one or multiple roommates
Rent out rooms of a house you own (aka "house hacking")
Shop around for cheaper renter/homeowner insurance
None of these strategies are particularly sexy, but they work. Personally, I rented a room from my in-laws when I was paying down my student loan debt. It wasn't free, but it was cheap. It also sucked. But I can tell you that since I've moved out and now have zero student loan debt, my life is pretty awesome.
The reality is that paying back your student loans quickly is probably going to force you to make some tough decisions that will temporarily lower your quality of life. Nobody wants to have multiple roommates. Nobody wants to live with their parents. And nobody likes sitting on hold with insurance companies.
But if you can put yourself into uncomfortable situations early and make bigger payments on your student loans, you'll have the rest of your life to have the fancy crib with tons of space to yourself.
3. Start a side hustle
Paying off student loan debt can be boiled down to a simple concept:
You can either spend less money and make bigger payments, or make more money and make bigger payments. If you do both, then you're a financial rock star.
There are tons of cool side hustle ideas out there, but the ones that I believe are the most effective involve learning a valuable skill that you can charge a lot of money for. I've taught over 1,000 people how to run FB ads for small businesses and make an extra $1,000 to $2,000 per month in their spare time.
That's certainly not the only way to make extra money though. If you're interested in learning the best side hustles of the year, you can head over to this post and find several different ways to make extra money and get rid of your student loans faster.
4. Consider refinancing
Let's be clear: refinancing is not for everyone, especially if you have federal student loans and feel like you're going to rely on an income-based repayment plan or student loan forgiveness. But if you are someone with a steady income, above average loan balance, and have loans with a high-interest rate (6% or above) – student loan refinancing could be a great option for you.
When you refinance your loans, you're essentially paying off your old loans with a brand new loan at a lower interest rate. That will save you money, especially if you continue to attack your debt with some of the other strategies mentioned in this article.
I'm a big fan of checking multiple rates all at the same time and comparing, which is why I recommend Credible. All you have to do is fill out a simple survey that won't affect your credit score, and within a few minutes, you'll be able to see multiple rates and refinancing options from several lenders.
If you find something that works for you, great! If not, at least you know that you aren't leaving money on the table.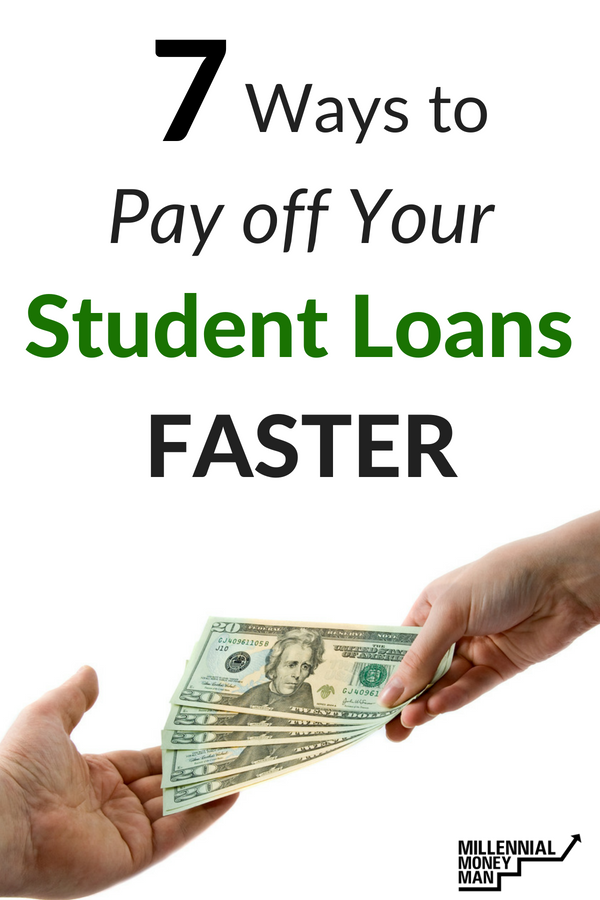 5. Get a real budget
With all of the tools out there to track your money right now, there really isn't a reason to not use a budget to track your spending. If you're like me, you probably won't like using pen and paper (although there's nothing wrong with that if you're old school).
Right now, I use Mint to track all of my expenses, and Personal Capital to track all of my investing. They are both great tools that are 100% free, which is nice.
However, if you're someone that likes to use excel budgets, you can check out this post to find multiple excel budget templates that are currently being used by readers of this site. They're totally free to download, and they work like a charm.
The better you track your money, the more you'll find to throw at your student loans. Get after it.
6. Pay off higher interest loans first
Look, some people like to use the Debt Snowball approach and pay off their smallest student loan balance first and work up to the largest one. There's nothing wrong with that if the quick wins of paying off debt faster are what it takes to keep you motivated!
However, it's not the fastest approach. I recommend using the Debt Avalanche approach. All you need to do is sort your various student loans by highest to the lowest interest rate. After that, you start making extra payments towards the loan with the highest rate and work down from there.
You won't feel quick wins, but you'll keep more money in your pocket by paying less in interest over the course of your repayment.
7. Make bi-weekly payments
Making payments every two weeks might sound like a pain, but it has a pretty sweet payoff.
If you make bi-weekly payments for the entire year, you'll actually end up making an extra payment without even realizing it. Any time you can add a payment and not really "feel" it is a great win against your student loans.
Wondering how it works? Check it out:
There are 52 weeks in a year. When you make a payment every other week, it comes out to 26 payments for the entire year, which gives you 13 full payments instead of the 12 you would normally pay. Pretty cool, right?
There are a few things you'll want to make sure you do:
Make both of the payments before your bill is due
Be sure that the lender applies the extra payment correctly
If both of your payments don't make it in before the next bill comes, you'll end up making a payment that's smaller than what you actually owe. The easiest way to get started is to wait until your next bill comes, and then start the bi-weekly payments immediately afterward.
When it comes to making sure that the payment is applied correctly – it's just a precaution. You can't ever really trust the student loan servicer to do what's in your best interest. Sad but true.
Remember: You need to have the patience of Zeus
Anyone who has paid off student loans early will tell you that it's not easy. In fact, I hate it when I see posts about "Easy Ways to Pay Off Student Loan Debt"!
Paying off student loans takes tons of patience, and I very specifically remember feeling like I wasn't getting anywhere even though I was throwing almost everything I possibly could from my teaching salary at the loans.
You have to play the long game. That's it. So many people don't ever get out from under their student loans because they aren't prepared for how hard it's going to be.
It's going to be frustrating. It's going to suck for a long time. But life on the other side is incredible and totally worth all of the hard work.