Over the weekend, one of my readers sent me an opinion article written by Lee Siegel that was featured on NYTimes.com entitled: "Why I Defaulted on My Student Loans". I had ironically already planned a post called "Student Loan Repayment" for this week, but after reading the article I felt that I needed to respond. The author tells a story of taking out student loans at a young age, and when confronted with the reality that the loans would hinder his lifestyle, he chose to purposely default in an attempt to "choose life". He called for others to take his lead and join him, which is unbelievable. You can check out the article here. P.S. – I hate almost everything about it.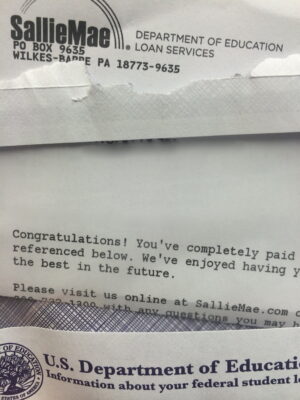 I REMEMBER the day that I finally opened the white envelope from Sallie Mae. I had recently graduated college with my music education degree, and had moved back in with my parents while I interviewed for teaching jobs. What was supposed to be a fun and fulfilling time in my life immediately became clouded with fear, doubt, and stress. I had almost $40,000 in student loans, and I was broke. If you have student loan debt, you know the feeling of opening that envelope or seeing your total account balance for the first time. It's terrifying. It feels like a punishment for your hard work. I felt hopeless just like the thousands of people with student loans in this country.
Student loans (especially the federal kind) are one of the nastiest forms of debt that you can have. You can't declare bankruptcy to avoid them. You can't hide or run from them. The author of the NYT article in question also forgot to mention: Defaulting doesn't actually work either. You will end up paying some amount for your loans unless they are forgiven or you die, and dying only works for the federal loans.
As a person that managed to pay off my student loans at a young age, I obviously have a lot of problems with this article and the author's flawed stance on debt-repayment. He mentions that he would have had to take a job he didn't want to pay back the money.
We all have to freaking do things that we don't like sometimes, it's called life. I didn't want to live like I was only making part-time job money when I really worked 60-70 hours a week. I didn't want to watch my friends pass me up in almost every aspect.
They bought cars, houses, and started families. I didn't do any of that because I had borrowed money and I promised to pay it back with my signature. Do you think I liked sending off most of my paycheck to Sallie Mae every two weeks?
Of course not.
Lee Siegel stated that he is "Indifferent to the claim that paying off debt is the road to character". How would he know if the claim is true or not? Paying off debt IS empowering. It DOES build character. It was one of the best decisions I've ever made, and the one that I'm most proud of. I put it above most of my accomplishments in life, and it will stay there for a while.
He claimed that he defaulted on his loans because he "chose life".
Life can't be measured by a debt number, but it can be quantified by your integrity. 
Purposefully defaulting on your loans is one thing, but encouraging others to do the same is reckless and irresponsible (I won't even really touch on Siegel telling people to get a multiple credit cards before they default and marry someone for their good credit…that's a whole different story). There is a lot of misinformation about student loans out there, and painting default as great option in an attempt to get website traffic is disgusting.
There isn't an easy way out of student loan debt, and there won't be one for the foreseeable future. The way out is working hard, living below your means, and practicing financial discipline. That way works – and I can prove it with my loan payoff letter.
Mr. Siegel's flowery language hides a lot about his message of entitlement, but it doesn't hide this ugly fact:
If you default on your student loans purposely, you are pressing the self destruct button on your personal finances.
As Siegel tries to make the argument for choosing life and defaulting on your loans, you need to look past that nonsense. You need to understand what the government has the ability to do when your loans are in default. It goes far beyond hurting your credit score.
In their eyes, purposely defaulting is the equivalent of stealing, and the federal government is the LAST entity that you want to steal from. If you have learned anything from your life in America you should know that getting your money is one of the ONLY things the government does effectively.
Here is what the New York Times article didn't mention about bravely defaulting in protest:
– Your tax refunds are taken and applied towards the loan balance.
– Your wages can be garnished at a rate of 15% and applied to the loans.
– You lose all eligibility to participate in loan forgiveness plans.
– Your credit is massacred.
– You will pay higher interest for years on anything that requires credit.
– You can be sued at any time by the federal government or private lenders. Seriously.
The one thing that Siegel gets right is that colleges should be held accountable for rising tuition costs. There needs to be more action taken on the student loan crisis by our leaders. We need to have more positive and constructive discussion about our broken college system. There is a reason that the article has almost 700 comments currently, and it's growing quickly. People that have student loan debt are desperate, but they need REAL solutions instead of dangerous strategies.
Unfortunately, what he fails to see that WE as a society need to be held accountable as well. We need to live cheaper, finance less, and stop claiming that we deserve everything in life. I personally could have lived on less in college, and I was too short-sighted to see it. The result is that I paid the price…but the key is that I actually paid it.
If you took the time to read the original article, please don't come away feeling like default is a cure-all for your student loans. The real cure-all is living as cheap as you possibly can while making the biggest payments that you can afford to. I did it, and can say that I chose an even better life: the debt-free kind. 
Oh, and Mr. Siegel – stop acting entitled. That's MY generation's thing.
 Live differently, your bank accounts will thank me later.
Please subscribe in the top right corner, and don't forget to like my Facebook page or follow @GenYMoneyman on Twitter or Instagram!