Hey Everyone! Today I have an amazing guest post from Pete at Do You Even Blog. Pete is an incredibly talented blogger and podcaster, and like me, left a more traditional job to venture out into the online working world. I'm a big believer in the idea that a ton of Millennials have the ability to work on their own via the internet and leave traditional jobs behind. Enjoy! ~M$M
In 2009, I received a useless college degree.
Three years later, I graduated again with another useless college degree.
You might be thinking "oh he majored in 12th-century art history!" (sorry art historians), but you'd be wrong.
The truth is…
I have advanced degrees in accounting, along with an active CPA license and several years of impressive corporate experience…and I'm not using ANY of that in my current work.
The owner of this blog, Bobby, also has college degrees that he hasn't directly used in a few years now.
Bobby and I are close friends with a number of other bloggers…most of which have college degrees and impressive experience…that they TOO are not using.
We blog, freelance, and seek out contract work, and it's absolutely vital that YOU start to learn these skills too. Your life depends on it.
Before I dig into some actionable ways to better prepare you for the workforce of 2020 and beyond, it's worth pointing out the impending danger and why it matters.
Here's why anybody (especially millennials) should be concerned about their traditional jobs:
Let's get one thing clear…
This article is NOT about artificial intelligence taking over our jobs.
Unless you're in corporate finance or long-haul trucking. If that's you, print this article out and tape it to your fridge.
For the rest of us…
The nature of work in the U.S. is changing, and changing fast. As a millennial, you've probably seen all the articles coming out:
how impatient we are
how often we change jobs
how entitled we are
how we seek meaning in our work
etc
You've heard this, yes? Well as a millennial myself, I think this is…….absolutely true. The articles are popular because they're true, like it or not.
Corporate work, or what we'll call the "industrial era," is going out of fashion.
In an age where updating a resume, chatting with a recruiter, going on an interview, AND getting a job offer…when that can literally happen in the span of a few days, it should be obvious that something has changed.
A few days ago my blogger friend Steve got featured on CNBC. The headline?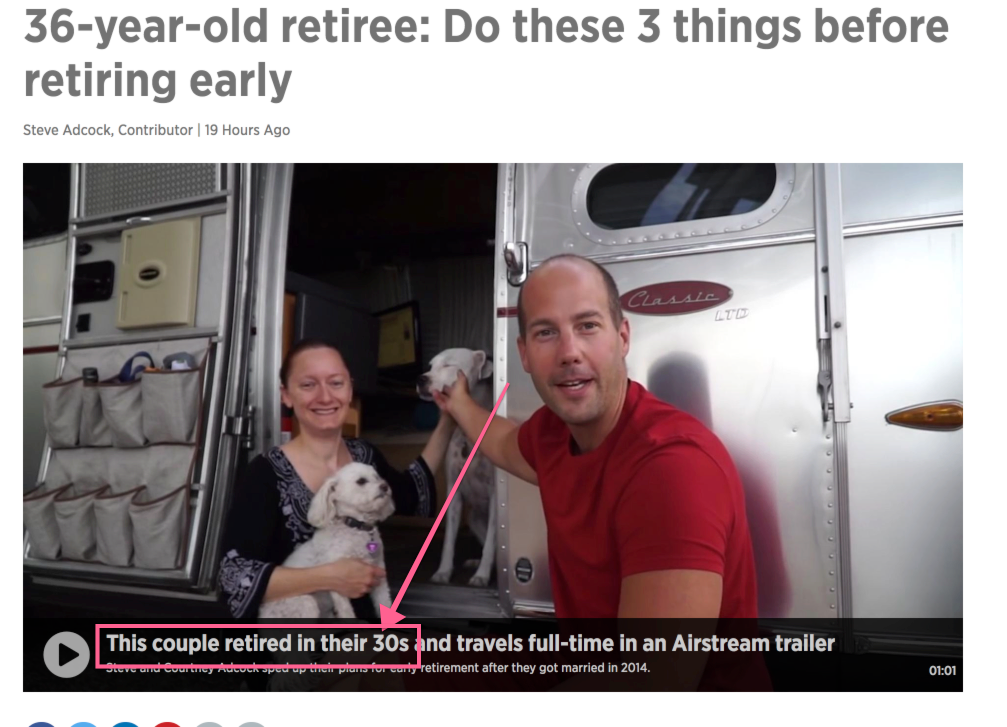 36 and retired.
In an age where Grant Sabatier and Bobby Hoyt can make $300k+ from their blogs, work from coffee shops in scrubby clothes, AND get asked to be on national talk shows…
In an age where small startups are taking more market share from companies that have existed since the 1800's…
In an age where China, Brazil, and India have the same technological capabilities as the U.S. and continue to outwork us 24 hours a day…
Bright, young, and passionate millennials (THAT'D BE YOU) need to start preparing for the coming work apocalypse.
The bad news is…
If YOU aren't able to step up with the necessary skills and leadership, somebody else will, and there's a great chance you'll be stuck looking for mind-numbing jobs till you're 75.
The good news is…
The new education you need is accessible right this second, and in hearty supply.
So HOW can we better prepare for the future?
Remember when I mentioned my 2009 college degree and how useless it was?
That was actually a lie.
No, I'm not using my B.A. Sociology degree for a sociology job, and yes, there was a period of about seven years when I sincerely regretted getting a sociology degree.
It turned out to be a wise decision after all, but not for the degree. The actual education turned out to be highly useful for everything I'm doing NOW.
There are few people who actively take the time to analyze (in great detail) how the world around them actually works, specifically with regards to people. Customers, bosses, employees, VAs, readers, influencers.
My "useless" sociology degree taught me a great deal about how to analyze and utilize these types of key relationships. That said, YOU should go back to college for sociology.
Just kidding.
The point is this: there are a number of soft skills, leadership skills, thinking skills, and advanced technical skills that can provide you powerful leverage in your career, whether that be in corporate America (but making a difference), freelancing or contract work, or just blogging full-time.
Here are some of those skills:
Communication skills
This can be a fuzzy term, so let's break down the specifics of what it means to be a great communicator: the ability to clearly articulate an idea with the intention to make change.
This could be…
Learning how to tell stories (that inspire action)
Learning the art of persuasion.
Mastering the 10-second email that ALWAYS gets a response
Mastering the art of getting noticed and standing out.
We focus on these a LOT in Blogger U
Again, these skills are not those taught in a communications degree…they are acquired through experience. So unless your day job routinely gives you this experience, you're missing out.
(Just an FYI, some traditional careers DO give excellent skills that transfer into many aspects of life. It's why so many top-tier entrepreneurs have backgrounds in either sales or development)
Marketing (specifically digital marketing)
Not advertising or mass marketing.
When's the last time you bought Doritos because of a commercial? Or picked up the phone after a newspaper ad? (Lol)
As we become more and more immune to traditional advertising and mass marketing, the ability to reach people and connect in a NEW way is a highly sought-after skill…called marketing.
Brainstorming key collaborations that will result in win/win situations for both parties.
Engineering a viral giveaway that increases customer loyalty AND generates new leads.
Building a quirky, unique, and niche brand that makes people talk.
(Are you starting to see why I'd prefer you venture into blogging or online business? It's an odd hobby/career path that forces you into learning new skills. That's pretty much my entire Blogger U sales pitch 🙂 )
Learn how to sell anything.
We're not talking about making money or scamming people with used cars.
We're talking about solving other people's problems and overcoming the fear of rejection.
Sociology is amazing for this.
The ability to practice empathy and put yourself in the shoes of another human being is so powerful in the world of business (and life). Understanding the needs, wants, desires, and behaviors of other people actually makes it quite easy to effectively and sincerely solve their problems.
And when you solve people's problems, sales ensue.
You don't need to be a salesperson either, this applies to all careers everywhere.
Selling upper management on a key initiative (see "communication skills" above)*
Sell website traffic on your content upgrade in exchange for their email address.
Selling companies on your ability to deliver a certain freelance project.
Selling your wife and letting you drop out of accounting to blog full-time.
Then there's rejection.
Specifically, the FEAR of rejection. There is only one way to learn how to deal with rejection, and that's to get rejected. Over and over and over again. Facing disappointment for dismal results, getting ignored, and getting flat-out denied eventually build-up a superpower called confidence and resilience.
You probably already understand how useful those traits are, no matter what you choose to do for a living.
All tech skills not generally understood by older generations.
Let's be frank, working on computers is what we as millennials do.
We grew up playing Sega Genesis and exploring those colorful iMacs.
The ability to learn new software quickly is a fantastic skill to have for ANY new workforce in the future, and likely a skill you already have.
The value is open to you now though.
Facebook Ads or SEO
HTML/CSS (or other languages too)
Social Media automation tools
The list doesn't matter actually…
It's the somewhat unique (if you think about it) ability to pick up on new pieces of software and tools, especially when it comes to the web…that really allows millennials to retire at 36 like my friend Steve.
There's also no quicker way to QUIT a full-time job than learning skills like this. Learn valuable freelancing skills, as well as learning how to pitch clients (see "communication" and "sales" skills above), is the single quickest path to "self-employed digital nomad millennial women."
My favorite superhero.
One last skill to master…
Passion.
*yawns
Yes, it's an incredibly cliche way to end this post, but hear me out:
We can't out-manufacture China. We can't process routine work like India can. We can innovate and lead.
We can and we must going forward.
I'm NOT saying you should expect massive layoffs for American millennials in a few short years, but I AM saying the contract economy and small-town entrepreneurship model is already allowing people to better shape their own lives to their exact desires.
And nothing is helping us do that more than passion.
Passion for a specific topic (blogging)
A specific frustration (launching an internet provider startup [PLEASE somebody do this. I'll invest])
Passion for your actual job (allowing you to lead)
On a personal note…
14 months ago I left my corporate accounting job to pursue startup and blogging life full-time.
I don't have all the answers, and it's definitely not an easy comfortable life right now. But I've also managed to make a living doing what I sincerely love (teaching other people how to blog for a living. How meta of me!), and not a day goes by when I don't get some sort of kind email or mention from somebody whose life I have touched in a tiny way.
Now that other people in my hometown know what I do, I also get phone calls from businesses needing my services…services I would NOT have learned had I not started and failed with so many blogs and online businesses.
The time for you is now, too.
Don't quit your job. Don't stop hanging out with your family to go back to college…
Start focusing on learning new and transferable skills, and start today.
Your future might just depend on it.
Pete is a full-time content creator, and interviews world-class bloggers at Do You Even Blog. He is launching Blogger U this week, a MEGA-comprehensive blogging education program helping people grow amazing blogs and learn amazing skills for the future.
Please leave a comment below: What's ONE skill you want to master in 2018?