"I'm not a businessman, I'm a business, man. Let me handle my business." – Jay Z
If you love Jay like I do, you know that's not quite everything he says, but this is a family show (kinda).
Alright, lets get started! It's been a few weeks since I've done a M$M update, so I figured I'd let everyone in on my new weird life once again. The first few weeks that I was working for myself, I didn't really relate to the above quote at all. I actually had to try NOT to get everything done on Monday so I would have a reason to slide back into the office for the rest of the week (tough life, I know).
It's only been about 2 months since the first M$M update, and I can actually say that I'm busy every day of the week. I sorta hinted at it in the last update, but I started an SEO/Content Marketing company that has been keeping me in front of the computer a lot lately.
Nobody ever knows what "SEO" means, so let me explain.
Basically, I get companies to rank higher in Google SERP (search engine results page) rankings. When a business ranks higher in Google, it means more clicks by the homies, which in turn exposes the company to more potential sales. Before you finish that egregious yawn – I actually really like doing this kind of work. It's like a continual puzzle, mostly because Google doesn't actually tell anyone the specifics of their search algorithms. Also, I like business, money, and all other things that are involved with business and money.
I'm sure nobody actually cares about this, but it's another thing that I've added to the list of things that I'm doing since leaving band directing…so there.
I've also been busy with M$M. Here are freaking cool things that I've done lately:
International Business Times interview/article
If you are a blogger and want to start getting noticed by quality news sources – up your Twitter game, yo. Every interview or interesting thing that I've done lately has been set up through social media.
I had an awesome reporter give me a call and talk to me about investing for Millennials. This was right around the time that the stock market got all weird, and she wanted to know what I thought about it. So…I told her. Click on the picture below to check it out (I'm later on in the article):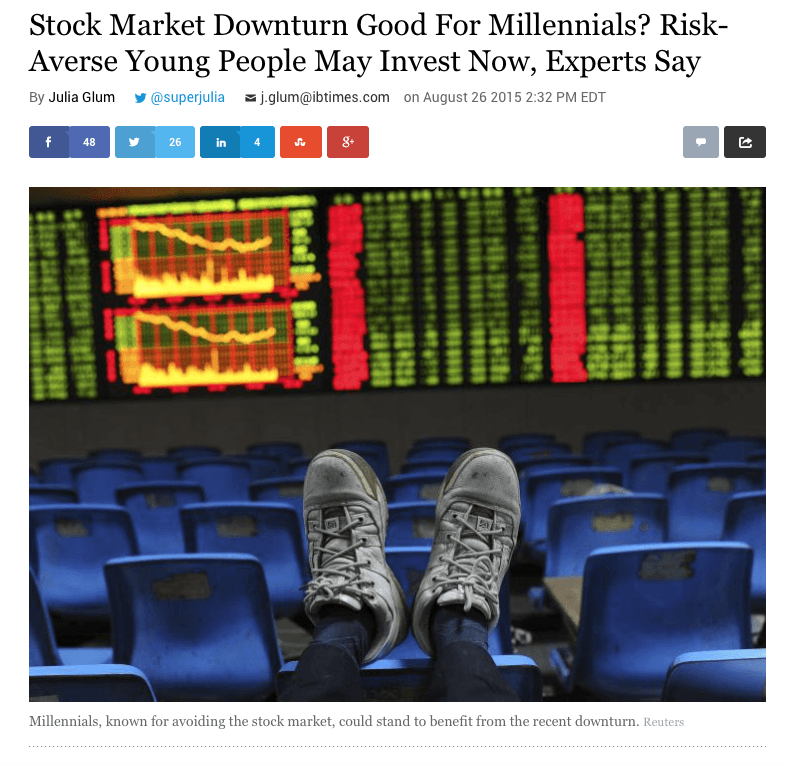 MarketWatch interview/article
Same thing here – Twitter came through big time! This article was about student loan debt and how Millennials should approach it. The author wanted to know if it was smart to pay it off sooner rather than later, and what the financial implications could be. I'm a big fan of attacking the debt, but I will say that you should have a good emergency fund first. <—– About this, I'm not the first personal finance person to state this, and for good reason: it's easy, smart advice. Just do it and trust us. 🙂 You can find the article through the picture below!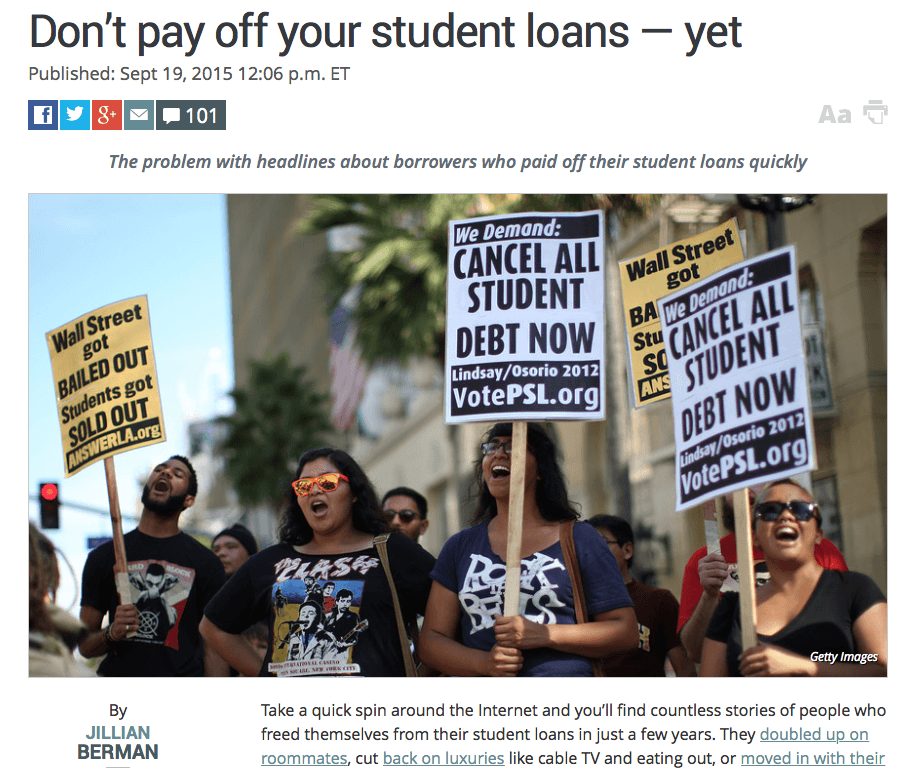 My first podcast with Marilyn O'Malley (@coachmarilyn)
THIS was fun. I had never done a podcast before in my life, so I was really surprised that I could speak with marginal intelligence for more than 10 minutes. I'm sure my former band students would also agree that this is shocking. 
Marilyn is really nice, and has this cool, mega-relaxed vibe that made it easier to talk to her for 40+ minutes.
I think I actually had good answers for stuff.
I discovered that I say "um" too much. Anyone ever listened to a recording of themselves talking? Start listening to how much you or other people say "um" or "uh" in a conversation, and you will be living in the ultra-annoying mind prison that I exposed myself to this week.
We talked about student loans (or course), creating the life you want instead of letting life happen to you, and why you should never be ashamed of your student loans. Check out the podcast here: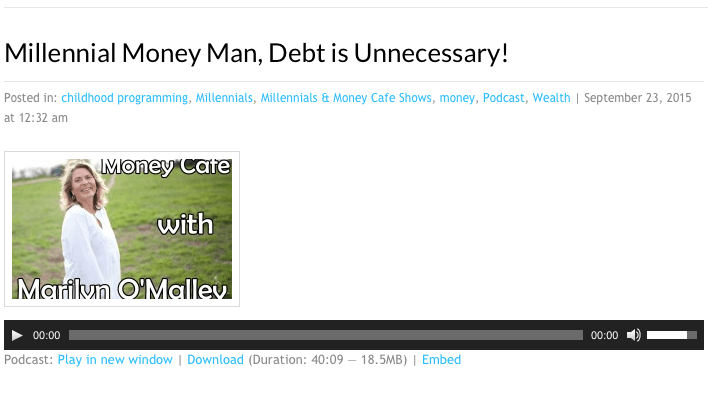 Welp, that's it. I've done 3 interesting things, and then a lot of "boring" business stuff. That's the life of a blogger/SEO firm owner/washed up wakeboarder/former band director…I hope you're happy now.
Also – if you ever get bored and want to ask me a question, just click on one of the social media links under the thing that I copy and paste into every post (look, I don't know what to call it alright?) and quiz me. It always makes my day when someone reaches out and says "I've been reading your blog for a while now, etc. etc. etc.".
It also makes you seem a lot more human than "unique viewer #15,390" does.
Live differently, your bank accounts will thank me later. -M$M