What's up homies? I hope everything is going well for you in all of your financial efforts and in life. It's been a crazy couple of weeks since I announced that I was leaving my band director job to start a financial education company (That post easily had more views than anything I've written before. Maybe a lot of people want to quit their jobs and work for themselves too? Who knows…).
🙂
Since that announcement, I've had a lot of people reach out on Twitter and Facebook that wanted me to keep them in the loop about my company's progress and future endeavors. So…I figured I'd start a new, less-formal series of posts to update everyone in addition to my usual student loan destroying/financial stuff. It might be weekly, maybe bi-weekly? I guess it really depends on how much new stuff is going on in the company. Hopefully it's a lot, but I'm also very aware that starting a new business takes time and a lot of patience in the beginning.
Here's what I've got going on right now:
I've been fortunate to have several companies reach out for affiliate partnerships in the past month. Going into this project I decided that I would be really picky about who I want to work with, and will only move forward with companies that I feel can provide relevant, helpful services and/or insight for my readers. My man J. Money put it pretty simply for me: "Only work with legit companies that you love. It's always about the audience first".
Enough said.
You'll see some of those partnerships roll out in the next few weeks, but for now everything is on pause until mid June. My life has lately been filled with wrapping things up at my old job, getting things set up for the future there so the kids can have a good year next year, etc. I'll touch on that a little later in the post.
I've also been getting ready for my honeymoon next week. We will be hanging out for 7 days at the Sandals resort in Emerald Bay, Bahamas…and I don't think I've been more excited about anything in my life…except the wedding "of course". (My wife reads this stuff). I planned the honeymoon, so this trip is like my child. Here's a picture of the resort: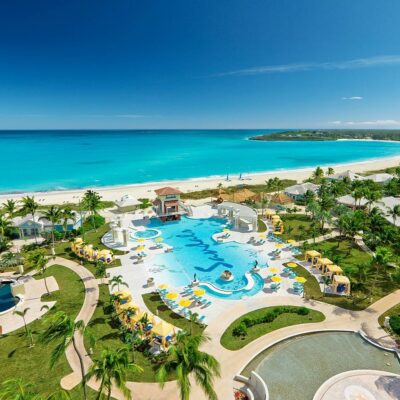 My goodness.
As soon as I get back, it will be Millennial Money Man full-time from that point forward. I'll be moving into an office and getting everything set up to hit the ground running! I have a ton of projects rolling around in the back of my mind that I can't wait to get started on. Here are just a few:
– Start a podcast.
– Begin writing the first of hopefully several books about paying off student loans.
– Continue to build my social media presence.
– Overhaul MillennialMoneyMan.com with a ton of resources to help young people get out of debt and start building wealth.
– Write curriculum for financial education seminars.
The seminars have an interesting back story:
When you resign from a school, you have to have an exit-interview with the head principle of the campus to discuss why you are leaving and wrap up any loose ends that might come up. The principal at my school is really freaking cool (the kids love him) and was really supportive of my decision to leave and help educate people about student loans and finances in general.
I told him that I'd like to do financial seminars for high school students, and near the end of the meeting I very nervously pitched the idea of coming back to the school and doing a seminar there next year. He actually said yes! Honestly, I was floored. It's not often you resign and get an opportunity in the same meeting.
It definitely speaks to the kind of great people that are in education.
I'll finish up the first update with this:
Last week the percussion kids (I was a band director that taught drumming) had their last concert of the year. It was really fun, the kids played great, and overall it was a very special last memory with the band program.
At the end of the concert, one of my students handed me an envelope with thank you letters from a bunch of the kids, which I was totally not expecting. The letters were unbelievable. As a teacher it's easy to forget the impact that you are having on a student's life, AND the impact that they have on yours.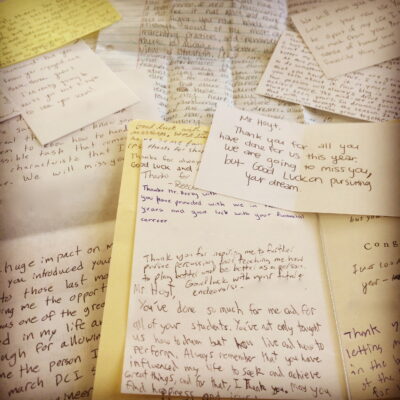 Literally incredible.
Then, we took a killer selfie.
 Live differently, your bank accounts will thank me later.
Please subscribe in the top right corner, and don't forget to like my Facebook page or follow @GenYMoneyman on Twitter or Instagram!