Are you looking for a less expensive alternative to health insurance? This Medi-Share review is going to explain the ins and outs of one of the most popular healthcare sharing ministries on the market.
Health insurance is a really hot topic these days, especially as many families pay monthly premiums that are nearly as expensive as their mortgage payments. How are you supposed to pay off your debt and save for retirement when your health insurance premium keeps going up?
Well… a healthcare sharing ministry like Medi-Share is one idea.
But before I go any further in this Medi-Share review, let me be very clear about something. This is not a political site. Period. Please keep your views and opinions to yourself and out of the comments, thanks.
Now that we've gotten that out of the way, I got really excited to do this Medi-Share review after my assistant and her family joined Medi-Share. Her experience has been overwhelmingly positive. My wife and I belong to Liberty HealthShare, which is another health share group, and we've also been really happy.
But, healthcare sharing ministries aren't for everyone. And the first thing you need to know is that Medi-Share is not health insurance.
You're going to hear me say that over and over again in this Medi-Share review, because it's incredibly important of how Medi-Share and other healthcare sharing ministries work.
Let's go ahead and dig in, so you can learn how Medi-Share can help you save money on healthcare.
Medi-Share Review 2022
What is Medi-Share?
Medi-Share is a healthcare sharing ministry founded in 1993 and runs through the non-profit organization Christian Care Ministry, Inc. Medi-Share is a faith-based, non-profit organization where members share in each other's healthcare costs.
Every month you pay a monthly share (similar to the premium you would pay with health insurance, but typically much less expensive). That money is shared with other members to pay some of their healthcare expenses. And when you have an expense, your costs are shared the same way.
Because Medi-Share is a faith-based organization, they place some restrictions and expectations on their members. They can do this because Medi-Share isn't insurance. These guidelines are about maintaining good health and similar religious beliefs with other members, but I'll explain more further down in my Medi-Share review.
Read more at Is a Healthcare Sharing Ministry Right for You?
How Medi-Share works
Every month you pay your monthly share amount. Your monthly share amount is determined by the size of your family and annual household portion (AHP), which is like a health insurance annual deductible. The higher your AHP, the less you pay monthly.
Your AHP is the total out-of-pocket costs you'll pay before Medi-Share will share your expenses.
Your monthly share amount is put into a pool of money that is used to pay for other member's expenses.
Medi-Share is a little different than other health sharing ministries because they have a Preferred Provider Organization (PPO) PHCS. You are strongly encouraged to use in-network providers, and you may pay a penalty if you don't use a PHCS provider.
M$M tip: Learn about the healthcare sharing ministry my wife and I use at Liberty HealthShare Review 2022: A Health Insurance Alternative?
Using Medi-Share to cover your medical needs
If you need to see the doctor, the first thing you'll do is find a provider in the PHCS network. You show them your Medi-Share membership card, this card is really similar to the one in your wallet for health insurance.
You pay a provider fee — $35 for doctor or hospital visits and $135 for emergency room visits, and these apply every time and do not go towards your AHP.
After you've received your care, your doctor will send a bill to Medi-Share.
If you haven't met your AHP, you pay for your medical expenses. However, because Medi-Share isn't a health insurance company and you are considered self-pay, your medical costs are almost always less expensive than the cost billed to a health insurance company.
If you have met your AHP, your eligible bills are shared by other members at 100%. Notifications are sent to Medi-Share members when there is a need, and in addition to covering your expenses, you might also receive well wishes, prayers, etc.
One of the really cool things about healthcare sharing ministries is that they focus on creating a community. Know that you are 100% in control of what personal information is shared, but people in the Medi-Share community like reaching out and supporting each other with thank-yous, prayer requests, etc. But, if that's not your thing, you don't have to do it!
How much does Medi-Share cost?
Medi-Share is generally much less expensive than private health insurance or ACA (Affordable Care Act) plans. My assistant and her family went from paying annual health insurance premiums of around $15,000 to just $6,600 with Medi-Share.
Medi-Share has a wide variety of plans available, and you can use their Share Amount Calculator to look at what Medi-Share will cost for you and your family.
Here are a few cost comparisons
The first is for a couple: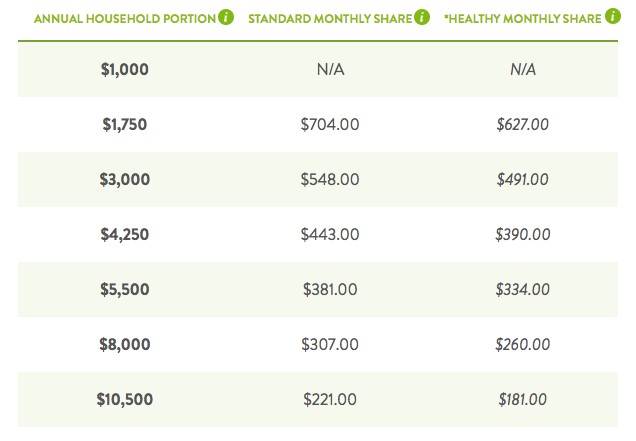 This one is for a family of four: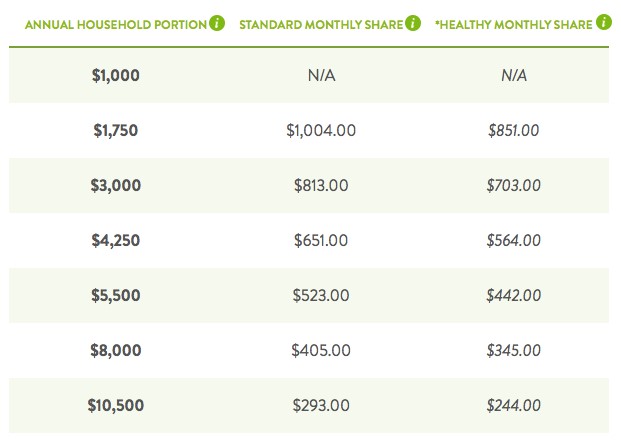 Remember, the annual household portion is the amount of money you pay out-of-pocket before your medical bills are eligible for sharing. The standard monthly share is the amount you pay monthly to Medi-Share (like an insurance premium). The healthy monthly share is a discounted price available to members in good health, and I'll explain more about it in just a minute.
In addition to those costs, here are a few more fees associated with Medi-Share:
There is a $50 application fee that is paid when you apply.
There is a $120 new member fee, which is added to your first month's share amount.
You will also pay a one-time fee of $2 to set up your sharing account.
There is a $3 fee added to your monthly share amount each month if you don't sign up for automated ACH payments.
Signing up for Medi-Share
When you sign up for Medi-Share, you'll also need to complete a Testimony and Commitment form, which is a three-page document that covers everything from religious beliefs, unacceptable behavior which can result in costs not being shared, as well as some legal issues.
You can see the full Testimony and Commitment form here, which includes:
A Statement of Faith
Questions about your denomination
An agreement to certain religious principles
Signing off that you understand that Medi-Share is not health insurance
An authorization for the release of protected health information
An agreement not to have sex outside of traditional Biblical marriage, use tobacco or illegal drugs, and abuse of legal drugs or alcohol
After you've completed the forms and have been accepted, Medi-Share opens a personal sharing account for you, and that's where your monthly sharing amount payments will be deposited.
Medi-Share features
Healthy Monthly Share
Medi-Share offers up to a 20% discount on your monthly share amount for households who meet "Health Incentive" standards, including waist measurement, weight, BMI, and blood pressure.
Health Partner Program
This is a coaching and wellness program for individuals using Medi-Share who have elevated risk factors, like obesity, high cholesterol, or diabetes. This program encourages Medi-Share members to work towards reducing their risk factors and is mandatory if you meet certain criteria.
The Health Partner Program is an additional $99/month.
Manna
Manna is a Christian Disability Sharing program that allows members to make an additional contribution that is used to help members replace up to 80% of lost income due to a disabling event.
Senior Assist
Senior Assist is for Medi-Share members that are over the age of 65 and have Medicare Parts A and B. For an additional fee of $70-$95/month, Senior Assist helps you share expenses that Medicare doesn't cover.
Medi-Share and pre-existing conditions
Medi-Share is generally going to be a better option if you don't have any pre-existing conditions, but if you do, you may have to wait up to 36 months to have related expenses shared.
Sharing amounts for pre-existing conditions that have gone 36 consecutive months without signs, symptoms, treatment, or medication are eligible for sharing up to $100,000.
Sharing amounts for pre-existing conditions that have gone 60 consecutive months without signs, symptoms, treatment, or medication are eligible for sharing up to $500,000.
Related: Term vs. Whole Life Insurance, What's Best for Millennials?
Coverage for well-visits, routine care, and preventative care
Medi-Share does not offer sharing on any of the above expenses. These are classified as out-of-pocket expenses and they don't go towards your AHP. Medi-Share believes that by offering low annual and monthly costs, you will be able to budget for routine and preventative care, which is often less expensive because you are considered self-pay.
This is only different for well-child visits from birth to age six. Those doctor's visits are eligible for sharing once you've met your AHP. However, Medi-Share does not cover vaccinations.
What about the negative Medi-Share reviews?
If you've been researching Medi-Share extensively, then you may have run across some negative Medi-Share reviews, mainly related to finding in-network providers and pre-existing conditions.
The first thing I have to say about these negative reviews is that people are always quick to say how much they dislike something. The reality is that healthcare sharing ministries aren't perfect, but neither is traditional health insurance.
As far as finding in-network providers, I recommend that you look through Medi-Share's network before you sign up. You can also call your doctors to see if they accept Medi-Share, and ask about their experience.
Medi-Share is very clear on pre-existing conditions. And like most healthcare sharing ministries, the coverage isn't great, to be virtually non-existent. One of the ways Medi-Share keeps costs low is by only accepting members that are in good health. So if you have a pre-existing condition, you're better off with traditional health insurance.
The bottom line, Medi-Share isn't health insurance… you probably knew I was going to say that. That key difference is the root of many complaints. Do yourself a favor and read all of the fine print before you join.
The final word in my Medi-Share review
Using Medi-Share for healthcare coverage isn't going to be for everyone, and that's okay. They have slightly more restrictions than Liberty HealthShare, but there are some bigger benefits to using Medi-Share, like no caps on sharing for eligible expenses.
But, I'd say that for anyone who shares the same religious beliefs of Medi-Share, this healthcare sharing ministry can be a great, low-cost alternative to health insurance.
Medi-Share and other healthcare sharing ministries are challenging the traditional insurance market, and that means lower costs for those of us using them. You'll have to get used to some differences, but Medi-Share could be just what your family needs.