"Is the Making Sense of Affiliate Marketing Course going to help me make more money with my blog?"
Out of all of the questions I've received from blog coaching students or anyone who has taken my free blogging course so far, that question is by far the most common when it comes to monetization strategies. Affiliate income is one of those "holy grails" of blogging, and it's not hard to understand why.
It is pretty awesome to get emails during the day that basically say: "Hey, just an FYI, you made money for something that sold on your site."
Affiliate income can be pretty lucrative if you do it well… why you should take this course, and more on that later. But, it's not immediately going to be a passive income source. To turn it into passive income, you have to put some work into your blog… and a little cash.
As all of you know, I'm a big fan of putting money into your business. That's the biggest reason I've been successful with blogging so far. It's hard to do that when you're starting off, but when you put your money in the right places, you'll see an ROI that tells you that you've made a good decision.
If I see a course that will help me, I take it. I pay for the better themes. I put advertising dollars into my business.
If you treat your blog like a hobby, either not investing in it at all or sinking money into it without any thought, success is always going to be just out of your reach. Your blog is a living, breathing business, so treat it that way.
That being said, Making Sense of Affiliate Marketing is an investment into the growth of your blog and business, and it's one I stand behind.
Making Sense of Affiliate Marketing costs $197 if you do a single payment, or you can choose two payments of $105. As far as online courses go, that's middle of the road and quite honestly a fair price for the amount of valuable information you get.
The blogger behind Making Sense of Affiliate Marketing Course:
Michelle Schroeder-Gardner, who is one of the best personal finance bloggers out there (and also a super nice human being), runs Making Sense of Cents, and she created the Making Sense of Affiliate Marketing Course back in 2016.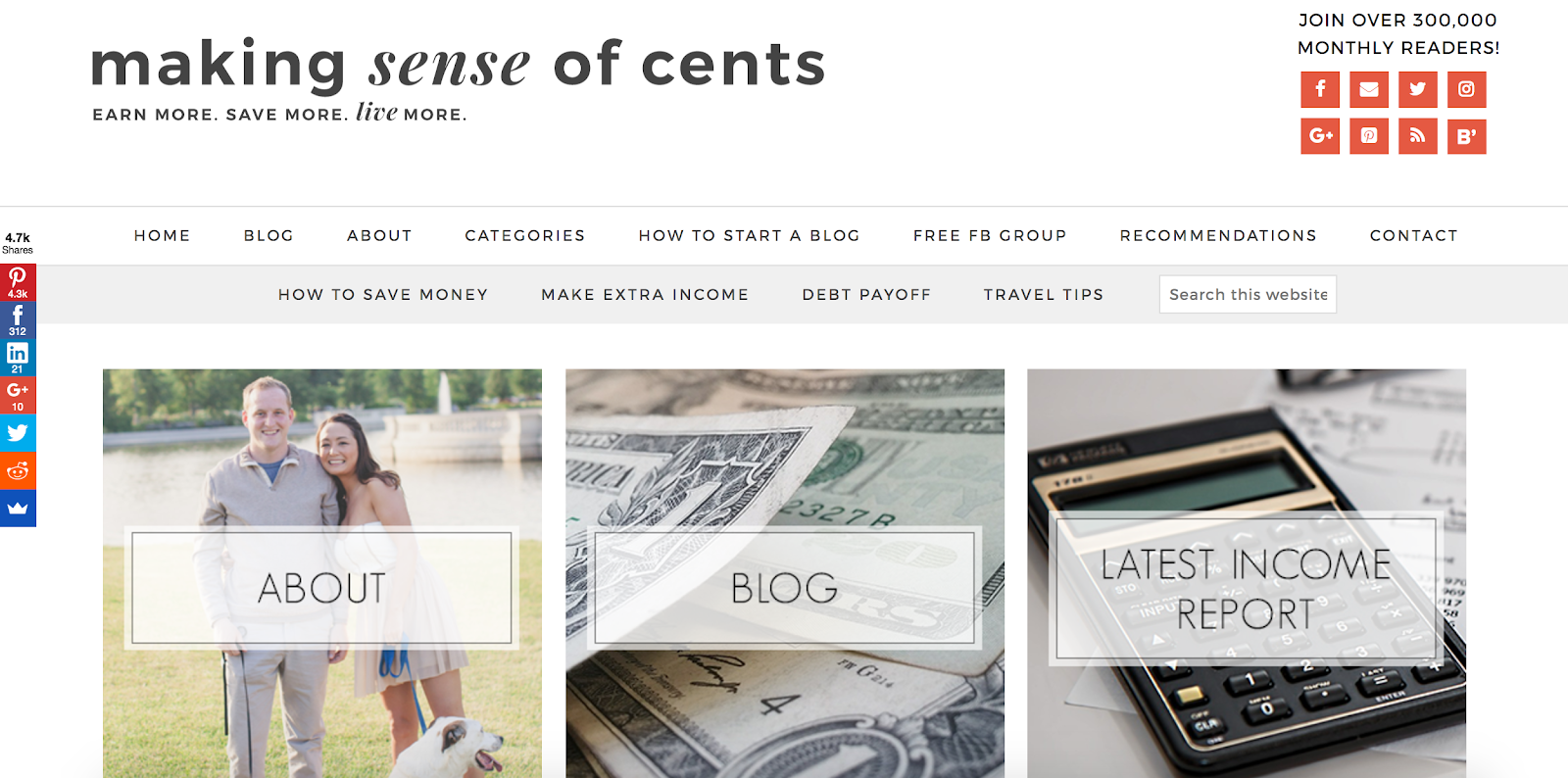 Not to get sappy, but on a personal level, Michelle is one of my favorite people. She's been incredibly helpful and cool since I made the transition to blogging full-time. I owe a lot of my success to her business and life tips, and she's also a huge inspiration.
Her blog has been crushing it these past few years. It earned over $1.5 million in 2017, and she'll be surpassing that total in 2018. I remember being a little jealous of numbers like that when I started, but when you see such a genuinely decent human being, one who is so helpful and nice, make that kind of money, you know that she deserves every success she's gotten.
One of the biggest money makers for her is affiliate marketing, which means she has a lot of experience to share with bloggers in a variety of niches, not just personal finance bloggers.
You can look at her income reports here to see how much she is making from affiliate income. She's made at least $50k every month in 2018 from affiliate marketing alone. She even had a month where she made around $187,000 in just affiliate income. Yes, you read that correctly.
You might think that someone making that type of affiliate income is trying to sell everything under the sun, even some pretty horrible products. But, she isn't, at all. I think that's why she is so good at affiliate marketing.
Michelle has found a way to promote products naturally, she isn't pushy, and she hasn't sold her soul to do so. This is exactly what she teaches in her course.
I'll detail my own experience with the course a little later in this review, but the basics are that I went from making a few hundred dollars a month in affiliate income to upwards of $4,000+ per month after taking the course.
Side note: If you've read my income reports for this year, you might notice that my affiliate income has dropped. That's because I haven't been doing as much with affiliates this year as I had in the past. Instead, I've been working on creating some courses of my own, building up Laptop Empires, and working on other income streams.
I think this shows that affiliate income isn't always going to passive. It's still work to maintain articles with affiliate links, develop new content to highlight affiliates, etc. You can read more below about my current strategy and how I'll be moving forward.
Here's what you'll learn from Making Sense of Affiliate Marketing:
Like a lot of the higher quality courses that are coming out in the blogging world nowadays, Michelle's course is created with Teachable. I liked the Teachable platform so much that I decided to use it for my courses.
The great thing about the Teachable platform is that the course creator can make several different modules, which the student can basically complete at their leisure.
The Making Sense of Affiliate Marketing Course has six modules:
Module 1: What is Affiliate Marketing?
Module 2: How to Find and Apply to Affiliate Programs
Module 3: Follow the Rules
Module 4: How to get your Readers to Convert
Module 5: Strategies to Promote Affiliate Links
Module 6: Rinse and Repeat
It's a text-based course with 30 lessons, and it's basically like reading several blog posts on each aspect of affiliate marketing. If you read Michelle's blog, you'll know that her writing style is clear and very easy to understand and implement.
I finished Making Sense of Affiliate Marketing in about a day, but I have gone back several times to re-read modules and refresh myself on things that I might have missed the first time.
By the time you are done with the course, you will have a solid understanding of how affiliate marketing works, what products will work best for your site and audience, and multiple strategies to use on your own blog.
The organization of the Making Sense of Affiliate Marketing gets a 10 out of 10 from me.
Michelle has also chosen to forgo some of the marketing strategies some bloggers, myself included, use to promote their products. There wasn't a big launch period, webinars, relaunches, or anything like that. It's a evergreen course, so always there, and it's basically promoted by word of mouth.
The fact that she has reached so many bloggers by word of mouth alone is huge, and I think that speaks to the quality of the course. If people weren't happy with it, she would be missing the type of sales she's seen from the course.


My personal results from taking the Making Sense of Affiliate Marketing course:
Like I mentioned earlier in this review, Michelle's course was huge for my business. I publish monthly income reports to document where I make all of my money online. My first one was in August of 2016 when I first took this course.
Before August, I was mainly making money from sponsorships and my digital marketing business. I had made around $400 in affiliate sales the month before I took the course.
In just ten months after taking the course, I was making nearly $5,000 in affiliate income.
Here are my income reports in the first few months after taking the course:
August 2016: $1,070.16 (This is the month that I took Michelle's course)
September 2016: $4,309.94
October 2016: $4,052.06
November 2016: $3,912.22
December 2016:$3,126.20
January 2017: $4,006.65
February 2017: $3,013.06
March 2017: $4,640.89
April 2017: $4,644.85
May 2017: $4,476.70
In just those 10 months, I made $37,252.73 in affiliate income! I can very honestly say that my success with affiliate income is directly from Michelle's course.
I probably would have made some money in affiliate income if I hadn't taken it, but nothing substantial most likely. I didn't really know what I was doing with affiliate marketing before I took the course, and I was basically just slapping links up and hoping for the best.
What's happening with my affiliate income for 2018:
Like I said, my current income reports have shown a drop in affiliate income, and that isn't because the information in the course has stopped helping me.
At the beginning of 2018, I launched my Facebook Side Hustle course, so I took a lot of posts that were generating affiliate income and optimized them to sell my course since it was a higher-ticket item.
But, it didn't make sense to do that for every post, so I left some alone.
I focused on growing my course income in 2018 while still generating some affiliate income in the background.
You can see that in my more recent income reports:
October 2018: $2,844.40 in affiliate income, $38,563.00 in course income
September 2018: $2,098.40 in affiliate income, $96.978.00 in course income
August 2018: $2,958.40 in affiliate income, $51,095.00 in course income
July 2018: $2,511.90 in affiliate income, $42,883.00 in course income
Now that the course is dialed in, I'm growing my affiliate income again. Understanding how to optimize a post for affiliate income gave me a lot of options, because I was able to use those same strategies in the affiliate course to drive people to my courses instead.
I was still learning about monetizing a blog when I took the Making Sense of Affiliate Marketing course, and now that I'm a little more experienced, I can still implement the strategies in other ways.
Make sense?
Sounds good, but will Making Sense of Affiliate Marketing actually help my blog?
You'll never see me promise that you can get the same type of results that I did– there are just too many variables. This is how I've approached anything I talk about on my blog.
But, I've been doing this professionally and I have personally coached enough bloggers who have also had their affiliate income rise as a result of this course to give it a strong recommendation.
There was a time that I would have looked at this and thought: "Wow, there's no way that could be me."
But, here I am. I started at zero readers just like everyone else. In fact, I used to really suck at blogging, haha.
A lot of people push affiliate income as "passive," but I don't believe that at all. You have to put in the work of actually implementing the lessons of the course, while at the same time growing your site in other areas. My income has seen the ebb and flow of what happens when you focus on one area over another, but like I've said, the information I've learned in this course has made my income grow overall in a couple of areas.
How hard you are willing to work to grow your affiliate income is up to you, the same with any other income source. Michelle's course is just giving you the tools you need to build that income.
One of the other cool things about the course that can help grow your blogging income is that Michelle lets anyone who has taken the Making Sense of Affiliate Marketing course become an affiliate for the course, which seems appropriate being that it is about affiliate marketing. She says this is because anyone who has taken the course will know how to do affiliate marketing well.
Do you need tons of traffic to make money through affiliate marketing?
No. Traffic definitely helps you make more money, but it's not always an apples to apples comparison when it comes to how much you can make with affiliate income.
I've seen really small blogs surpass my affiliate income, but I've also seen bigger blogs earn less. Michelle actually has a smaller readership than some of the bigger blogs out there, but she is consistently earning more in affiliate income than many of those bloggers.
It really comes down to how well you implement the course strategies, how much you engage with your readers, and how you build trust with your audience.
There is a 30 day full money back guarantee on the course too, which means Michelle is pretty confident you're going to like the course and get a good return on your investment.
Also, you have to have the patience or you won't make it as a blogger anyways. Blogging is a fairly slow business model, so building trust with your readers takes time. They have to know you aren't going to send them to some boo boo product or service.
Free bonus material you'll receive
There are pretty sweet freebies at the end of the course that you'll find really valuable for your blog. I didn't even realize they were in there when I invested in the course, so it was a nice little surprise and made me feel like I got a really good "bang" for my buck.
Making Sense of Affiliate Marketing has nine bonus pieces of content:
Access to the Facebook Mastermind group
Free group coaching sessions
How to Always Get Approved for an Affiliate Program
Pinterest Strategy – How to Drive Thousands of Visitors to Your Blog With Pinterest
9 Things You Must Do When Something Goes Viral
How to Increase Your Page Views
How to Maximize Your Reach, Your Impact, and Your Revenue With Facebook Ads
Worksheet: My Affiliate Products and Services
Worksheet: The Perfect Affiliate Link Checklist
For me, the Pinterest Strategy bonus was the most helpful. I can probably speak for most guy bloggers that Pinterest is a little intimidating (just because we don't use it as heavily), and it had some great tips on growing there. My wife is actually implementing a lot of the Pinterest strategies, and I've been seeing the value in this bonus content.
I wouldn't say that it's a full solution, but it's a great start if you aren't getting much traffic from Pinterest right now.
You'll also get access to the Making Sense of Affiliate Marketing Facebook Mastermind group, and I know this is a HUGE bonus for a lot of bloggers. I've heard a lot of people talk about how the Facebook group alone is worth the cost of the course.
The cool thing about the group is that it gives you direct access to Michelle. In that mastermind she offers something called "Ask Michelle Saturday," and you basically get to ask her anything you want to know about the course, affiliate marketing, your blog, your business, etc.
It isn't just Michelle that you get to interact with either– there are a ton of bloggers in the group talking on a really regular basis, from beginners to more seasoned ones like me. I remember feeling like I sort of walked into a room where all of the cool kids were, but the nice ones who are actually helpful and won't make fun of you.
The Facebook group offers that hivemind thing, and that can be huge as you are learning to grow your blogging income.
Final thoughts on the Making Sense of Affiliate Marketing Course
I wish I had a bunch of cons I could list because I typically like to balance out reviews a little more, but there really isn't a whole lot I didn't like about the Making Sense of Affiliate Marketing course. It worked well for me and I learned a lot.
I've also made a lot of money because of the course. Hard to complain.
The biggest thing I can think of is that it's a purely text-based course, whereas other courses I've taken that are the same quality are video and text. I learn a little bit better with the video, but if all text bothers you, then I would just digest the course in smaller sessions.
If you're looking at it from an ROI basis, my return on this $197 investment in just those first 10 months yielded an 18,810.02% return.
Yes, that looks ridiculous, and no, I don't think everyone who takes the course will see that type of performance. But let's be real– even an extra $250-$500 a month semi-passively is a huge win no matter how big or small your site is.
Michelle does a good job of cutting out the "fluff" that you see in other how-to resources, and I really appreciate that. When I set out to learn something, I just want to know what I need to do and how to do it. I already paid for the course, so I don't need someone to continue to sell it to me so I feel good about the purchase.
I highly recommend this course and think it's a good product for a fair price. It's just solid, actionable information for growing your affiliate income.
She recently released another course called Making Sense of Sponsored Posts, and I've already bought it. I'll be doing a review for that one in the next couple of months.