As you know, I'm extremely passionate about helping people destroy their student loans, and get rid of this crazy form of debt for good. Since I started Millennial Money Man, one of my main goals is to provide my readers access to trustworthy products and services that will ACTUALLY be helpful to them.
If you already know you would like to refinance your student loans and are in the research phase, my recommendation is that you check out LendEDU's services. If you want to know more about student loan refinancing, keep reading!
There are over $1.3 trillion dollars of student loan debt in America currently, and the problem is only going to continue to get worse in the coming years. The average college graduate now has around $30,000 in student loans, and many have much more than that (I had $40,000).
One of the first companies that contacted me to discuss the growing student loan crisis was LendEdu, and they had my attention from the beginning.  The company was created by Nate Matherson and Matt Lenhard, who are two young people with student loans that felt as strongly about the growing student loan problem as I do.
They founded a lending marketplace company to make a difference.
The key to LendEdu's business model is making private student loan companies compete for YOUR business. This competition allows the borrower receive much better rates on their loans, which are often times much lower than you can receive through federal student loans or giant lenders like SallieMae/Navient. Also, their process is simple and easy.
LendEdu is 100% 
free

to use.

The entire process only takes a few minutes. You can get started here or take a look at the process below: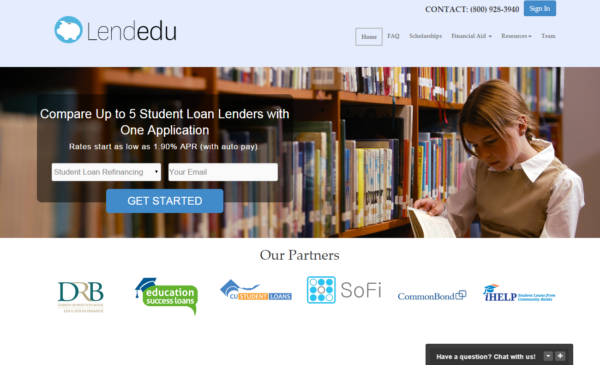 You start by choosing the type of loan that you are shopping for, and enter your email to get started. You can chose either student loan refinancing or new student loans.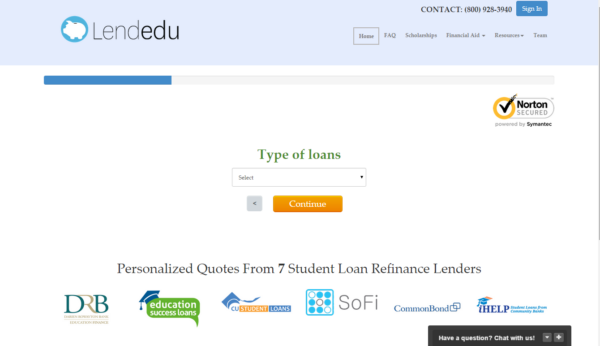 As you go through their simple application tool, the progress bar at the top will let you know how close you are to being finished (it won't take long). Also – don't worry. All of your personal information is protected and secure throughout the entire process.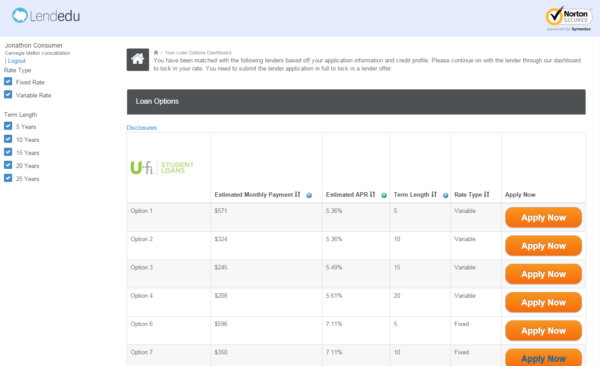 LendEdu finishes up by giving you several different offers to review, and you can instantly see your estimated monthly payment, interest rate, term length, and type of loan. From there, you click one of the buttons on the right to lock in your rate and start putting your student loans behind you!
What I like most about this process is that readers don't have to buy anything. Many of my readers use this as a tool to figure out if they should even consider refinancing their student loans or not. It's nice to have several different rates to compare with your current interest rate.
Using LendEdu will not hurt your credit score. LendEdu utilizes what is called a "soft pull" on your credit, which won't affect your FICO score at all (versus a "hard pull" when applying for a loan or credit card).
One last time, you can apply with LendEdu here or the picture below and see what they can do to help you beat your student loans today. It only takes 3 minutes to see if you can get a better deal.