Leesa provided a free mattress, pillows, and blanket for me to review. All opinions are my own.
If you've gone through the process of moving from a small apartment into a new house, you know it often means that some of that old apartment furniture doesn't quite cut it anymore. After my wife and I moved into the home we built, one of the first things we wanted to do was replace the mattress that we had been sleeping on since college.
We honestly should have replaced it years ago, but our apartment's master bedroom couldn't handle a king-sized bed, so we just kept sleeping on a way too worn out pillow top spring mattress.
My back and neck have always had a lot of pain because I was in drumline throughout high school and college. The drums aren't super heavy, but it is pretty common for people in that activity to have some lower back and neck issues. I always felt like our old mattress (which was less than $800 and I'm sure we even overpaid for it at the time) didn't make that situation much better.
I did a little survey of the private M$M Facebook group to find out what type of mattress everyone was using, and what they recommended that I buy.
I knew that a lot of people were doing the "mattress in a box" thing, but I honestly didn't know how popular they were. A lot of my readers in the group swore by them and recommended a few different brands to take a look at.
Here were my initial concerns about a mattress in a box:
I sleep ultra hot, and it doesn't help that we like to keep our air around 76 degrees in the house. All of the mattresses that are sold in this direct to consumer model are typically some type of foam. Foam in my mind equaled a hot, sweaty disaster.
I didn't want to spend a ton of money on a mattress since we are already buying a ton of other furniture for our new home.
A lot of the reviews that I received from readers on various mattress companies were that they were either too firm or way too soft. There didn't seem to be much of a middle ground, and I really needed something that would support my neck and back (to hopefully help with my pain in those areas) while not being hard as a rock for my wife.
I took those concerns and the recommendations from my readers and headed over to Google to do some research.
After reading through tons of reviews and watching video review after video review, I decided to reach out to Leesa and see if they would want to send a Leesa mattress to review. They agreed and shipped over a king-sized mattress, two of their pillows, and the "Leesa blanket" (which was exclusively for my wife because I don't really do blankets).
Leesa mattress review
Ordering the Leesa mattress
This part of the process was just like buying anything else online. For the purposes of this review, Leesa gave me a few different codes to use during the checkout process that made the mattress free.
I've got to say – all of these direct to consumer mattress companies are on to something huge here. Personally, I hate dealing with salespeople (no offense if you're in sales). There's just so much weird pressure there, and obviously, the internet takes away all of that pressure to buy something.
It's also just much cheaper than what you think a high-quality mattress would cost. The Leesa original mattress ranges from $599 for a twin, to $999 for a California king-sized mattress. They also offer a Leesa Hybrid mattress and a Leesa Legend mattress, with differing price points.
I also received two pillows in this review, which cost $79 each, and the Leesa blanket which costs $149.
The only "disadvantage" that I could see with ordering a mattress online is that you can't lay on it before you buy, but Leesa gives you 100 days to test the mattress out and send it back if you don't like it.
Within a couple of days, all of the boxes showed up at our door. The Leesa mattress itself was a little heavy, so I'd recommend either dragging it without trying to lift it or getting a second person to help you move it into your bedroom.
The Unboxing
We've all seen the cool unboxing videos out there, and honestly, it's 100% as much fun as it looks. I'm not quite sure that I followed the directions as closely as they were shown on the mattress box, but it was still pretty easy.
The surprising part was that I thought it would take several hours to expand to the normal size, but it seemed like it was only a few minutes before it looked like a legit mattress.
Leesa does tell you that it takes about a day for it to reach its full expansion size, but I honestly couldn't tell a difference after the first 5-10 minutes.
We opened the mattress at night and went to sleep on it roughly an hour afterward.
The Leesa design and mattress cover
One of the big talking points that I saw on all of the mattress review sites was the Leesa mattresses' cover and design. The cover fabric is supposed to look good, as well as allow air to flow through the top layer of the mattress and keep you cool while you sleep.
I will say, the design looks really nice and the feel of the cover was great. But I'm not sure how important the look and fabric feel really is because we put a fitted sheet over our mattress, which I'm assuming most people do.
If you are someone that doesn't use a fitted sheet (who are you?), you could absolutely just leave the mattress bare and sleep on it. It actually does look that nice.
How hot is the Leesa mattress?
This was the biggest concern for me. I've had many a night on my old mattress that I would wake up and b pretty sweaty. I was afraid that I would sink into this mattress and experience the "oven effect" that I've heard so many times before about foam mattresses.
Fortunately, the Leesa mattress actually sleeps cool. You definitely don't sink into it (more on that in a minute), and the cover fabric must do its job pretty well. I read that this was the case in several reviews, and it was the one of the main reasons I decided to reach out to Leesa in the first place.
Houston can be around 70-80 degrees outside, even in fall, so it's not like often experience winter weather here or anything.
I can't say if the mattress will sleep hot in the dead of summer, but based on what I've experienced so far I don't think I'll have much of a problem. Definitely a 10/10 in my book as far as the temperature goes.
Is the Leesa firm or soft?
How the mattress feels
So as I mentioned above, you definitely won't sink into this mattress. I had never slept on a foam mattress before, but based on the first two weeks or so I won't ever be going back to a spring mattress.
The mattress feels more like it "cradles" you and fills in around your lower back, between your shoulder blades, and around your neck.
Leesa foam mattresses are constructed as follows:
2" of an egg-crate shaped material called "Avena foam" for their top foam layer, which is supposedly similar to latex and meant to keep you cool (Leesa told me that this is basically their "secret sauce")
2" of memory foam for pressure relief and body contouring
6" of base foam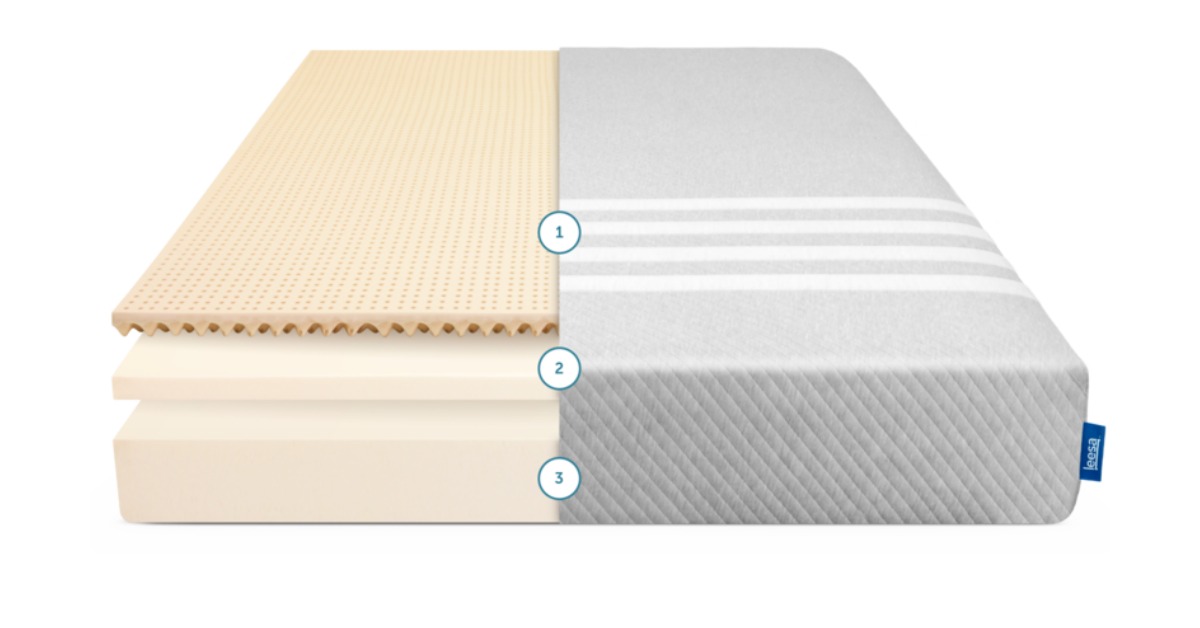 When it comes to how this combo feels from a soft/firm standpoint, I'll say that it's really neither. The best way that I can describe it is that it's soft enough to feel really comfortable but firm enough to where you aren't sinking into it.
But if you forced me to choose one or the other, I'd say that it feels slightly (maybe 5%) more firm than it does soft. However, for my tastes, it does not need an extra foam pad that I noticed was fairly common among other direct to consumer mattress companies.
Motion transfer
It's definitely minimal and way less than a spring mattress, but still there. We didn't do anything crazy to test it out, other than me doing a couple of jumps onto the bed and asking my wife if she felt it.
She could, but I doubt many of you take a running jump on to your bed every night. No judging if you do though!
But my wife does get out of bed before me every morning, and it doesn't wake me up. For normal things like our pets jumping on the bed at night or just getting up to go to the bathroom, there really isn't much motion transfer at all.
Edges
I wasn't super concerned about falling off the bed or anything like that, and so far I would say that the edge is fine on this mattress. They aren't as defined and sturdy as our old spring mattress, but with a king sized bed I don't come anywhere near the edge anyway.
This really turned out to be a non-factor for me to be honest.
So is the Leesa mattress comfortable?
All in all, I haven't slept on a lot of mattresses in my life so maybe I don't have the most mattress reviewing experience, and Leesa absolutely did not ask me to say this...but this mattress is legitimately comfortable AF.
So far I'm very happy with it.
How are the Leesa pillows?
Comfortable. They feel very similar to the mattress, but a little softer. They almost feel like a mix of down feathers and foam somehow, but they are made entirely from the Avena foam that's on the top layer of the mattress.
The best thing to me is that they're soft but don't allow your head to sink all the way through to the bottom. So far, these have been really good for my neck pain.
The pillows also have a nice look without a pillowcase. But again...who sleeps without a pillowcase? I still don't quite understand the point of the fancy covers.
What is the Leesa blanket like?
The Leesa blanket is made out of the same cover material that is on the mattress. It's pretty soft, but actually very heavy and feels more like a quilt than a blanket.
I'm not a big fan of blankets or quilts because I sleep so hot, but my wife is constantly cold. I asked her what she thought of it, and she said that it's very warm but also very thick. She recommends it as more of a winter blanket than a year round one.
Leesa Mattress review – final thoughts
So is the Leesa a good mattress? Overall, I'm happy with everything that Leesa sent over. I would very much feel comfortable buying this mattress for the following reasons:
It's cheap compared to a lot of the mattresses that you would find in a mattress store
You don't have to deal with salespeople to buy it
It's comfortable
It sleeps cool
At the time of writing, I'm not involved with a Leesa affiliate program. But, if you use the code "M$M" at checkout you'll receive $100 off your mattress purchase!
​