Hey everyone!
So after last month's six-figure launch for the Facebook Side Hustle Course, a lot of bloggers started asking me how I've been able to grow Millennial Money Man so quickly (which is a fair question haha).

There is another question that has been coming up a lot too…

"When are you dropping the course that teaches how you made all this all happen?"

So I made one – here it is. 🙂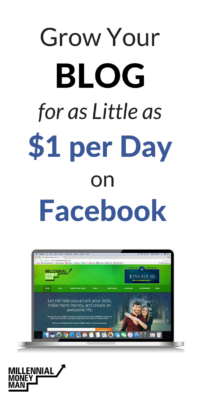 In all honesty, creating a course on how I built up my blog and did a six-figure course launch is a huge undertaking. It's something that I fully intend to do sometime this year, but in the meantime, I decided to put together a smaller course teaching you what I believe to be the ONE biggest factor to my success:
Using Facebook ads to rapidly grow your blog.
In just a few years, I've taken M$M from nothing to a blog that is on track to bring in 2,000,000+ readers in 2018, and also make incredible money in the process.

The main reason that I've been able to make such good money from my blog is that I built a large and incredibly loyal audience first.

And Facebook ads were my secret weapon. In particular, a Facebook ad strategy that I developed and call the "Unicorn Method", along with a few other tricks.
This isn't something that I took a course on and just learned overnight. I saw that other bloggers were growing their blogs with Google and Pinterest, and thought that Facebook would be a faster avenue to success because of the community vibe that inherently comes with the platform.
Also, Google and Pinterest take a long time to see massive results. I didn't want to wait for that.
So I started boosting posts on Facebook, which then turned into learning the ad platform, and then I ultimately stumbled on some really interesting "hacks" through experimentation that allowed me to scale my ad campaigns and get my cost per click down to the 2-3 cent range (which is incredible).
Now, I drive hundreds of thousands of clicks to my site via Facebook and am seeing consistent email list growth of over 100 subscribers per day. I'm on track to make somewhere between $500,000 – $1,000,000 this year from M$M, and I just had a six-figure course launch in January (a course which is also bringing in $15,000 per month in recurring revenue by the way).
I started my blog in 2015. Think about how fast that is.
The best part? I reimburse the amount that I spend on Facebook ads with display ad revenue and affiliate income. I'm essentially growing M$M and my income exponentially…for FREE.
That is just one small piece of what you are going to learn in the Blow Up Your Blog course.
You can grow your blog for as little as $1 per day on Facebook

No, that is not a typo. It is possible to grow your email list, your traffic, and your presence on Facebook for as little as $1 per day of ad spend.
I remember exactly what it was like to be a blogger that was just starting out.
You want to buy the nicer theme. You want to run ads. You want to do all of these things that cost money, but you aren't sure if it's worth it since your blog isn't making a ton of money yet.
But what if you knew how to grow your audience quickly for just $30/month, all while making money back from ads or affiliate sales?

It's 100% possible. Especially if you use the strategies that I teach inside of the Blow Up Your Blog course.
When you grab the course you are going to get a whole lot more than my strategies. Once again, I decided to bring in my business partner Mike, co-creator of the Facebook Side Hustle Course and Facebook Ads expert, to share his best strategies for growing your email list and blowing up your blog quickly.

Mike and his agency help clients all over the world use Facebook ads to grow their businesses fast, and his specialty is list building.

Using the complete toolkit of strategies that we teach you in this course you'll be able to drive a steady stream of traffic to all your best blog posts and turn your readers into loyal email subscribers.
We understand how difficult it is to grow a blog, and how intimidating it can be to start spending money on paid traffic (especially if your blog isn't making a ton of money yet). We want to make it as easy as possible, and the strategies we teach inside of the Blow Up Your Blog course are the key to consistently getting thousands of new readers to your blog every month for as little as $1 per day.
So what are you waiting for? Let's Blow Up Your Blog!