Are you ready to create an online course? This Kajabi vs Teachable comparison is part of a series in which I'm focusing on tools and platforms to help side hustlers grow their businesses, and these are two of the most popular online course platforms available.
Creating courses for your business is something that all different kinds of business owners can do, including bloggers, consultants, freelancers, podcasters, and coaches.
It starts by thinking about how you can better help your clients or audience. What skills do they want to learn? What would add value to their life?
If you have something that can fill that void, you can create a course. And you can create a course about literally anything. Seriously, some courses teach people to bake sourdough bread or build sandals.
Opportunity is out there, and online course creation platforms like Kajabi and Teachable streamline the process. These two platforms have a lot in common, but there are some critical differences between them.
I'm going to cover the pricing, plans, features, and pros and cons of using Kajabi or Teachable.
Kajabi vs Teachable | Learn How These Course Platforms Compare
Kajabi vs Teachable: Overview of each platform
Kajabi and Teachable are two of the most popular online course platforms available, and there are good reasons for that. They're both considered out-of-the-box platforms -- you get all of the tools you need in one piece of software, but Kajabi has tools beyond just course creation. Let's dive in.
What is Kajabi?
Kajabi is cloud-hosted software that helps business owners create courses, sell digital products, design landing pages, and run email marketing automations. Rather than using a course platform and integrating an ESP (email service provider) and a lead tracking tool, those tools are baked in with Kajabi.
It breaks down a barrier that many business owners face: finding, learning, and piecing all of those tools together.
Kajabi launched in 2010 and has been used by over 50,000 business owners to generate over $1.5 billion in revenue.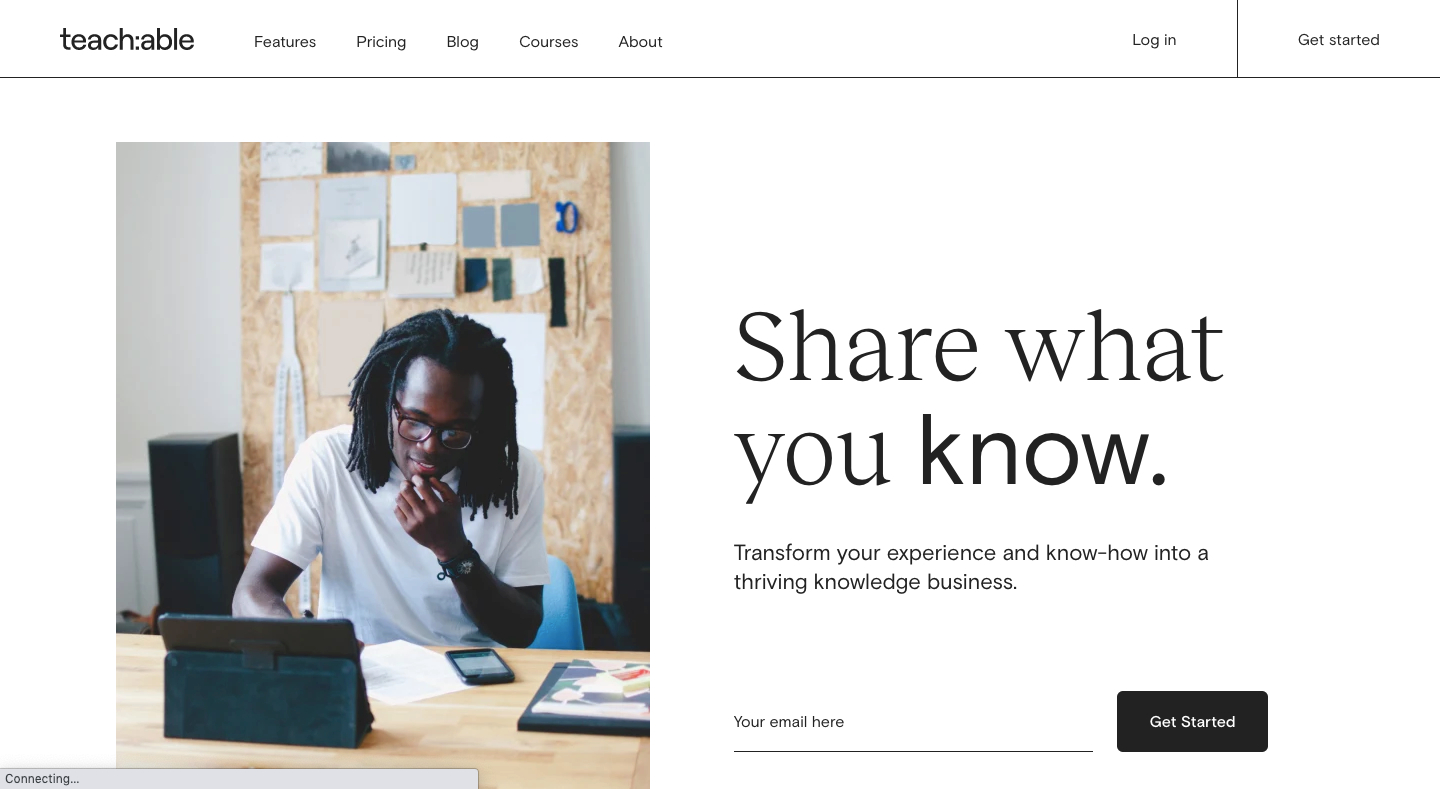 What is Teachable?
Teachable is a cloud-based learning management system (LMS) that helps instructors create online courses and coaching programs. It lacks some of the marketing functions you get with Kajabi, but there are dozens of integrations you can add to get virtually identical features.
Teachable launched in 2013 as Fedora, and it relaunched as Kajabi in 2015. Over 100,000 people have created educational products with Teachable, generating more than $500 million in sales.
Kajabi vs Teachable: Plans and pricing
Both of these course platforms are subscription-based, and you can save money with both if you pay annually. Neither has a free plan – Teachable had one but recently got rid of it.
Kajabi pricing
Kajabi has three pricing tiers, starting at $119/month when billed annually. There's also a 14-day free trial, so you can get to know the software a little more before deciding if you want to invest in it.
Which plan you pick will be based on how many products you're selling, contacts, active course members, admins, and extra features, which I'll cover shortly. All of the plans come with the following things:
$0 transaction fees
Kajabi University (Kajabi's online resource tool for site owners)
Webinars and events
Fully customizable templates
Course assessment tools to create quizzes and surveys
Chat support
Automations
Here's an overview of Kajabi pricing for each plan: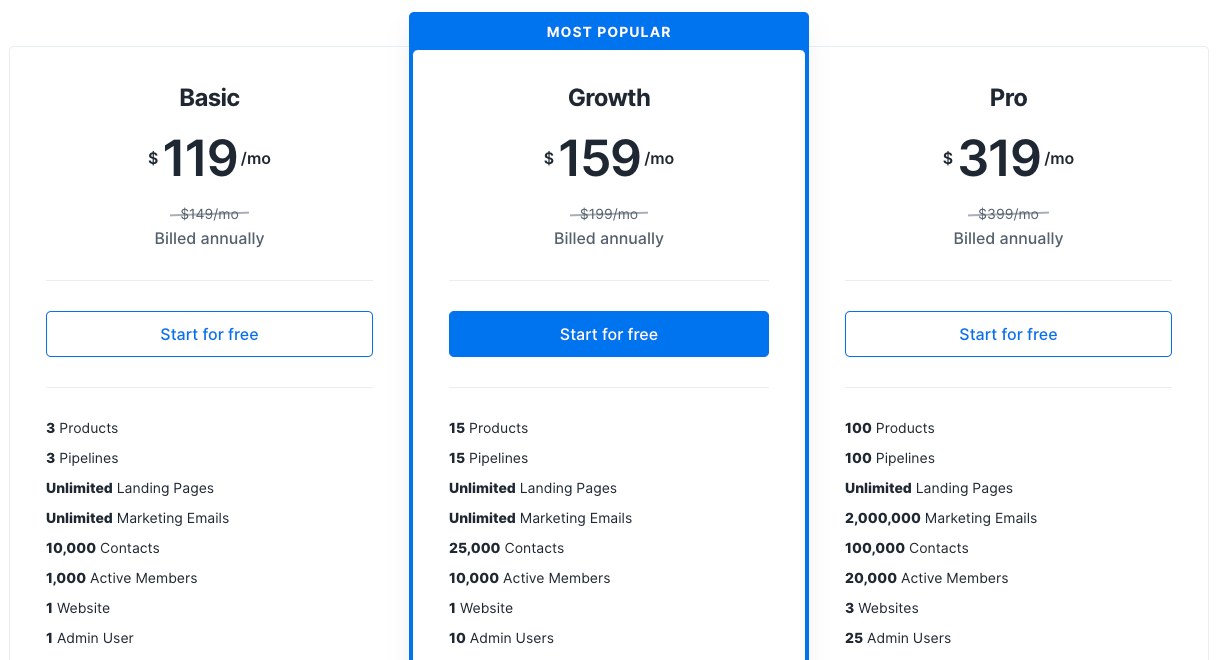 The additional features you get with the Growth Plan are 24/7 chat support, advanced automations, an affiliate program, and the ability to remove Kajabi branding. The next step up, Kajabi Pro, adds a code editor to give you advanced customizations.
Kajabi plans all have a 30-day money-back guarantee if you try one of the paid plans beyond the 14-day free trial and decide that it's not for you.
Teachable pricing
Teachable also has three tiers, but the price point starts much lower – $29/month for the Basic plan when billed annually. Monthly plans start at $39/month. There's also a 14-day free trial with Pro and up.
All Teachable plans come with unlimited video, courses, and hosting. You also get integrated payment processing, student management, lecture comments, basic quizzes, no fees on free courses, and VAT for the EU.

Here are the additional features you get with each plan:
How they compare: There's clearly a significant price difference between the two, and you have to remember that Kajabi has baked in marketing features that Teachable doesn't have. It's hard to make an apples-to-apples comparison for that reason.
However, we could look at it like this: with Teachable, you'll have to pay for some kind of email marketing software. ConvertKit is a popular option, and it's free for up to 1,000 subscribers, but you don't get email automations. The next step up is ConvertKit Complete, which you pay for based on the number of subscribers you have.
With 25,000 subscribers (the number of contacts you can have with Kajabi's Growth Plan), ConvertKit is $199/month. So if you went with Teachable and wanted email marketing software, you would end up paying around $300/month compared to Kajabi's $159.
Teachable vs Kajabi: Breaking down the features
Even if Teachable lacks email marketing tools, both it and Kajabi have a robust list of features to build courses, sell your products, keep information secure, and more. I'm going to walk you through the features by category so we can take a closer look at each platform.
For even more details about the two, check out:
Kajabi Review | Is This the Best All-in-One Platform for Your Business
Teachable Review | Is This the Best Course Platform for Beginners?
1. Course creation
After you've signed up for Kajabi, you can start building your website and courses, and it all begins here, on your dashboard: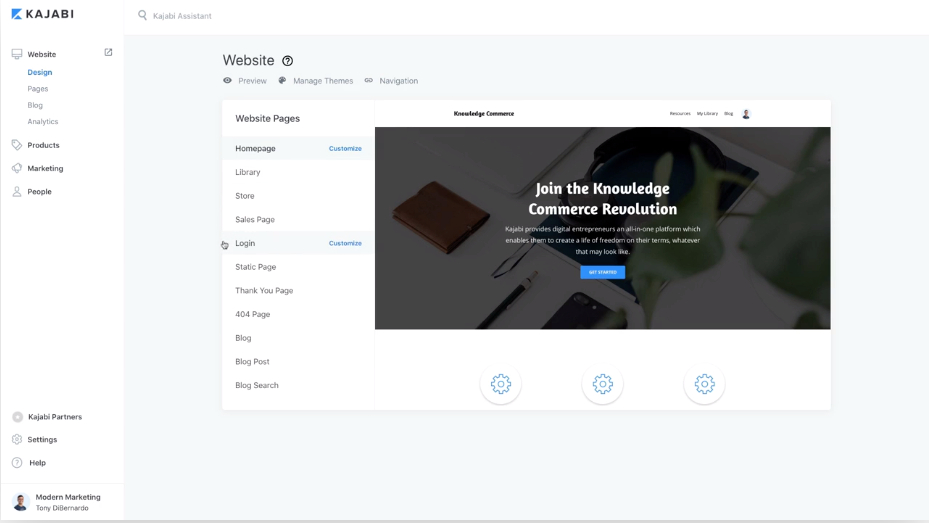 You get a custom domain name for your site – your website is a place where you can list all of your courses, link your blog, share an "About" page, etc. Kajabi has unlimited hosting and a bulk uploader for videos, photos, and other digital files. And there's a drag-and-drop editor to build and customize your site with integrated marketing tools.
Kajabi sites have some built-in SEO optimization, but there are tools for sharing and more SEO configuration. There's also auto-scaling technology to adjust to any number of visitors and one-click marketing sequences that take advantage of Kajabi's pre-built and customizable sales pipelines.
You can create drip content for your courses, meaning you're in control of when your students can access the content. You can put it on a schedule or X number of days after they signed up or completed a module. You can also add quizzes and assessments. Kajabi also has course insights to see how students are progressing through the course.
Kajabi can be used for more than just selling courses – you can sell memberships to groups, coaching, sell other digital products and physical products. The plan you choose limits the number of products you can sell, but you have options.
To create the products, you select a product template (like a blueprint) that provides the internal structure for creating each specific product. It walks you through building your products and makes sure you're not missing any key features.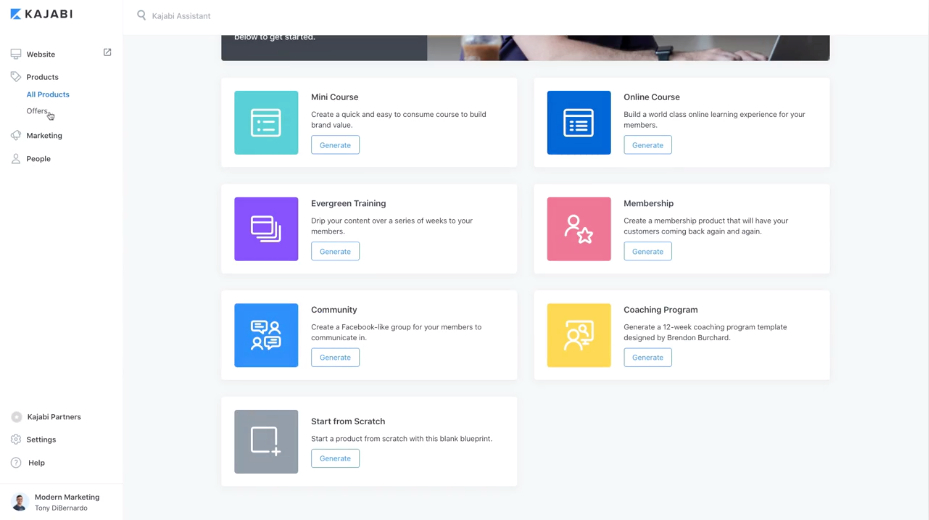 After signing up for Teachable, you have a similar dashboard that gives you access to all of your content creation tools, plus it's where you can send out course emails, control your settings, see your sales data, and more.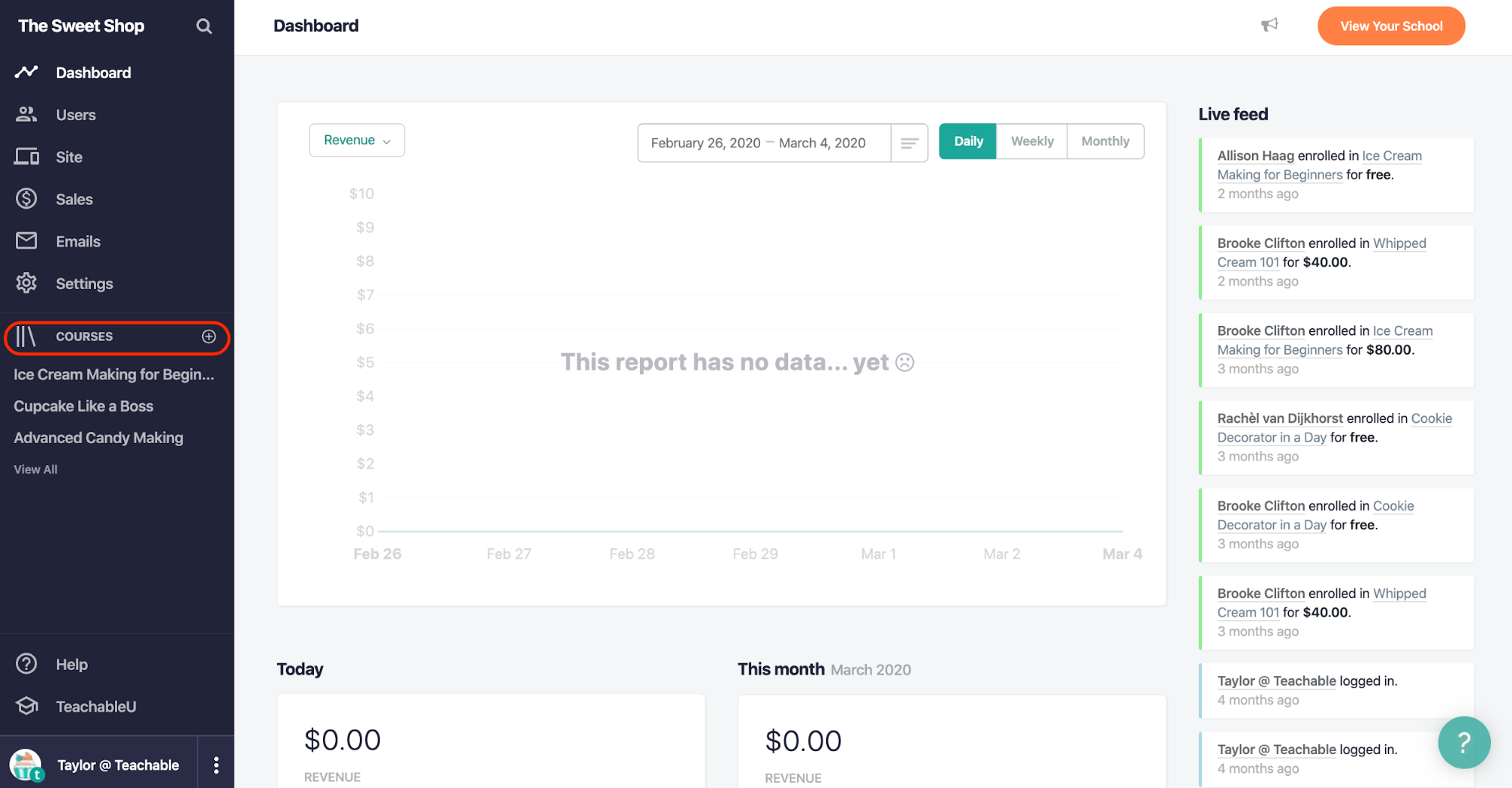 Teachable also has a bulk importer to add large batches of files at once, and you can add audio, video, PDFs, and image files. Then you can use the drag-and-drop editor to place the content in your course. You can also set your courses up as drip content.
Teachable also gives you a website where you can direct people to see all of your courses in one place, and all of your courses have their own landing page for selling. All of these pages and your courses are fully customizable with branding, images, fonts, colors, and more. You'll also have SEO optimization tools for all of these pages, too.
You can actually create more than just courses with Teachable – there's a newer option to create coaching products that recently launched.
These are one-on-one sessions that allow you to provide flexible and personalized support for your students. If you want, you can create hidden or private sessions that can only be accessed through a direct link.
Teachable has set milestones for each session, and you can use these to keep track of each student's progress.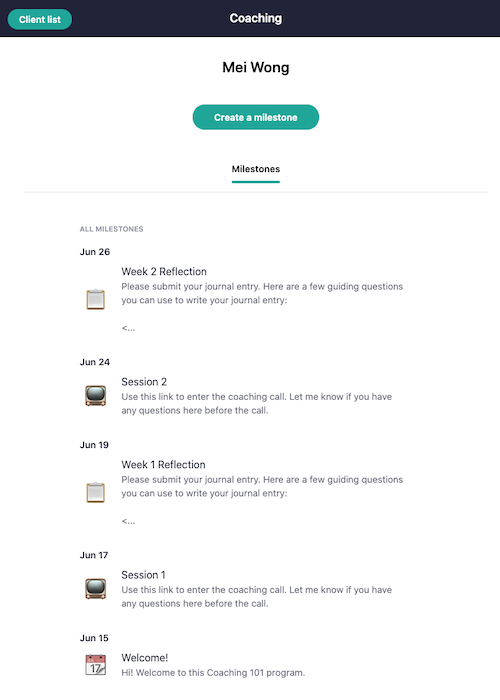 How do they compare? You can create and sell more kinds of products with Kajabi, and the product templates can be handy for new course creators who aren't sure what structure their courses need.
Teachable's new coaching features are a great way to upsell to students, and you can create bundles with coaching and courses or links to coaching products throughout your course.
Ultimately, the tools you have to create and customize your content are similar on both platforms. The difference is in what you can create.
2. Marketing and selling your courses
This is the area where you'll going to find the most significant differences between Kajabi and Teachable. Since you already know that Teachable is limited, let's start with Teachable's marketing and selling features:
Tracking with Facebook Pixel. If you're running Facebook ads to your courses – I highly recommend doing this, and you can learn more in the Facebook Ads for Bloggers course (applies to bloggers and other online business owners).
Multiple payment options for one-time payments, subscriptions, and payment plans.
Payments via Stripe and PayPal. Stripe gives you immediate payouts on both platforms.
Affiliate management tools that allow you to create affiliate programs for your courses.
Free previews of selected modules or lessons to nurture the buying process.
Upsells to add coaching components or bundle courses.
Memberships that give students access to all of the courses in your school.
Presell options to validate your course idea before you create it.
Customizable landing pages for each of your courses with easy-to-use editing software.
Kajabi has all of the features I just listed for Teachable, but the standout feature here is its marketing pipelines. Pipelines combine email automations and sales funnels to gently guide students through the buying process. You can find pre-built blueprints for each kind of product if you're not sure how to create pipelines on your own.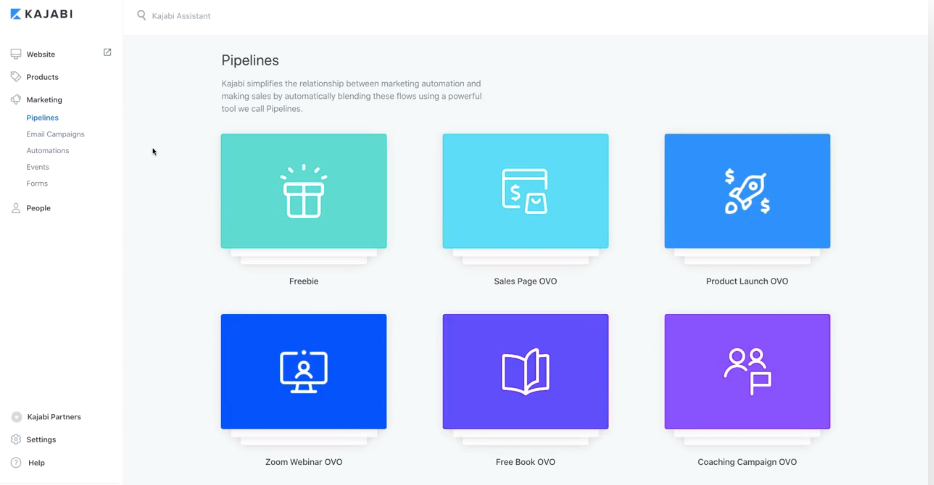 Here's an example of what one of these pipeline templates looks like if you were creating a Zoom webinar to prepare for a course launch. Kajabi would help you create:
Webinar registration page
Confirmation page
Four emails leading up to the webinar – remind your customers and get them excited
Five emails after the webinar – move them closer towards buying your course
A linked sales page if and when someone wants to buy through one of your emails
Checkout page where they finalize their purchase
How do they compare? In my experience, you need some kind of marketing process to sell a course well. Kajabi has built-in tools for that while Teachable doesn't.
I suppose some course creators might be satisfied sending an email out to their subscribers, sharing something on Facebook, writing a blog post or two, and selling a few courses. But for a big launch and serious traction (this means more $$$), you'll want to invest in some kind of email marketing software.
3. Integrations
Integrations bring different types of software together, and they ultimately give you more functionality. Both Teachable and Kajabi support Zapier integrations like:
Mail Chimp
ConvertKit
Active Campaign
Segment
AWeber
Google Analytics
InfusionSoft
Webhooks
So if you're creating courses with Teachable and want to integrate your third-party email service provider, that's definitely an option (this is what I do with my Teachable courses and Active Campaign).
Even though Kajabi has email marketing tools, you can keep using the software you're familiar with. I mean, you'd be paying more, but you have the option.
How do they compare? These two-course creation platforms have virtually the same integration options with Zapier.
4. Support and Education
Both of these course creation platforms offer extensive support for business owners who want to learn more about using the software.
Kajabi has an easy-to-search help center that offers quick tutorials and step-by-step guides to address specific issues. There's also Kajabi University, which provides bootcamps, courses, and how-to series that give more detailed support. These even dive into business essentials like accounting and legal basics.
Teachable offers help through its Knowledge Base, where you can find tutorials and guides for using the platform. Teachable will also connect you with experts who are freelancers that offer paid services like graphic design, virtual assistance, web development, and more.
Both platforms also have:
Community support groups run through Facebook
24/7 email and live chat support
How do they compare? You expect that educational software will have plenty of guidance when you need it, and both Teachable and Kajabi live up to that expectation. Kajabi stands out with Kajabi University and the fact that you can learn other business skills.
What you'll love about Kajabi and Teachable
Teachable and Kajabi share a lot of features and both have intuitive sites to help you build beautiful courses, so let's look at some of the best parts of each platform.
Where Kajabi shines
Kajabi is built for selling digital content. Kajabi has robust marketing options that will help you sell your online content and grow your reach. Kajabi's pipelines are really a standout feature, and I think you can learn a lot about the automation process by using their blueprints. There's a lot of value in that knowledge.
Support and education. The Kajabi team is available 24/7 via email and chat to help with any issues you might have, and there's tons of educational content in Kajabi University.
An all-in-one business solution. Kajabi was created to help edupreneurs build and grow their businesses, not just develop courses.
What you'll love about Teachable
Built for new and experienced course creators. Newbies can quickly get their courses up and running with Teachable's intuitive platform, but advanced course creators will find enough features to continue using Teachable.
Teachable pricing gives you high level features no matter what your experience is.
Responsive team. I've been really happy with how quickly Teachable responds to issues on both the teacher and student side.
Course marketplace. Teachable's course marketplace is new and limited, but getting your course on the marketplace can provide more exposure. At the very least, you can browse the marketplace and see what kinds of courses are available.
One thing I want to point out is that if you're a blogger, you can easily connect your WordPress blog directly to either platform.
And for non-blogging business owners, consider starting a blog as part of your business model. It's an excellent way to connect with your customers or audience on a more personal level, plus it adds more monetization methods, like affiliate marketing and sponsorships.
Check out How to Start a Blog: The Easy Step-by-Step Guide for 2020 to learn more.
Where Teachable and Kajabi fall short
It's honestly pretty hard to find significant flaws with either platform, but there are a few things I'd like to point out.
Cons of Kajabi
The price. Yes, you are getting more tools with Kajabi, but that cost will probably be hard to swallow for new business owners. You'll save money over time by using an all-in-one system like Kajabi, but that also comes with risks...
You're relying on one platform. Diversification is good for business owners, from your income to your traffic sources. That's because it protects your business if something happens to one of those sources. So while having everything together on Kajabi simplifies your business and saves you money, you're taking a risk by putting all your eggs in Kajabi's basket. For example, what happens if Kajabi's entire site crashes or they just shut down? There goes your courses, landing pages, and marketing system. Those are highly unlikely scenarios, but you'd have to be ready to pivot.
Cons of Teachable
Clunky sign-up process for students. Some of my students have struggled a little through the sign-up process, but it's been an easy fix. Overall, I'd say I've heard more positive things than anything from my students.
Transaction fees on the Basic Plan. While this plan might feel more affordable upfront, you're losing course income with these transaction fees.
What other tools and software I recommend for courses
I'm always looking for technology that makes it easier and smoother to run my business, and these are a few of the things I've used for courses specifically. And full disclosure, I'm an affiliate for some of these platforms.
Canva is graphic design software for beginners, and it's handy for creating professional-looking images. Read my Canva review to learn more about pricing (there is a free option!) and how to use it.
Grammarly is editing software that will help you polish your course text until it's spelling and error-free. My editor wrote a Grammarly review that explains what the software does.
Loom is the software I use to create videos with screen sharing for my courses.
Asana is a project management software you can use to plan your courses.
Kajabi vs Teachable: The final word
Creating my first course, the Facebook Side Hustle Course, was honestly one of the best business decisions I've ever made. I get to teach a subject that I'm passionate about – finding new ways to make money. One of the best parts of my day is getting messages from students saying that they've landed their first client or that their side hustle has grown to $5k in monthly revenue.
The other significant benefit is that my courses have generated over $2 million in revenue for my business partner and I. Our first course launch, back in 2018, was a 6-figure launch. It was wild.
But the reality is that both of these platforms are just tools. You still have to put in the work to create your course content and get it out there to potential students. Even with Kajabi's robust marketing tools, you're responsible for putting them to work.
Okay, now get out there and work.