Well…it's been over a year and a half and this site still exists somehow. If you've been with me since the beginning, then I'd like to extend the most satisfying internet high five you'll ever receive: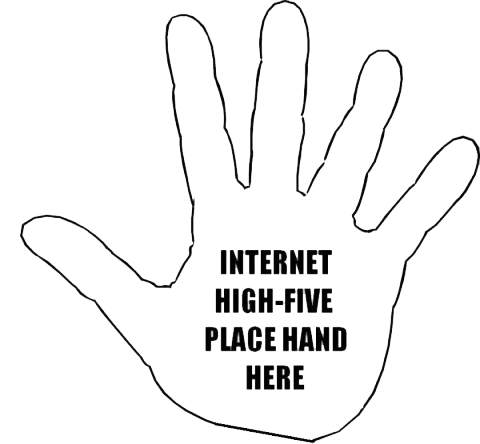 If you're kinda new here, I'm going to hit you with my sweet haiku that tells my entire story story in just three lines:
My first teaching job
Paying off my student loans
Money became life.
For everyone else that doesn't care about haikus: I paid off $40,000 in student loans while I was a band director (in a year and a half), and then quit my job to run this site. Yes, I'm THAT crazy person.
I also do content marketing, so I basically run two separate but related businesses from my computer.
If you asked me if I thought I would be doing this when I was standing on a band podium waving my arms at kids every weekday around 7:15 am…I would have laughed at you. This $hit is surreal sometimes.
Here's a look at how the site has grown since I started it:
I want to do this once a month to track my progress and set some new goals. Blogging is definitely a business where you have to hold yourself accountable, and what better way than telling thousands of people about your goals all at once? 🙂
This is my first traffic report, so I'm actually going to give an overview of ALL the traffic I've had since day one (kinda…I'll explain below). I'll also take a second to direct your attention to my free and [email protected]$$ blog setup guide for anyone out there that wants to start their own blog. 
Since its creation, MillennialMoneyMan.com has had roughly 400,000 page views:

You may be thinking…woah that's awesome! Or…meh, what a scrub. It kinda depends on your perspective and experience with blogging and websites.
Plenty of the big time personal finance bloggers get 400,000+ views per month. Some quit blogging before they ever get close to 10,000. It really depends on a lot of factors, but so far what I've noticed about traffic growth is that it's about TIME IN THE GAME.
Now, you'll notice a few things about the graph I just shared:
1) It doesn't actually start when I created the site
I had no idea what I was doing and didn't start using Google Analytics until February of 2015.
2) There is a large blank space between July and October of 2015
Did I stop blogging? Were people tired of my $$$ site?

Well…the truth is I'm not really sure what happened. I straight-up just can't remember. My best guess is that I switched themes to Thesis and forgot to add the Google tracking script to my site. Oh well. :/
3) It's trending in the right direction
Generally, the site has grown from when I started it to now. Some people might say that I've had some pretty killer growth, but it FEELS like it's been the slowest thing in the world.
Now for July's numbers
I'm super happy with how July turned out. I had 56,608 page views with no big features. Just steady daily traffic, which is actually more exciting to me than getting featured on Reuters or some other big site.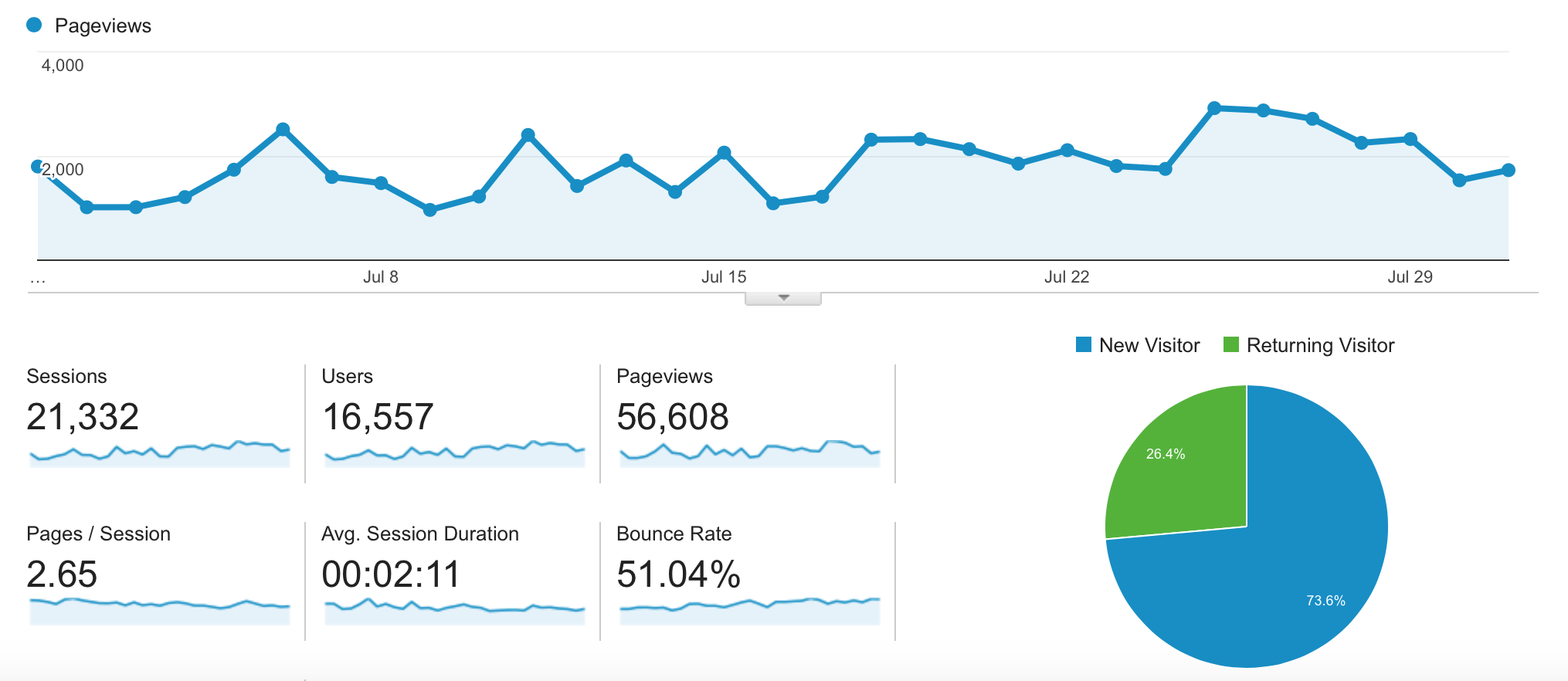 The next question that I'm sure people would want to know is what my mix of traffic looks like right now. It's still majority social (which is pretty standard for newer blogs), but my organic (google), direct (people that type the site URL in their web browser), and referral traffic (traffic from other sites that link to me) have been catching up.
I'm SUPER aggressive on Twitter and Facebook. I post several times daily on both platforms and have been very happy with my traffic from both. Pinterest is the next mountain to conquer.
My upcoming traffic goals!
Just like with personal finance, you can never stay satisfied with where you are. Blogging is a long, slow (and fun) grind. I'd love to be where some of the mega-bloggers are right now, but I know it's a process that takes time and consistency.
Here are some of the goals that I want to hit with my traffic:
75,000 views in August.
100,000 views in a month before 2017
I'd like at least 2-3 more features on big $$$ websites before the end of the year.
If you've been following me on Twitter, you've probably seen that over the last four weeks I just hit 75k views!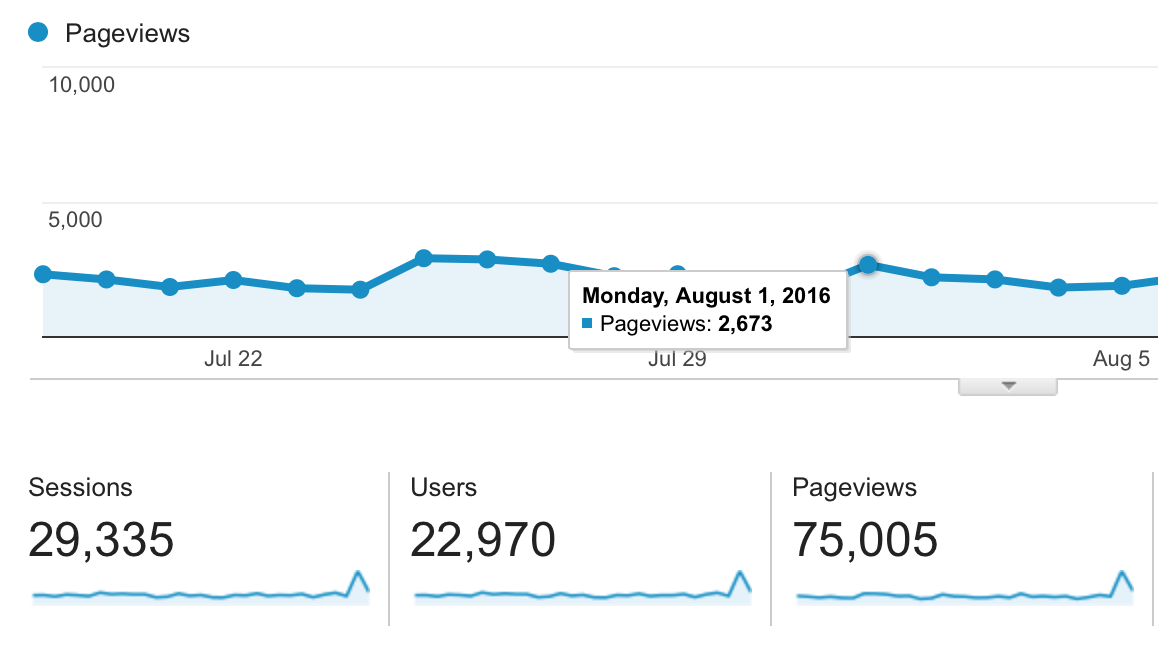 Just gotta keep it up through August to knock #1 off the goal list. Supposedly this is the slow time of year for personal finance blogs, so I'm semi-confident that I can get to that 100k before the end of the year. We'll see….
Just as a side note, these goals are pretty superficial. Blogging is a weird game where the money that you make isn't always directly correlated with your traffic. But, I want to keep growing the site and keeping track of traffic is MEGA important.
I also have more goals related to my income from the site. If you were wondering – yes. I AM going to start doing monthly income reports! I haven't decided if I'll start before January 2017, but you will all be the first to know. 🙂
*Whew* First traffic report is in the books! If you're a blogger and want some [email protected]$$, personalized advice about growing your site, check out my blog coaching services!