One of the most interesting things about being a full-time blogger is that you're immersed in a never-ending stream of online success stories. Typically, I wake up around 6:30 am and open up my computer to scroll through Twitter and Facebook while I groggily ingest the liquid magic that we all know as coffee.
It never fails – my feeds are packed with all of these stories of people reaching incredible financial and life goals.
Some people are paying off massive debt balances in a short amount of time, others are becoming millionaires with their online businesses (*fingers crossed*), and a select few are travel-hacking their way around the world.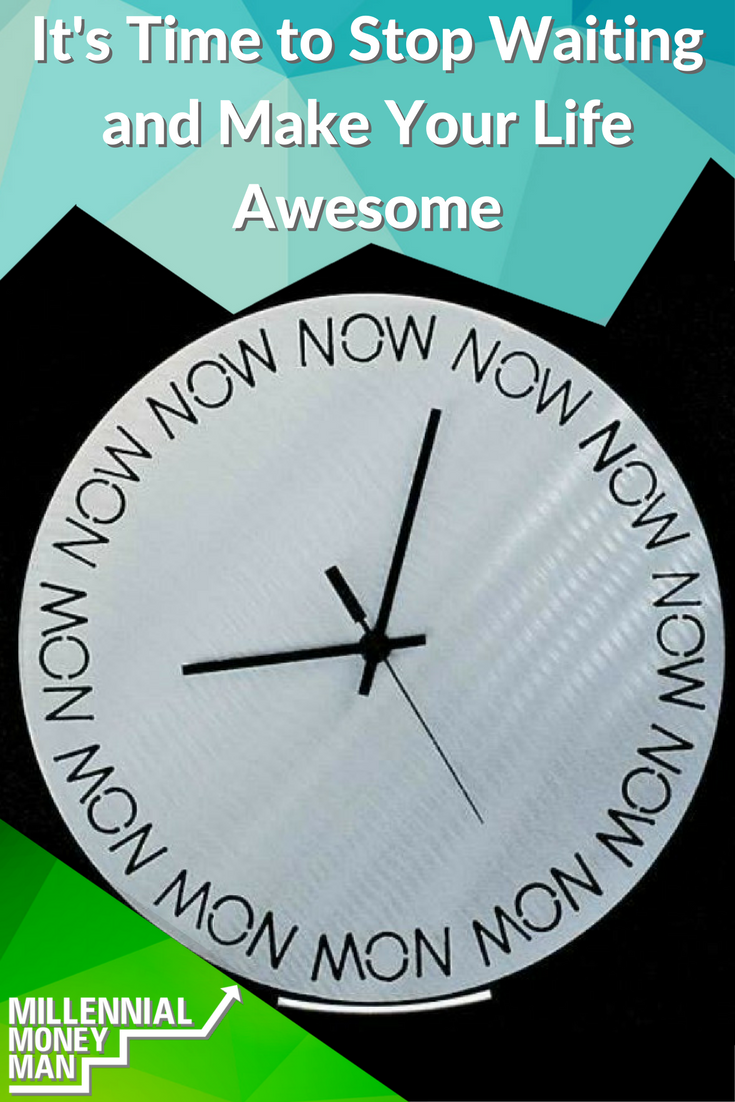 Unfortunately, all of that is a mirage
The one thing that sucks about the internet, and social media in particular, is that it tends to focus more on unbelievable stories and less on what's actually going on in regular people's lives.
When I dig in and start talking to people and answering emails, the reality that I see is drastically different.
There are a lot of people that aren't happy with where they are right now. They're wanting to get to a better place financially and know they need to do something different, but they haven't started yet for any number of reasons.
They stick around in jobs they hate for too long, put things off that threaten to rock the boat, and watch time slowly pull them away from what they could have been.
"I'll pay more on my student loans next year."
"I'll start that side hustle eventually."
"Next year I'll really try for that promotion."
So why does this happen? Fear. It's always freaking fear. Humans, in general, are afraid of change, even if it's small.
Related: Why Fear is Stalling Your Financial Success
Before I go on, please understand – I'm not talking down to anyone. I'm 100% guilty of all of this stuff.
If I had listened to my fear-filled inner voice a few years ago, I guarantee that I would still be a semi-disgruntled teacher making the minimum payment on my student loans.
I would have pushed myself to get through another day I wasn't comfortable with because it was the easier thing to do.
The choice I made to leave my job to run this site almost didn't happen
After a couple of years of really hard work and tons of sacrifice, my wife and I had managed to save up about $50,000 (which was pretty close to my teaching salary).
I was telling my friend about it and texted him something along the lines of: "Man, I've got $50,000 saved up now. I'll teach for one more year and I think I'm going to leave my job if I can get closer to $100,000."
His response was epic and understated at the same time:
"Just leave now. In the grand scheme, $50,000 and $100,000 aren't that much different."
Even with a year's salary in the bank, I was still so scared to do something that would take me out of my comfort zone.
I mulled it over for hours after he sent the text. I knew he was right, but for whatever reason, I couldn't bring myself to take a leap of faith. It was too risky, too dumb, and I couldn't even imagine what my family would think.
Almost in spite of myself, the next day I told my boss that I was going to quit to run M$M.
If I hadn't made that one decision, I would have spent the entire next year being miserable. Maybe the rest of my working life, who knows? It's crazy how razor-thin the line between happiness and unhappiness can be, right?
Looking back (hindsight is 20/20), I can't believe that I even considered making a choice to be less happy.
Now obviously, my example is extreme and not something that I would suggest for even my closest friends.
I could have easily failed and had this whole thing blow up in my face. But in that moment, I knew that I couldn't wait anymore to make my life better.
Every wise person tells you to start sooner
The reason that I took my friend's advice is pretty simple – he's old (I know he reads this haha) and knows more about life than I do. For years now, I've gone out of my way to hang out with people that are wiser and smarter than me because I know my limitations.
I'm not a life coach or anything close to it. I'm not a guru. But I know what I don't know, which is possibly my biggest asset.
Wisdom is the one thing that none of us can manufacture. You can work out and get stronger. You can go to school and become more educated. But you can't fake decades spent on Earth, which is inexorably interwoven with wisdom.
I've never talked to someone that's older than I am about anything in life and heard them say: "You should just put stuff off for a while, it will probably be fine."
They always say that they wish they would have started *insert anything here* sooner. Always. That advice is crazy valuable, but most people don't take it.
Success isn't built on a big leap
The real point of this post isn't to go out and make some crazy choice tomorrow just because the title says "stop waiting."
It's important to understand that it seems like a lot of my success so far has come from my one decision to bail from my job, and that really isn't true.
That leap of faith was the apex of everything my wife and I had been building towards for years.
We chose to keep driving crappy cars after college.
We chose to rent a 10×10 room from her parents.
I clicked the submit button on every single one of my massive student loan payments.
We continued to live the same way after we were debt free and had $50k in the bank.
We watched our friends pass us up every single day.
Success, both financially and in life, is built on the small decisions.
I can't possibly know what all of you want to accomplish right now. Maybe you desperately want to start a side hustle and keep putting it off, or maybe it's as simple as paying a little extra on your mortgage next month. Heck – maybe you want to quit your job like I did (although I wouldn't recommend it).
All I do know is that you control your own destiny. It's so easy to blame everything around us or continue to push things to the back of our mind for the sake of comfort.
But ultimately, you are the one that can change your life – one small decision at a time.
It's time to stop waiting. There is no guaranteed "I'll do it tomorrow" for any of us. Whatever it is that you need to do right now to create a better life for yourself – start it today.