There are a lot conversations back and forth these days about the whole "is college worth it?" argument. I see them all the time in my M$M Facebook group, but they're everywhere, and if you're a millennial, you're probably talking about it too. Of all the topics that have been covered on this site so far, this question about a college degree and the student loans that are inevitably attached to it feels almost impossible to answer.
From what I'm seeing in my own community, my gut feeling is that the majority of you feel totally let down by your degree. You probably spent most of high school looking at and planning for college, then get to college, graduate, and are just thrown out there. Jobs are hard to find, some don't even use or need your degree, and one more little thing… ALL OF THOSE STUDENT LOANS.
I'm actually coming across a lot people who are very vocal about trade jobs being a better route, bachelor's degrees being worthless, etc. For some, that is a valid argument.
The other thing we're up against is this overwhelming misconception about what millennials actually did in college. It's like everyone thinks that we're idiots who went out and got underwater basket weaving degrees. There is definitely a handful of people that did some obscure program, but that's not the majority of us.
So are college graduates actually idiots? Is college worth it? Let's explore the answers and look at some studies I found.
The rising cost of college
Before I unpack this article too much, let's take a moment to collectively scream about how expensive college is. Ready?
1… 2… 3…
AHHHHHHHHHHHHHHHHHHHHHHH!!!!!
Feel better?
Yeah, the cost still does suck, but another thing that sucks is that the people who are telling us that we had to go to college in the first place (older folks like our parents or teachers) paid only a fraction of what we are paying for our education. This isn't one of those "a dollar then is worth less than a dollar today" things, it's the harsh reality that tuition has gone up 161% in the past 30 years, and that's adjusted for inflation.
Want to see what you would have paid for your education 30 years ago, MarketWatch has an interesting, yet depressing, tool that lets you enter the name of a college to see the difference in the past 30 years. There's also an exciting graph showing how salaries have stayed pretty stagnant while tuition costs keep skyrocketing. Groan.
But, college degrees are actually still a good investment
Despite what I just shared, I found that while doing research for this article, I was really surprised by what I saw over and over again. There are multiple sources showing that college degrees are still extremely valuable, despite the rising cost of college.
I was honestly expecting to see a massive amount of new studies showing that there was a sharp decrease in value or a very thin margin between the earnings of those with a degree and those without. I mean, I keep hearing people say it over and over again that college degrees aren't worth the cost, surely studies were backing up their claims.
Then, I remembered one of the age-old rules of the internet:
People who have a negative opinion of something tend to speak up more than those who don't.
The honest reality is that most people are probably still pretty happy with their decision to get a college education, even if that means taking out student loans to get it done.
Last year, Entrepreneur wrote about the difference between those loud, frustrated voices and the reality of a college education. They wrote that, "No other platform is quite as equipped as collegiate programs when it comes to providing a wealth of valuable experiences in one package." The bottom line in their article is that the skills you learn in college will help prepare you for the workforce, which is getting even more competitive.
There's also the fact that your degree is likely qualifying you for things outside of your degree field.
Take an English Lit degree, if you know anyone with that degree, they'll probably tell you that they aren't getting paid to read books and write thesis statements. But, the skills they learn in college make them excellent candidates for jobs in content marketing, advertising, sales, public relations, etc.
I don't want to invalidate the frustrations of many millennials who are out there right now feeling pretty bummed about their lower salaries and student loan payments. Totally understandable. It sucks. Part of the problem is the higher education system, not necessarily the act of getting a degree itself.
Several times on this site, I've really gone after the messed up conveyor belt towards debt that is our public education system. Watching kids go to school-sponsored college acceptance parties crushed me when I was teaching because I knew what type of student loans they were about to innocently walk in to.
Even after looking at some of the numbers in favor of higher education and college degrees, I won't change my opinion that public education has to do a better job of pushing trades and entrepreneurship.
They also have to teach kids more about student loans. They just have to.
Speaking of student loans, what about grad school?
It is undeniable that student loans suck. I hear this constantly, and it's why I worked so hard to pay off $40,000 in 18 months. However, this section isn't about getting rid of your student loans, you can find more about paying off your student loans here, it's about making the decision to go back to school, possibly adding to them.
I've shared with you before why you shouldn't go back to grad school, but let's talk for a second about why it might not be the worst thing you've ever done. This is not a recommendation for grad school, it's just looking at all of the possibilities.
Grad school doesn't necessarily have to add debt. There are some fields of study, like those in the humanities, that offer fully funded programs, complete with a stipend. These are mostly PhD programs though.
Other reasons you might want to go back is if your company will pay for an advanced degree. And for some, there is the possibility that the cost of incurring more student loan debt might be worth it in the long run. Yes, I just said that.
That's not for everyone in every field (teaching is actually an example of why you might go back for a graduate degree), and you will be considerably better off if you didn't take on as much student loan debt for your undergrad to begin with.
Investopedia recently wrote a fairly in-depth piece titled "When Is Grad School Worth It?" that looks at this specific situation. They explain the types of questions and considerations you need to be aware of before going back, which are:
Does grad school fit with your career goals?
How much can you expect to earn after graduating?
Will your skills be in demand?
How you can analyze the financial impact.
Their bottom line is that a graduate degree can be beneficial to some for job growth and increased earnings. However, it shouldn't be looked at as something to do if you're bored in your current job because of the time and money you have to invest in just the process of going back, and this doesn't include the cost of adding to your loan debt.
My bottom line… if you are at all thinking about going back and incurring more debt, YOU HAVE TO CRUNCH THE NUMBERS. Seriously, think about it harder than anything you've ever thought about before because the only thing worse than student loans is adding more of them.
The Rising Cost of Not Going to College
One of the most interesting studies I came across was "The Rising Cost of Not Going to College," done by the Pew Research Center in 2014.
It covers a wide range of topics, but here's the short version:
Millennial college graduates earn $17,500 more than their peers with high school diplomas.
Almost 9 in 10 millennials questioned in the survey felt that their degree was worth the investment.
22% of millennials with only a high school diploma are living in poverty, vs. 6% for those with a college degree.
53% of millennials with degrees say they are happy with their jobs, vs. 37% of young people with only a high school diploma.
91% say that their degree has paid off for them already, or feel confident that it will in the future.
If you're kinda nerdy about student loan stats like I am, check out the Pew Research Study.
Read also: 27 Heartbreaking Facts about the Student Loan Crisis
So what does this particular study mean?
Ultimately, as much as the cost of tuition and student loans suck… they can still be very valuable, and the people who are getting them do still think that it was a great decision for their future.
Personally, I feel the same way too. Even as a teacher, I felt like I got a ton of value out of my degree and that my student loans were a good investment.
The other thing that most people don't really bring up in the whole student loan debate is this: there is nothing wrong with being highly educated. I can't tell you how much valuable stuff I learned in college that didn't actually pertain to my degree. These aren't marketable skills, rather intangible stuff like knowledge and experiences that I actually think have made me a better person than I was before.
I don't technically use my college degree anymore, but I guarantee that a lot of the things that make me and this site successful are principles that I learned by going through years of college to obtain a degree.
Read also: You Are Not Your Degree: How I Found a New Identity After College
That's definitely not to say that you need a college degree to be successful or a good person, but I do think that the standards college sets combined with the attached financial pressure isn't necessarily a bad thing.
Even though the costs are ridiculous, one thing that colleges do very well is push people to better themselves.
We all know that guy who just used college as an excuse to party, but ultimately I would imagine that the majority of people with degrees went to college and took it very seriously.
About those underwater basket weaving degrees…
We all hear the arguments and negative talk about gender studies and liberal arts majors, but in reality, most people that go to college aren't getting those degrees. Recent college graduates are leaving with things like degrees in business, and the number of those getting natural science degrees has risen rapidly.
Take a look at what has happened across the college degree landscape in the past few years: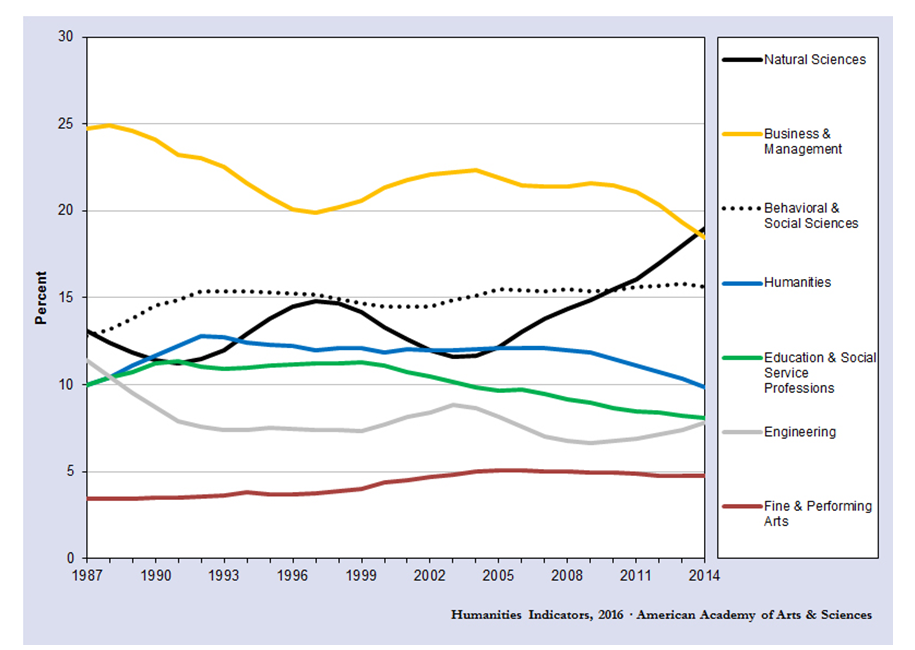 Here's another chart showing exactly what is happening within humanities (hint: these degrees are declining):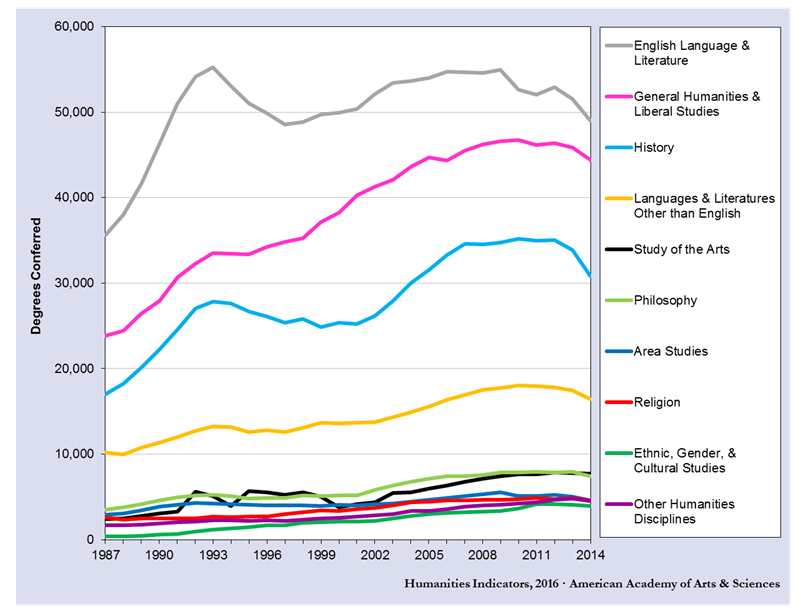 Hopefully, this means that colleges are purposely limiting the number of students they accept into those programs because of the likelihood of post-college employment, another possibility is that college students might be realizing that these degrees aren't worth the cost of the loans needed to attain them.
Either way, one of the most important things that needs to happen is an increased focus on education and guidance on student loans for OUR kids when the time comes.
I really feel like millennials are the only ones that can break the student loan debt cycle.