One of the things that always surprises me is the misconception of assets and liabilities in relation to cars. Cars cost money to maintain, buy, fill up with gas. But, you can also sell a car. Today, I want to really clear things up… is a car an asset or a liability?
To get things started, read through these statements I've seen online:
Cars can't be assets because they lose value.
Cars are only assets if you can use them to make money (like driving for Uber).
Cars are only assets if you own them through your business.
Cars are only assets if they are rare and appreciate in value.
All of those statements are false. But, there is still some confusion about how to classify cars as assets or liabilities when it comes to calculating your net worth. That's because…
Your car is a depreciating asset
A depreciating asset is something that loses value over time. Most cars fall under this category, unless you drive something like this:
That's a 1962 Ferrari 250 GTO, and it sold at auction for $48.4 million. In 2000, it was bought for one-tenth of that price.
This car (my 2004 Yukon) is not gaining value, so it's depreciating.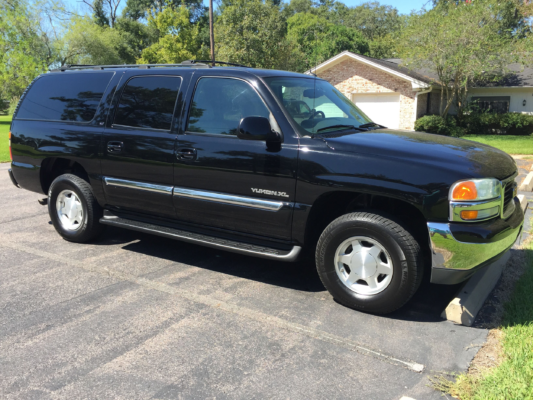 Your car, the one you use to get groceries, is like my Yukon. And if you bought it brand new, it probably started losing value the day you bought it.
Back up, let's define assets and liabilities
This is important to break down, because if you're wondering whether your car is an asset or liability, you might have questions about other things that relate to your net worth.
An asset is an item that is owned and has value. Assets add to your net worth.
Here are some examples of assets:
Cash
Retirement funds
Personal valuables (jewelry, art, collectibles, etc.)
Investment holdings (stocks, ETFs, bonds, etc.)
A liability is an obligation or item that is owed to others. Liabilities lower your net worth.
These are things like:
Credit card debt
Student loans
Mortgage
Personal loans
Car loans
Think about it like this: if you own it outright, then it is an asset or positive gain on your net worth. If you owe money on it, it is a liability, and reduces your net worth.
Cars are a little tricky because they are depreciating assets that many people finance. And, if you want something even more complicated than cars, think about your house.
So, if I have a car loan and my car is losing value, how is it still an asset?
Here's an important distinction: the car itself wouldn't be the liability in terms of calculating net worth. The car loan is the liability. The actual vehicle is an asset because it has a value that can be realized when you sell it. Assets can appreciate (gain value) or depreciate (lose value) and still be considered… well… an asset.
However, if you sell the car and can't get enough money to cover the loan amount that you owe, it will go down as a negative against your net worth. If the car clearly isn't worth what you owe on it (which many aren't), the amount you still owe is a liability.
I know this can boil down to semantics, but this stuff is important if you are trying to get a good picture of your net worth!
On the flip side, if your car is worth more than the amount owed on it – it will actually add to your net worth because the asset is more than the liability! Pretty cool, right?
Want to get rid of your car loan? Then read: How to Get Rid of Your Car Payment: The Ultimate Guide.
How do I find out how much my car is worth?
There are a few different ways to find out how your car is worth, and I'm going to start with the easiest.
Use Kelly Blue Book
Using the KBB site, you can find out how much your car is worth by answering a few questions about your car, including:
Make and model
Year
Mileage
Color
Condition
You're then given several different value options depending on how you would go about selling your vehicle. You'll see the biggest difference in value between trade-in and private party buyer. That's because it's just easier to bring it to a dealership and put the value towards a new car. That doesn't always make it a smarter decision (IMO), but it is easier.
Which value should you take? Well… it's really up to you and how you'll honestly sell your car. The difference can add up to thousands of dollars, so think hard about which makes sense for you.
NADA and Edmonds are both sites similar to Kelly Blue Book that you can check out too. They might give you slightly different values, and you can take the average of the three.
Shop around for cars like yours
Some cars are significantly more popular in some areas, meaning they might sell for a higher amount than what KBB says. I would start with KBB, then look at local listings to get a slightly better idea of what your car would sell for in your area. Check:
Calculate the value on your own
Remember when I said that a brand new car loses value the minute you drive it off the lot? Wait until you hear this – your brand new shiny car can lose more than 20% of its value in the first year you've bought it.
Over the next four years, it will lose around 10% of its value each year.
How does my car fit into my net worth?
Here's why learning if a car is an asset or liability is important – you need to know this to get an accurate picture of your net worth. I'm going to explain more about your net worth in a second.
Let's take my car again. My 2004 Yukon is worth $5,000. I don't owe anything for my car, so my car adds $5,000 to my net worth.
But, my car is going to continue depreciating. It won't depreciate at the same rate as a newer car, but eventually, it's only going to be worth scrap value. That's about $300 right now.
If I wanted to be really, really accurate in my net worth calculations, then I would adjust the value of my car each year to reflect how it's depreciating.
What if I have a loan on my car?
You will have to subtract what you owe on your loan from the value of your car.
Say your car is currently worth $30,000 and you have a $27,000 loan, then you can only add $3,000 to your net worth
Why is knowing my net worth so important?
Knowledge is power. Always. Your net worth is basically a picture of your financial health, and knowing that number (positive or negative) can help you make long-term goals based on current information.
A negative net worth (this is completely okay!) means you have to strategize a little harder about how you're going to work towards retirement. Seeing how your car, or a new car with a new car payment, play into your net worth can help you make moves that put you on the right track.
To be super clear about this – your net worth has no bearing on the type of person you are. Negative doesn't mean bad. I had a negative net worth at one time too, but understanding what it meant made me hustle harder to get my student loans destroyed so I could start building wealth.
Currently, millennials are worth an average of $8,000. This is 34% lower than previous generations in this same age range. That's because of student loans, car notes, credit card debt, etc. We're all going to have to hustle a little bit harder, but there are now lots of good options.
If you want to know more about your net worth and how your car fits into the picture, Personal Capital is a FREE money management tool that calculates your net worth, tracks your investments and helps you get on track for retirement. Check out my 2020 review of Personal Capital to learn more.
If you decide you'd like to try it out, sign up through my exclusive Personal Capital link and both you and I will get $20 when you sign up.
Is a car an asset or liability – final word
For whatever reason, people get really fired up about their cars and will defend their position on them at all costs. Even on whether a car is an asset or a liability. I guess no one wants to believe that their baby (car) is somehow worth less than it was when they bought it.
Also, no one wants to think about how that brand new car they just financed might be negatively affecting their long-term finances. As long as you know that going in, then you do you.
Seriously, just understanding how all of the big purchases we make, like cars, houses, and even a college education work together to create your financial picture is key. Hard to make something better if you don't really know much about it.