Hey everyone! One of my favorite things to do on this site is share reader success stories. When I was working on my $40k of student loans a few years ago, it felt so lonely. I knew there were a lot of people out there like me that wanted to get rid of their debt really badly, but I didn't have many people around me in life that I could share the journey with. 
When you're paying off debt aggressively – people around you act like you're crazy! It's almost like there is something wrong with YOU because you're trying to create a better future for yourself. 
Nearly a year ago, a M$M reader named Josh emailed me and offered to share both his and his wife's debt payoff journey. At the time, I was waaaaay overloaded with guest posts and couldn't quite fit it in. But I'm glad I'm able to share Josh and Mariah's story now because they've paid off almost 2x as much debt as they had when Josh originally reached out!
Josh's wife left her job to start her own business, which dropped them down to one steady income temporarily. Even with the cut, they destroyed their debt and have paid off nearly $70,000 of primarily student loans, cars, and some medical bills. This success story really resonated with me – I think you'll love it too. Enjoy ~M$M
1. How much debt did you start out with and what made you really want to start crushing it?
We started out with over $70k in debt. $50k of that debt was student loans. The biggest motivating factor for us to get started was my wife taking a leap of faith and starting her own business. She resigned from her $50k/year job and started her business. This cut our income in half and forced us to make a change and rid ourselves of debt payments to survive.
Here are some of the things we did to start paying off our debt quickly:
We cut the cable bill (easier than we thought). Been cable free for over 2 years now!
My wife picked up several different part-time gigs in addition to running her business, from social media management/graphic design for small businesses to front desk associate at a spa 3-4 days a week to supplement our income
I worked overtime at my job as much as possible
We quit using the credit cards!
We cut out the gym membership and began running outdoors. (It's free and it gets you outside to enjoy nature!)
We made hard choices to skip trips and exciting events with our friends
Temporarily stopped contributing to my 401k/other investments
My work provides me with a cell phone so I turned my personal cell off. Saved over $100 a month!
But most importantly – we budgeted!
2. You mentioned at the beginning of your debt pay off journey, your wife quit her job and started her own business. That sounds scary. How did you guys plan for such a big income loss and did you have a plan B in case it didn't work out?
My wife was so unhappy in her career that she wanted to pursue fulfilling her dream of owning her own business. Things moved so quickly that we just knew we had to get on a budget and stick to it each and every day if we were going to make that happen. She started the business about 3 months before she quit her job so we had a small income coming in from the business but things were extremely tight for us.
Looking back, I wouldn't change a thing other than paying off our debt sooner while we had a larger income so that the income loss wouldn't have affected us as much. We also paid for business licenses and things of that nature while we had two incomes to help get things started.
3. Tell me more about your wife's business and what your profession is as well.
My wife owns Blush & Crew, a wedding coordination and design company. Blush & Crew started as a way for my wife to have an outlet with a stressful job. She opened up my ETSY shop in April of 2015 and started out selling custom wall prints for like $10 a piece.
She then began selling custom-made invitations for people's weddings and showers. It was just something to get started and get some exposure to running a business. However, it quickly evolved into a wedding coordination and design company. The biggest part of her business is planning and designing weddings! Apart from that she also does website design, logo design, and marketing services.
During our debt repayment journey, my wife worked her full-time job, Blush & Crew, worked for an online ring company, Everly, was the Marketing Coordinator for a local spa in town, and was a social media manager for a company in Seattle!
Also, I work as an IT systems admin for a government subcontractor. I manage about 4 different systems and have been in that position for about 5 years now. I also do some blogging on the side telling about our debt repayment journey!
4. Did you guys ever second-guess the decision of your wife quitting her job to start her own business?
I know I did almost every other week when payday came around. Losing her income was incredibly tough but I trusted my wife and knew that she would do well in her business.
I was right to trust her and she quickly turned her business into a successful one.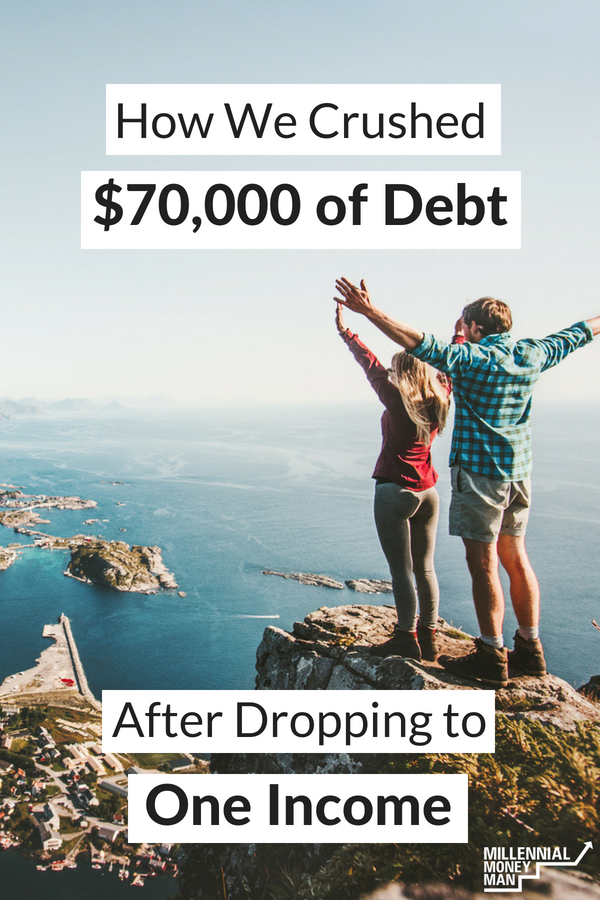 5. You said your total household income was around $100k before your wife quit her job and it's since been restored with the business and side hustles. How long did it take?
My wife celebrated 3 years of her business this April so I would say it took about that long for us to restore our income back to $100k.
6. You mentioned that you've paid off $25k in just the last 4 months. How did you do it?
Side hustling! We both have picked up new side gigs working for an online ring company in December called Everly. I was putting in an extra 10-15 hours and my wife put in almost 50 hours a week!
She would work evenings and into the early morning hours 6 days a week. From December to April we threw all of that extra money at our debt and paid off three student loans in four months totaling $25k.
Having a side hustle has been the thing that pushed us over the top! We both worked as remote customer service reps for them. We would come home at night and process orders, email clients and help customers make decisions on which rings to purchase.
We love having a side hustle because it is so different than what we do with our normal day to day jobs.
7. What has been your biggest sacrifice so far with paying down debt?
Our biggest sacrifice was telling ourselves and others no.
For example, we cut out cable, quit eating out as much and canceled some trips we wanted to take. We had to tell our friends and family no when invited to do certain things. Making choices like that was hard in the moment, but man it was worth it in the end!
8. Can you share your best advice for someone that may be considering starting their own business, while still in debt?
Keep working at it! I remember us both working at our corporate 9-5 job a little over 3 years ago and my wife's coworker who was in her 60's told her that she would be paying off her student loans until the day she died. That was the day it all changed for us.
What kind of life is that? We let that be the motivation to get going!
9. How have your perspectives on money changed since you paid off $70k of your debt?
I think paying off this debt just taught us to appreciate our income. Our income is our biggest tool to accomplish the things we want to in life. If we spend it every pay period on debt, we are just prolonging our own dreams. Not having those debt payments has allowed us to give and contribute to funding the things we are passionate about.
10. Do you have any last tips to help others stay motivated in their own debt payoff journey?
My biggest tip would be to be willing to do whatever it takes!
If that means selling a car, taking on an extra job or even asking for a raise at your current job.
You have to want it. This can't be something you go into halfway. You have to be all in and commit yourself to seeing a change or it won't happen. Remember that with a plan, you CAN do it!