I wanted to change course a little bit with today's post because lately everything on the site has been about straightforward financial stuff like investing, budgeting, and how to pay off debt.
And yeah I know – the site is literally called Millennial Money Man, but I think the reason that M$M has grown so much lately (reached 180,000 people last month!) is because I take the time every once in a while to write about things that actually matter like happiness and life. 🙂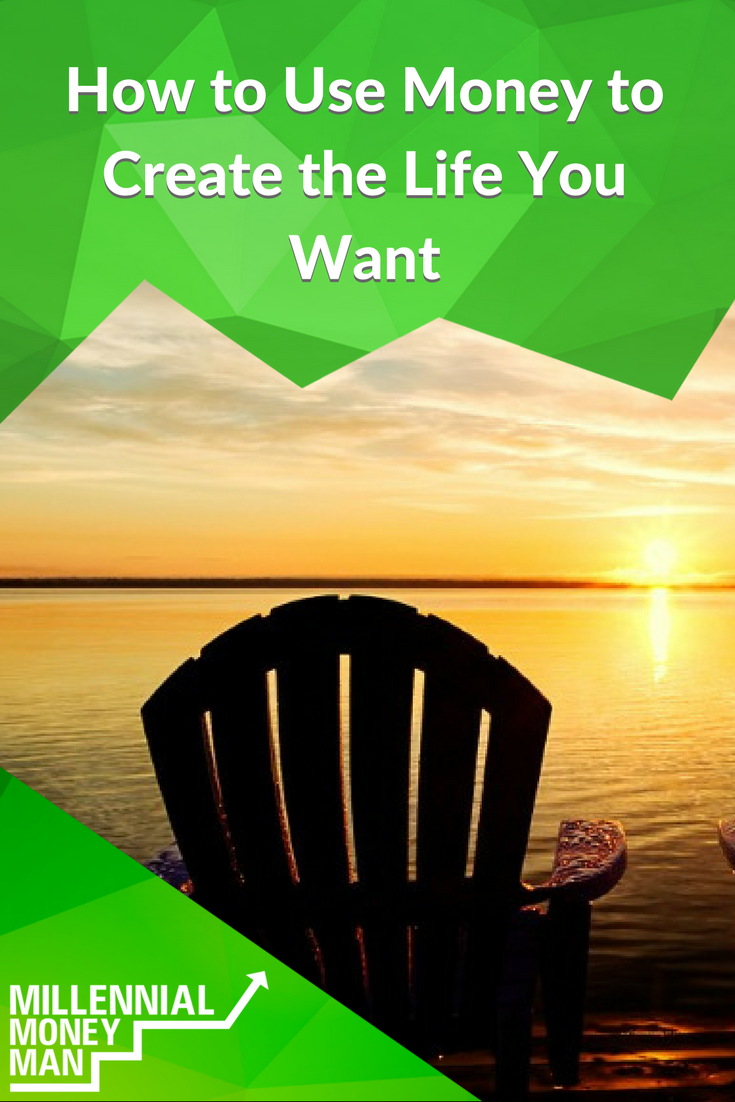 Honestly, I think it's good to step back and think a little more about the macro instead of the micro when it comes to personal finance. When I do that and reflect on everything that has happened with both my personal happiness and with my business in the past two years, it helps me get even more focused on my financial goals moving forward.
A lot of you already know about my story of paying off my student loans and leaving my teaching job to run this site. Today I'd like to talk a little more about why I did both and how it made my life feel more complete.
I never felt like I fit in with teaching
I'll try to tread carefully here because most teachers really love what they do and they provide an incredible service to our society. I don't want to downplay that at all, but I do want to use my story to connect with people that might be feeling the same way that I did (in any profession).
Going to college for music education was always a little tough for me. For the four years that I was in the music program at my school, I always felt like I was just going through the motions.
I passed all of my exams, got good grades, and eventually got my degree. The weird thing was that the entire time, I kept wondering: "Is this what I'm actually supposed to be doing?"
Unfortunately, I couldn't think of anything else that I was good at or enjoyed, so band directing it was. I had a solid resume, so I was able to get a great job out of college teaching at a very good band program.
But every morning at 5:30 am I'd wake up and have that little feeling of dread that you get when you're about to go do something that you really don't want to. Somehow, I had let myself get trapped in a career that I wasn't actually passionate about.
It was so frustrating because I still didn't know what the heck I was supposed to do to feel "right."
All of the other teachers around me seemed like they were so excited about everything, up to and including staff meetings (which I haaaaaaated).
I kept wondering…what the heck was wrong with me? Why couldn't I be as invested in the learning process as they were? Why did it make me mad when I had to spend extra time at the school without extra pay?
Was I just selfish?
That's when I started financially preparing to do something else
Pretty quickly into my teaching career, I started paying off my student loans as fast as I could. That was really the catalyst for getting excited about personal finance, and eventually what landed me an interview with CNBC and turned this into a real business.
Related: How I Paid Off $40,000 of Student Loan Debt in 18 Months
But at the time, I was just paying off my loans because it *felt* like the right thing to do.
I had no idea that I would become self-employed, or that I would quit my job to run a business that had only made $3.
All I knew was that being in debt gave me less opportunity to change my life. I had to be a teacher because I needed the paycheck to pay my student loan bill, which is the definition of becoming trapped.
There are so many people out there just like me who thought they were doing what they were supposed to do after college, but ended up suffocating under the choices of their younger and far less-wise selves.
The only way to create a little more breathing room in my life was to tackle the loans.
I was also witnessing first hand that other thing we don't like talking about…
At the same time I was working on my student loans and dealing with the fact that I picked the wrong career, I was also facing the realities of our limited time on Earth at a younger age than most people do.
I've written about this on the site several times before so I won't rehash the whole story here, but my father in law was diagnosed with a terminal illness right around the time that my wife and I graduated from college.
We both got jobs and moved in with her parents for what we thought would be a short amount of time, but as his disease progressed it changed and we stayed there longer than we ever thought we would.
My wife and I did as much as we could to help out. We cooked, helped clean, contributed financially, and tried to be there as much as possible for my mother in law when she needed assistance.
There were many mornings that I was late to work because her dad had fallen and needed help getting up (I still remember that sound that happens when someone falls…definitely something you don't ever forget).
It was a little hard, but we stayed as long as we possibly could until the constant coming and going of hospice nurses started to wear on our relationship.
We were all forced to face the reality that he was eventually going to pass away, which had a pretty profound impact on me and I'm sure it did on them as well.
Him passing away isn't the point though – what's important is that he lived this amazingly full life that most people don't ever get to experience. It made me realize that I couldn't allow myself to get stuck in a life I didn't enjoy because of money.
My wife's dad lived his life on an epic scale. He wasn't afraid to do anything (which is one major reason he fell all the time after he knew he wasn't supposed to be walking around anymore haha). It seemed like every day we would say: "Hey Bill, don't do that you could get hurt," and then he would find some ridiculous way to launch himself off of his wheelchair or something.
He surfed all over the world, rode motorcycles all over the country, and just basically did every fun thing you could imagine while he was able-bodied.
When he eventually did pass, all of us pretty much agreed that he did more cool stuff than most people do in a lifetime.
It made me realize that the only thing holding me back from what I wanted to do in life was me. I had to create a situation financially where I had more flexibility. I didn't want to get to the end and have regret.
…which brings me back to the main point
For everyone that reads this site, follows me on various social media platforms, or is in the M$M private Facebook community – the reason that I write so passionately about money isn't to get people to have more money so that they can feel really good about…having more money.
I don't tell the story about how I left my teaching job in hopes that someone will buy something from me later down the road or quit their job tomorrow for the sake of quitting their job.
I do this because I want people to understand that money is just a tool to create a life that you feel really good about. When we get to the end – nobody actually cares if you were a multi-millionaire or will remember you because you had a 786 credit score.
They'll remember you because of the way that you lived your life, regardless of how it was that you went about the business of making money. That's why you should always be trying to use the money that you do make to create a life that you actually want.
The title of the post was: "How to Use Money to Create the Life You Want". That can mean paying off your debt faster. It can mean starting your side hustle. It can mean investing more. It's different for everyone, and you have to figure it out for yourself…preferably today if you haven't already.
No matter your strategy for getting your money right, it should always be with the end goal of waking up every morning and feeling excited that you were able to wake up. Every day is a day in the bonus round.