Hey everyone! So as you know, I've recently partnered up with a good friend of mine named Mike Yanda to create the FB Side Hustle course. Mike is an ex-lawyer that now owns a full-time FB ad agency, and I own a digital marketing agency in addition to M$M (and largely built M$M through FB ads), so it made a lot of sense for us to create this course and teach other people how to make money on the side this way.
You can learn more here: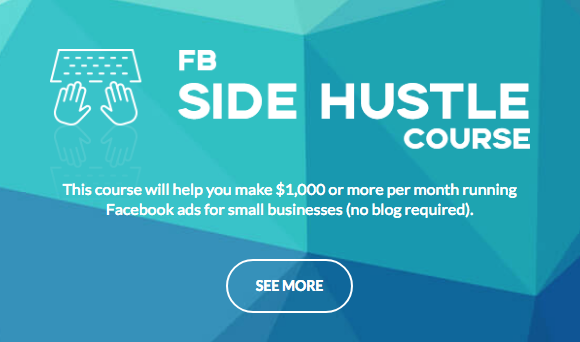 I recently interviewed him and asked about his story and what it was like going from a very conventional career to a full-time online entrepreneur like me.
In this interview, you'll learn:
How he got started
What starting an online business is like
His daily routine as a stay at home dad
Why running Facebook ads is such a good side hustle
How you can start your own FB ad business
Enjoy! ~M$M
Can you start by sharing your backstory and how you went from being a lawyer to a digital marketing pro?
Completely by accident. I'm joking, but there is some truth to that. If you would have asked me five years ago what I would be doing now I probably would have told you that I was working as an attorney at an oil company. I could never have predicted this.
When I was in law school I started an online fitness business to help earn some extra money to pay down my student loans. It was my first taste of running a business, and even though I never intended for that business to be a long-term thing, I caught the entrepreneur bug.
Law school keeps you so busy that I didn't feel like I had the time to start a blog or be active on social media (the way most people build an online business), so I started looking for other ways to grow my audience and discovered Facebook ads.
I started running Facebook ads for the fitness business and sold a ton of programs over email or on the phone. As things started to grow, other fitness people took notice and next thing you know I was helping people with Facebook ads, marketing strategy, systems, the work.
Things just kind of blew up after I took my first paying client. We ran some Facebook ads for his gym and got such great results in the first two days that he told all his friends about it. I literally woke up one day with messages from gym owners all over the UK, and that morning I picked up four Ad Management clients at $1,000 each.
That changed things.
Fast forward to today, and I've closed down the fitness business, no longer practice law, and have a full-blown agency with an amazing team and clients on four different continents. I absolutely love it.
What did you learn from building your first business?
That first business taught me a few things:
1. I didn't enjoy talking about fitness all the time
2. I did enjoy talking about marketing
3. I actually enjoyed owning a business more than the practice of law.
Learning those things about myself really changed everything. Add how much money I started making into the mix and it was a lot easier to make that jump from lawyer to digital marketer.
A lot of people in my life didn't get it. I mean, three tough years of law school, putting myself through the torture of the Bar Exam, and then I'm a lawyer for half a beat before going all in on my business.
It doesn't make sense to most people, and I get that. Being a lawyer is a great profession, and it takes a lot of work to earn that title. But at the end of the day, I found something that made me happier.
I found something that allows me to make a better life for my family, and spend more time with them then I would otherwise. I figured out what was actually important to me in life, so I chased after it.
And luckily for me, I have an amazing wife that has supported me 100% of the way. I can't emphasize enough how huge of a role she has played in me getting where I am today.
What does a day in the life of Mike look like, as a stay at home, self-employed online marketing entrepreneur, and employer?
Crazy! This is a hard question to answer because my routine is constantly changing.
I have two boys – ages 2 and 3 months – and as quickly as they grow and change, I have to adapt my routine. As the team grows my role in the company has changed too, so I'm constantly having to adapt.
Here are the basics though…
Sometimes I wake up at 6 am and knock out some work, sometimes I sleep until 8. I get my oldest son ready for school, feed the baby, pack them up in the car, and drive them up to the church to drop my oldest at school.
When I get back home I check in with the team to make sure everyone knows what the plan is for the day, and then we get to work.
I do everything from analyzing the performance of ad campaigns, planning projects for clients, working on systems to help the agency perform better, and managing the team. The team creates most of the ads and handles most of the other work these days, I just kind of steer the ship.
Then before you know it I have to pick up my son from school, make dinner, and then settle in to do some more work and plan during the quiet hours each night.
We do our best to reserve from 3 pm – 7 pm each day for family time. Going for a walk, making dinner together, and playing with the boys. Then I tend to go back to work for a couple of hours.
Actually, doing a better job of "unplugging" and spending more time with the family is my biggest business goal this year. It's easy to work non-stop when you run your own business.
What was the turning point for your marketing business, where you realized you could not just do this, but teach it?
I probably went about this backward, because I was teaching people about marketing before I ever started taking on clients.
Remember, I was actually using Facebook ads and other marketing techniques to grow my first business, and then I started helping other people with those things.
In fact, I was actually coaching my early clients. We would hop on a call, I would help them with a strategy, show them how to implement it, and then they would go do it.
Eventually, I realized that it was actually more time efficient if I did the work for them, and they would get better results, too. Not to mention that you can charge more when the service is Done-For-You. That was a major turning point in my business.
So the fact that we are now creating the Facebook Side Hustle course and I'm slipping into the "teaching" role feels pretty natural. I've been doing this for years.
There are a lot of internet "coaches" out there. What separates the wannabe's from the real deal, from an insider's perspective?
This is such a great question, and the answer is one of the reasons I'm so passionate about this course.
There are so many "coaches" out there who have never done what they are teaching. Or they had some small success and then realized they could make more money teaching people how to do something than actually doing it themselves.
It absolutely drives me insane, and it's not fair for the people that end up working with those wannabes as you called them.
I'm never going to teach something that I haven't already done myself, and I'm not going to shut down my agency if this course takes off either. I think it's important to have that real-world experience, keep my finger on the pulse of what is happening in the marketing world and how the Facebook algorithm is evolving.
If I don't do that, how could I pass along that information to the people who take my course?
How could I help them overcome the problems they run into if I haven't dealt with those problems myself?
The people I respect in this industry, the ones that are the "real deal", are actually still doing the things they teach and getting great results for their clients.
One of the reasons that we are only charging $247 for this course instead of $1,000 or more, is that we want it to be accessible. We want people that are interested in starting a side hustle like this to be able to learn from people that know what they are doing and have built a real business running Facebook ads.
We wanted to combat the "wannabes" and we didn't want the price to be a barrier to entry. The only barrier to taking this course and creating a successful side hustle is whether you put in the work.
We also know how big of an impact even an extra $1,000 per month can be in most people's lives, and how life-changing starting a business was for us and our families. So I hope that a bunch of people take this course, and I'm looking forward to hearing all the success stories of people going out and creating a great side hustle for themselves.
Do small businesses really want Facebook ads? And would they really pay $1,000 per month or more for that service?
They definitely do. Business owners use Facebook to keep up with their friends and family just like we do. They get hit with ads just like we do, and they have heard stories about other businesses using Facebook ads to drive new business through their doors, but they really don't know how it works.
Now you might think of Facebook as the place to go and keep up with what your college buddies or family members are up to, but the reality is that Facebook is a marketing platform pretending to be a social media company.
Facebook gathers a TON of data about everyone that uses their site. They know how old we are, what we do for a living, and what we are interested in. That makes it easy to target customers, and it's relatively cheap to advertise on compared to traditional advertising solutions like billboards and magazines.
The problem is that most small business owners that try to use Facebook ads end up wasting money because they don't know what they are doing. It's easy to create and manage Facebook ads once you know how, but it's equally as easy to burn through money using that little "boost post" button without a real strategy.
Business owners can't help but be interested when you can go up to them and say, "I can run affordable ads for you that will drive the right customers to your store so that you can sell them your stuff, and I can prove beyond a shadow of a doubt that my ads are the reason they are coming in".
They jump on that opportunity because it's low-risk. Once you start running the ads and they see that they can spend $500 to make $5,000 it's game over. That's why so many of my clients say they will never stop working with me, and it's also why they don't mind paying for the service.
Not only do Facebook ads allow them to get more paying customers for cheaper than traditional methods, but they also have someone that is taking the advertising side of the business completely off the table for them.
What my clients love most about working with me is that we do it all for them. All they have to do is talk to new potential customers and get them to buy their stuff. They don't have to worry about marketing – which they either don't enjoy or aren't good at.
It's a big quality of life upgrade when they only have to worry about what they love and are best at, with a consistent flow of new customers coming in every day.
How much can you make doing this type of work, and how many hours does it take per week?
The sky is the limit really. Most of the people doing this are charging between $1,000 and $2,500 per month for ad management services, with $1,500 per month being the most common price point I see.
Even if you're only charging $1,000 per month, it adds up quick. Get to five clients and you're making $60,000 per year which is more than a lot of people make. Making $100,000 per year is realistically attainable if you go all in with this.
I'm regularly making $25,000-$30,000 per month doing this, but I had to start building a team and systems to get there. It's a whole different monster to build an agency like this, but getting 3-5 paying clients is doable even if you have a full-time job and are doing this on the side.
It's hard to say how many hours per week you will have to put in. At first, it's going to take you some time, because you'll still be learning and everything will take longer than it needs too. But once you figure it out, it's not too bad.
You will need to spend 5-10 minutes every day reviewing each ad account, but as long as there are no problems you just let the ads run. Creating the ads takes a bit more time, but you can set up a new ad in under 30 minutes once you know how.
Go here to learn more about the FB Side Hustle course.
Is there an opportunity to grow this side hustle into a full-time business?
Definitely. There are multiple ways to go about it too. You can be a one-man shop and run all the ads yourself or can go the agency route and build a team.
I know plenty of people that are taking no more than 10 clients at a time, making a nice 6-figures each year, and only working a handful of hours each day. That's a pretty nice life if you ask me.
Then there are people like me who have a bit more of the crazy gene, and decide to take on tons of clients, build a team, and grow into a real digital marketing agency. When you get to that point it's totally different. You have to train and manage your team. You have to trust other people to do the work. You need systems and processes. It's exciting, but it's not for everyone.
The nice thing is that your side hustle can be whatever you want it to be. You can go all in and turn this into a full-time gig or you can pick up 1-2 clients and make some nice extra money as a stay-at-home parent while still being there 100% of the time for your kids. There is no right answer and there is nothing stopping you from making it as big as you want it to be if you're willing to put in the work.
What advice would you give someone considering starting down this path?
Take a chance on yourself.
You will have to work, this isn't a get rich quick scheme. But if you're willing to get out of your comfort zone and try something new, it could change your life.
Think about what you could do with an extra thousand dollars per month…
You could save for retirement.
Pay down student loans quicker.
Stay home with your kids or leave a job you don't enjoy.
Go on vacation to Italy, drink all the wine and eat all the pizza.
I was able to do all of those things. I didn't hate the practice of law, but I found something I enjoyed more. I've been able to put money in savings, make extra payments on student loans, stay home and take care of my boys every day since the day they were born, and yes, even go to Italy and eat pizza for 12 days straight. (I highly recommend doing that.)
Even if you only get one client it opens up the possibility of doing any of those things, or a dozen other things I haven't thought of. Imagine what you can do if you get 2-3 clients and it's just a part-time gig?
Pretty incredible if you ask me.
But you have to take a chance on yourself, you have to try.
I can't give any better advice than that. Give it a shot and see what happens.
Go here to learn more about the FB Side Hustle Course.