According to a recent survey done by the investing app Acorns, 68% of people would rather talk about their weight than how much money is in their savings account. Isn't that crazy?
Even in a day and age where we're comfortable sharing basically every aspect of our lives on social media, our society is still really, really uncomfortable talking about the Benjamins.
It's unfortunate but honestly, it makes a lot of sense.
As much as I'd like to be surprised by studies like that, I'm really not at this point. If anything, running this site for the past few years has taught me that most people are either afraid to talk about their financial situation at all, or don't really feel like there is anyone around them that they can actually talk to.
One of my goals with M$M from the beginning has been to get people more comfortable talking about money (like the dude below…well maybe not exactly like that but you get the point). It's always been so strange to me that we don't talk about the one thing that we all use more than nearly anything else in our daily lives!
After interacting with so many people who jumped into the personal finance discussion, I've whittled the process down to a few things you can do right now to get better at talking about money and improve your financial situation.
Here are 7 steps to getting better at talking about money:
1. Understand that money doesn't dictate how awesome you are
I think that the unfortunate reality of our society is that we see people with a lot of money as "better" or smarter somehow when a lot of the time (in my experience)…it's just not true.
I've talked to thousands and thousands of people since I've been running M$M, and over and over I've noticed how little money matters when it comes to how incredible a person is.
There are plenty of people that are buried in student loan debt that I'd much rather hang out with than some of the wealthier people I know.
As a society, we value financial success so much sometimes that I think it makes us forget that money isn't everything, and it certainly shouldn't dictate how people feel about themselves.
Once you understand that money is a tool and not a character trait, it makes it easier to avoid some of the negative stigmas out there surrounding financial struggles.
2. Prepare yourself for getting your feelings hurt
Now with all of that said – when you start putting yourself out there to talk about money, there's a good chance that you're going to be defensive when people try to give you advice.
I can't even tell you how many times I've seen people snap at each other for the smallest things when it comes to personal finance conversations. I've DEFINITELY had people say some pretty messed up things to me just for having a certain opinion about what people should or shouldn't do when it comes to paying off debt or saving money.
Cars are the biggest example. For whatever reason, people see cars as some type of weird metallic extension of themselves. Just the fact that I OWN a 14-year-old car is enough to make people upset with me, because they feel like me driving an old car is basically the same as calling them an idiot for driving a more expensive car.
Being defensive like that is natural though, especially with personal finance. We're all conditioned to feel like any perceived critique of our money-handling skills is a direct attack on us personally.
When I first started having conversations with my mentors (I'll speak on that in a second) about my financial situation when I was $40k in student loan debt making a teacher's salary, there were a bunch of times where I got defensive.
It hurts to be told that you have a negative net worth. It sucks to hear that you can't afford the things that you want yet.
Those were all things that I had to learn how to deal with at the beginning of my personal finance journey. Eventually, though, that negative stuff wears off and then you can talk about money without all of the emotion (which is when it gets REALLY cool and you make the most progress).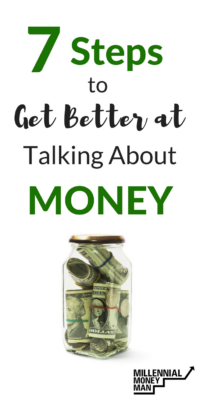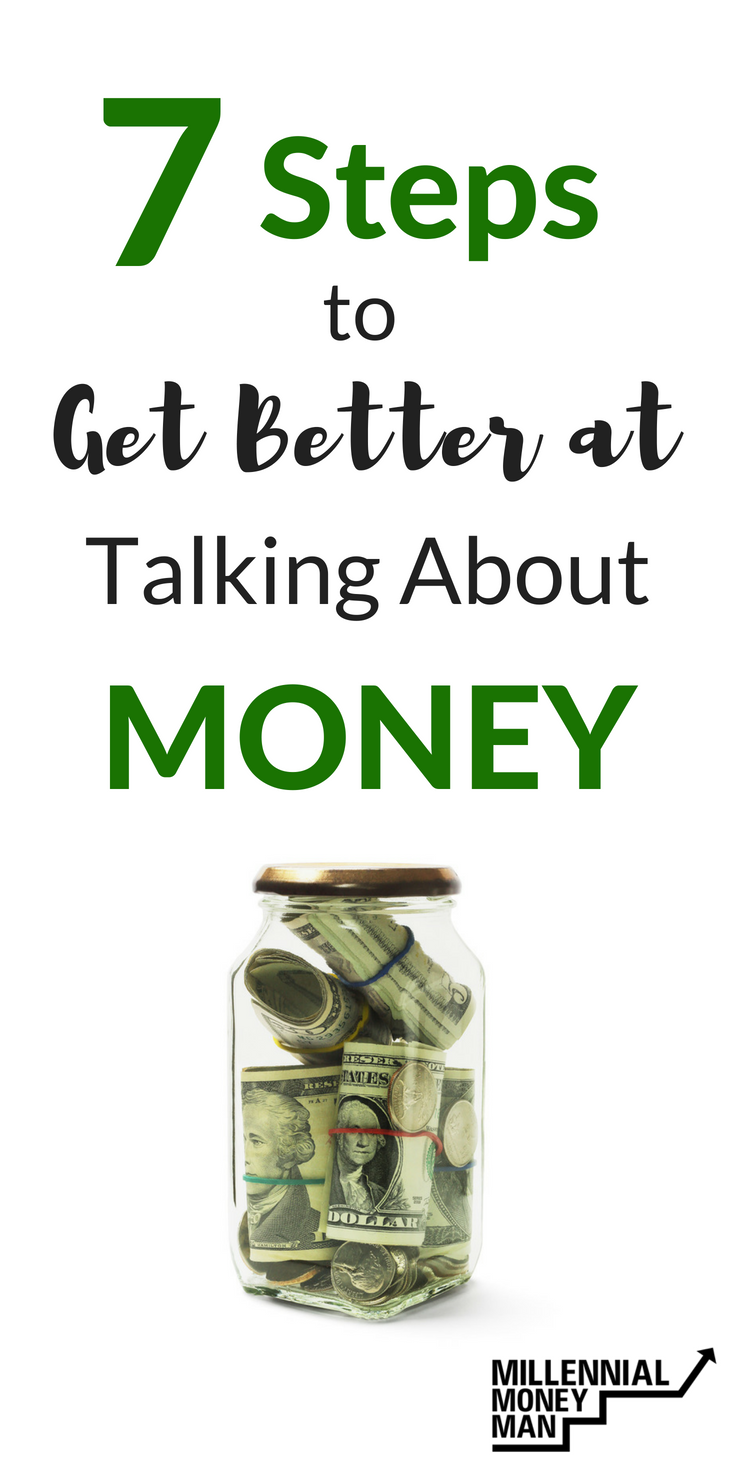 3. Find a mentor
It's no secret – I have a few mentors that I talk to regularly about personal finance.
The one thing in life that you can't put a price on is wisdom.
Unfortunately, when you're young…you don't have any of your own haha. So, you have to find it elsewhere.
My mentor story is actually pretty cool. I met my friend Mike when he invited me and my wife Coral out to go waterskiing on his boat.
Long story short, he's a successful business owner and investor that found out I had a bunch of student loans while we were out skiing and that I also didn't have a plan for paying them off.
After that, he took me under his wing and taught me a ton of money lessons over the next few years.
Through him, I met my other mentor David, who is a commercial real estate investor.
Over the past few years I've been fortunate enough to hang out with both of them and listen to some pretty interesting personal finance discussions.
There were plenty of times where I watched them go back and forth about how to invest, how to run a business, when you should pay cash for things and when you shouldn't, etc.
I basically got to just sit there and pick and choose what I wanted to do with my own finances, which has played into a lot of what I talk about on this site and I think is legitimately the reason I've been successful so quickly.
There isn't a specific "way" to get money right as long as you're growing more of it, no matter what the personal finance gurus out there tell you.
Once you realize that, you can take whatever direction makes you the happiest and fits the best with your life goals. I've tried to make that the #1 message of this site, and I think it has worked so far.
The point is though – I would have never figured that out if I hadn't surrounded myself with people that knew more than me and were willing to teach me.
Now obviously, mentors aren't just waiting around for you to find them.
Keep it simple and start by looking for successful people in your inner circle of friends and family, and then reach out to them and see if they'll grab a coffee with you just to talk.
4. Listen more than you speak
What's the point of having mentors if you don't listen?
I think one of the hardest things to do in life is to be still and actually listen to what other people say – especially when it comes to personal finance.
We all have egos, right? There's nothing wrong with having your own opinion on things, but if you're more eager to share yours than hear someone else's…that's a problem.
If you don't get anything else out of this post – understand that listening to other people's wisdom can be a key to success in anything you do.
5. Consume more personal finance content
Honestly – it has always shocked me how many people's lives I've been fortunate enough to be a part of since I started M$M.
Just a few weeks ago, I found out that a small handful of my readers had paid off $1,000,000 of debt…and that's just a tiny fraction of my audience!
I was never an avid blog reader or anything like that before I started doing this, but I've seen this site and so many other personal finance sites completely change peoples' lives.
So as much as I want people to love this site…I also want you to check out some other great ones as well. There is nothing wrong with binging on killer personal finance content every day!
Here are a few of my favorite personal finance blogs and YouTube channels right now (in no particular order):
This is actually one of the first personal finance blogs that I ever noticed online. J$ is one of the best I've ever seen at making personal finance super approachable and fun at the same time. He actually helped me a ton when I got started with M$M, so I try my best to send readers his way when I can.
Grant Sabatier is a good friend of mine and business partner on the Millennial Money Mastermind (coaching product for bloggers that is coming soon…you can jump into our shared blogging group here) runs a killer financial independence blog for Millennials that he actually started right around the same time that I started M$M. If you like the idea of retiring early, you'll want to check this site and podcast out.
TFD has actually been crushing it for years and certainly doesn't need my recommendation, but the biggest reason I included it here is that they recently added my good friend Erin Lowry from Broke Millennial to their YouTube lineup. To me, that's really exciting because Erin is one of the best I've seen at helping Millennials get ahead financially. I actually linked to their Youtube channel above, which is probably my favorite thing about the TFD brand (go check it out).
If you're into podcasts, Brad and Jonathan from ChooseFI are at the top of the game in my opinion. I actually sat down and did an interview with them a few months ago, and was REALLY impressed with the amount of detail they go into on their show and how high-quality their financial independence information is. They have created one of the best personal finance communities I've seen to date, and they even cover cool stuff like travel hacking. You'll want to put them into your normal rotation of podcasts if you haven't already.
One quick thing though:
I don't want you to just read, listen, or watch the sites I listed above. You need to participate in the communities for these sites. Every blog like mine has a really unique ecosystem of personal finance enthusiasts, and you only get the most benefit when you actively participate with the rest of them.
The sad thing about blogging is that only a very small percentage of people who come here actually reach out to me or comment on the blog. I've found that the people who step out of their comfort zone enough to do it are the ones that really crush it with their personal finance goals.
Just something to think about as you're checking out all of the sites I mentioned.
6. Join a group
I'm not going to lie – I think that the M$M community on Facebook is one of the best private (and free) personal finance communities out there. I'm not 100% sure how I was able to get the culture right in that group, but I'll take it.
Every day I'm seeing people share their unbelievably cool personal finance wins, and people constantly talk about how the group has changed their entire approach to personal finance.
There's a little bit of something for everyone – paying off debt, investing, early retirement, financial independence, budgeting, and saving money just to name a few.
It's really designed to be a place where people who don't feel very comfortable talking about personal finance can find a group of people who won't judge them or talk down to anyone (we are very strict on those things).
Even if you don't want to contribute to the group, just go there and lurk for a few months if you want to learn more about money.
7. Spread the word
Now, it's going to take a long time to master the steps that I've laid out, but once you do…try to spread the word in some way.
The only reason I got excited about personal finance is that someone took me under their wing and showed me information that I didn't even know was out there. As you evolve in your own personal finance journey – you could be the same thing for someone else.
I'm not saying that you need to go talk to everyone one of your friends and family members about their money or anything like that (and I actually recommend against that), but if you see an opportunity to get someone excited about personal finance…take a shot and see what happens.
If I hadn't started M$M, there are thousands of people out there that may have never figured out that personal finance doesn't have to be this weird taboo thing that we never talk about.
You never know if you could help someone start the next Millennial Money Man. 🙂