After running this site for a while, I've started to notice an interesting trend when it comes to the ever-popular idea of running a side hustle. Most people talk about it, but rarely ever take the jump into actually doing it.
Now, I could go on and on about how important it is to have an extra income stream. For the most part, everyone understands that part of the equation. Making more money typically makes life easier, especially if you're also really good at not spending very much.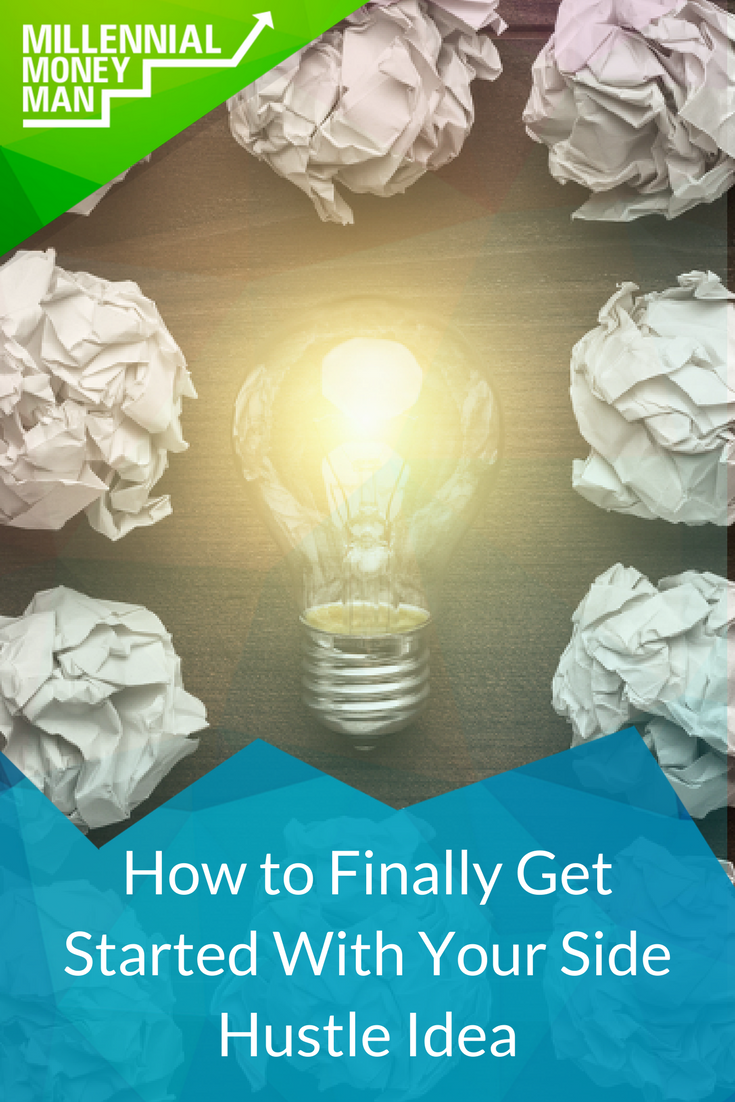 There may be a little survivorship bias here because my side hustle (aka this site) turned out to be a pretty lucrative full-time job, but I firmly believe that every millennial that understands how to use a computer should at least try a side hustle even if it doesn't work out.
When I asked the members of the private Millennial Money Man Community on Facebook (which you can join here) about what was holding them back from starting a side hustle, the answers were pretty much what I expected them to be: Fear of failure, lack of time, and not knowing what to do.
Here are some things to think about if you want to start a side hustle, but haven't jumped in:
1. Fear shouldn't ever hold you back
The reason that I actually left my teaching job to run M$M was a pretty personal one. A lot of people know that I rented a room from my wife's parents while I paid off my student loans. Owning that story was the biggest reason that this site became popular in the first place.
But unfortunately, there was much more to it. My father-in-law had been diagnosed with a disease called Inclusion Body Myositis a year or two after I met my wife. It's a terrible disease honestly. Your immune system essentially attacks your muscle tissue, and over time it has a very similar progression to muscular dystrophy.
Read also: The Real Reason I Live Debt-Free
At the time we moved in, he had already started to lose the ability to walk. Later on, he became wheelchair-bound and was almost in bed full-time when we moved out.
We didn't actually move in with the goal of helping my mother-in-law take care of him, but it just evolved into that and we were happy to do it. That's life.
Eventually, it just got to the point where too many hospice nurses were coming in and out of the house, and the situation started to put a strain on our marriage.
What seems like an easy choice of moving out of your in-law's house was one of the hardest ones my wife and I have ever had to make because they needed us.
So why am I getting so personal? It's just side hustles right?
I watched a healthy, proud, and still young man lose the ability to walk and eat right before my eyes. He passed away shortly after we moved out, and it was gut-wrenching.
Ever since then I've always tried to keep the reality with me that life is finite. We get one shot, and it usually won't end the way that we imagine it will. That's just how it is, and no matter how much you choose to push it to the back of your mind on a daily basis, it won't change.
Most people say they don't want to start something new because they are afraid.
Fear robs you of opportunity. If there's something you want to do, you need to do it regardless of how afraid you are that it will fail.
I would so much rather get to the end of my life and feel good that I tried everything I wanted to, instead of wishing I would have done something that I skipped out of fear that I would fail. That's why I started this site and eventually why I left my job to run it full-time.
The best strategy, in my opinion, is to embrace failure. It's going to happen whether you like it or not, and every entrepreneur (full-time or side hustler) fails all the time.
It's just not that big of a deal once you get used to it.
2. Is it that you don't have time, or you haven't found the time?
Look – we're all guilty of saying we don't have enough time. And with some people's current schedules taking care of their kids and working full-time, it very well could be true as your day is currently constructed.
That's when you need to modify your schedule. We can't control how much time we have in life, but we can definitely manipulate the way that we utilize it during the day.
Personally? I did my band directing job from 6:45 am – 7:00 pm (sometimes 8:00 pm), and then came home and taught myself about blogging, websites, and marketing until midnight or later.
Then, I rinsed and repeated every day until I knew what I was doing.
If you want to start a side hustle (or anything) and are waiting for time to magically present more of itself like the physics unicorn it is…it won't happen.
Read also: How I Prepared to Leave My Job for This Site
3. Passion is always the answer
For so many people, it's not the fear or lack time that is causing the problem. They just don't know what they want to do.
Everyone hears the classic "find a need and fill it" advice, but if you already have a job it's a lot harder to dump your remaining energy into something that you don't care about just to fill a need.
I actually went through the same thing when I was trying to figure out what I wanted to do as a business! I spent a lot of time during my summers away from teaching trying to learn about the swimming pool business from a friend.
We would go out into his customers' back yards and he would teach me how to cut pipe, install pool motors and heaters, etc.
I didn't actually care about swimming pools…I just knew that you could make a bunch of money running that type of business.
Every time I imagined my life as a pool company owner though, I realized that it didn't excite me. Money can't ever be the only motivator for what you want to spend a large part of your life doing.
That's when you need to evaluate what you're passionate about. The only reason that I feel this site has been so successful is that I love opening up my computer and writing about personal finance and entrepreneurship every day.
I get a blinding amount of emails and notifications daily, and I stay up way too late every night answering and liking every comment because it's what I'm passionate about.
Luckily, we live in the internet age that makes whatever your passion is a legitimate business possibility.
Straight-up, there are people that post videos of their pets on social media for a living. If that is possible, then you can definitely attempt to build a small business around whatever it is that gets you excited during the day, right?
It comes down to this…
If there's something you want to do in life, you need to do it today. It doesn't matter if it's a blog, e-commerce business, pet sitting, whatever. If you have an idea already, make the time and jump on it. Be excited about failing a few times (it helps you figure out how to do something right and make more money).
[convertkit form=4985303]
For those of you in the "soul searching" phase – don't overthink it. Business doesn't have to be complicated, and you don't need the million dollar idea. If you work hard enough and the market likes what you're doing, it will evolve into that naturally.