Hey everyone! So today I'm starting something on M$M that I'll loosely coin "The Normal People Series" (I might come up with a more creative name later…who knows).
I get a ton of reader questions and requests, and sometimes I don't have the life experience yet to write about those topics. That's why I'm turning to some of my readers that have awesome stories based on real-life situations.
Today I have Brad, who is a member of the M$M private Facebook group. He and his wife had their first child 6 months ago! Like a lot of couples that read the site, they were both working hard at their jobs and getting ahead financially. After they had the baby, they decided that dropping down to one income so Brad's wife could stay home was the right call for them. So, obviously…they had to figure out how to make it work.
When Coral and I have kids (calm down mom…not yet), this would at least be something we would at least talk about, so I asked Brad how it worked for them! Enjoy! ~M$M
1. Did you both stick to a budget before you had a child? What were your finances like before?
We did, though in slightly different manners. I'm a very detail oriented left brain type of person, so I've been keeping a budget in a spreadsheet since college and have moved on to products life Mint and Every Dollar in the last 5 years or so.
My wife, on the other hand, is very creative and artistic, so tracking things in a structured sort of way has never been her thing. However, she has always had an income on the lower side so keeping track of spending has always been crucial.
She is amazing in the fact that she just knows in her head roughly what her expenses are each month and had the discipline to not spend more than that, set aside some for fun, and save the rest.
The best part is though they are totally different approaches, they worked for our situations. When we got married we both brought positive net worth's to the table, so our combined net worth was bigger from day one.
2. Were there any immediate things you have to give up or change in your budget when the baby came?
The first thing was dropping down how much we were saving each month. Now before everyone freaks out let me explain. When we got married the only debt we had was the mortgage on our very modest home and our combined income was substantial compared to our cost of living.
Before my wife stopped working, we were easily saving 50% of our income, not including retirement contributions. So, the first thing we did was drop our savings down to 30% per month to help make up for losing my wife's income.
In terms of expenses, eating out was the first thing we cut way back on. We were already running on the high side in that category but then you add a baby in the mix and we just didn't have the time. Funny how that problem almost fixes itself!
After that, we both had a monthly allowance for wants and fun stuff, so we cut that in half. Again, taking care of a baby eats up a lot of your time, so you end up wanting less stuff anyway. Lastly, we canceled cable.
Even though my wife is home more now, we just found it was getting in the way of truly connecting with our child and stopping us from getting the ever growing a to-do list a baby brings along as well.
We've been running this new budget for almost 7 months and it just feels right, so we'll forge on until something changes.
3. What are some unexpected expenses that came up with having a child that you weren't prepared for?
First things first, no matter how high your deductible in on your health insurance, you're going to hit it. I think the final bill for having the baby and two nights in the hospital was 4 times our deductible, yay health insurance! However, you save for health expenses, make sure you have enough there to cover the cost.
Also, sometimes you know you need something, but there are multiple options. Every kid is different so you don't know if something is going to work until you try it. For example, we went through 3 breastfeeding pillows before we found one that made both my wife and the baby comfortable, crazy!
So there will always be those things that are trial & error to find what works and trust me, it's worth the money.
Other than that, I can't say we were caught off guard by much. My wife and I both spent so much of the pregnancy nailing down exactly what it was going to cost so we could budget accordingly.
4. You mentioned that you both made the decision that your wife would not go back to work. What made you come to that decision?
Honestly, it wasn't one big thing, it was a bunch of areas of our lives that would improve/be enabled if she stayed home. All of those added together made the decision seem like the natural way to go.
First and foremost, we both just really liked the idea of my wife being home every day with our son raising him and taking care of him.
It's not that we don't use daycare, but neither one of us were super fond of the idea of dropping off a 2-month-old to daycare 5 days a week then my wife's maternity leave ended.
Second, my wife had been teaching at the same charter school for almost 5 years and she was really starting to get burnout. The job was way more stressful than the pay and the school was hemorrhaging teachers because of it. Neither one of us wanted her to have to carry that stress once the baby was born.
Coupled with that, we live 10 minutes from her stressful job and an hour from my job, which I love & produces our income. My wife not going back to work will enable us to move closer to my job so that I don't have to fight an hour or more of traffic every night and can get home sooner for that priceless evening family time.
Also, from a financial standpoint, my future reduced commute should save us over $1,200 in fuel cost annually, not to mention the time spent on the road.
Lastly, my wife staying home allows her to finish her Master's degree in Art Ed and for way less money  (let me explain). Right before having the baby, my wife was down to her last two classes, both of which were studio courses.
She had never been able to take those courses as they are only offered during the week and of course she was working full time. Now that she is staying home she took one this semester and we just had to take our son to daycare for 4 hours, twice a week.
She'll do the same thing next semester and graduate in April.
The final kicker is that since she is staying home, she could accept an offer to be a grad assistant next semester so her tuition for her last class and thesis are free and there is a $2,100 stipend!
So yeah, looking back we had a lot of little reasons that added up to her staying home really make sense for us and our situation.
5. How did you prepare yourselves to go down to one income?
The first thing we did was lay out what our budget would look like on one income, and then added in what we thought our new child-related expenses would be. After looking at it we realized, "Hey, we can make this work."
But I also wanted to know how much money we were giving up when you compare income lost vs. money save from things live child care avoidance.
As you can see below its "almost" a break-even proposition. Based on our research it was going to cost us ~$18,000 for annual childcare so we are avoiding that.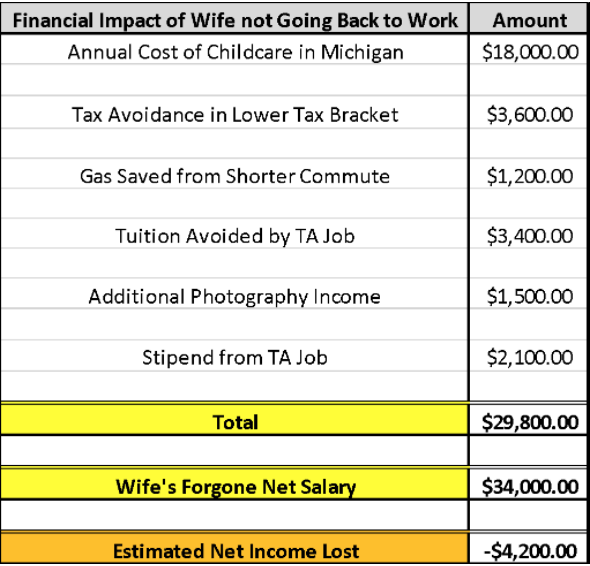 We were dangerously close to bumping up to the next income tax bracket but my wife no longer getting paid to start in August kept us under for this year and we will have a big cushion next year.
That keeps $3,600 of take-home pay in my income. As previously mentioned will be moving closer to my work which saves commuting costs and then you have the tuition avoidance and stipend for my wife being a grad assistant next year.
Lastly, it has allowed my wife more time on the weekends to grow her side hustle photography business! Everything said and done we will probably end up with ~$4,000 less of income every year.
With the flexibility and comfort that my wife staying home brings to our life, it is so worth it!
6. Were you worried that it wouldn't work?
I think anytime you remove such a large chunk of money from your income you are worried that it might not work. It is nerve-wracking for sure.
We spent so much time discussing it, fine-tuning our new budget, and working the numbers above that we didn't really hesitate to pull the trigger.
At the end of the day, we felt we had a good plan in place and we know we have the discipline as a couple to stick to it.
7. What are the biggest changes that you've made in your lifestyle after going to one income?
A big one has been just adjusting our mindset to know that we are still doing a good job when it comes to our finances. When you are used to saving 50% or more of your income and you drop down to something closer to 25-30% you kind of feel guilty, but when you take a step back that's still pretty awesome.
Especially when you drop an income and add the costs of having a baby.
As mentioned before, we eat out less and spend less on personal wants, but those voids are more than filled with the joy of time spent with our child and the journey of parenthood.
8. If you could do everything again, would you change anything when it came to your financial strategy?
Honestly, probably not haha. We spent a lot of time running the numbers and laying out how we were going to offset lost incomes by avoiding expenses. Everything has been running to plan so far.
We knew we valued having a parent at home with our child more than my wife's income so we adjusted our lifestyle to make it work.
9. For any parents out there considering the same path that you and your wife took, what advice do you have for them?
Run your numbers, plan, trust that plan, stay disciplined, and execute!
Like us, if you're not able to fully offset an income lost, it's ok! Once you have that child, money falls down the list of priorities in your life (and that's coming from a couple who is way into personal finance).
From a more tactical standpoint though, don't buy into the whole baby craze where you must have every baby-related thing under the sun. Talk to friends and family and get a sense of what is truly a need versus what it just a want.
We spent a lot of time doing this and felt like 99% of the items on our baby registry were a need. Everything else we either bought used or scoured the internet for a great deal.
My wife joined a mom to mom group for $5 and we get tons of stuff used for like 70% of the original cost and sometimes even end up selling things back when we are done with them. Things like diapers and wipes that you must buy new, a Costco membership goes a long way.
Cheap and in bulk, because trust me, you will go through some diapers!
There is no doubt having kids cost money, but if you take the time to really find out what you need, it doesn't have to break the bank.
10. What's ONE thing that anyone with a young child could do right now to save money?
Besides what I discussed above, with an emphasis on a Costco membership, it would be to get OUTSIDE!
It's completely free! There is no toy, screen, or gadget we could put in front of our child that could equal going outside, he loves it!
There is something about the fresh air, coupled with the thousands of things for him to look at, touch, and feel that make it a child's paradise.
Again, lots of people get caught up in the baby craze and that they must have the latest toys and gadgets. In reality, everything your child needs to develop is right outside your front door.
They won't remember the things you bought them, but they will remember going for walks, playing in the leaves, being pushed in the swing, and going down the slide.
The possibilities are endless!