In the coming weeks, there are going to be a lot of questions around here that look like: "How were you able to do this so quickly?"
You'll see what I mean in a few days, but for now, I'm going to give a bit of a precursor to it by explaining how I got to this point in just three years with M$M.
Honestly, none of this has felt quick from my perspective. The last few years have been some of the longest of my life and were filled with more periods of excitement (and stress) than I can ever remember experiencing before.
But from the outside – I get it. I went from high school band director to full-time blogger (making way more money than I ever thought I would in my life) in a very short amount of time.
This post is a little rare because the majority of it will be geared towards anyone who wants to build an audience/business quickly. I think there are a lot of people out there who are trying to do it, and wonder what the "secret sauce" is. So…here you go. 🙂
Here are some strategies I've used to grow a super loyal audience quickly:
Always put the readers first
This is actually one that I learned from J Money over at Budgets Are Sexy a loooong time ago (well really…three years ago but you get the point).
If it's not a good fit for your audience, don't push it. Period.
If it's not the right message for your audience, don't push it either.
Basically, if you don't 1,000% believe in it, don't even consider putting out there for your readers to see.
A lot of you don't get to see the back-end operations for M$M, but there are plenty of products over the past few years that companies have reached out and asked me to put on the site. The reality is that I usually turn them down.
In fact, as I was editing this post, one showed up in my inbox that I have no interest in working with. Talk about good timing haha.
I don't mind working with a bank from time to time or mentioning cool budgeting apps that I think are legitimately useful, but the majority of financial products out there just suck.
I can't even count how many mortgage lenders, personal loan offers, or new investing apps (usually startups) that I've given the cold shoulder to. It's just not worth it to me.
Stop trying to be the next "someone"
This was one that I learned early on. When I first started talking about student loan debt and sharing my story of paying off $40,000 in 18 months, a lot of people started to draw Dave Ramsey references.
"You could be Dave for the Millennials!"
While that sounds cool, I have no interest in it. There are a lot of great things that he teaches, but I just don't have the desire to be a "guru". In fact, I hate that word so much haha. There are way too many people out there that haven't done jack and call themselves experts.
(I am not saying Dave fits into that category – please don't flame me my DR readers haha).
Basically, I'm not trying to be the next *insert whoever here*. I'm just trying to be the first me.
There are a lot of people in my industry that have dreams of being the next big name in personal finance/entrepreneurship. That's totally cool, but not my game.
I like building communities. I know that my strengths are being relatable to a lot of people, and also being likable. I'm not quite sure how I picked up those attributes, but if I can use them to help influence people in a positive way…I'm good with it.
One other thing? I haaaaate going on TV and radio shows. I've done a decent amount of that so far in my young career, but it's really just not something I enjoy. It feels very inorganic/uncomfortable/too scripted to me, and I'm not sure if it's really where my energy is best served.
I'd so much rather sit here with my coffee, write, and hang out in my private FB group with the M$M crew.
That's my sweet spot.
Put yourself out there
From the beginning of this project, I've gone out of my way to share parts of my life that are very uncomfortable. There are a lot of things that I've written on this site that most people would probably avoid mentioning.
But if there is anything that I learned from being a teacher, it's that you have to expose the raw part of your inner-self that you don't really want people to see, especially if you want to actually connect emotionally and build trust with readers.
I remember a time back when I was teaching that I choked up a little (ok..kinda cried) in front of my students. I was upset with them for not learning music that I had written for them, but I was trying to explain to them why the situation was so important to me.
I had put my heart and soul into that music and felt that they didn't care. Them seeing that it was that important to me actually made our relationship 100 times stronger. It was really cool – they learned the music, and I learned a valuable lesson on human interaction.
So, I do the same thing on the site. When I wrote this post about my father-in-law passing away, I had tears streaming down my face. It's still hands-down the best thing I've ever written for M$M, and it's quite frankly not even close to anything else honestly.
If you're a new blogger or just someone who is trying to build a brand that actually makes a connection with readers/potential customers, you have to put yourself out there. Otherwise, your efforts will always feel stale.
Realize that other people have tough situations in life
I will never forget the first time that a reader asked me a question that completely stumped me.
It was back when I first started M$M, and I thought I was a baller because I had paid off my student loans quickly.
A woman emailed me and told me she had $250,000 of student loan debt, and couldn't afford the minimum payments on anything. She had kids. She was struggling.
I didn't have an answer for her. I just didn't. It knocked me down many many pegs, which was ultimately a good thing. Now I do my best to listen to people and empathize with their situation as much as I possibly can.
Sometimes people come at me pretty hard online (one lady called me an "ass" and an "idiot" in the same comment the other day haha). But I understand a lot more now that people who lash out in that way are usually just frustrated with where they are in life and need someone to vent their anger at.
If I can gain one more reader by taking it on the chin up-front, cool. I'll do it every day for the rest of my career if needed. That's what serving people is truly about.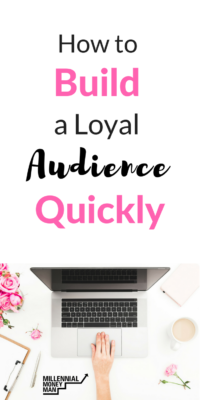 Be present af
Since I've been doing this, I've noticed a concerning trend of advice in my community that essentially looks like: "Do whatever you can to streamline your process so that you don't have to talk to your readers very much."
Straight-up, I don't believe in it. I'm a much bigger fan of connecting with people, and I don't really care too much if that opinion gets me in trouble in the personal finance community.
That's why I do my best to answer every single comment, question, etc. that I see across my various social media platforms. It gets harder and harder as things keep growing, but I'll keep figuring out ways to make it work.
Maybe I won't make the most money doing this or be the most efficient, but I WILL create the most connections with my readers (or at least try to).
Don't be afraid to interact with people in a real way. Ask your readers how they are doing, even if you only have one. It's just so important and will help you grow quickly.
Quite honestly, I'm just getting started with this
I've got a ton of things in store for 2018 and beyond, and I'm so stoked to have the people with me that I do for the journey.
M$M readers are really cool people, and more of them are coming into the fold every day.
We're planning local M$M meetups, retreats (Vegas has come up a lot, which would be hilariously ironic), and ultimately nerding out about money and side hustling. It's really really cool.
Thanks for sticking with me so far everyone. I appreciate every one of you more than you know.